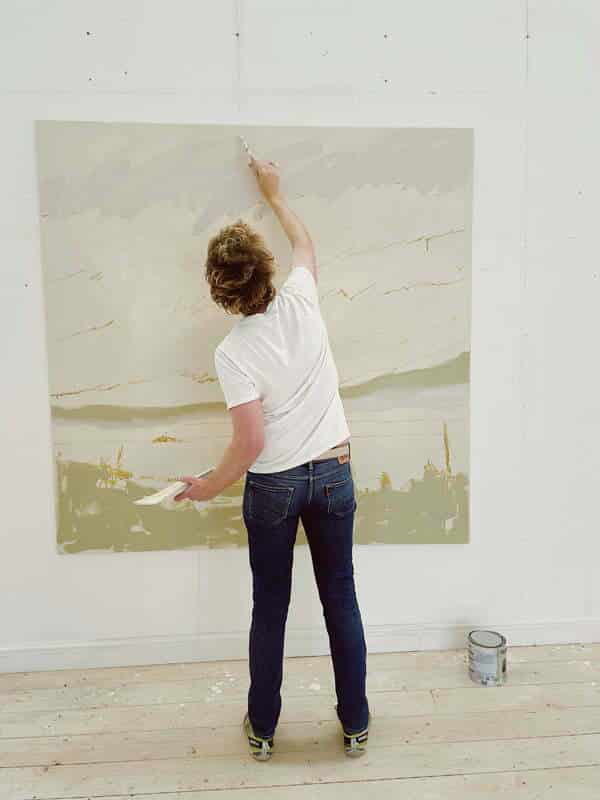 Painting large scale is not just a matter of having the right size canvas and paint. It's also about adopting slightly different working methods and brushstrokes than when you work with a small canvas, and it's one of the best ways to stretch your skills as a painter, even if you predominately paint small.
After months of renovation, I have recently regained the use of our new studio space. For the last 6 months, it had become the perfect place for storing multiple power tools and timber that needed acclimatising. It has been uplifting emptying the space of leftover building materials back to an empty room.
So last week with great relish, energy and anticipation, I propped up a large-scale 2m square canvas against a newly cleared wall and got to it.
I had a loose plan of the final image.
I'd sketched a pen and ink thumbnail of the view and had a palette of colours in mind but if I'm 100% honest I was super excited by the freedom of painting in a big space and seeing how the new studio felt.
Here are five things I learned.
#1. A little colour change is a big colour change.
Mixing the right colours for a large scale is not easy.
On smaller-scale pieces, your reference image is often close in size to the final piece, so you can translate the effect of the colour quite easily, but when you scale up an image everything becomes exaggerated.
As soon as you scale up the surface area that a colour covers, it has more of an intensity to it. The same colour ratio I would normally go for in a smaller piece looked more colourful once it was painted onto such a vast area.
#2. Scale up your brush to match your canvas size.
Just as you have to be aware of scaling down your colour choices and scaling up the volume of paint, you have to use larger tools to apply the paint too.
I rapidly went from a 1/2-inch brush to a 3-inch brush to a mini-roller!