Acrylics are a great medium. Pick up a few well-chosen materials, and after a simple set up, you can paint on almost any surface.
But.
They dry quickly. And sometimes really quickly.
If you're new to painting, the seriousness of this small window of free-flowing acrylics begins to dawn on you, little by little.
The paints don't seem to blend quite as well as they did when you first put them out on your palette. In fact, that expensive paint you took so long deciding on has now gone completely hard, and there's a distinctive shift in colour.
This is not just frustrating but feels like an undisclosed complication.
You thought it was going to be getting the painting techniques right that would be difficult, not battling with the paint drying out too quickly.
So how do you stop it from happening?
Paint faster? Invest in specialist paint mediums? Use a broom rather than a brush?
Humidity
Everything revolves around evaporation.
Controlling water evaporation is the key principle to manipulating the drying time of your acrylics.
Acrylics dry by evaporation. So, the wetter the air around the acrylics, the longer they stay wet. You might be painting in a dry climate and not realise how much that affects the paints' workability.
The drier the air, the faster the acrylics will dry.
Wet air (around acrylics) – paints stay wetter.
Dry air (around acrylics) – paints dry out quicker.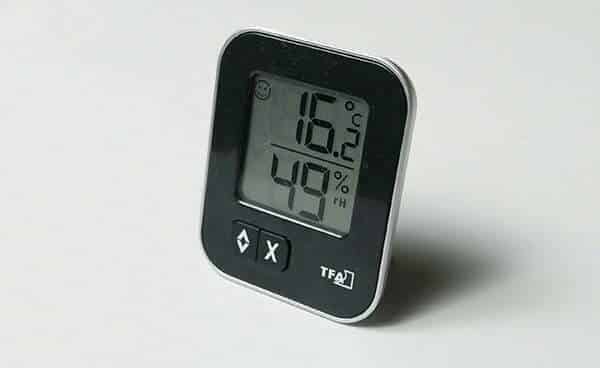 In my studio, I've got a humidity and temperature monitor. This helps to keep an eye on the water content of the space, so I can adapt my techniques if needed.
I've noticed when I'm painting near the coast, and there's a higher amount of water in the atmosphere, the paints will keep working for a lot longer. If you are based in an extremely dry climate, you could introduce a humidifier into your space that will emit steam or water vapour to increase the air's moisture levels.
Heavy Body Acrylics under ambient conditions of 70ºF/21ºC and 30% Relative Humidity in a 0.15mm brush stroke.

wet: under 5 minutes
workable:  10 minutes
touch dry: 30 minutes
locked down: 3+ days
Temperature & Air Flow
If it's a hot summer day, you might have placed an air conditioning unit or fan next to your painting space; this will shorten the working time of the paints as airflow aids water evaporation, definitely something to consider.
Pro tip: It's also handy to check the ambient temperature of your studio. If you drop below 9° C, it can cause issues when creating a strong paint film.
Acrylics are ideally used at room temperature, above 60° F / 16° C, and avoiding any applications below 49° F / 9° C, which is the so-called "minimum film formation" temperature (MFFT). Below that temperature acrylic paint cannot form a strong, coherent film and will be prone to failure and various drying defects, such as cracks, poor adhesion, and cloudiness – Golden Paints 
On top of your studio environment, there are a few successful ways to manipulate the drying times of acrylics by controlling evaporation. However, I don't use them all in one painting but pick and choose whatever would work best for the style or stage of the piece I'm working on at the time.
How would you speed up the drying time?
Here's an inversion thought experiment.
What would you do if you had to dry acrylic paint as fast as possible?
Paint in a thin layer? Warm room? Wind turbine? Sunshine? …Blow torch?
If I had to get a painting to dry as quickly as possible, I'd use a hairdryer on thin paint. High airflow, high heat, about 1 cm from the paint surface! This expels water the quickest from the paint.
And this knowledge is the secret to your success.
All we have to do is work on the opposites.