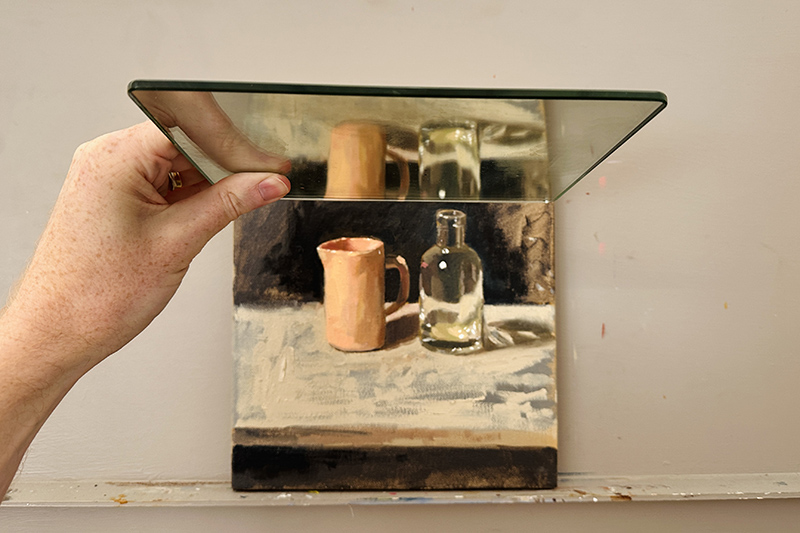 Painting is all about perspective.
The shifting nature of our perception can be a huge obstacle when learning how to paint.
Have you ever seen your artwork as a masterpiece one moment, only to label it a disaster the next? I know I have!
The first step to advancing your critical judgment skills is to realise that there probably won't be a moment you see your work with 100% clarity.
We can all be swayed by various cognitive biases of creation.
A cognitive bias is a tendency to make decisions or take action directed by emotions rather than by careful thought. They can subtly skew our judgment and we can become influenced by our own personal preferences, beliefs, or feelings caused by our values and experiences. When viewing our paintings we tend to place excessive value on pieces we have crafted ourselves or have sentimental attachments to certain scenes or memories.
Or you may just been standing at the easel all afternoon, trying to mix the exact colour for too long and you can't see it anymore!
The importance of self-checking your own work as an artist.
Do you find it easier to notice flaws in other people's artwork compared to your own?
When you're so concentrated on your own painting, it can be challenging to assess your work and identify areas that need improvement. This is because you are seeing others' work from a fresh perspective every time. You've no idea of the time it took them to paint it, the struggles they faced with the materials or the entire backstory behind the image. You just have a single image to look at. That's why having an art tutor or going to a class with live feedback can be so helpful.
So if the success of our paintings is based on the way we can critically view them, what can we do to be more objective?
I've put together a list of 7 small but helpful tools and techniques that I use in my painting practice to help me and hopefully, they will help you too.
Painting is repainting.