Painting can open up a world of creativity, relaxation, and self-expression; the hardest part is beginning.
Are watercolours harder than acrylics? What if you can't draw?
Often, the biggest obstacle to success is overcoming the worry you're wasting your time learning a new medium that doesn't 'fit' your style, or you don't have the talent to be an artist or, worse, wasting your money buying loads of art materials that you end up not using!
Getting over the Frustration Barrier
"Many things aren't fun until you're good at them. Every skill has what I call a frustration barrier, a period of time in which you're horribly unskilled and you're painfully aware of that fact." Josh Kaufman – The First 20 Hours
Even uttering the phrase "I am an artist" can stir feelings of self-doubt. But take heart – every creative feels this impostor syndrome. What matters is moving forward anyway.
(Insights from art psychology books like Art & Fear, The War of Art, and Big Magic prove invaluable companions on the journey.)
The main thing to grasp is that painting is a teachable skill anyone can develop, regardless of innate talent. Some people prefer to take classes with a live instructor, while others prefer to learn independently.
There is a place in the art world for every single artist, and it's never too late to begin painting.
The main thing to realise is that painting can be learned; it's a skill that can be developed.
I hope this guide gives you insight into not just materials and mediums, but also a window into the possibilities.
Skill vs Talent (Talent is Overrated)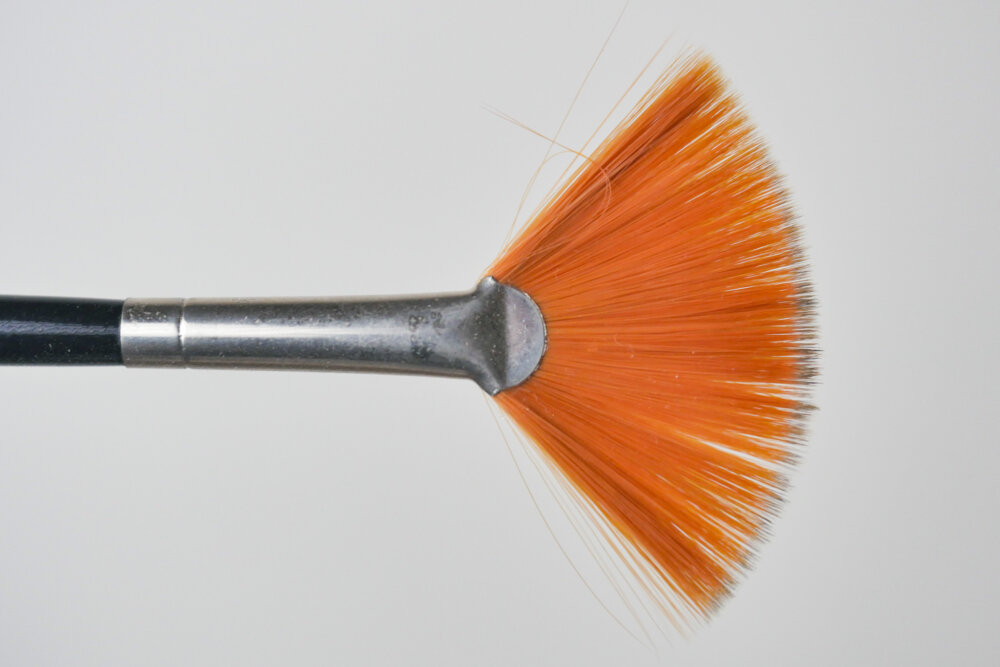 A Fan Brush used for blending
Can I learn art if I have no talent?
Sure you can.
Can you learn how to bake a cake if you have no talent?
100%.
It's the same approach. It's not about natural talent but learning a new skill.
Beginning painting is learning to embrace experiments and find inspiration in your mistakes.
'Happy Accidents' can be the beginnings of creative breakthroughs, so be open to when your painting 'goes wrong' and try to see what new lessons can be learnt.
Talent is overrated and can be an excuse you can rely on rather than putting in the time on the foundations. The path to success in learning any new skill is focusing more on improving the fundamentals.
"Skill is the ability to do something. Talent is the rate at which you can acquire the ability to do something.¹ If you have a talent for the guitar, that means you will learn to play the guitar faster than someone who doesn't have a talent for the guitar. If you don't have a talent for the guitar, that means it will take longer to learn to play the guitar than it would if you did have some talent. For most things* in life, talent doesn't really matter. The rate at which you can acquire the ability to do something doesn't really matter. What really matters is the length of time you can do something." – Billy Oppenheimer 
This quote is so true, "what really matters is the length of time you can do something".
If you set yourself a goal of creating one painting, you will face problems.
If it goes well, you'll be worried that the next one won't be as good, so you'll procrastinate on continuing.
If it goes badly, you'll convince yourself you have zero talent; painting isn't for you, and all those teachers were right.
So what's the answer?
Start an experiment.
Let's say you'll try to paint 100 paintings before you decide if it's for you.
Does 100 sound too many? It's estimated that Picasso created 13,500 paintings and around 100,000 prints and engravings.
And don't get put off if you're coming to painting later in life. Your unique experiences and perspectives can inform your practice and tell your journey. (Range: Why Generalists Triumph in A Specialized World By David Epstein is a great book on this)
I teach classical painting methods in oils and acrylics that focus on fundamental painting principles.
My philosophy is less is more. A distilled approach to classical painting. A solid foundation for anything you choose to paint, regardless of subject or medium.
I help other aspiring artists not make the same mistakes I did, so if you've ever dreamt of picking up a paintbrush and filling a canvas with colour but don't know where to start, let's go on a creative journey together to discover how to 'see' like an artist.
Students often ask me, 'What essential materials do I need to begin painting?'
Winsor & Newton Cotman Travel Watercolour Kit
When you are learning anything new, you want to get the best results without investing too much too soon, so before we get into materials, I found it usually helps to begin with the end in mind.
You need to decide on your medium, and each medium has its own charm.
What are you trying to emulate, or what artists are you trying to recreate?
Make a note of paintings you like the style of, what they were painted with and the effect or technique you want to achieve.
You might have tried watercolours and got buckled paper or put off using oils due to the dangers and smell of turpentine (but not realise how far modern oil materials have come.)
You might be much happier with pencils and sketchbooks than painting on canvas.
You'll get faster results if you can match the correct medium to your personality, aspirations and experience, but knowing which medium will suit you best is impossible until you try.
When you're dealing with any paints, there are a few things to consider:
Handling properties
Drying times
Surface that you want to work on to
Implement you want to use to apply the paints
Environment or the space you've got available to you
Oil Paint
Oil paints can be amazing to work with, from quick Alla-prima oil canvas sketches to photo-realistic oil portraits.
They have a lovely buttery consistency and a slow drying time, enabling you to make changes over a longer period, adjust shapes, or work wet-into-wet with thick impasto marks.
Oil paints stay workable for much longer than acrylics; the paint on the palette stays pliable.
And oils are king when it comes to blending colours.
Because of their slow-drying nature, you can enjoy the luxury of tweaking and softening your work, creating wonderful, subtle paintings. This is especially true for portrait painting when the shading of the face can need constant revisiting.
If you're a bit wary because of all the solvents associated with traditional oil painting, you could use water-mixable oils (WMO's) that you can dilute with water. (Watermixable Oils vs Traditional Oils)
Pro Tip: Even though you can use water with water-mixable oils, you still need to introduce a water-mixable thinner and water-mixable oil to get the best result. This will give you better paint flow and handling. Try to think of them as  'water-cleanable' oils.
Bear in mind that oil paint is a bit messy. I find it gets everywhere just because, well… it tends to get everywhere!
If you've got a house full of cats or small children running around, oil painting can make a mess; that goes for water-mixable oils, too.
With Oil Paint you can change your medium to alter paint handling qualities
Preparation is key. Due to the oil in oil paints (usually linseed oil), it's best to work on a prepared canvas or board.
If you have plenty of time set aside for your painting, traditional oils can be fantastic, but if you want to work with thick paint, you need to consider drying times.
Each particular pigment needs a different amount of oil mixed with it, resulting in different drying times. e.g. Earth colours such as Burnt Umber are rapid drying, whereas Ivory Black takes much longer to dry.
Ensure a well-ventilated space; traditional turpentine and white spirits can be quite strong. I work with odourless mineral spirits or 'Zest It' (a thinner made from citrus ) with very little odour compared to turpentine.
Many new solvent-free products, such as Gamblin's Solvent-free Gel, are now coming to market, so there are plenty of alternatives. These offer a way of diluting the oil paint without using traditional solvents; you can also clean your brushes with walnut oil (Murphy's soap in the US gets good reviews).
Acrylic Paint
Professional Artist Acrylics have a higher pigment load than student-grade paints
One of the key things that make acrylics a great medium to start with is you can paint on anything: paper, card, canvas board, whatever you have to hand.
Set up is quick; they are water-soluble, fast-drying and water-resistant when dry. They clean up with water, and there's no smell!
They can be used in thin layers like watercolours or in thicker, more opaque applications like oil paint.
You can mix clean, bright colours, and the crisp edges that can be achieved with acrylics can be perfect if you want to paint with a more graphic composition. You can quickly mask out areas, work over them, and easily cover a hard shape with thicker paint.
Blending with acrylics can be a bit frustrating due to the speed of the drying time; acrylics dry by evaporation and tend to dry quite quickly.
Artists refer to this as having a short 'working time'; however, this can vary depending on several different factors; the main ones are:
How thick or thin is your application of the paint
The absorbency of the surface you're working on
The size of the painting
What you dilute the paint with, either water or a specialist medium
The heat and humidity of the environment you're painting in
If you are working on a large scale, it can be practically impossible to work the canvas as a whole to bring together the same finish. But apart from working quicker or on a small scale, you can add a medium to the paint to help keep the working time open for longer. Soft gel gloss, a retarder (slows down drying time) or my preferred choice, glazing liquid gloss, make achieving smooth blends with acrylics easier.
Pro tip: 7 Ways to Stop Acrylic Paint Drying too Fast
Watercolour Painting
Beautiful graded washes, translucent colours, seamless transitions, a quick drying time, and super reasonably priced to get started. You can buy a Cotman travel kit, a pad of watercolour paper, a couple of brushes and get going!
If you want to paint outdoors, watercolours are a great option because your kit is pretty compact. Quick, impromptu watercolour sketches of a little plant next to you or a study of your garden always look pretty good in my experience.
Watercolour is all about washes and contrasts over line work, so you must know your drawing skills.
You can, of course, paint abstractly to produce swirls, blocks and washes, but if you're trying to create a scene, a landscape or a realistic still life, there will usually be a fair amount of a drawing element to it.
When you paint with acrylics or oils, although the initial sketch and drawing out are still important, you can build up the painting through the form using an opaque application, whereas, with watercolour, you're traditionally washing over a line. (Here's an Ink and Watercolour demo)
So, what are the essential beginning painting materials I would need?
The Winsor & Newton Artists' Choice Professional Watercolour Set of 18 half-pan colours would be a great start for new watercolourists. Great pigmentation and these little pans last a really long time.
Most of the time, you would be painting on paper. You can read more about How to Choose Watercolour Paper here.
You could get away with one good brush, but ideally three brushes, and you could probably do 80% of the paintings with these three brushes.
a small round
a medium round
a bigger mop brush
For watercolours or gouache, brushes are usually soft, have a spring and can hold water. Most traditional brushes are made from animal hair, and the quality of the brush's bounce and feel depends on the quality of the hair used. But you can get really good quality synthetic brushes now, too. You can read about A Quick Way to Understand Brushes here.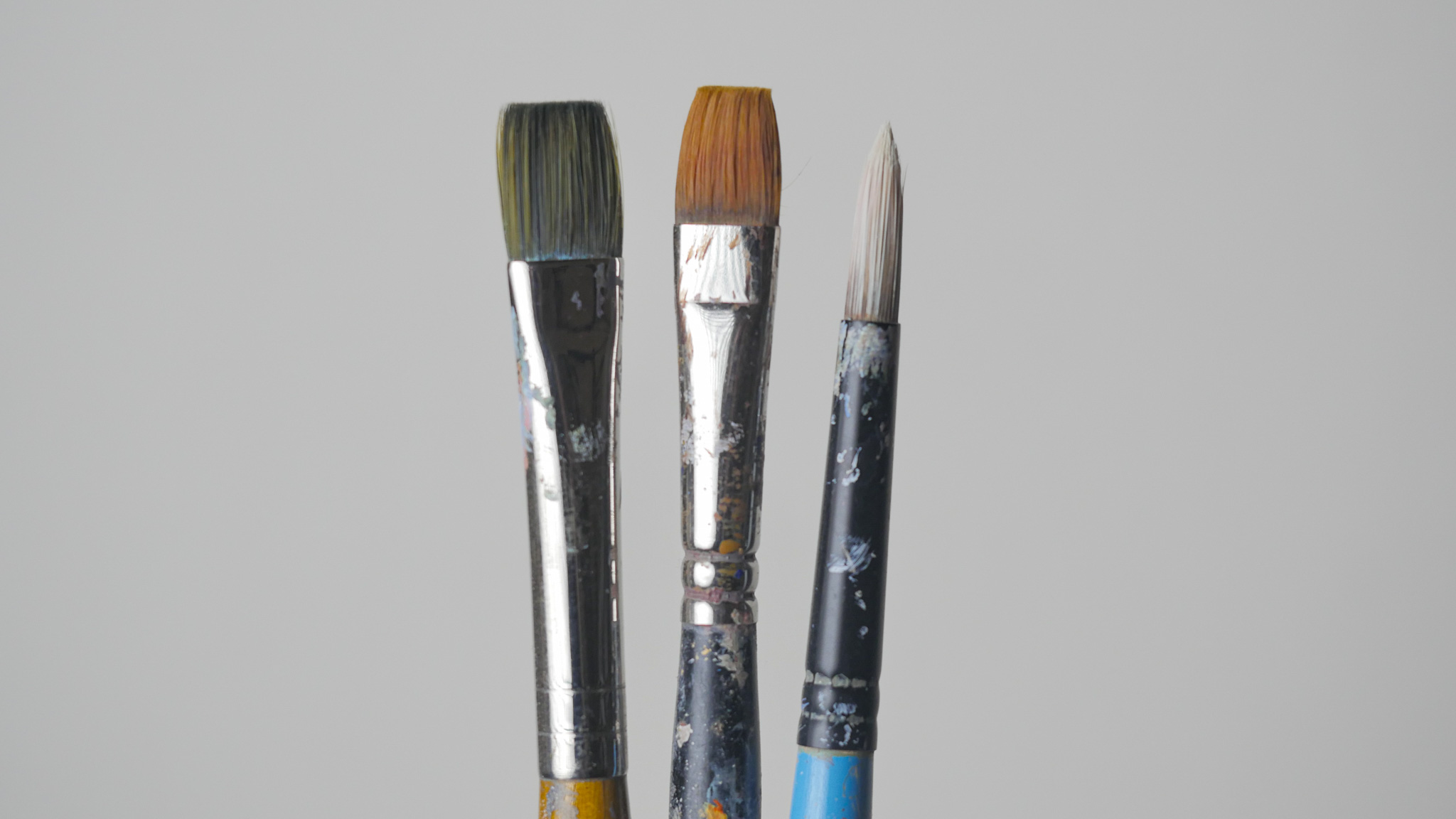 Flat & Round Synthetic Acrylic Brushes (Isabey Isacryl, Rosemary & Co Golden Synthetic, Princeton Aspen)
I think a great starter set for acrylic painters would be the Winsor & Newton Professional Acrylic Colour Set of 12 20ml tubes.
Again, a handful of brushes would be a great start.
a small round for detail
a flat brush
a Filbert brush,
and a bigger brush 1 1/2 inches for laying down the tonal ground
And Glazing Liquid Gloss as your medium.
Michael Harding Introductory Oil Painting Set
And for oil painters, I'd start with the Michael Harding Introductory Kit. The set consists of six tubes of 40ml paint: Titanium White, Yellow Lake, Ultramarine Blue, Yellow Ochre Deep, Burnt Umber and Scarlet Lake.
When it comes to the brushes, it is definitely easier to have more and, ideally, be able to hold a few brushes in your hand at the same time.
For example, if you've got a white brush and want to go from white to black with oils, it is really tricky.
It takes loads of washing, impeccable cleaning or a huge load of paint to transfer or change oils from light to dark. It's very easy to end up with muddy colours on your canvas and messy everything else, so ultra-clean practice of brush handling is key here.
You've got to spend more time colour mixing, then make a mark and leave it to keep a clean colour, gently blending out the edges.
The other difference with oils is you need less paint, so you only need to put out a tiny bit of pigment. It will last ages, and a small paint volume will have good coverage.
When it comes to the mediums, you can use an odourless mineral spirit, like Gamsol, to cut through the paint to thin it. An oil medium to add flow and oil. Or one of the many non-toxic mediums as an alternative to using a thinner.
How do I set up a basic painting workspace at home?
Firstly, consider light and ventilation.
Essentially, the easiest thing is to have a table and a slightly angled board or a tabletop easel because then you can sit behind and paint in the right light.
You can sit next to a window, but it will vary depending on what time of day it is or how dark it is.
An LED bulb or an LED panel behind and above you is the best thing to get. Clipped on, looking down onto the easel.
This, again, will depend on if you're using oils, which are a bit trickier because they often get a glare onto your canvas. So you have to make sure you've got the hang just right, or you can adjust the angle.
Have a kitchen roll or rags for cleaning up and a bin, and make sure you have a metal bin for oils because of the fumes and good practice with the rags disposal.
What are some of the fundamental basic techniques I should focus on as a beginner painter?
Detail from: Venice, Light & The Landscape Course
It sounds boring, but working with black and white to work on your tones, value, and contrast is fundamental. Paying attention to the value (lightness and darkness) of colours and learning to create contrast in your paintings is essential for depth and visual interest.
And then, after that, I would work on colour mixing because if you've got your tones and colour mixing right, everything else falls into place.
And also not to forget, drawing.
I always say most painting mistakes come from your drawing mistakes.
Brush techniques
Practise blending, scumbling, dry brushing, layering, and impasto (thick paint application).
You need more brush techniques with watercolour. With this medium, mastering brush control is key for achieving textures and effects, such as variated wash, wet into wet, lifting and blooms.
You'll be thankful for that larger brush that holds more water!
When you're working in acrylics, my top tip would be use more paint than you think you would need.
And with oils, make sure that you don't drag or you don't reapply; it's so easy to make colours dirty. Ideally, you'd lay a colour down, leave it, and then work over it to blend the edges.
How do I choose a subject to paint?
Begin with simple subjects and compositions, and you can tackle more complex scenes or ideas as you gain confidence.
If you are looking for simple projects, I'd recommend signing up for the email newsletter, if you haven't already. There are 10 references to work from; just pick one of them and follow it.
I often find beginners want to put their own mark onto a canvas; even when they're first beginning, they don't want to copy something. But if you look at any of the Students Success Pages, everyone following the same image with the same colours has their own character and natural style. It's almost like having your own handwriting but with painting!
So, when you are learning, I recommend copying the basics until you understand the language of paint.
Which of your courses would you recommend?
The Beginners Acrylic Painting Course gives a good overview of different paints, such as high-flow acrylics, heavy-body acrylics and different mediums.
There are three different projects: a still life, a seascape and a landscape.
Alternatively, if you did one of the Morning Painting sessions, like the Modern Still Life, you would just have one subject, five colours, and three brushes.
It's super simple to get started. There's a drawing guide that you can follow along and you get to a finished painting quicker because it's more focused.
Remember, painting should be enjoyable!
Let your creativity flow, and don't be overly critical of your work; it's all part of developing your 'talent.'