My Top 5 Pigment Choices
Inspired by the dramatic, dark Flemish oil paintings I saw in Antwerp; I've just started working on a still life set up of some fab oversized pink peonies. I'm going to begin simply with acrylics then build up the piece using water-mixable oils.
Yesterday, I talked about the importance of a coloured ground and how this very simple step of preparing your canvas, can transform your working method. And I received lots of emails asking
'How do you go about choosing a colour for your tonal ground?'
Well, the first thing I do is make a decision.
What is the most important thing or the most important problems that I can foresee within the painting I'm going to be working on?

For this still life, judging the values of the flowers and getting the drawing right are going to be the two trickiest areas –  but get them right….and they can pull the whole painting together. Choosing a sympathetic tone for the coloured ground will help me achieve this.
Peony reference photo detail next to Pale Umber ground colour swatch
Early block-in stage, using Burnt Sienna and Burnt Umber mix, over the Pale Umber ground
Even though the finished painting will have a more solid black background, I've chosen a ground colour of pre-mixed Pale Umber by Winsor & Newton. Squint your eyes and flick them between the left-hand side of the central flower on the reference photo above and the paint swatch. You'll see the Pale Umber which is a warmish light grey/brown, is already very close in value to the general shadow tone of the petals.
It's not too dark, which means I can quickly draw out on top of it and it's not so light that when I get to the brightest lights blocking in stage and white goes on, it will still allow my shapes to emerge.
So if the mid-tone value of the ground helps with the drawing and judging the rest of the values more easily, the colour, the actual pigment choice, will help with the mood of the painting.
I want the warm elements in this piece to shine, so the flowers heads, the wood of the table and the cream jug in the front. When the solid black of the background gets eventually blocked-in, and you can start to see below a darker colour being introduced, the warmth will sit nicely in contrast to the cool.
A Note on Drawing Out: Because there's so much going on in a floral piece – the leaves, petals and jug, being a bit more fluid to start with, can take away some of the overwhelm, also a few wobbly lines won't really matter. What I'm looking for is the silhouette shape of the whole image together. It's amazing how much the viewer can create in their mind, once you've got the basic shapes in. So don't let the feeling that you 'can't draw' put you off from painting something like an organic floral piece. You can see when I'm first starting to draw this out, I'm putting in very simple, angled lines, rather than detailed round flower heads. I'm also always using the shapes around the flowers – the 'negative spaces', to help with my drawing and composition.
My top 5 Pigments for Coloured Grounds: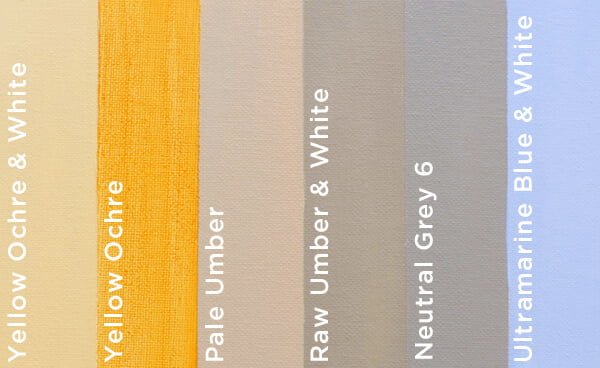 A coloured ground is always best if it's close to a mid-tone, so not too dark or too light and it can be based on any colour that suits your work and palette. I've listed my top 5 favourites below:
Yellow Ochre diluted with water – This gives a lively vibrant yellow undertone, brilliant for adding sparkles of colour into landscapes. If I were painting a Van Gogh style painting or a colourful still life, I'd go for a yellow to add a glow and give the whole picture a feeling of warmth.

If I didn't want it quite as intense, I'd add a little white to it or even mix it in with gesso to create a lovely muted yellow to work on top of.

Burnt Umber diluted with water – This would be for a very dark painting to add a glow, or I'd mix it with white to create a Pale Umber, it would still have a warmth to it but have a more opaque coverage.

Raw Umber and White – Which is a cooler tone and works brilliantly for portraits and judging muted skin tones.

Golden Neutral Grey 6 – For other muted or cool paintings this an excellent choice. I'd probably use this if I were working on a series of paintings together, so everything is consistent throughout and I'd know they'd all started from the same point.

Ultramarine Blue and White – I'll often choose a muted blue for seascapes, perfect if I'm painting Plein Air and I want to have a canvas that that's already got a base sky colour, blocked-in.
You might be interested in this article about how changing your studio space wall colours can alter the perception of your paintings and towards the bottom of the post, it covers different colour ground choices in more detail.
I'll be working on the floral still life painting over Christmas; I'll create a step-by-step of how I approached the finished piece in the New Year!