Free how to paint with acrylic paint videos

Free online acrylic painting techniques
You can discover over 7+ hours of free acrylic painting videos ranging from the secrets of colour mixing to choosing the perfect brush.
I teach classical painting techniques with acrylics so you can discover why you should be selective with composition, why colour mixing 'works' (and why it doesn't), and see the benefits of the dramatic use of contrast.
And the best place to start is with one of the free 'how to paint video tutorials' below.
With over 12 million views on YouTube, students have achieved some fantastic results!
Acrylic Still Life Painting of a Cherry for Beginners
This video tutorial is great if you'd like to learn classical glazing techniques when working with acrylics. If there is one lesson that will give you amazing results, this is it. Have a look at some previous students success with this lesson (many were their first paintings ever!)
Acrylic painting techniques – Apple Still Life – Light & Shade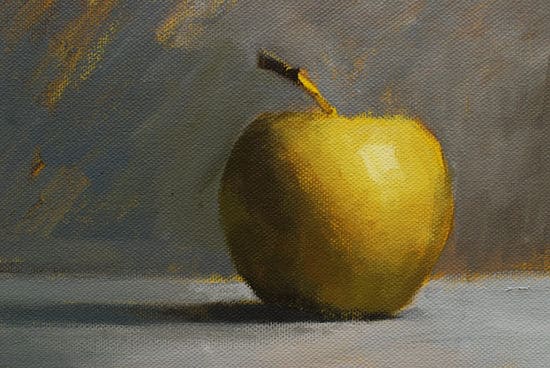 Ever felt frustrated having worked so hard on a painting — only to find it still looks 'flat'?
This tutorial looks at applying the principles of light and shade to your paintings to improve the illusion of form and realism.
Acrylic Still Life Painting of a Jug using 2 Colours
Perfect if you're still learning about colour and want to understand the principles of warm & cool tones in painting. We use Burnt sienna, Ultramarine blue & Titanium white in this simple tutorial.
How to paint a Copper Pot with Acrylics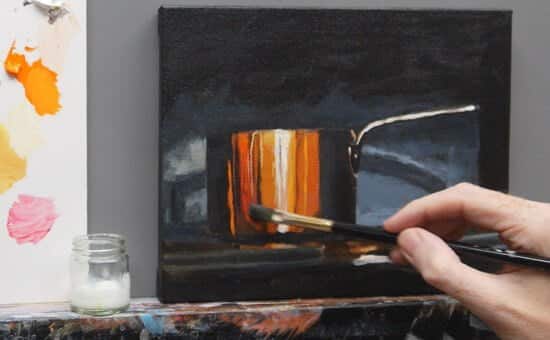 How to paint a Plein Air Acrylic Sketch of a Lemon Tree
How to Paint a Fish using Acrylic Glazing Techniques

Acrylic Landscape Painting Techniques
Learn how to mix vibrant greens for a summer landscape painting.
Monet Style Impressionist Acrylic
Discover how to paint with a more Impressionistic style using Monet's palette & techniques.
How to Paint a Simple Snowscene with Acrylics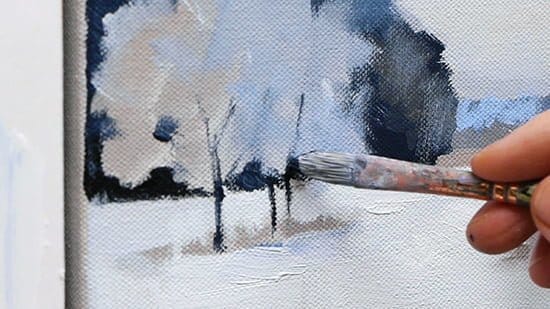 Snow. It can seem a tricky subject to capture.
Is it white? Is it blue? How do you paint it to look soft, or darken it without it looking dull?
Having a 'less is more' approach to your palette can reflect the colours of Winter absolutely perfectly – without getting complicated, and the first clue to a convincing Winter snowscape is the sky…
Acrylic Painting of a Cornish Harbour Scene
This painting tutorial is a little bit more complicated in the drawing and composition in the painting. Perfect if you've tackled a few seascape paintings but want an extra challenge. The principles are the same, just take it a step at a time and you can achieve a really lovely harbour scene painting.
Acrylic Palette Knife Painting Tutorial
This video tutorial teaches you how to combine using a palette knife with your brushes and embrace using thick paint!
French Cafe Scene with Acrylics
Painting on board rather than canvas to work on your drawing techniques and learning the importance of your paint consistency and underpainting.
Urban Sketch of a Bike with Pen & Ink
Sketching your surroundings can be such a fantastic way to create a visual diary of your daily experiences and I'm always a sucker for a sketch of a bike.
This video tutorial looks at how you can use different thicknesses of pens to create variety in your sketches, and how thinking about the surrounding shapes outside your main subject can add context to your drawings.
For Basic set up & preparation have a look at the tutorials below:
1. Setting up a stay-wet palette
Essential for keeping your acrylic paints wet when you first start.
Acrylics dry really quickly this gives you more open time for painting.
2. How to lay out a palette – a simple method for setting out a palette for successful painting
3. How to apply a coloured ground – key for quick professional looking paintings
Colour mixing basics
1. How to match a paint colour – a 3 step approach to correctly matching a paint colour
2. Understanding colour bias –Why can't you mix a bright purple? find out how the undertones of paint can affect your mixing
3. How to mix pink – learn how white can effect the brightest and hue of reds
4. How to match acrylic paint colours – learn how to mix acrylic paints for beginners
5. How to choose a brush for acrylics – What is a hog, filbert or bright?
6. How to mix bright purple – Why do some purples go muddy? find out in this video
7. How to mix green acrylic paint – How to mix green with a surprising colour choice
More videos are available on my Youtube acrylic painting channel and if you sign up for free email updates you'll get an email when I release a new article or lesson.
Cheers,
Will