It seems a little far-fetched doesn't it?
That your white paint could be ruining your paintings.
It's often the first tube of paint you buy and definitely the most used on your palette … yet it can be the most overlooked paint in your collection.
You can become transfixed by the Quinacridones, save up for the expensive Cadmium, but little old Titanium white stays the same.
Choosing the 'right' white for the type of painting you're creating is a critical step in mastering painting with acrylics.
So what is the right white to use?
Hobby paint vs student grade vs artist Quality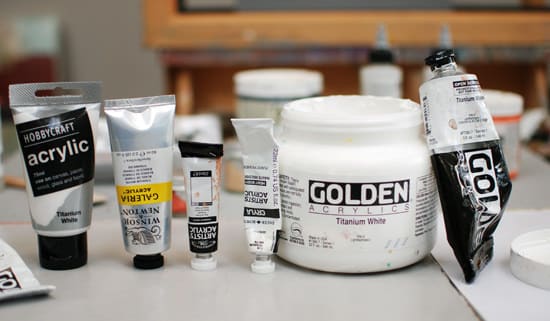 If you use a white that isn't opaque enough, it can cause real trouble when trying to block out different areas of your painting.
As a general rule of thumb, the less expensive the white paint, the less opaque it will be.
It's a common misconception to think it's best to invest in strongly pigmented colours rather than a strong pigmented white.
When you're first starting acrylic painting, you'll often start with the student range or hobby range of whites first, thinking you will upgrade or 'go pro' when you reach a better level in your work.
However, using a more expensive white paint is a simple fix to easier colour mixing, cleaner mixes and less 'colour shift'. Your dry paintings stay truer to the wet colour mixes you made, and the fuller body of the paint is perfect for thicker impasto brush marks.
In the video below, I demonstrate with a cross-section of whites to compare the similarities and differences.
Most watercolourists don't use White.
If you're coming from watercolours, it's easy to see where the problems start.
Watercolour painting is primarily a transparent medium.
You build up the painting in layers.
This is called 'In-direct painting.'
You use the paper's white to add luminance to your painting, and the white of watercolour paper provides your highlights.
If you're going super watercolour purist, your aim is to try to create a painting without using white paint at all.
To get a clean, transparent wash in your watercolours, investing in a good quality colour pigmentis the number one aim.
Paler tones are achieved by reserving areas of the white paper.
For tinting (adding white to a colour) in watercolour, Chinese White is used. Chinese white is made from a Zinc-oxide pigment mixed with Gum Arabic (this is closest to zinc-white in acrylics).
If really opaque white paint is needed in your watercolour painting, a Gouache* is usually used.
These final white touches are often only 5% of the painting.
When you're starting with Acrylics the reverse is true.
The white will be used to lighten your acrylic colours and used in 95% of your mixes.
You primarily work in a 'direct method'.
You want to have opaque paints that easily cover other colours so you can have thick, impasto, impressionistic marks.
Creating textures in acrylics is one of the medium's strong points.
For the most common applications with acrylics, you want an 'opaque' white. You need to choose your white paint with the same level as care as you would be choosing your watercolour paper.
*Pro tip: Gouache is designed to be an 'opaque watercolour.'
The binding agent used in Gouache is the same as with Watercolours – water-soluble Gum Arabic, so they can be used together very easily. There is a higher ratio of pigment to water in Gouache, with extra white pigments or chalks added to the paint to make it opaque. These additives give the Gouache a matt, chalky appearance.
What's the most opaque white Pigment?
Titanium White.
In Oil paint, Titanium white is a slow drying pigment, so Oil painters tend not to use it in the early stages of a painting.
It is also quite a stiff pigment and needs mixing with a medium to give it a good flow and consistency. You can see in the video below how I add medium to Titanium white oil paint.
One of Acrylics' major advantages is the paints all dry at the same rate – unlike oil paints. This means you have the luxury of being able to use an opaque white throughout your entire painting.
Titanium White vs Zinc White
Titanium White is an opaque white; Zinc White is a transparent white.
If you're working with more transparent layers or very subtle shifts in tone, such as portraiture,  Zinc white can be extremely useful on your palette. It can give you slight shifts in tone for more subtle mixes. However, when you're first starting colour mixing or building up vibrant solid blocks of colour, it's the wrong choice of white to use.
Here you can see the comparative covering power of both whites. A swatch of paint is painted over the three black lines manufacturers print onto paint tubes so you can judge the relative opacity/transparency of a pigment.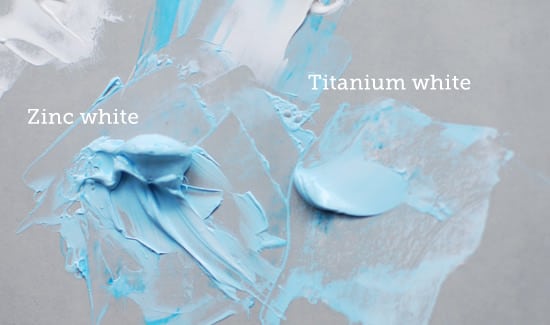 And here you can see the difference in volume between these two mixes.
I started with the same amount of Phthalo blue (green shade) and then added either Zinc white or Titanium white to lift the paint mix's value (light or dark).
I needed about 5 to 6 times the amount of Zinc white to achieve a match for the Titanium white resulting in a massive volume of paint – I should point out that these are both Artist Quality grade paints.
So if you want to shift tones quickly with good opacity, use a Titanium white. If you want a more subtle change of colour mixing, opt for a Zinc white.
Price Comparison
Hobby Paint
Hobby Craft Hobby Range – 75ml – £3.00 rrp – found for £1.50 online.
Student Grade
Winsor & Newton Galeria Range – 60ml – A nice range of student quality paints – £3.85 rrp – found for £1.95 online
Artist Quality
Daler Rowney Artists' Acrylic – 75ml – £6.95 rrp £4.20 for 75ml online
Winsor & Newton Artists' Acrylic £6.75 – 60ml £5.10 online
Golden Artists' Acrylic paints – 60ml £7.50rrp £5.70 (£4.50 on sale)
So next time you're at the art store looking longingly at a vivid Magenta, spare a thought for your Titanium white as it can help your painting more than you think!