Will Kemp, Self Portrait, Oil on Canvas
I'm Will Kemp, a professional Artist & Online Teacher from the UK. I love paint, I love colour, and I love teaching people how to paint.
I teach beginners the fundamentals of classical painting and drawing in an accessible way in acrylics and oil paint.
I believe everybody has the ability to create great paintings and drawings, the true trick though is knowing how to see with an artists eye….. and this I can teach you.
How did it all begin?
My first success in painting came at the age of 9 on Tony Harts TV show, when I won a set of colouring pencils for, dare I say stunning, drawing of the Taj Mahal.
From here on in I was hooked.
I was born near Canterbury, Kent in 1977, near the Kent coast.
My dad, who's an amazing Garden Designer, used to create unbelievable sand sculptures on the beaches – so from a young age I have always been inspired by creating a piece of art from humble beginnings.
The way pigment and canvas can be put together to create a picture fascinates me as much now as it did then.
Where did you Learn to Paint?
I studied BA (Hons) Conceptual Fine Art alongside classical Atelier Painting Methods. I studied at the Angel Academy of Art, Charles Cecil Studios in Florence and Sarum Studios.
In February 2010, I applied to The Queen Elizabeth Scholarship Trust to study Sight size Portraiture In Florence and became a Queens' Craft Scholar.
This was formal training at the highest level, which proved to me how important good tuition is and how hard it is to come by inspiring me on to create this website.
Receiving a Qest Scholarship from the Duchess of Northumberland, June 2010
Photo credit: John Stone
To learn more about Qest visit www.qest.org.uk


Having gained my Fine Arts Degree, I embarked on a six months renaissance pilgrimage to Italy, hungry to see the Masterpieces that had inspired me so much.
On returning to the UK, I followed my passion for education, working within the Museums sector as a Curriculum Development Officer for the Arts.
This enabled me to work on wonderful projects such as Renaissance in the Region, The Big Draw and the Tate Partnership Scheme, working alongside The Tate Gallery, The National Gallery and the Arts Council.
It meant I could give people unprecedented access to Masterpieces they wouldn't normally see and then inspire the hidden creativity in them.
I'd always painted at the weekends, and handling Turners and Goyas in the day reminded me of my love of paint, so I went part-time and set up a studio gallery with my wife Vanessa.
This was in an old teapot factory with no heating or natural light, or passing trade! But it did give me the creative freedom I'd been missing.
Eighteen Months down the road and lots of sleepless nights later, the teapot factory got sold, so we decided after several whiskeys that it was now or never, finished the museum job, put our house on the market and bought a rundown shop in the wrong end of town.
It was our paradise…well until the first utility bill came in!
In 2012, I launched the Will Kemp Art School Youtube Channel, now with over 280,000+ subscribers and 24 million views.
A new move to St Ives and the call of the Sea
In 2020, After years of painting trips and holidays and a rollercoaster of a property search, we'd finally found our dream studio in Cornwall.
Let's call it a project! A studio and house by the sea in St Ives, you can see the progress on the renovation here.
What Inspired Me To Become an Artist?
The excitement of seeing what were just colours on a palette transforms into a face or a landscape that transports you to another place. It never fails to amaze me.
When it works it's a real high, I also get great enjoyment through teaching painting and drawing.
Contrast and colour in nature; a cracking sunset, a cloud just changing shape, the nostalgia of seaside holidays and the coast, I also just love paint!
Putting out pure raw pigments is just really pleasurable I become obsessed by colours and have even had dreams about pigments. I could be drawn to a shape, see an interesting shadow, a splash of colour, often with an element of Chiaroscuro.
I enjoy the ritual of setting out the paints, the smell of turps fills me with energy!
I love Velasquez, John Singer Sargent, Whistler, Caravaggio, Rembrandt, Joseph Wright of Derby, Turner, Gerhard Richter, Bouguereau I could go on… I also am a great fan of cinematography, especially the work of Roger Deakins, Darius Khondji and Christopher Doyle.
I work between landscape and portrait commissions and often have numerous paintings drying around the studio, usually precariously propped!
I'm often drawn to the studio in the evening and paint late into the night. If I'm not painting I often read old texts on traditional painting techniques and often see Vanessa's eyes rolling when I tell her the amazing properties of Indian Red!
You'll also find me baking bread, tracking down wood-fired pizzas, gelato's or anything chocolate-based I can enjoy with a good cup of tea.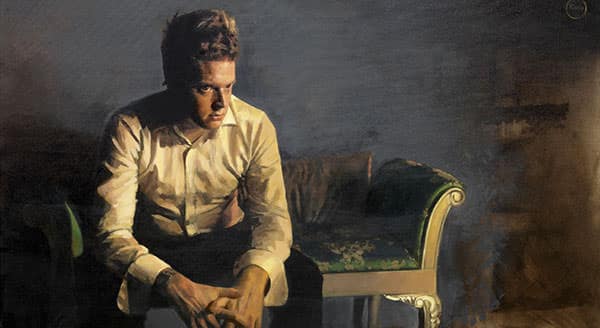 Will Kemp, self portrait, Oil on canvas