Considering it was mid-April in England, we were treated to some truly amazing weather.
We'd travelled down the coast to an area of South East Cornwall called 'The Forgotten Corner'. Often overlooked due to its remote location but we found some cracking little-secluded coves and practically empty sandy beaches.
Artist's have always been drawn to Cornwall due to the quality of light and mild climate, but the trip for me was all about getting to the sea.
The ever changing tide, the allure of cliff edges, the great expanse of sky and the unpredictable power of the waves.
We wanted to get to the edge, be battered by the elements and this was the closest we could find.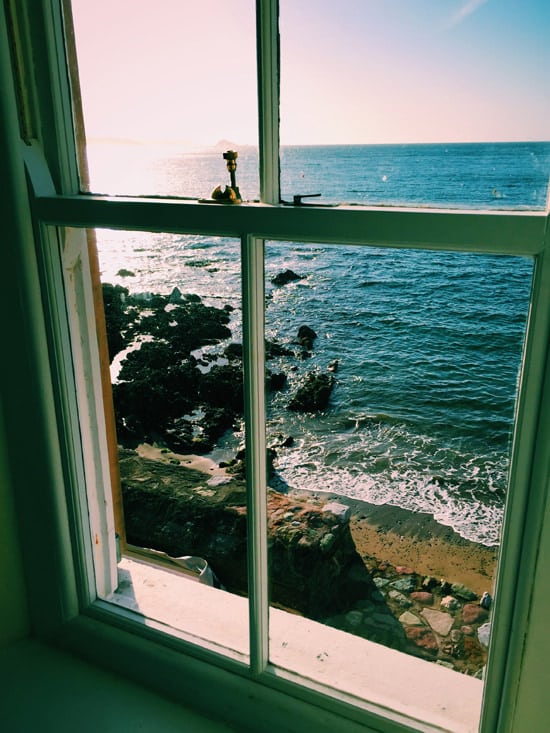 View from our cottage window – Rame Peninsula, Cornwall
Walking the Coastal Path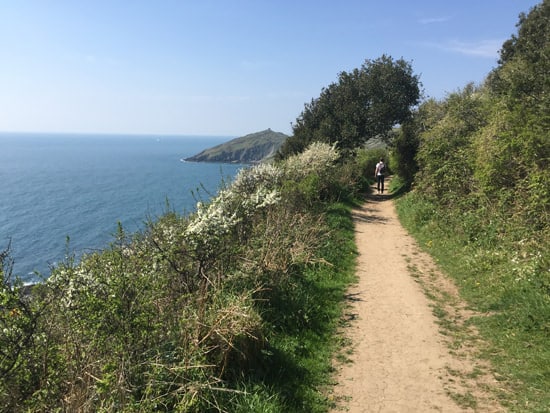 Walking the coastal path to Rame Head
Blessed with a scorching day I packed my pens, sketchpad and a flask of tea and took the decision, after consulting the local coastal guide, that the 'easy' walk seemed about our level.
The Coastal Path took us to the edge of the sea and cliffs at Rame Head, it felt very Mediterranean with the colours and sandy paths and was pretty epic how the trees had been sculpted over time by the wind.
Our 'easy' walk rapidly took an uphill turn when we saw the little chapel of St.Michael on the summit. It had belonged to medieval monks and promised stunning views but, more excitingly for me, had featured in the Mr Turner film in one of the iconic shots of the movie.
Mr Turner. Dir.Mike Leigh
Overlooking the cliffs at Rame Head
Sketching on the coast helps you keep quick and fresh in your sketches because everything moves so much. A view of a boat can disappear in an instant as it moves around in the water.
It's best to sketch with materials that cover a lot of ground quickly and can start building the basis for your paintings by getting in a good dark pattern. Rocks can be really useful for this.
Rocks can be really useful for this as they add a variety of dark shapes to any composition.
Standing on a rock edge is a great practice for demonstrating the benefits of keeping still when sketching. You find a position, plant your feet and don't budge an inch. The hardest thing is trying to achieve that panoramic view and expanse from one position.
For the sketch below I was lying on the grass precariously close to the edge. I was sketching to the intermittent shouts from Vanessa who was engrossed in her kindle "You're not going too close to the edge are you, Will?" I could happily shout back "No dear" and edge a bit lower.
I think the hike up to the chapel had turned me into an adrenaline junkie!
Sketching in Padstow
Padstow Harbour, Cornwall
After the excitement of Rame Head, we headed to Padstow Harbour for a day of sketching.
Harbours can be really good subjects for drawings and paintings because you get water, buildings, boats and sky, all within one scene. You'll often have a good contrast of colours and the boats are usually moored so easier to sketch than the open sea.
There are some other great benefits, slightly more sheltered from the wind, somewhere to perch on a wall or bench and hopefully close proximity to a good Fish & Chip shop – all leading to a jolly pleasant day.
I've created a free step-by-step acrylic painting tutorial based on the views in Padstow so you can follow along here.
In the drink – loss of a great 3B pencil!
The one peril of working so close to the water is a loss of good materials! I'd propped the camera on an impromptu pencil tripod and on lifting the camera the pencil rolled straight into the water.
Fish & Chips from Rick Stein's in Padstow
And then the weather changed.
I seem to always run into trouble near water.
You know that old saying 'Batten down the hatches" well we actually did have to.
For a couple of days, the sea roared and slapped against our upstairs windows. Downstairs fell into darkness as all of the windows had to be shuttered over.
It was exciting stuff but soon calm returned as if it never happened.
Walking the coastal path towards Mount Edgcumbe House
Capturing a Panoramic View
Mousehole Harbour, Cornwall
Heading down the coast to Mousehole (pronounced 'Mowzul' to blend in like a local) I managed to catch the afternoon sunshine hitting the water. This would give me more contrast on the side of the boats due to the lower angle of the sun and it's also nice how it highlights the rooftops of the buildings behind the harbour.
I wanted to capture a panoramic of the harbour but from where I was sketching my field of view wasn't wide enough. What I had to do was stay in one position looking to the left-hand side of the view to start with and draw that on the left side of my sketchbook – then pivot my feet slightly to the right to draw the rest of the scene on the right-hand side of my page.
It was also handy to wear a wide brimmed hat for these sketches because the lower sun can become easily distracting.
Jelbert's Ice cream Parlour
Just before closing time I managed to fit in a trip to a Jelberts traditional ice cream shop at Newlyn Bridge. I heard the locals in front of me ask for 'the works' and thought that sounded like an excellent idea, whatever 'the works' were.
It turned out to be clotted cream and a Cadburys flake on top of homemade Cornish ice cream, thanks Jim for the tip.

Light & Colour in St Ives
My trip wouldn't have been complete without a visit to St Ives, a former fishing town now an artist's haven.
It's known for its unique quality of light and the colour of the sky and sea had a real tropical feel to them, you'd definitely need a Phthalo blue in your paintbox.
The wind picked up a bit so I called it a day sketching as I was getting sand blown onto my sketchbook and took a stroll through the cobbled lanes instead.
St Ives, Cornwall
Warmth, Comfort & Cream Teas
When you've been sketching outside for a few days you gain a whole new perspective on home comforts. It was great to be able to bring my sketches back to the cottage, make freshly brewed coffee in the warm and reflect on the work at my leisure.
I found myself using these new Watercolour markers from Winsor & Newton.
They've got a fine tip and a wider end. The wider end is great for blocking in tone quickly. What's nice about them is you can sketch directly with the markers and then add water to the page to create a watercolour sketch.
Detail of Water Colour Markers with a wash of water over the top
Sketching and eating seem to work so well together, you feel like you've earnt it!
The Cornish Cream tea method of Scone (plain) Jam (strawberry) and then Clotted Cream (lots)
My other trusty combination was a two pen mix of a Pental Brush Pen and a 0.5 Muji Black marker. I'll often jump between the Muji and the Micron fine lines, but the Muji just seems to flow nicely. This combination acts as a thicker more gestural brush (the brush pen) and a finer line (the fine line marker).
It's nice to work between the two pens and I find standing and holding two pens and a sketchbook is a comfortable balance.
We left feeling inspired, invigorated and overly indulged. Hope you enjoy the Padstow Painting Tutorial and looking forward to seeing how your paintings turn out.
p.s. If you'd like to learn more about Urban Sketching, you might be interested in this new Urban Sketching Drawing Course.