Morning class!
If you've ever wanted to have a go with oils but felt the mysterious mix of Linseed Oil and Turpentine put you off, then this simple still life study is for you.
It uses just one medium mix the whole way through and I demonstrate the similarities between the techniques we've been using on previous acrylic paintings tutorials.
Traditional oil painting medium recipes can be complicated but it's not essential to master it all so I've kept it simple so you can get painting.
Switching between acrylics and oil paint can be a smooth transition, the main difference is how you dilute the pigments.
Materials you will need:
Brushes
1.5-inch Purdy decorators brush for applying the coloured ground– XL Monarch Elite
Bright shape (flat) Series 6562 –  Isabey Isacryl  – Size 6
Small round nylon brush about 5mm diameter (any brand will be fine)
Palette Knife
Support
I demonstrate on a 10 oz cotton duck canvas board 4mm thick (about 7 x 5 inch) that's had 2 coats of white acrylic Gesso applied by the manufacturer.
Other Materials
Kitchen roll/paper towel
Clean water (to dilute the acrylic coloured ground)
Tear-off palette or wooden palette
0.7mm Shock Brown Acrylic marker from Montana
Paints – The Colour Palette
I use a mix of Winsor & Newton Oil Paints. I use a student grade acrylic paint for the coloured ground.
Coloured Ground
Pale Umber Acrylic (Winsor & Newton – Galeria)
Main Painting
Titanium White Alykd (Winsor Newton)
Burnt Umber Alykd (Winsor & Newton)
Winsor Blue (Winsor & Newton) Also know as Phthalo Blue – Green shade
Burnt Sienna (Winsor & Newton)
Cadmium Yellow Pale (Winsor & Newton)
Mediums
Odourless Mineral Spirit (Gamblin Gamsol)
Refined Linseed Oil (Winsor & Newton)
Swapping water for a medium
A medium is something added to oil paint whilst mixing to dilute it and can help with blending, glazing, brush techniques and the handling qualities of the oil paint.
The most common medium for oil painting consists of two ingredients mixed together:
Refined Linseed Oil: Made from the seeds of the flax plant. It adds gloss and transparency to paints, it dries very thoroughly, making it ideal for under-painting and the initial layers. Refined Linseed Oil is a popular, all-purpose, pale to light yellow oil which dries within three to five days.
Turpentine (or Odourless Mineral Spirits OMS) – The traditional solvent or thinner for a drying oil, such as Linseed oil. It is used to 'cut through' the oil in oil paints, however, due to this ability, it has a strong solvent smell so is best used in a well-ventilated area. Alternatively, I suggest using an Odourless Mineral Spirit (OMS) such as Gamsol, a safer solvent that allows oil painters to use most traditional painting techniques without compromising on the vapours.
3 Parts : 1 Part
For this still life study, we're going to use a mix of Linseed Oil and Odourless Mineral Spirits (OMS) to create our paint medium.
3 parts Odourless Mineral Spirits (OMS): 1 part Refined Linseed Oil
The one thing to remember with a medium is less is more, you only need such a small amount of it otherwise you find yourself chasing the paint around the canvas instead of being able to scrub it in.
Pro tip: To add the oil to the OMS, I use a pipette, it just makes it easier to judge exact proportions.
Downloading the reference photograph
There's a downloadable reference image you can work along from at home.
The photo below can be 'right clicked' and 'Save image as', so you can print it out and use it as a reference image.
The reference image to work from is at a 7-inch x 5-inch ratio
Step #1
To ease us into the oil study, the first stages use acrylic paint and an acrylic marker.
I've painted a 7 x 5-inch canvas board with a Pale Umber acrylic ground (from Winsor & Newton Galeria Student Range) see: How to paint a coloured ground 
Pro tip: Make sure that you add a little water into the Pale Umber acrylic ground, you don't want the layer to be too thick because you want the next layer of oil paint to grab onto the surface.
The cup is sketched in with an acrylic marker from Montana, 0.7mm in Shock Brown, similar in hue to a Burnt Umber.
Step #2
We can now move on to oils.
The table colour was blocked in using Burnt Umber and a touch of Burnt Sienna mixed together and diluted with a little bit of our medium mix. I washed in the shape around the spoon handle for warmth, then added Titanium White into the mix which lightened the tone and cooled it. This lighter base tone was blocked in around the cup.
Pushing the dark background pulls forward the positive form of the cup and saucer.
Step #3
I darkened the area around the spoon handle with neat Burnt Umber. Because the paint is still wet underneath, it seamlessly blends into the previous warmth.
I then wash in a base orange colour of Burnt Sienna diluted with a little of our medium mix for inside the coffee cup, a lighter Burnt Umber and Titanium White mix is scumbled along the top third of the painting using a dry brush, which gives a nice texture.
I also start to block-in the turquoise colour of the saucer using neat Titanium White mixed with a tiny touch of Winsor Blue (Phthalo Blue – green shade).
Step #4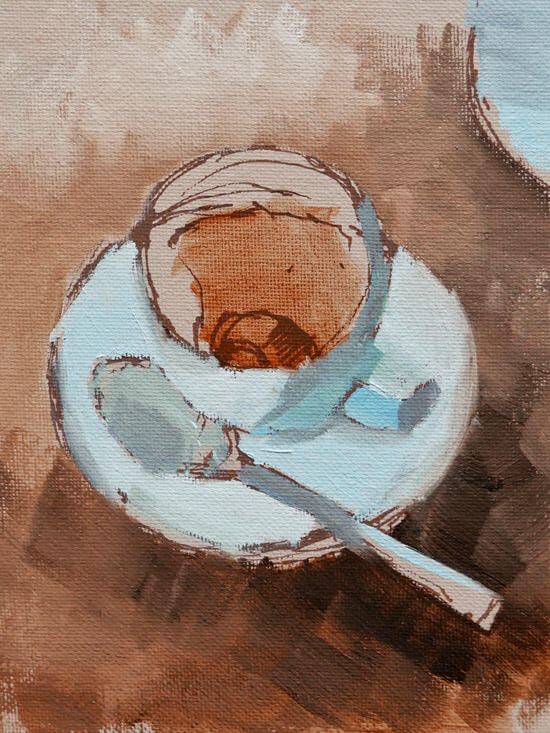 I've blocked in the rest of the turquoise tones. To darken the mix I've added Burnt Sienna into the turquoise, this takes down the blue and makes a nice neutral grey hue.
In the top right of the composition, there is a turquoise circular shape going out of frame. This gives an indication that our cup and teaspoon is just part of a bigger scene and brings the turquoise colour into other areas of the painting.
Step #5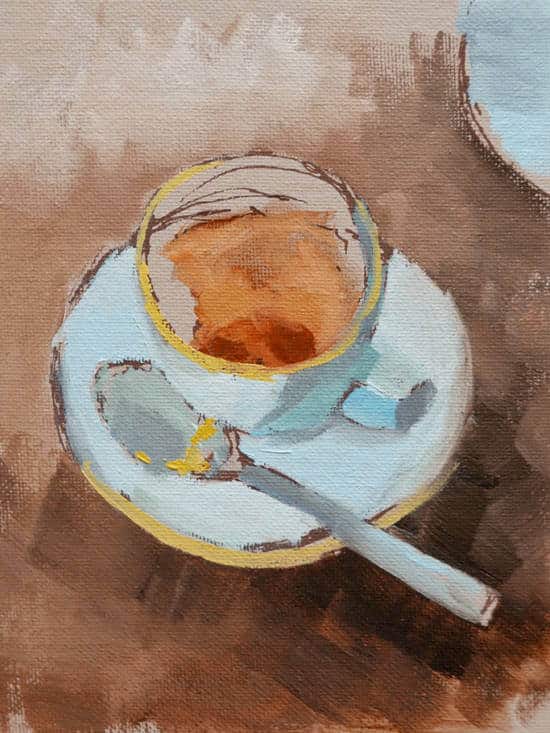 I place some stronger diluted Burnt Sienna mixed with Titanium White inside the cup to intensify the hue. Using a small round brush I add a Cadmium Yellow Pale and Titanium White mix around the rim of the cup and saucer. This won't stay this strong, but it helps to act as a joining colour between the turquoise and the burnt orange.
Step #6
I mix a cream colour using Titanium White, Cadmium Yellow Pale diluted with a tiny bit of medium.
I can then use this to blend the edges and soften in the yellow and also paint it into the centre of the cup. I've started to break through into the circular saucer shape at the bottom of the painting because it felt like my eye was dropping off the bottom of the frame.
Step #7
At this stage I add thicker white highlights to the cup and spoon, I now have my full tonal range for this study.
Step #8
I felt that the top right saucer from the previous stage was too much of a crisp line and kept grabbing my eye, so I've now broken that edge to make a more abstract shape whilst still keeping the colour note but increased the intensity a little.
I then focus back on the initial drawing and push the shadows darker around the cup handle, spoon handle and within the bowl of the spoon.
Inside the cup, I crisp up the lines and add more contrast with brighter cream notes around the top of the cup and dark in the base.
Finally, I break through the saucer a little more using a brighter turquoise mix and then intensify areas using that pigment.
I finish the study with a few dashes of Burnt Sienna around the rim of the saucer, total time painting about 1 hr.
Can you still follow the tutorial using acrylics? Sure, just make sure you mix a little more of the turquoise colour than you think you need if you want to try breaking through the edges of the saucer.
Really hope you enjoy it!