With only 2 colours
You know the scenario,
You decide to paint a simple study of a lemon; the painting starts out okay until you get to the fun bit, the yellow of the lemon.
As you begin to stare at the yellow to try and judge it's the intensity you ask yourself  – how yellow can you go?
The more you look, the more you convince yourself that this is most probably the most yellow yellow the world has ever seen, so only the strongest, brightest lemon yellow will do, straight from the tube.
You paint it on with enthusiasm, only to reflect on your handiwork and find the results are a bit disappointing, it looks too fake, dare you to say it, too lemon.
So what can you do?..
The power of a limited palette
This is Part 1 of a limited palette series using acrylics to paint a still life study with only two colours and white.
Working with a muted palette forces you to try and make the most of what you have got.
To try and create a mood or balance in your piece, you have to use the play of warm and cool rather than the allure of a brighter pigment.
After learning about the importance of contrast and tone, we can move onto colour.
This can be both a blessing and a curse.
Often the tendency to reach for a new tube of paint when your picture is going wrong is too much. You think that will solve the problem, but you can end up with mud.
I'm a great believer in less is more when you are first starting to learn to paint, so in this series, I want to look at a very limited palette, we will be using just:
Ultramarine blue, Burnt sienna and Titanium white.
Warm and cool
All colours are either warm or cool, so, for example, you can have a warm blue (ultramarine) or a cool blue (cerulean), and this applies to all colours.
Looking at the colour wheel, we can see that orange and blue are opposite each other. This means they are called 'complementary colours.'
Ultramarine blue and Cadmium orange are a good pair of complements to look at – to understand the theory behind colour and learn about the range of colours you can get from two pigments.
However, Cadmium Orange can be too harsh when first starting to try and create a harmonious painting, so for this painting, we're going to use Burnt Sienna.
Burnt Sienna is from the orange family (as are browns like burnt umber) but it's a quiet orange rather than being too loud, so grab your brushes and watch Part 1 below.
Pro tip: if you are ever unsure of a colours family then just add a touch of white paint to reveal the appearance on the colour wheel.
A step-by-step Limited Palette Still Life acrylic painting.
I will be posting a weekly video on my YouTube channel to follow this 3 part series along at home. It's free to subscribe to the channel so you can keep updated with the painting progress.
The image below can be 'right clicked' and 'Save image as', so you can use it as a guide.
Materials you will need:
30 cm x 24 cm pre-primed canvas but any canvas close to this will do the job.
Size 6 Isabey Isacryl acrylic brush – filbert
Size 10 Raphael synthetic (8204) – round – (any medium round will be fine)
Paints
All paints are Golden Heavy Body Acrylics.
Artist quality Titanium White. – Invest in this white even if you use student quality paint for the rest of the colours.
Burnt Sienna
Ultramarine Blue
Acrylic Glazing Liquid (Gloss)  – Golden Paints
3B pencil
Kitchen roll
A jam jar for cleaning brush.
Small dipper for diluting paint
Step 1. Apply a coloured ground.
The first thing I do is prepare the canvas with a coloured ground. This can be made from a mid-grey mixed between the Ultramarine blue and Burnt sienna or a mix of Raw umber and Titanium white just as we have done on previous paintings – I've used Raw umber & Titanium white.
To see how I apply an acrylic ground See: How to apply a coloured ground.
I use a 2-inch decorators brush (made by Purdy) to paint the ground. Make sure to add water to the mix to cover the canvas opaquely yet isn't too thick. If you look closely, you can see areas of my canvas that aren't covered 100%.
Step 2. Draw out the image.
I compose a simple line drawing onto the canvas using a 3B pencil. Key points to look out for in the composition are the curve under the bottom of the jug.
Beginners tend to flatten the bottom of jugs as your mind knows that in reality, the surface is flat.
Also, note the sharp angle of the shadow line in the jug and the negative space used in the jug handle. This helps to bring the jug forward and create a contrasting angle to the verticals of the jug.
Assess the tones.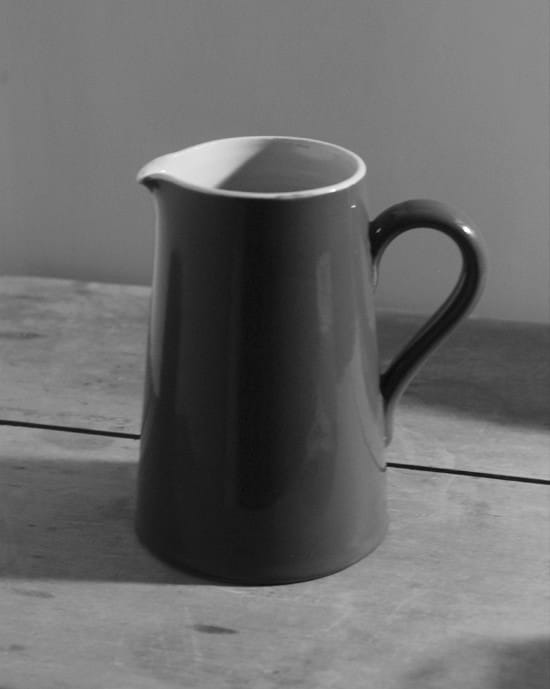 When we look at a black and white version of the jug, we can easily see the differences in tonal range. Notice how dark the handle and shadow side appears. When you look at the coloured version, the shadow isn't as obvious.
I then mix a dark brown/black from the ultramarine blue and burnt sienna. You could make quite a pile of this as it's handy to have when tinting down other colours as the painting progresses, also, if you are using student quality paints you might need a couple of coats to get a real dark opacity.
Pro tip: Although Burnt Sienna appears opaque, it can be quite transparent, so you will probably need a couple more layers compared to a Burnt Umber and Ultramarine Blue mix.
Step 3. Establish the darkest darks.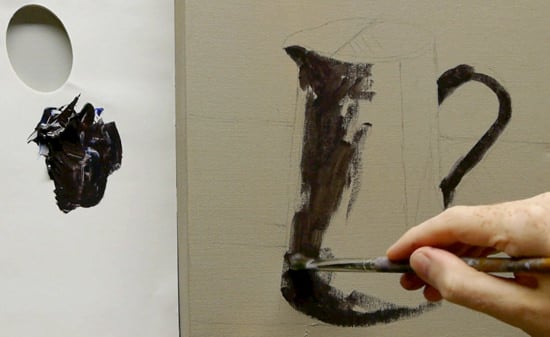 Don't look into shadows.
When we are working on the shadows, be careful not to look too much 'into the shadow', this is when you focus on the shadow tone, and it appears darker. Try to look at the subject as a whole, concentrating on the main object and noticing how dark the cast shadow appears.
When you view a part of the painting in isolation, it tends to emphasise that part. This can give you a distorted view of the object. It seems counterintuitive not to look directly at a subject to view it accurately, but just as when we softened the edges in the portrait last time, it can help to echo what's called a 'persistent of vision'.
So build up the painting slowly, don't go in too heavy to start with, that way you can see the painting grow and develop in front of you and create a painting rather than a completed section at a time.
On the dark side of the jug, the cool light from daylight has been bounced onto the side of the jug; I initially wash this in with a thin layer of the dark Burnt Sienna/Ultramarine mix.
Step 4. Adding the lights
I mix a touch of the dark Burnt sienna/Ultramarine mix with the Titanium white. I want to cool the colour slightly as it is being hit indirectly by the cool daylight (blue light) so I add a touch of the Ultramarine blue to the mix. This is then painted on with the number 10 round brush.
The one thing that I don't paint at this stage is the highlights. They always go on last so they 'sit on' the object. Build up the form first, imagining that there isn't a highlight, then when you add the highlight, the effect will be much more effective.
Tune in next week for Part 2, when we start to add the mid-tone greys mixing warm and cool colours using our limited palette.
You might also like:
1. Warm & Cool Jug Still life Part 2 (video)
2. Warm & Cool Jug Still life Part 3 (video)