Below is a gallery of students that have been inspired by the Cherry Still Life Tutorial.
Some of the paintings are students very first ever, so a real achievement!
Fiona Knox – lovely colours on the cherry  and great painterly brushwork in the background
Carminia Gutierrez -a fab sense of light, form and cast shadow.
Mayra Ryan – Great movement in the background and excellent cast shadows
Lisa Ramer  – love the bold dashes on the cherry and the pinky undertones
File this painting under 'no excuses'
Carolyn Cleverly – A fantastic blending of the form and colour mixing in this painting. And the most amazing thing about the piece is that 3 years ago Carolyn became functionally blind. Holding the canvas close to view the reference image and create the painting, a real inspiration.
Ash Levitt – Lovely smooth transition from the reflected light to the body of the cherry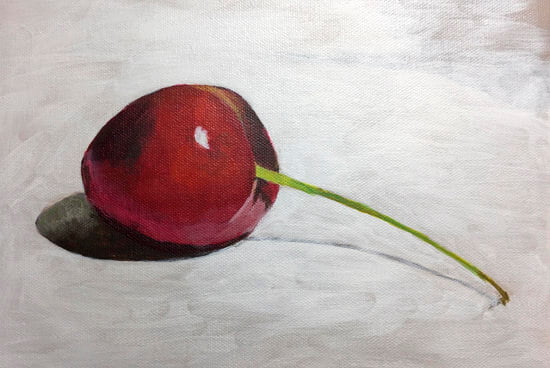 Tatyana Petrenko – Excellent shape of the cherry and subtle observation of the stalk shadow
Thor Hall – brilliant bold colours and colour balance
Tom Schneider – brilliant observation of the shape of the cherry
Jan Creedon – nice form shadow shape on the cherry
Estella Barbosa de Souza – great smokey look to the cast shadow
Helen Going – Great use of glazing in the shadows
Kim Wenning – Cherry for Pieter, this is a poignant piece by Kim, as her first every painting inspired by her Father, Pieter Wenning. Kim's Great Grandfather Pieter Wenning brought impressionism to South Africa in the 1920s.
Alberto Griselli – Alberto's first every acrylic painting! great work
Gwen Gill – Fab rendering of the cherry and delicate handling of the stalk glazing
Rachael Culver – Convincing fine cast shadow of the stalk
Mary – The reflected light on the left of the cherry really gleams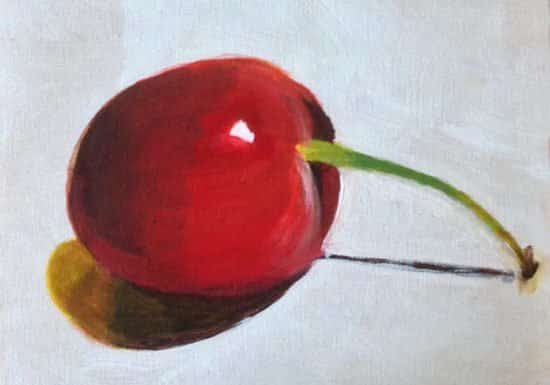 Rhonda Ferridge – Lovely painterly brushstrokes on the cherry
Tresa Heath – Lovely soft edges on the cast shadow
Viviane Reyes – Fabulous shape on the cherry and a real sheen to the surface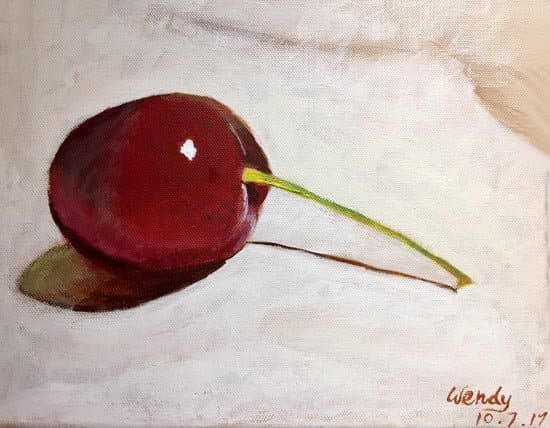 Wendy – Love the subtle glazes in the Cast Shadow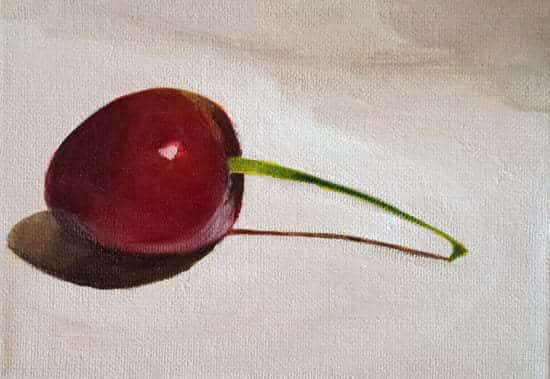 Julie Kennedy – Fab blending on the cherry
Kavitha Abhilash – Great drawing and observation of the reflected light.
Phil Rennie – Nice painterly brushstrokes on the cherry
Simon Lovell – Great shape and colour on the cherry
Rachel Wirt – Lovely transition from the bright reds to the darker shadow tones
Ella – nice form shadow on the shape of the cherry
Rob – Good colour balance between the green glazes and reds
Karri Robison – Lovely drawing and colour mixing
Nico Roets – Fabulous painterly surface and sheen to the cherry, great work Nico!
Kristin Gilchrist – Great balance between the pink glazes and deep red of the cherry
Jennifer Perez – lovely colours in the shadows
Veronica Colvin – Fabulous blending on the cherry surface.
Marlene Leto – Marlene had been watching tutorials for years but took the leap with her lovely cherry painting, in her own words "It's not hard to do once you dare start" she also had a painting buddy in her daughter Nola (see below)
Nola Leto – Nola is just 7! and has created this fabulous impressionistic cherry, brilliant work Nola
Shreya Sanyai – delicate handling of the stalks shadow and brilliant red hue.
Ben Owen – Ben's first ever painting! brilliant observation of the cast shadows
Jinitya Basarah – Picked up the brushes after 20 year break! great painterly style.
Freida Marie Stewart – Brilliant subtle rendering on the cherry body, it really gleams!
Alica Sahu – Lovely pink glazes on the underside of the cherry.
Aimée Jeanne Bourgon – lovely transition into the shadow tones of the cherry
Sarmed Mirza – great painterly texture on the cherry
Sid Pasumarthy – First ever canvas painting with acrylics! Delicate handling of the stalk and cast shadow
Brad Vomocil – This was Brad's first ever painting! Brilliant brushmarks on the cherry
Ali Campbell – Ali's first ever painting! what a fabulous result!
Rebbeca Potter – Great subtle handling of the shadows
Jim Precious – This was Jim's first ever painting! nice blending on the cherry.
Kim B – Great painterly style
Oga B – Brilliant mix of the pinks & red, lovely colours in the cast shadow!
Ghadeer Assiri – In Ghandeer's own words  "This is literally my first painting I bought my Acrylic Painting set two days ago!"
Melanie Park – First painting since Kindergarten! whoo hoo
File this painting under 'no excuses' – Lois is 95! fantastic work!
Becki Nelson
Rhonda Wilson (first painting ever! fab work!)
Lorraine Larson (this was Lorraine's second ever painting! whoo hoo)
Sherry Morrison
Stephanie Daly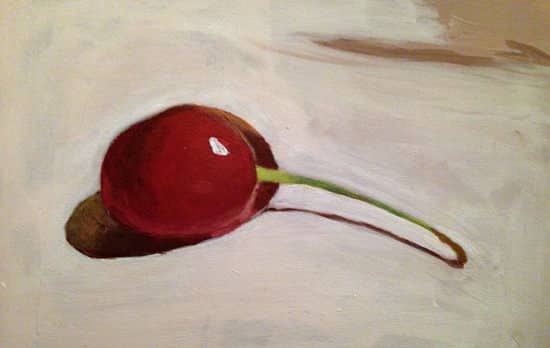 Aisha Ajaj
Steve Osmond
Aileen Xu
Laundrea Lewis
Vanessa Pearson
Richard Jose
John Powell
Susan Rall
Marlene Tollett
Shahana (first Acrylic painting!)
Cherryse Zeller
Inge Kielen
Sanaz Nabaei
Monika Duskova
Carolie Simpson
Chetan Pawgi
Anne Wilkinson
Helen Kask
Sophia Yi Qing
Ronnie
Laurel Turner
Barbara Gerlach
Karen Callaghan
Nina Zaikina
Martha Roberts (first painting since high school!)
David McNamee
Jeff Bronson
Dr Connie Hurley
Chuck
Julie Cook
Martin Slobodnik
Anne Dvorachek
Grace Lee (first attempt at painting with acrylics! whoo hoo)
Monica Seidler
Liz Geeslin
Steve Brown
Jenny Michalak
Natalie Goben
Bron Stedall
Teri Sousa
Gretchen
Nektaria Vakana
Eileen van der Merwe
Kathryn Franz
Vicki
Scott Seaton
Kim Norman (with a little encouragement from Ashleigh Norman!)
Sandi – An Artistic Bent
David Smith
Jasmine R
Linda
John Simlett
Miranda
Julie
Kailey
Maribel
Luca
Matt
Nickolas
Olga Santos
Maria T. Meade, www.drawingandpaintingwithmaria.blogspot.com
Carol
Jennifer
Roy
Claire
JP
Ken
If you've been inspired and want to share your cherry painting then drop me an email and let me know.