Below is a gallery of students work that has been inspired by the Copper Pot Acrylic Painting Tutorial
If you've completed the tutorial yourself drop me an email and I'll add it to the page!
Richard Clarke – Excellent drawing, this little painting has got a great atmosphere of the space and a really convincing rendition of the copper surface.
Ana Avanzini – The reflection in this copper surface looks brilliant! Lovely dashes of vivid orange and the blue has a nice greenish hue that pushes it into the background.
Margo Armstrong – Love the delicate dark lines within the copper surface, the contrast helps to make the reflection appear more intense.
José B. Gama – You can really get lost in the glowing oranges from the surface, feels like it has been illuminated by candlelight!
Jerry Malec – Great drawing and balance of the subject and the dark surround really focuses the eye on the pot.
Rebecca Potter – Lovely details in surface of the pot
Joe Pellerin – Fantastic vivid hues in the oranges, with subtle reflected tones into the hearth top
Brenda Finley – great balance between the warm and cools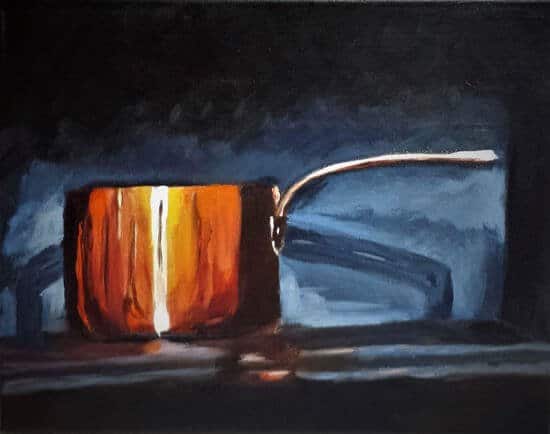 Dr Connie Hurley – Love the great orange colours on the pot and the brushstrokes with the blue
Ben Owen – lovely turn of the shape of the pan and great crimson glazes
Mari Tabuchi – Great tonal range within the copper reflection
Kim Gervais – Fab balance between the oranges and blues
Paddy Wilkinson – Fantastic glow to the copper and great texture in the background
Anne Wilkinson – great pattern in the reflections of the copper
João Diogo – Great use of the glazing with the reds into the copper surface
Wendi Richardson – Fantastic detail in this painting, love the grates on the cooker top
Kathy Atkins (10-minute study) Now here's how to spend 10 minutes! fantastic movement on the copper surface with the glowing coloured ground just peaking through on the right-hand side.
Marie-Claude – Love how the oranges from the pot have been echoed in the surface of the range
Morana Kavgic – Really nice pattern within the copper surface
Nico Roets – Lovely painterly brushwork and colour contrast
Sarah Boyle – Really nice vibrancy within the reds coming into the bottom of the pot
More Student Success Stories:
Student Success Stories – Apple in Light & Shadow
Student Success Stories – Cherry Painting