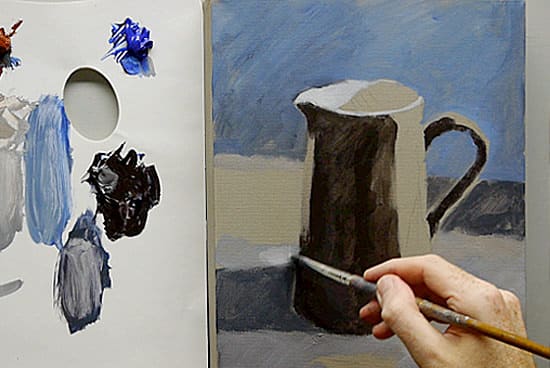 With only 2 colours
A step-by-step warm & cool still life acrylic painting – Part 2
In this limited palette painting series using acrylics, I am posting a weekly video on my YouTube channel that you can follow along at home. It's free to subscribe to the channel so you can keep updated with the painting progress…
The next 3 steps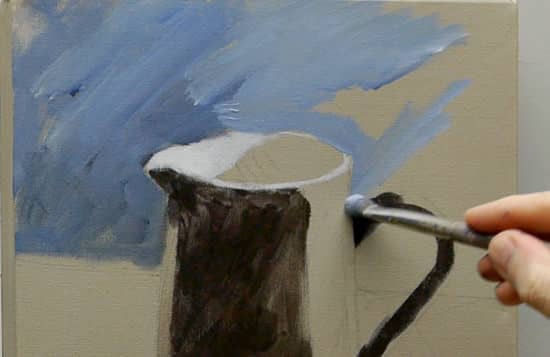 Step 1 – Blocking in the Background
I mix a muted blue by adding a touch of the Burnt Sienna to the Ultramarine Blue, working around the shape of the jug pay particular attention to the negative shape in between the handle, this will help you to adjust any drawing mistakes.
The paint handling is quite a loose technique, to add energy and interest to the background.
As it is only one colour on the reference photo I want to bring life to the background using these gestural marks. Notice how I also leave odd areas of the tonal ground showing through.
Step 2 – Mixing a shadow Tone
Using the black that we mixed in Part 1, I add a touch of white and some more blue so I keep all of the darker shadows with a cool blue hue. This will help to both unify the background and send the shadows back when we introduce the warm of the jug.
In the next step, we can start to introduce tiny amounts of warmth into the tabletop.
Step 3 – Bringing warmth to the Foreground
For the tabletop shadow, I mix a warm grey and a cool grey. Much like Velázquez used a warm black and a cool black in his portrait work.
The same principles apply and you can learn how to alter the balance in your painting through the use of warms and cools, rather than adding stronger brighter pigments.
I also add a bit of warmth to where the light hits the tabletop in the foreground, this is in preparation for the stronger orange of the jug, so we have elements of warmth in other parts of the painting.
I now add some of the dark shadow colours into the shadow of the jug and swap to the round brush to paint in the white rim of the jug and to check the drawing, it shouldn't be too neat to maintain the painterly feel we're after.
The still life painting at the end of Part 2.
Tune in next week for the final Part 3, when we start to paint the jug.
Any questions just drop them in the comments below.
Limited palette still life acrylic painting – Free video Course | Part 2
The video below shows the second steps in the acrylic warm & cool still life painting.
ARVE Error: Invalid URL https://www.youtube.com/embed/yo3psLzoh0E in url

You should follow me on my YouTube Art school Channel so you don't miss the next video.
If you want to take your still life painting further you should have a look at my Still life Painting Course
You might also like:
1. Warm & Cool Jug still life painting (using only 2 colours) – Part 1
2. Warm & Cool Jug Still life Part 3 (video)
3. The 3 Steps to Becoming a Better Painter, by Painting Less
4. How to balance warm and cool colours