Will Kemp, Fishing Boat at St Michael's Mount, 10 x 8 inches, Acrylic on Board
Morning class,
After posting photos from my recent trip to St Michael's Mount, the most popular request was to create a painting tutorial of the little blue boat. So here it is, a new free step-by-step acrylic lesson!
Grab a brew, maybe a biscuit or two (now the weather's turning a bit more autumnal I've got a piece of particularly good ginger cake from the local farmers market) and let's get painting, I really hope you enjoy it.
Downloading the reference photograph
You can download the photo below as a reference image, print it out, and follow along.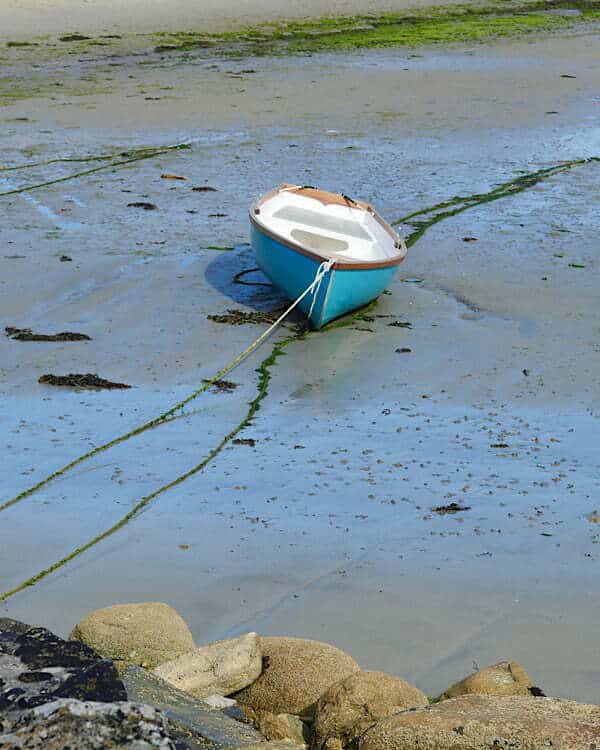 You can download a larger version of the image here. 
(The size of the image is 1:1 to the size I painted, 10 x 8 inches)
Materials you will need:
10 x 8 inch (25.4 x 20cm) canvas or board
Paints
I use a mix of Golden and Winsor & Newton Paints, these were the ones I used for the demo, but they could be interchanged between other brands and still work well.
Heavy Body Paints from Golden
Titanium White
Ultramarine Blue
Yellow Ochre
Raw Umber
Burnt Umber
Green Gold
Phthalo Blue (Green Shade)
Winsor & Newton Professional Acrylic
Naphthol Red Light
Phthalo Blue (Red Shade)
Brushes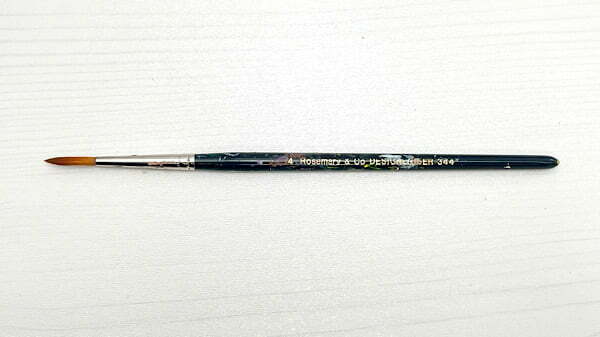 Round Synthetic – Rosemary & Co, Series 344. Designer Golden Synthetic, size 4
Mediums/extra tools

0.8mm Daler Rowney mixed-media paint marker filled with sepia high flow acrylic from Golden Paints.
How do you choose a colour palette for your painting?
Before I begin selecting my paints for any painting, I ask myself, what can I see?
What colour palette is going to be most helpful for this scene? What's the feel I'm going for and what colours do I like?
Importantly what colours don't I need? Am I going to paint impasto or in glazes? Do I want an opaque or transparent pigment? And if using oil paints, what's the drying time of those pigments?
I work my way around the scene, scanning for colours. If you look at our reference photo, you can see a warm muted yellow at the bottom, so I'd ask myself, are there any brighter yellows than this in the subject? Not really, so a Yellow Ochre for this piece would work well.
Now my eye has jumped to the warmth on the front of the boat, I'm going to need a red so I'm going for a Naphthol Red Light (a Cadmium Red would also work fine).
Then I've also got cool tones, specifically the blues.
Within the boat, you can see a turquoise blue, so I'll use Phthalo Blue (Green Shade) for that, in the reflected light, it's slightly warmer, so I'm selecting Phthalo Blue (Red Shade) and for the warmer shadow under the boat, Ultramarine Blue.
For the dark areas, I can mix Burnt Umber with Ultramarine Blue to create a black.
There's almost a vivid transparent yellow-green for the green areas so that you could use a bright lemon yellow, but I'm going to use some Green Gold to give that lovely glow.
Step #1. Coloured Ground & Drawing Out
Line drawing using a high flow sepia acrylic within a mixed media pen
How do you paint sand without using yellow?
Our perception of what colour sand is is largely based on memories. Golden and bathed in sunlight, but when you look at the sand in our image, it's a very muted colour, and that's even with dappled sunlight over it.
Mixing a muted sand colour will feel greyer than you think it should be, but this will help with our approach to the rest of the colours in the painting. I want something that goes towards a cool hue because I can add warmer glazes in the later stages of the painting so I've chosen a mix of Titanium White and a small amount of Raw Umber.
Slightly dilute it with a few drops of water to move more smoothly and is easier to apply. Brush it over the whole canvas using a decorators brush or a flat synthetic brush, making sure it covers the canvas opaquely yet isn't too thick. I don't want to make it thick because I still want to be able to draw on top of it. Also, you don't want to lose too much of the canvas texture.
If it isn't flowing smoothly, dip the tip of your brush into a bit of water and continue applying, and if you do apply it too heavily, you can use the edge of your palette knife to scrape the paint off.
Okay, now we're just going to leave that to dry before drawing out.
Drawing the s-curve
Look for the underlying s-curve made by the seaweed and ropes
I've drawn out using an acrylic marker.
It's a mixed-media marker from Daler Rowney, with a really fine 0.8mm tip which makes a lovely line. What I like most is you can choose whatever medium you want to go into the empty marker. I'm using a high flow acrylic from Golden paints in a Sepia, designed originally for airbrushing, it's already been thinned by the manufacturer.
So the drawing is actually pretty simple.
The main objects are the curve of rocks in the foreground which helps to frame the view and gives us that sense of depth from the boat. Then just a slight indication at the top where the seaweed is coming in, and also the shape of the ropes on the sand so you have this nice diagonal S-curve that sweeps through the composition.
Finally, just some very simple shapes on the boat, putting the cast shadow in and just an indication of shapes on the interior of the boat that will be lighter whiter areas.
Step #2. Burnt umber block-in
Looking at the rock on the bottom left, there's this warmth to the surface, so having that in first will provide us with another good base. Initially, I wash in with diluted Burnt Umber to give a warm glow underneath. Brush wise; I'm using a small round synthetic brush (size 4 Design Series from Rosemary & Co series, 344)
Then, using a mix of Ultramarine Blue and Burnt Umber I mix a lovely deep, rich, cool black. I paint that very dark tone on top of the warmth, which will help us to judge the value range within the painting. If you notice there is a little dark area around the base of the boat to indicate the shadow cast onto the sand, this will help it feel like it's set in, grounded and give the impression of some solidity.
Once you've made that black mix, take a little bit to one side and add some white and a bit more Burnt Umber to get a nice grey tone. You can use this for the rocks in the foreground a little later on in the painting.
Also, there are a few tiny rocks painted in, I'm always looking for these underlying areas which might break through shapes, and these little rocks are so important to add interest to what might usually feel like a very flat surface.
Step #3. Painting warmth in the sand
Before painting the greys over the rocks, I apply a thin glaze of Yellow Ochre diluted with water.
Paint this over that entire area, just like a stain to add some warmth to the rocks in the foreground first. If you look back at the reference image, you can see underneath that grey rock bottom or left; there's a lovely yellow warmth.
I'm using a filbert brush from Isabey Isacryl range, size 6 for this section.
Also, I wash in the back of the boat edge and the brim at the top where you've got warm wood, a little bit next to the right-hand side of it where the sun's hitting it, and top left. So it's now created this underlying pattern of dappled sunlight. If it goes on a bit too strong, you can take a paper towel and pull it back.
I take a tiny bit of the black mix and white for the foreground textured rocks to give us a range of greys and apply them thicker, with broken marks.
Okay, nice, that Yellow Ochre has really added that sunshine feel to the piece!
Step #4. Adding colour to the rocks
Now I'm layering up the colours on the rocks to add more form, using Titanium White, Yellow Ochre and a touch of Burnt Umber to darken the mix; I paint a diluted base over the Yellow Ochre and vary the intensity for the darker shadows within the rocks.
Take a tiny amount of this brown mix and add white to create a warm light for some of the highlights on the very edges of the rock.
I'm using a round brush from Princeton, the Aspen range, 6500R size 4.
These little highlights help bring that a sense of light; again, just on the top of the rock brings it to life.
Step #5. Adding reflections in the sand
For the blue, I've mixed Ultramarine Blue with a bit of Phthalo Blue (Red Shade) and Titanium White to create this reflective light in the foreground. I've also used Raw Umber so that I can knock back the blue if it becomes a bit too intense.
I'm varying the thickness of the application, depending on how much of the ground, acting as the sand, I want to show through. Here I've swapped back to the filbert brush.
I'm just adding a bit more white where I've got a sense of light coming in on the right-hand side by the boat.
Leaving elements of the ground colour showing through gives us that illusion of the sand underneath. You can add a bit of the Raw Umber to mute it down for some of the more muted blues; at the very top, with the dry brush, drag it over some of these areas to give this reflection on the sand.
Step #6. Adding our lightest light
Now we've got these blues in, it's going to be handy to paint in the boat, so we can then judge all the hues together to see if we need to adjust anything. Start with pure Titanium White. Paint the very widest area on the boat, and then add a little bit of Raw Umber to darken it slightly for painting in the shadow areas indicating the seat void.
Step #7. Balancing blues
Next, I put out a tiny bit of Phthalo Blue (green shade) and mix it with Titanium White. This pigment has very high tinting strength, so you don't need very much paint at all. Add a little bit of Raw Umber, so it's not super intense, and you'll get a lovely turquoise colour, perfect for the light side of the boat. Once that initial colour has been blocked in, I can lighten it or darken it, to give a bit more form to the hull of the boat.
I use Phthalo Blue (red shade) mixed with white and Burnt Umber for the shadow side, and then a bit of Ultramarine Blue and a tiny touch of Naphthol Red Light for the cast shadow made by the boat.
Step #8. Altering intensities
It felt like when the boat was painted in, and the more intense pigments were introduced, the reflection of the sky on the sand was competing with the boat a bit too much.
I wanted the boat to be the main centre of focus. So, I glazed down the areas of bright reflections with a mix of Raw Umber, a touch of Ultramarine Blue and a touch of Titanium White.
This knocks it down a bit so that it's darker tonally.
Step #9. Painting pebbles in the sand
Now it feels like the boat is the main focus, but I've lost a little of the darkness around some of the actual initial drawing.
What I'm going to do is re-emphasise parts so that we've got a nice contrast.
What I do like is the cast shadow blue, which looks great. And the lightness in the background, where there's light sneaking around the corner.
We are now adding a few small random dashes to indicate pebbles on the beach. Vary the tone of these slightly, so they don't all feel the same.
Step #10. Adding warmth to the boat
With a bit of Naphthol Red Light, Yellow Ochre and Titanium White, mix a warm brown orange and paint around the edge of the boat; the addition of these punchy oranges suddenly make the blues look so much bluer.
I also reinforce some of the drawing and some of those darker lines around the boat.
Step #11. Refining the edges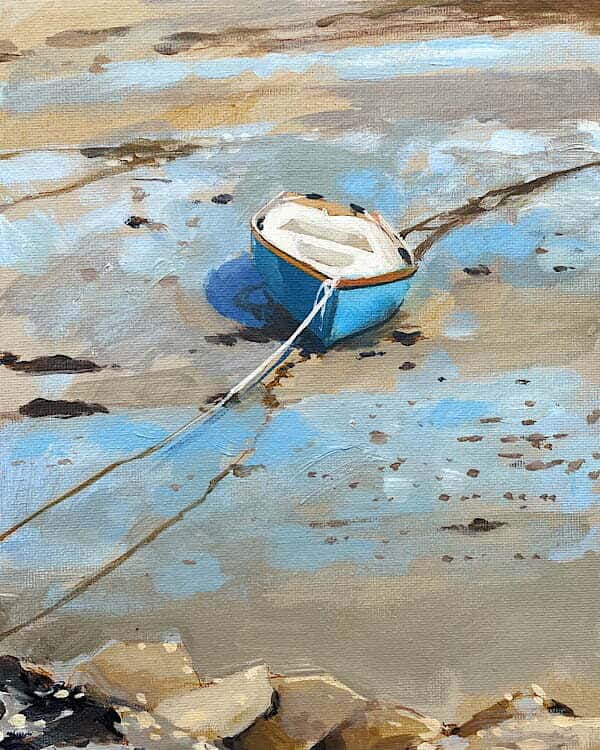 So the last thing to do here is add that very fine rope on the front of the boat, which ties the whole composition together, grounds the scene and adds a bit more definition to it. Also, notice how the boat is more in focus than some of the more painterly marks around it.
Step #11. Adding a Green Gold glow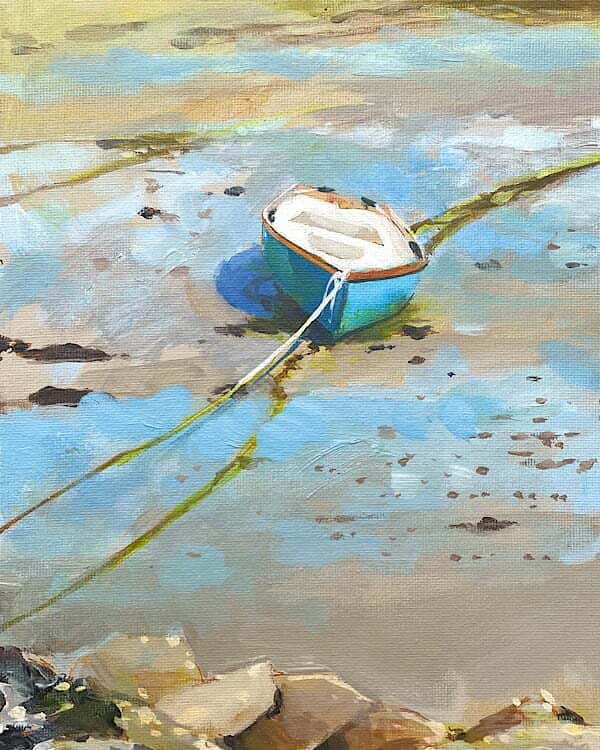 Then glaze over all the areas of green with the Green Gold, adding that bit of seaweed glow to the painting.
Finishing touches – Introducing dappled light
Will Kemp, Fishing Boat at St Michael's Mount, 10 x 8 inches, Acrylic on Board
To break up the background, I brought in reflected light with these dots; I also felt the highlights on the rocks were competing too much, so I blocked them in more solidly to finish.
Really hope you enjoy it!
Cheers,
Will