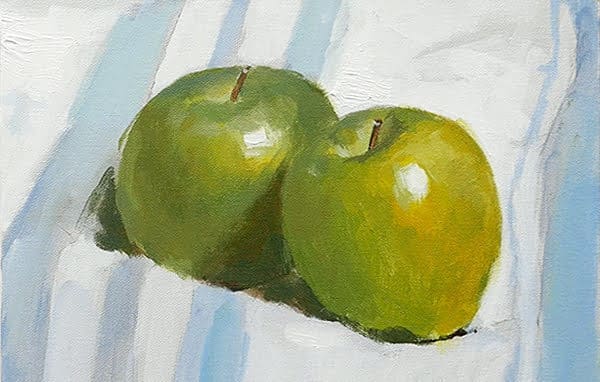 Morning class, this week we're going to look at how to paint fast and loose with your acrylics in this two-part apple study.
I get lots of emails from students who want to develop a more painterly impressionistic style but find when using a photo reference, they get too obsessed with the details, and the whole piece gets a bit overworked.
So in the first lesson of this two-part still life, I approach the drawing out of our apples in a bit more detail. The method I demonstrate is sometimes called 'Envelope Drawing' and is an approach that helps you to draw something more accurately.
In the second lesson, we approach the painting without pre-mixing the colours using our intuition and being a bit looser with our brush marks I've used a limited palette and simple painterly techniques with just two brushes and four colours.
Why are we drawing more accurately when we want to paint looser?
Well, it depends.
It depends on your skill level of drawing.
If you're pretty good at drawing, then ideally you'd go straight in with your paintbrush and draw and paint at the same time, so you're essentially drawing with your brush. That's how you get the loosest, freshest paintings.
But if you're a complete beginner, then spending the time getting the drawing accurate is a more failsafe way of creating a painting that looks loose but captures the subject. It gives you the confidence to paint more loosely knowing you've got a good structure underneath.
I paint this study with acrylics, but you could also use water-mixable oils.
So grab a brew, a couple of biscuits, and you can download a reference image below to follow along with the video.
How to paint loose with Acrylics – Part 1 – Drawing
How to paint loose with Acrylics – Part 2 – Painting
Downloading the reference photograph
The photo below can be downloaded, so you can use it as a reference image, print it out and follow along with the steps below.
You can download a larger 30 x 30 cm version of the image here.
Materials you will need:
30 x 30cm canvas or board or you could work on a smaller square
Paints:
I use Artist Quality acrylics but you follow along with any brand.
For the coloured ground:
Raw Umber (Golden Paints)
Ultramarine Blue (Golden Paints)
Titanium White (Golden Paints)
For the painting:
Titanium White (Golden Paints)
Cadmium Yellow Light (Golden Paints)
Ultramarine Blue (Golden Paints)
Burnt Umber (Winsor & Newton)
Brushes:
Isacryl Filbert, 6572, Size 6 (Isabey)
Small round synthetic (any brand is fine)
1 1/2 inch XL Elite Monarch decorators brush (Purdy)
Extra tools
An HB Pencil – (I use a Kuru Toga Roulette Mechanical Pencil 0.5mm Uniball)
An Eraser – (I use a Putty Eraser by Faber Castell)
Burnt Umber chisel nib acrylic marker (Liquitex)
Delacroix Charcoal & Pencil fixative (Sennelier)
Acrylic Glazing Liquid Gloss (Golden Paints)
Palette Knife (I use a diamond shape size 45 by RGM)
Metal dipper or small pot for mediums
Jam Jar for water
I'm using a 30 x 30 cm cotton canvas and I toned my canvas by applying a diluted grey mix that matched the colour of the linen in the reference image.
A coloured ground helps to take away the glare of the white canvas and gives me a head start – if you want to learn more about the benefits of painting on a coloured ground see: How a prepared canvas can drastically improve your paintings
Line drawing
Here is the line reference image from the end of Part 1.
 You can download a larger 20 x 20cm image of the line drawing here:
Finished Painting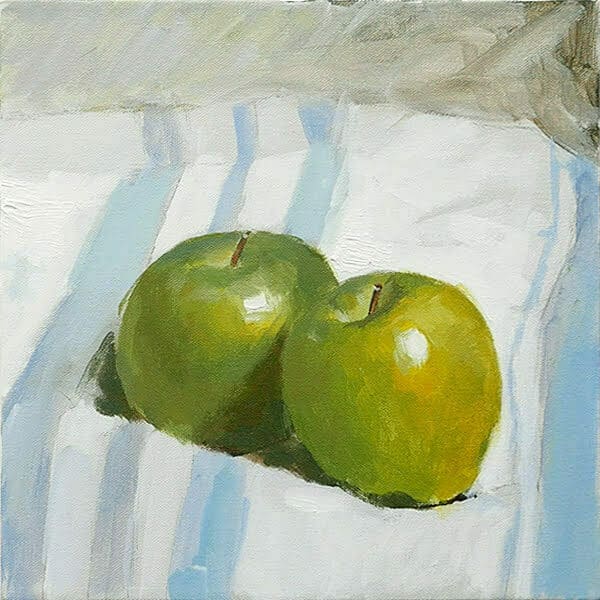 I really hope you enjoy the lesson, have a great festive week!
Cheers,
Will