How to glaze with acrylics
The video tutorial looks at how to glaze with acrylics using a monochrome underpainting with coloured acrylic glazes. We'll keep the piece's freshness by building up layers of clear transparent glazes, and all we will use are five paints and a couple of brushes to create depth and dimension in your acrylic paintings.
Acrylics are fantastic paints for teaching you glazing techniques because they dry so quickly. This week we'll be painting a simple study of a fish, taking inspiration from objects you might see every day and transforming them into paint using acrylic glazing techniques.
I'll be using a stay-wet palette to hold my tonal colour string mixes in, and then any leftover colours from the painting can go back in there, ready for my next piece.
Want to add depth and dimension to your paintings? Try glazing!
Glazing is a technique where you add a transparent layer of paint over an existing layer. It's a great way to add depth and dimension to your paintings and bring out the colours or form underneath.
To glaze, you'll need a glazing medium and a brush. Mix the glazing medium with your paint to create a transparent layer. Then, apply the glaze over your base layer, using smooth brushstrokes to spread the paint evenly. You can build up multiple layers of glaze for even more depth and richness.
Remember to let each layer dry completely before applying the next.
You can download the reference image below to work along from, so grab a brew (maybe a couple of biscuits) and let's get painting!!…
Downloading the reference photograph
The photo below can be 'right clicked' and 'Save image as', so you can print it out and follow along with the video above.
Here is a larger higher resolution version
Materials you will need for Glazing:
Brushes
Acrylic Paints
I use a mix of Golden Acrylics and Winsor & Newton Professional Acrylics, previously called Artists' Acrylics.
For the Coloured Ground
Raw Umber (Golden Paints)
Titanium White Acrylic (Golden Paints)
For the Main Painting
Titanium White (Winsor & Newton or Golden)
Raw Umber (Golden Paints)
For Glaze with acrylics
Phthalo Blue – Red Shade (Golden Paints)
Permanent Alizarin Crimson (Winsor & Newton)
Raw Sienna (Winsor & Newton)
How to use acrylic glazing medium
Acrylic Glazing Liquid Gloss (Golden Paints)
This medium is key for glazing techniques. The paint will flow nicely and stay in a stable paint film on the canvas surface when working in thin layers; using water for this method won't work as well. You can see a video on how to use acrylic glazing liquid here.
Palette Knife
RGM Classic Line, Medium size 45, Diamond-shaped, cranked (angled) handle. I use an RGM 45 for mixing the paint on the palette.
Canvas
I demonstrate on a 10 oz cotton duck canvas board 4mm thick about 10 x 12 inches (25.4cm x 30.48cm). It's had 2 coats of white Acrylic Gesso applied by the manufacturer. (If yours is white also, then it has been pre-prepared with Gesso, and you're good to go)
Other Materials
Kitchen roll/paper towel
Clean water in a little jar; I use a clean jam jar
Mini jam jar, for putting Acrylic Glazing Liquid in
Tear-off palette
Stay-Wet Palette
0.7mm Iron Curtain Acrylic marker from Montana
3B Faber Castell 9000 pencil
Why do artists use glazes in their paintings?
Using glazes in your acrylics is a method from classical oil painting called 'in-direct' painting. You create an monochrome underpainting called a Grisaille. (You can see an in-depth lesson on How to create a Grisaille portrait with Oils)
By starting on the underpainting, you're just focusing on the value relationships in the painting. Then, once these are established, you can bring in the colours.
The glazing and layering of colours bring a glow that can't be achieved by just solid applications of paint.
This can be especially handy in portrait painting to add a subtle glow to skin tones. I have an Oil Portrait Glazing Course if you'd like to explore the method in more depth.
What is acrylic glazing?
Acrylic glazes are super thin layers of paint that act like coloured stained glass over your painting. You can use transparent or semi-transparent colours so you can still see the colour underneath but glazes enhance and unify the painting underneath. Glazing works best with warm colours, and artists such as Rembrandt used many layers of glazing to add visual interest and complexity to his portraits.
Step #1 – Preparing the Ground & Drawing Out
I've prepared the canvas board by painting a coloured ground over the white surface using a mix of Titanium White and Raw Umber. Start with some Titanium White and then add a little Raw Umber just to tint it, using the palette knife to mix, aiming for a colour that's a light grey tone.
Add a touch of water to the mix, so it's got a little bit more fluidity to it, and then paint onto the surface to create an even tone using a flat brush (see: How to paint a coloured ground.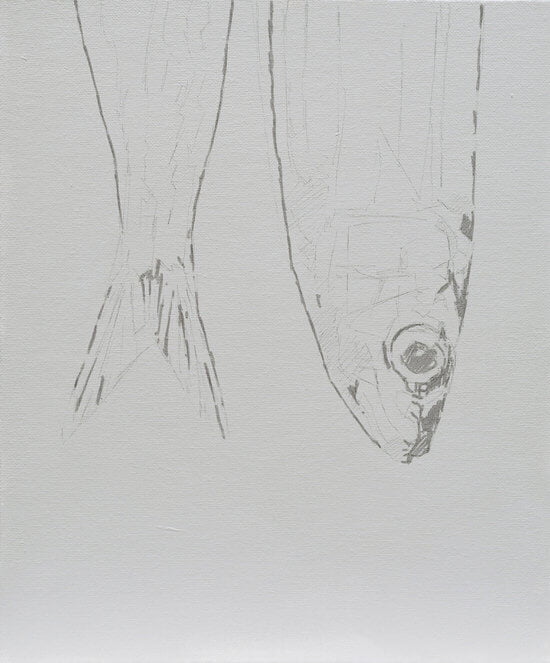 The fish is sketched in, initially with a 3B pencil and then the key dark detailed areas I've gone over with an acrylic marker from Montana, 0.7mm in Iron Curtain. The darker lines of the marker help to define the darkest darks to judge the next tones against.
Step #2 – Wash-in with Raw Umber
Here I'm washing in Raw Umber – purposely diluting only with water. This gives the paint more of a transparent watercolour feel, so it is perfect for starting to establish the tones within the fish. Whilst I'm painting, I'm thinking of how I would approach it if I was drawing.
If I could only work in monochrome, where would the light and dark areas be?
By adding more water, or more paint, you can start to vary the consistency and opacity.
For some of the finer details, I dip the brush into the Acrylic Glazing Liquid Gloss. This helps when you want to increase the flow of the paint yet still keep the body. Having an acrylic medium is crucial when learning how to glaze with acrylics because it keeps the viscosity and paint film of the thin application.
Step #3 – Mixing a Tonal Colour String
I now introduce a 9-step colour string mixed using Raw Umber and Titanium White. These enable me to judge the tonal value of the fish and work down the value scale.
If you've never used colour strings before, you might find this article helpful A beginners guide to colour strings (and how to paint quicker)
I'd previously mixed these value tones and stored them in a stay-wet palette (which means I can then place any leftover paint back in the stay-wet palette, ready for my next painting)
I work down the value string and across the fishtail and head at the same time; the more steps I paint in, the more tuned-in my eyes become to the value shifts.
How to glaze with acrylics – which is the best brush?
Having softer bristles on your brush can really help to create a smooth, even stain like effect with your glazing. I like this Golden synthetic from Rosemary & Co
Flat 'Bright' Golden Synthetic, size #10 flat synthetic brush from Rosemary & Co

"Commonly called 'Nylon', Golden Synthetic has some unique characteristics in that its retention, snap and spring are all superb. They are 100% Vegan Friendly.

A square shaped head offering precise 'blocking' action; good for windows, walls, architecture and when a sharp edge is needed. If you prefer a longer length to your brush – Rosemary & Co"
Step #4 – Adding Cool Hues
Once the underpainting has been established, I introduce Phthalo Blue (Red Shade) onto the palette.
I mix it with the Raw Umber to produce a muted green/blue – perfect for the fish's darkest areas. I use the pre-mixed Raw Umber and Titanium White values in the colour string to tweak the colour.
I've chosen this blue because it also has a lovely transparent quality to it, which will make it handy in the later stages of the painting for the clear final blue glazes.
However, once I'd painted in my muted green/blue mix onto the dark areas, it looked too green, so I introduce a red to balance this out.
I'm using a Permanent Alizarin Crimson. Again, this pigment has a great transparent quality, which will also work well in the later glazes.
The colour is much more sympathetic once it's been neutralized by the red.
Step #5 – Adding Warm Hues
Now we can start to add warmth to the fish with the addition of Raw Sienna.
I scan my eyes over the reference image and look to see where there are elements of this yellow glow. I dip the brush tip into the Glazing Liquid Gloss and start to paint thin layers over the surface. Because of the quick-drying nature of the acrylics, I can apply these in the same painting session.
The best paints for glaze with acrylics
When you apply any paint in the same thickness, there will be a variety in the covering power of the paint, and this can vary depending on:
Pigment type – is it opaque or transparent?
Brand – which manufacturer has made it?
Paint quality – is it student-grade or artist-quality paint?
Let's look at these two reds: Cadmium Red Light and Quinacridone Red.
They're both artist quality, both from the same manufacturer, but when we look at them side-by-side, we can see their differences in covering power – assessing their opacity vs transparency properties is key for how to glaze with acrylics.  
You can see from the swatches on the front of the paint tubes how Cadmium Red Light is more opaque; it's practically covered over the black marks underneath, in comparison to the Quinacridone Red.
Opaque colours cover other paints easily and are great for making solid, flat areas of colour and covering up any mistakes you've made.
Transparent colours are used for glazing and tinting.
This means Quinacridone Red's qualities make it perfect for layering on top of other colours, similar to a stained glass window effect, whatever lies beneath, shines through.
So a quick glance at the front of your paint tube can be a useful clue for choosing the right pigment for the right job.
Step #6 – Glazing with Acrylics Pink Tones
Using the Permanent Alizarin Crimson, I apply a thin glaze onto the body of the fish. If there are any areas that go too dark, I tweak the value by painting back over the glaze with lighter opaque pigments from the colour string.
Step #7 – Adding an Orange Glow with Glazing
Then, with a final mix between Raw Sienna and Permanent Alizarin Crimson, I boost the orange colours' intensity. You can get stronger with your mixes as your eye becomes more tuned-in to the balance between the colours.
Now I step back and see how my values are looking and adjust any areas that are grabbing my eye. The fish's body appeared a little dark, so I painted some thicker white and then worked in whilst it was still wet, a little Phthalo Blue (Red Shade) to tint the colour.
A final mix of very diluted Phthalo Blue (Red Shade) helps to bring the fish's edges together and gives the surface a glimmer.
So take your time pre-mixing the value steps and then the actual painting process will be so much more efficient, and remember, you can always paint back over the top of your glazes if they go on too heavy. I really hope this lesson helped to show you how to glaze with acrylics, hope you enjoy it!
You Might Also Like: