Oil Portrait Colour Glazing Course
(Scroll down ↓ to Add to Cart)
Do you know your Couche from your Scumble?
If you're new to oil painting you might have heard about the magical effects of 'glazing' and how using secret Old Master recipes could take your paintings to new heights. You find yourself nodding along but inside thinking, 'What is everyone talking about? What even is a 'glaze recipe'?
Maybe you've overheard someone mention a 'Scumble' or read about a 'Velatura'. What difference do they actually make?
Glazing can seem like the missing link to your portrait paintings.
And sometimes, it is.
This oil portrait course looks specifically at colour glazing techniques. You'll study two portraits, using two different colour palettes based in the studio working from reference images.
Over 6 hours of tuition, you'll learn how to simplify the structure of the face in Grisaille, mix natural subtle skin tones with a limited palette and softly model the form.
You'll gradually build up the colours to increase the intensity, learning to think in layers of translucent veils of colour and multiple layers of transparent glazes over a tonal underpainting.
Working through these simple step-by-step tutorials, you'll build progressively, so by the end of this course, you'll be creating complex, realistic, luminous portraits and have a really great understanding of how to utilize glazing in your own portrait practice.
£89.00
Description
Thin layers of Mistakes
Safe in the privacy of your studio, you decide to have a little experiment.
This glazing thing can't be that hard, it's just like painting a watercolour … isn't it?
Thin colours over opaque.
This is going to be it, this is going to capture those lovely translucent skin tones and as the colours go on, you're feeling a litte bit like Rembrandt.
Mmm, this doesn't look right.
You step back to see your results.
Ahh.
It looks like a stained black and white photograph. The skin tones look flat, not translucent at all, and come to think of it the portrait itself doesn't look three-dimensional. Where did I go wrong?
Don't fret, you're not alone. This is exactly how my first foray into oil glazing started too!
Discovering a successful method has taken me to the Atelier's in Florence, Italy, I've searched through long-forgotten manuscripts in libraries and distilled the complicated art of glazing into a simple, repeatable process.
Thinking through the layers of transparency, building up of the painting structure and keeping the freshness to the finished painting is down to layers of clear sparkling jewel-like transparent final colour glazes and semi-transparent veils of paint called Velatura.
A velatura is a thin layer of opaque paint, spread out so it creates a milky or foggy haze that obscures some of what's beneath it, but not all. It's like a glaze, but created using an opaque or semi-opaque pigment rather than a transparent one.
Save time
To discover these painting techniques have taken me many years of failed paintings, you can save time by shortening the learning curve!
Reduce costs
To study these techniques at a painting Atelier can cost over $1,000 a week in fees (not including travel & accommodation) being able to study at your own pace in your own studio can save thousands of pounds in your education.
"If you hear a voice within you say 'you cannot paint,' then by all means paint, and that voice will be silenced."

Vincent Van Gogh, Artist
What's in the Course?
The course is split into 18 downloadable video lessons, with each lesson made up of separate chapters that follow on sequentially.
This is a comprehensive, easy-to-follow 6-hour video course, where you will discover a fresh, quick approach to painting 2 different portraits.
2 x portrait paintings, taking you step-by-step from drawing, right through to the finishing touches.
18-downloadable video lessons, split into separate chapters that follow on sequentially.
Step-by-step instructional videos so that you can follow along at your own pace.
Downloadable jpeg reference images, line drawings and a full materials list.
Nearly 6 hours of detailed video instruction.
Lifetime access, downloadable on separate devices.
Lesson Breakdown
Lesson One
Shadow Lines & Establishing the Drawing
A visual introduction to the range of paints, brushes & mediums you'll need for the first portrait of Imogen. Mixing a muted green using acrylics for a tonal ground, drawing out and blending the shadow line.
Lesson Two
The Underpainting
Mixing different ratios of medium to build up the layers of the painting, keeping it technically sound. Using Burnt Umber alkyd (quick drying) oils to block-in the shadows.
Lesson Three
Grisaille
Painting the planes of the face in a geometric mosaic of grey tones. Observing the extra drying time and applying grey tones clean and sharp, safe in the knowledge we have the working time of oils to blend the edges.
Lesson Four
Tuning your eye to colour
Softening the edges and working with a soft filbert brush to model the form.
Lesson Five
Mixing Skin Tones
Using a limited colour palette including Ivory Black and Titanium White to create a wide range of skin tones.
Lesson Six
First Painting
Introducng a warmer brown into the shadows to get a balance between warm and cools before mixing a base skin tone.
Lesson Seven
First Painting
Starting to add blushes of colour to the lips and cheek and increasing the colour saturation. Using thicker paint mixes, to enhance the colours in the background, altering our perception of the skin tones.
Lesson Eight
Second Painting
Working with the same limited palette we explore how much you can get out of one colour by using it thickly or transparently to apply finishing glazes. We now work on top of a wet medium to apply the final glazes to our first portrait.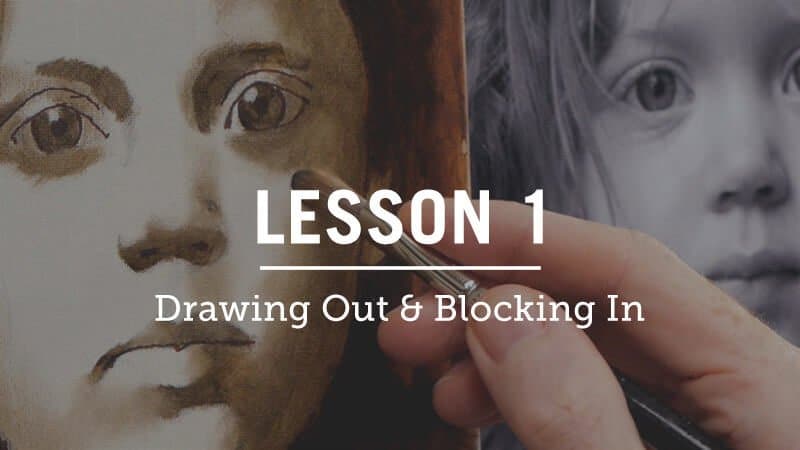 Lesson One
Drawing Out & Blocking In
A visual introduction to the range of paints, brushes & mediums you'll need for the second portrait of Grace.
Using an acrylic marker to draw in the features of the portrait before blocking-in the shadow tone.
Lesson Two
Grisaille
Mixing a cool green/grey tone and a Grisaille to compliment the orange/pink complexion of Grace for the tonal underpainting. Painting the planes of the face to add the form to the portrait.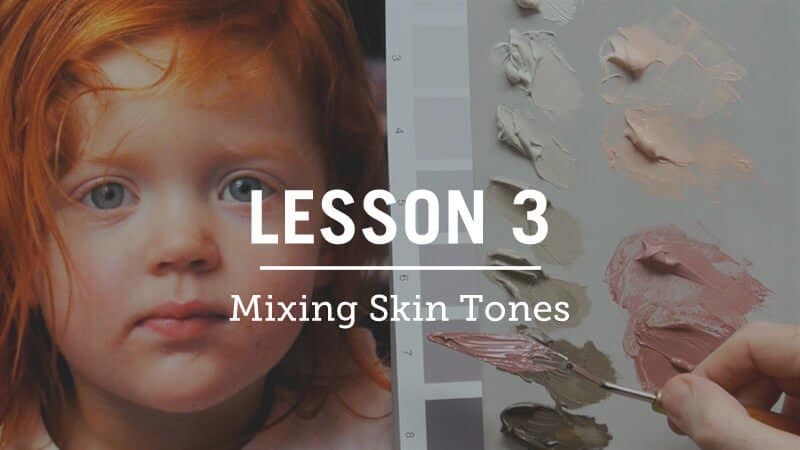 Lesson Three
Mixing Skin Tones
Using a different skin tone palette for Grace, from a warm brown to a cool purple.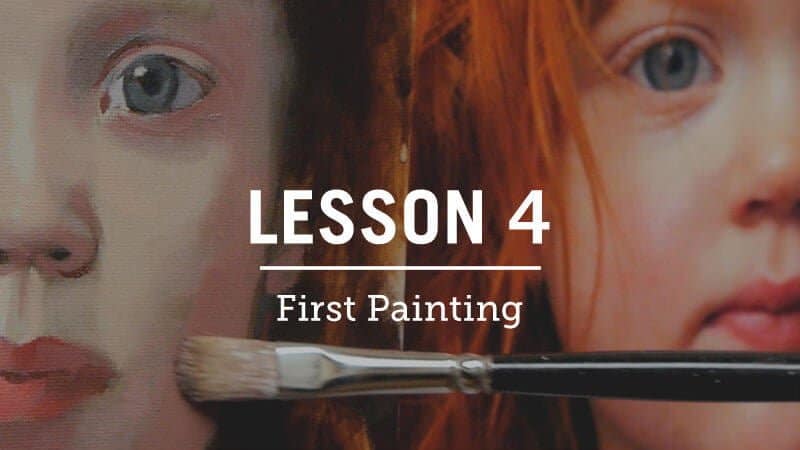 Lesson Four
First Painting
Blushing on the base layer using cool and warm skin tones. Once the base is painted in, we can then push the range of the palette to incorporate the stronger tones from the hair.
Lesson Five
First Painting
Building up the warmth on the shadow side of the face to harmonise the colours from the skin tones and the hair, by warming the flesh tones.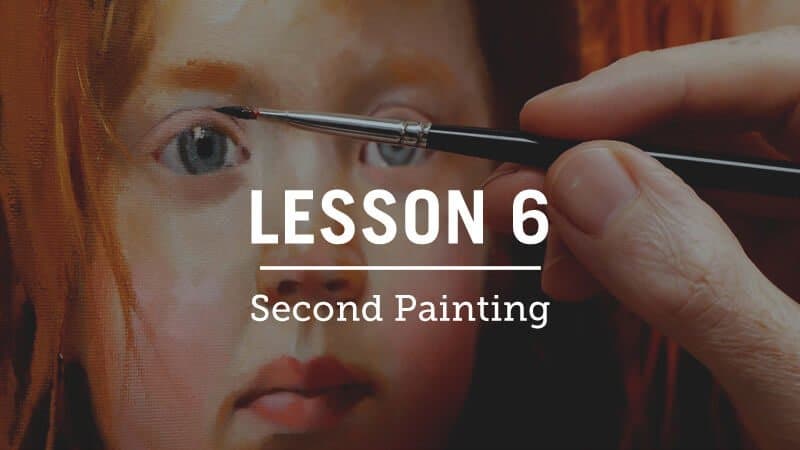 Lesson Six
Second Painting
Now we've established the cools and warms to the muted underlayer of the face, we add in pink to the cheeks and lips.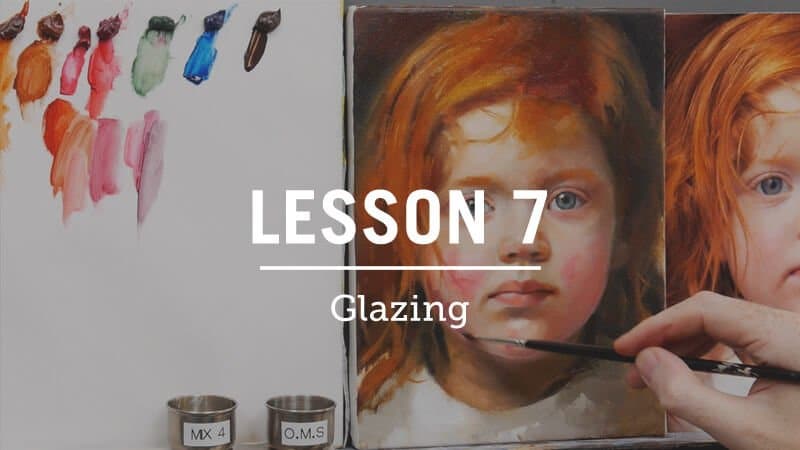 Lesson Seven
Glazing
Using Grace's complexion to really push the different transparent pigments. Working with translucent veils we add a glow of blue to the eyes, cool greens into the shadows and purples around the face.
Lesson Eight
Glazing and Scumbling
For the final stages we go back to the start. Reassessing the drawing, adding areas of thicker paint and scumbling the lights to bring the second portrait to a finish.
Course Delivery
I've taken care to film everything from my perspective so you can see exactly what I'm doing as we go through the entire painting process in real-time. With over 6 hours of video instruction, full-color photographs and drawing guides.
How is the course delivered?
When you purchase the course, you will receive an email with all the downloadable video links to the course. You then have to download and save the Video Lessons onto your home computer/iPad.
18 Downloadable Step-by-Step Video Lessons – 6 hours of video instruction that once downloaded – you have any time, anywhere access. (please note: you do not receive a DVD)
A Getting Started & Materials List PDF – which includes your materials list.
JPEG reference images used throughout the course, Including the photo reference I demo with, black and white copies for the Grisaille and a copy of my pencil sketch for the line drawing (7 separate images per portrait to guide you through each stage)
The video files are large (5 GB in total) so you need a broadband internet connection and enough space on your computer hard drive.
Please note: You will not receive a DVD.
Cut by the Artist
I filmed, edited, and coloured the course myself (with a little help from Vanessa!) rather than working with a production company. Artists have different needs than editors so I wanted to cut the course like an artist, showing you exactly what I wanted to see when I was learning. I show all the real-time brushstrokes for the paintings so you don't miss a step. There are 3 main camera views I cover: An over-the-shoulder view of the work – so you can see how I build up the painting as if you were standing behind me in the studio. A close-up of the brush contacting the canvas – with extreme close-ups, so you can see the grain of the canvas and the bristles in the brush. Stable shot of the palette for when I pick up paint – see exactly how I mix colours. There is nothing worse than when the brush disappears from view, only to reappear with some fantastic new colour. Where did that colour come from?! How did it get mixed?The palette view is very important, and not just at the beginning of the video. I want to show you every single mix I make, so I film with the palette directly next to the painting, then you can see shots of the palette throughout the course and gain a sense of my approach to colour mixing.
Colour Corrected Footage
Filmed under constant colour balanced conditions, so the paint colours are as accurate as can be. (Computer monitor screens and print-outs can vary)
Real-time filming – No long jumps in progress
I don't like long jumps in progress when the paintbrush goes off camera, the shot changes and suddenly the picture has seemed to drastically improve. I include all the stages so you can clearly see the progress of a work.
Course Requirements
Requirements for the Course
A broadband internet connection – the files sizes for the video lessons are quite large (5GB in total) so can take a while to initially download (depending on your internet speed.) Once downloaded, they are yours to keep forever, watch without buffering or take to the garden and watch away from an internet connection!
Enough free space on your computer or iPad – You can download the files to a separate USB stick if you need extra storage.
A Colour Printer – to print out the reference images.
Glossy Photo Printer Paper – I use Epson Photo Glossy.
30 mins – 2hr per session, You'll need to be able to dedicate between 30 minutes to 2 hrs for each section, for example, the blocking-in might take 10 minutes to paint but 12 hrs to dry.
Patience and a week of contemplation – although some of the stages are very quick to complete, you then need to leave that layer to dry before applying the next layer. We work the early stages with quick drying oils (called Alykds) so the process is quicker than using traditional oils for the entire process.
Some experience of drawing portraits – the biggest issues you'll have if you're new to painting portraits will be the drawing of the portraits. You can work from my line drawing to help out as a guide but as the painting progresses and the line drawing has been painted over, you have to rely on your observation skills for making corrections. Tweaking and changing your painting is all part of the process.
A basic knowledge of colour mixing – we work extensively with mixes for accurate skin tones but the course doesn't cover basic principles of colour mixing.
A love of multilayered biscuits! imagine pink wafers, mille-feuille if you think in layers you'll achieve some great results!
What Students Say
This video course is packed full of useful tips for portrait painting, that could actually be used for any medium. For example, I found the advice on identifying skin tones and mixing colour strings particularly useful. I liked the way this course covers 2 portraits of faces with different skin tones and hair colours. The techniques are slightly different with each portrait, so you can choose which approach you prefer when you paint portraits of your own. I loved learning how to blend, which is so well-suited to oils, as they don't dry too quickly. And the glazing part of the course was very interesting and helpful. This course has been very inspiring, and I can't wait to try some portraits of my family members! Thank you, Will, for an excellent and informative course!" Jan, Oil Portrait Colour Glazing Course
Will, I hope you recognize this precious young lady. Your lessons were wonderfully helpful in my first attempt at a color portrait. Many thanks. Austine, Oil Portrait Colour Glazing Course
Sending you my finished painting of Imogen. What a hard work, but I enjoyed it so much!Thank you so much for this art "secrets", they are changing my life! Catherina, Oil Portrait Colour Glazing Course
Hi Will, Thanks for these superb courses! Quite challenging, and I've learnt so much. Tone, Oil Portrait Colour Glazing Course
I completed the class and this is the first time that I spend money on a course that I actually complete the entire class.  I loved your pace and explanation of colors the steps and all the tools you provide.  It improve my painting by 90% in the sense that my portraits look realistic now.  I will highly recommend this class to anyone who is interested in improving their oil portraits. Thank you. Luly

Oil Portrait Colour Glazing Course
Student Success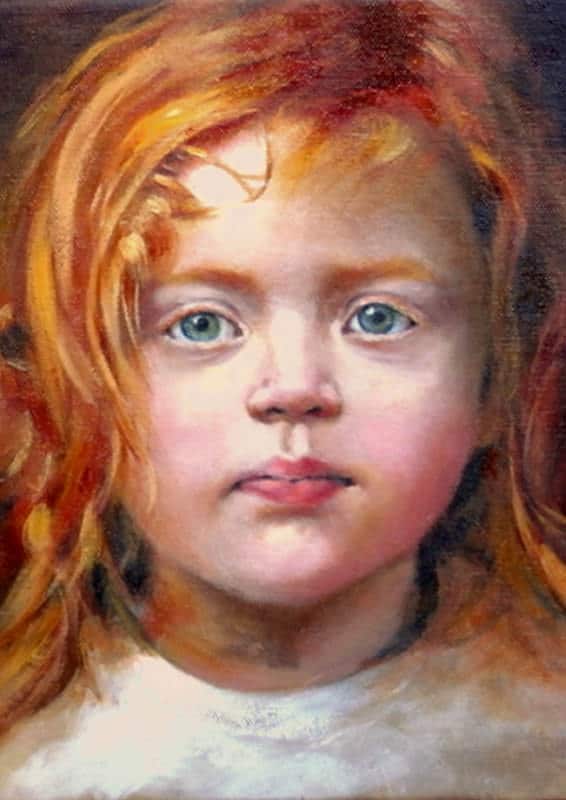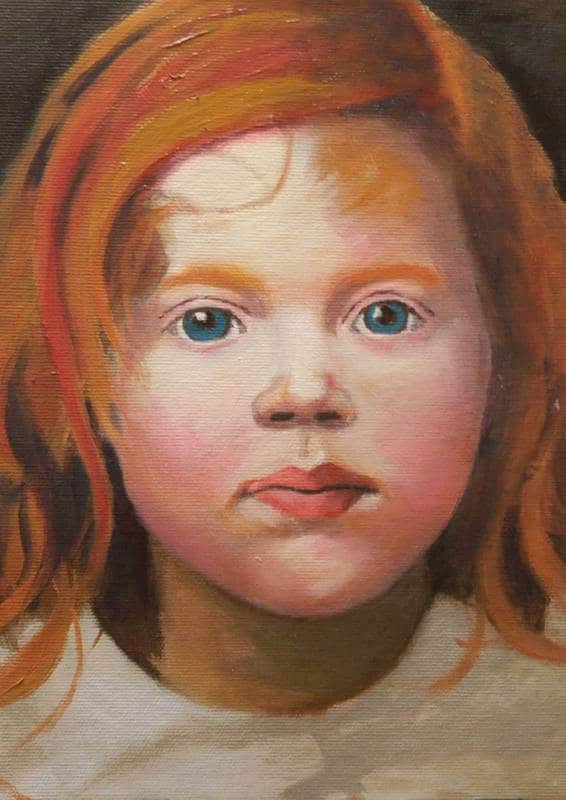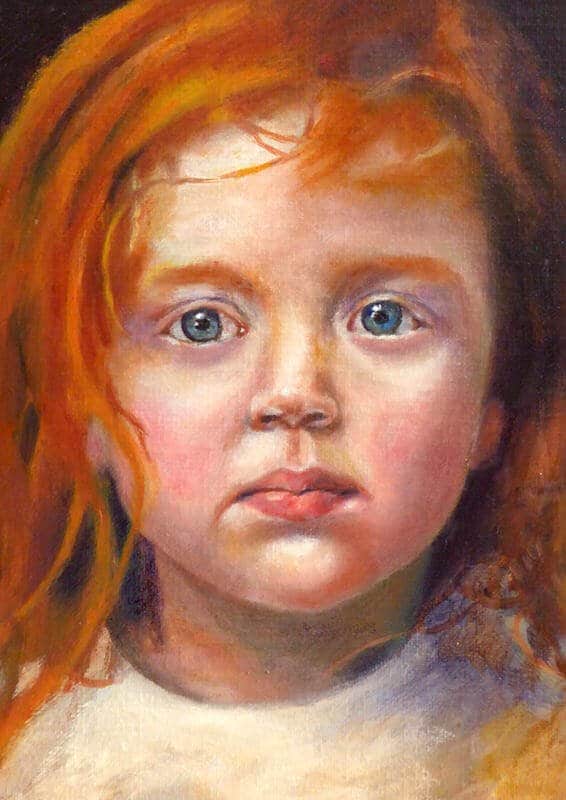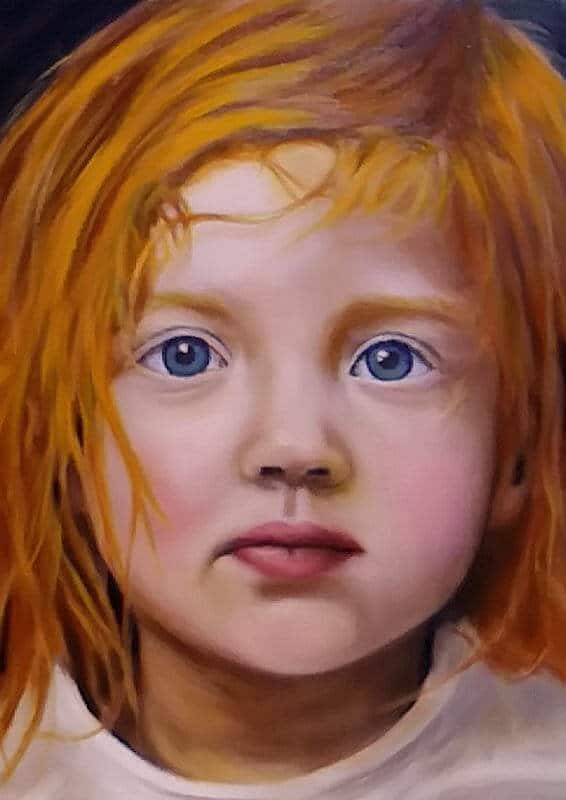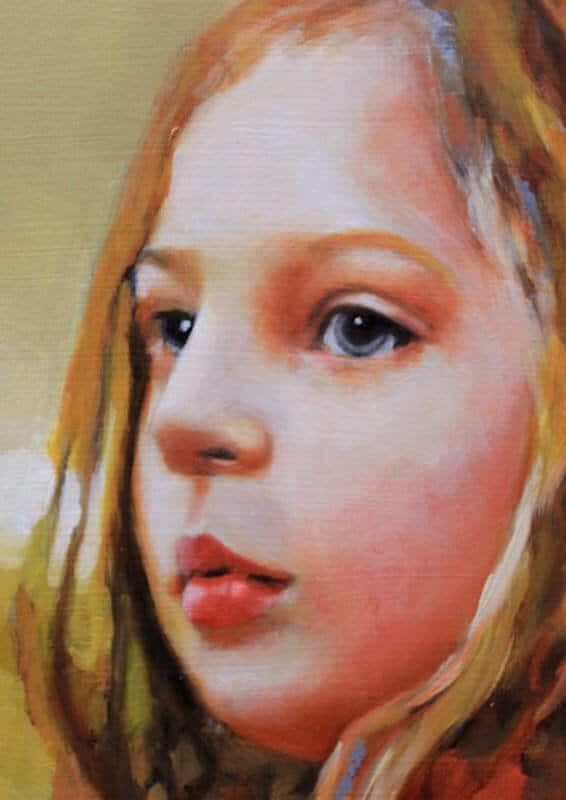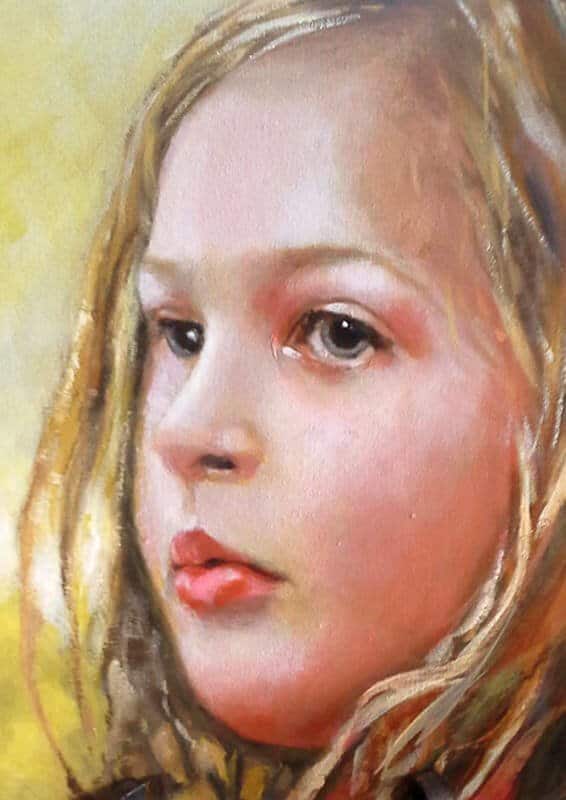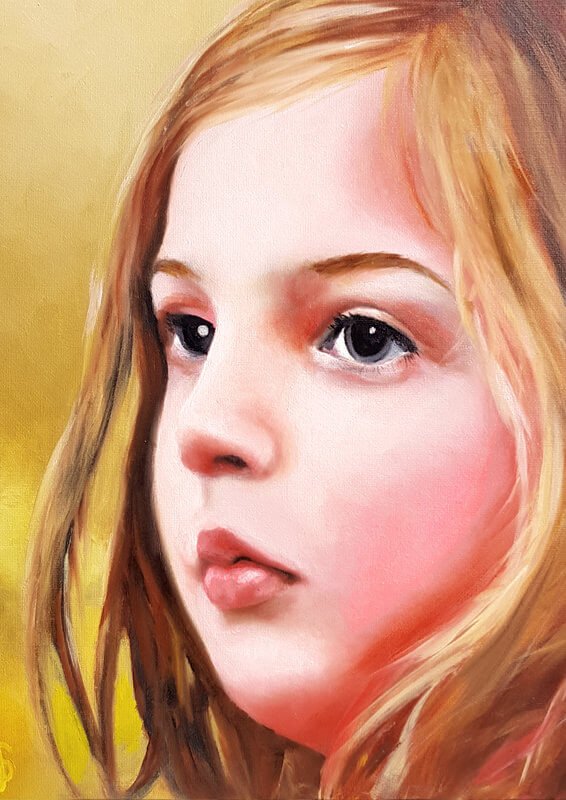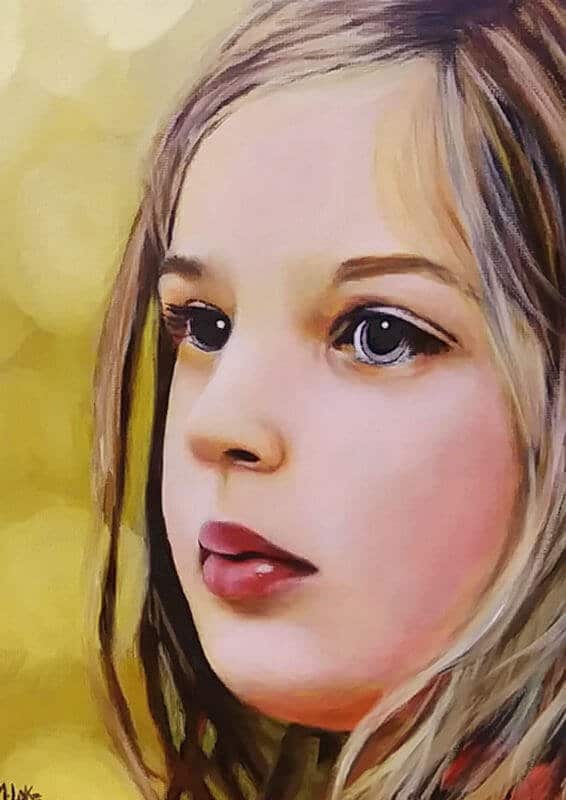 FAQs
Oil Portrait Colour Glazing Course