"With a limited palette, the older painters could do just as well as today… what they did was sounder."
Pierre-Auguste Renoir
Lessons for an Absolute Beginner
Part 3 of this 4 part video series for beginners to acrylic painting
The first thing I do is block-in the bottom half of the sky with the pinky tone; I'm not worried about too much detail, just getting a general tone blocked in.
This helps you judge relative tones and assess the next layer of colours that need to be added.
The 'block in' is still using the same premixed colours that we used for the sky and the clouds.
By using a limited palette, it makes it easier to create a visual balance and harmony.
You will tend to try and paint the sand 'more sand coloured' as it has such a strong emotional bond with our memories of what colour sand 'should be' rather than what the colour actually is.
Try using the purple and see how you get on.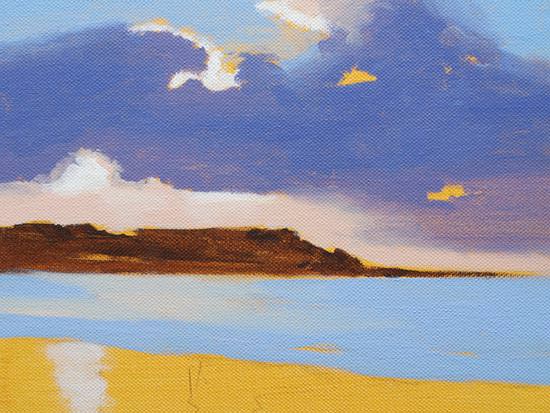 The water and the sand are blocked in next on the painting. The colour mixture for the water is ultramarine blue & titanium white.
Because we haven't muted the blue down with a complementary colour, it will have slightly more vibrancy than the sky.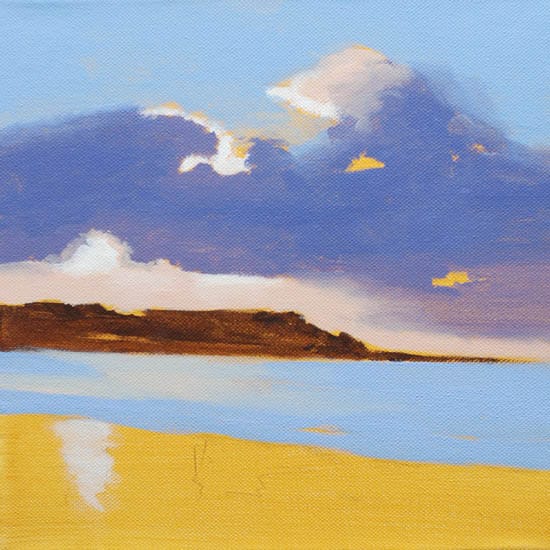 Notice how the yellow of the underpainting appears much brighter now we have the blue placed next to it in the painting. This is the effects of simultaneous contrast that will happen with colours whilst painting.
Notice how the blue doesn't appear as vibrant now the purples have been painted onto the foreground. By working quite painterly and leaving parts of the underpainting showing, we can create a harmonious landscape that still has a freshness.

Now we have the full painting blocked in.
Using the technique of a limited palette is very effective and efficient. It means we can create an image that has both unity and colour harmony.
The final stage will be to enhance some of the colours in the picture and introduce some pure Alizarin crimson. This will help to create a focal point in the centre of the sky.
Acrylic landscape painting-  Free video Course |Part 3
The video below shows the third video in the acrylic landscape painting. The final steps will follow next week. Make sure to subscribe to my YouTube Art school Channel to keep updated, you don't need an account, and you'll get weekly email updates when a new video is posted.
You might also like:
1. Acrylic landscape painting techniques – Lesson 1
2. Acrylic landscape painting techniques – Lesson 2
3. Acrylic landscape painting techniques – Lesson 4