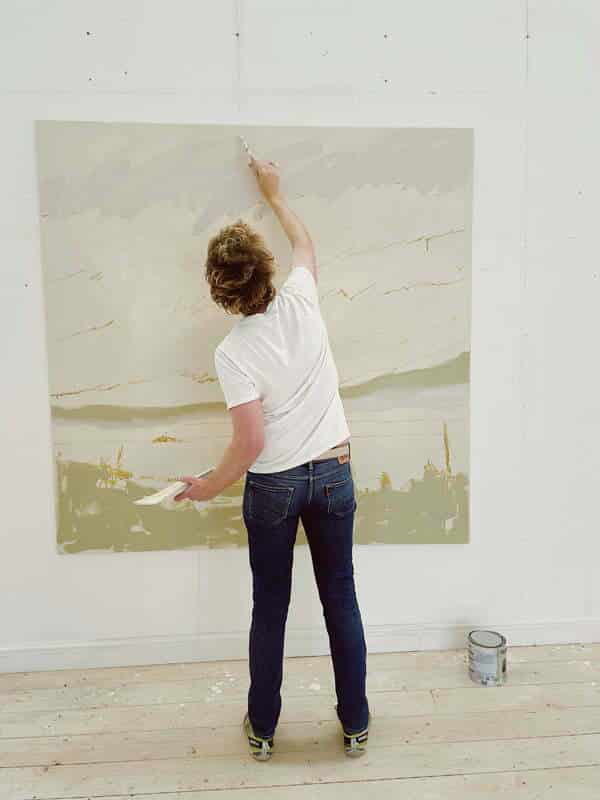 Painting large scale is not just a matter of having the right size canvas and paint. It's also about adopting slightly different working methods and brushstrokes than when you work with a small canvas, and it's one of the best ways to stretch your skills as a painter, even if you predominately paint small.
After months of renovation, I have recently regained the use of our new studio space. For the last 6 months, it had become the perfect place for storing multiple power tools and timber that needed acclimatising. It has been uplifting emptying the space of leftover building materials back to an empty room.
So last week with great relish, energy and anticipation, I propped up a large-scale 2m square canvas against a newly cleared wall and got to it.
I had a loose plan of the final image.
I'd sketched a pen and ink thumbnail of the view and had a palette of colours in mind but if I'm 100% honest I was super excited by the freedom of painting in a big space and seeing how the new studio felt.
Here are five things I learned.
#1. A little colour change is a big colour change.
Mixing the right colours for a large scale is not easy.
On smaller-scale pieces, your reference image is often close in size to the final piece, so you can translate the effect of the colour quite easily, but when you scale up an image everything becomes exaggerated.
As soon as you scale up the surface area that a colour covers, it has more of an intensity to it. The same colour ratio I would normally go for in a smaller piece looked more colourful once it was painted onto such a vast area.
#2. Scale up your brush to match your canvas size.
Just as you have to be aware of scaling down your colour choices and scaling up the volume of paint, you have to use larger tools to apply the paint too.
I rapidly went from a 1/2-inch brush to a 3-inch brush to a mini-roller!
I could have probably used a 9 or 12-inch roller for the scale of the marks I'd liked to make.
#3. Some parts of the process are quicker than you think, others seem to take ages.
You can cover a big area of the canvas relatively quickly, but when working with quick-drying paints like acrylics or household paints it's harder to balance and adjust your hues.
Acrylics will dry much faster so you have less time for corrections, and on a larger scale, this can become frustrating with acrylics. I've found the best method to try and compensate for this is to do more pre-mixing of colours and use a stay-wet palette. This will enable you to concentrate on the painting and be able to go back and blend areas more easily.
Oils give you more time for corrections and tweaks to edges and you have that luxury of time to be able to step back from the painting, see what needs adjusting and then correct on the canvas before the paint dries.
To change a cloud on a small painting is one brushstroke, on this scale, it was more like half a tin of paint to cover up a mistake.
(I was using left-over household paint, there is a big colour shift in the drying process from wet to dry so it's even harder to judge the values. This is an experimental piece for my own studio and is needless to say non-archival!)
#4. You need to scale your viewing space to match your painting
I noticed that values looked good when I was up close to the canvas, I could see a clear value step.
Because I was working in a new, much bigger space than I have ever previously, it gave me the opportunity to move a lot further back. When I walked back across the room the values merged into one to create a new shape I didn't necessarily want or like. So I found I had to expand the value jumps slightly, so the painting 'read' as I wanted from a more extended viewing distance.
#5. I drank more tea and ate more biscuits
It's way more physical. It's quite freeing but you have to engage your whole arm to make a mark, which resulted in lots of breaks.
The secret to painting large scale?
I made every mistake that I teach students not to.
I got excited about being gestural and feeling like an artist. And it started off really fun! But when the drawing wasn't working, and the sections I wanted to blend had dried too soon, it became harder.
The secret to successful spontaneity when working large scale is counterintuitive.
I should have taken my time and planned ahead better. I should have fully worked up a value map and then a full-colour poster study.
I found the canvas fell off the wall or moved from the props, I definitely need to invest in a better hanging system for large-scale works.
If you have never painted on such a large canvas before, try it out on smaller pieces first. Get a value map that works, and mix up more paint than you think you'll need. Consider what type of paint you will use, how many colours, how much time you can devote to the work, and whether or not you have a large enough studio space to work in and view the piece from far enough back.
If you'd like to see these methods in action you might enjoy the Venice Seascape Course where I practice this.
It's the course I should have watched before starting this painting but I really enjoyed the learning curve and will review, reconsider and rework parts of the painting over the coming weeks.