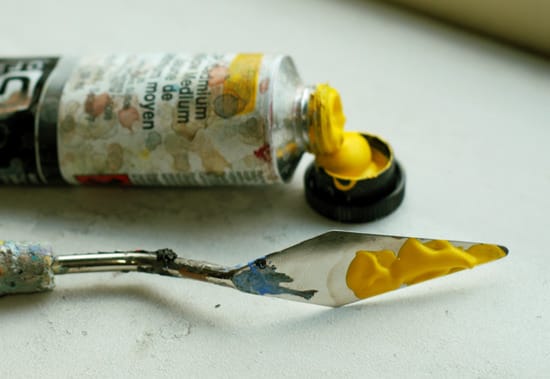 Which is Best?
Imagine the scene.
You're halfway through your painting, it's going really well.
This could be your breakthrough piece, a personal Mona Lisa.
A quick look on your palette and you spot the perfect mix to finish the piece, you dip the brush in with vigour, and guess what?
Its dried on the palette.
You then try to mix more of that exact colour,
2 minutes goes by, then 5 minutes, when we hit 10 minutes and review our mixes, the initial colour has become a distant memory.
Emergency tea break with chocolate is needed.
So what's a painter to do?..
One of the most common issues beginners have with acrylics, is they dry too fast.
You've already invested money in your acrylics and don't want to work with oils or the smell of turpentine. There are a few options to help increase the working time of your paint.
You can add slow drying mediums (called retarders)
Use a stay-wet palette will keep the acrylics open for longer
Put out larger quantities of paint
But what if this is not enough?
A few paint manufacturers have developed ranges of paints that aim to address this issue.
Chroma's Atelier Interactive Acrylics: These paints allows you to re-activate paint that has gone to the touch-dry stage, using either a fine mist of water or Atelier Unlocking Formula.
M.Graham & Co: Their acrylic range is formulated to have a longer working time than most acrylics, up to about an hour, depending on conditions.
Golden OPEN acrylics: These paints have an extended working time, up to 10 times longer than Golden Heavy body Acrylic range. They can also be re-activated with a fine mist of water or Golden OPEN thinner.
But do they work? And are they any good?…
The review below looks specifically at the comparison between Golden Heavy Body Acrylics and Golden OPEN Acrylics.
Regular Heavy body Golden acrylics vs Golden OPEN acrylics
When learning how to paint, you'll hear artists talking about the 'working time' of paints.
This refers to how long the paint is available to move around on the canvas and 'work' with. This can also be called the 'open time' of a paint.
Golden OPEN acrylics have an extended working time, in comparison to regular Golden heavy body acrylics, a drying time of up to 10 times longer than standard acrylics.
Standard Acrylic paints have a short working time (short open time)
OPEN acrylic have a longer working time (long open time)
Traditional Oil paint has an even longer working time (longest open time)
So are these paints the perfect solution?…not quite.
Lab test review
In a Golden Paints lab test using a 6mil. (mil to mm convertor) – about the same as a thin brushstroke, the following drying times applied.
Wet
Standard Heavy body Acrylics: Less than 5 minutes
OPEN acrylic: 30 to 60 minutes
Workable
Standard Heavy body Acrylics: Less than 10 minutes
OPEN acrylic: 1 to 3 hours
Re-worked (this means you can add water or a thinner to 'reactivate the paint')
Standard Heavy body Acrylics: N/A you can't re-open
OPEN acrylic: 12 hours
Touch dry
Standard Heavy body Acrylics: Less than 30 minutes
OPEN acrylic: 24 + hours
Varnish ready
Standard Heavy body Acrylics: 24 hrs
Golden OPEN Acrylics: Minimum of 30 days before varnishing if you have used thin layers. You can apply an isolation coat in half the time (minimum 14 days) to help protect the surface.
Let's have a look through some of the key characteristics between the two.
Colour range
Standard Golden Heavy Body acrylics have 110 colours (not including specialist effect paints)
Golden OPEN acrylics has 80 colours.
Is this a problem? Not really, I always adhere to the approach of less is more.
It's better to have 3 or 5 pigments you really get to know rather than always jumping to the next paint colour to try and 'help' with the colour mixing in your painting, so this isn't really an issue.
Consistency
The consistency and flow of the paint with the Golden OPEN' acrylics is slightly thinner than the heavy body. This means it doesn't hold its shape as well or hold in stiff peaks.
Is this a problem? If you like painting thickly with a palette knife, yes.
Compared with standard acrylics they have a softer consistency. This can feel nice straight from the tube in comparison to heavy body paints that often need a touch of water added for mixing the perfect consistency.
Golden recommends a thickness of paint application of no more than 1/16" thick.
That's thin for an impasto painting.
With standard acrylics, you can apply the paint as thick as you like.
Why do they recommend such a thin application?
You can paint thicker with the OPEN acrylics but there are consequences.
You'll have a paint film that takes weeks to dry and the paint, when pressed, feels mushy and a very strange surface to work with.
Also, when drying, the OPEN acrylics go through a strange process of 'tacking up'.
The paint surface starts to become tacky before it finally dries completely. It goes through different textures under the brush which can feel damn right weird if you've used standard acrylics. The paint initially feels very oily and slippery and as it dries becomes increasingly stiff.
So although the paint has a long drying time, the actual working time is a lot less if working in such thin layers.
You have to work quickly before the painting starts getting tacky, and then if you miss your window of opportunity, you'll have to wait, for what can feel like a really long time for the layer to completely dry before you paint on top.
You can easily find yourself accidentally lifting up the previous layer of paint from underneath – you thought was dry.
Very frustrating.
Golden refers to this drying period as a "Sweet Spot" where you find the perfect texture for your particular needs.
I've found it to be the 'not really sure when the sweet spot was'.
When you're first starting it can be hard to judge when this perfect moment is and as the thickness of paint application varies, so does the timing of the drying.
The paint seems to get tacky after an hour but remains workable for longer. You need to let your layers dry completely before you attempt to add a new layer, otherwise, you risk ruining a layer that hasn't set yet. This is something you could get used to, though.
If you're used to applying acrylics thickly and with a stiffer brush this can cause havoc to your painting as you are constantly reworking the layer underneath you thought has already dried. You can quickly ruin an area.
But when is this useful?
If you are using soft brushes (such as sables), paint in thin layers and you are looking to achieve a very subtle, diffused blend to the paint surface.
Subtle diffused blend using OPEN acrylics
Coverage
The coverage or opacity of the paint depends on the amount of pigment in the paint (called pigment load) and the binders used in the paint manufacturing process (called the vehicle)
The OPEN acrylics have a good pigment load but I've found the acrylic binder used, gives the paint a poor coverage in comparison to standard acrylics. So the appeal that you easily paint over your mistakes and create clean colour mixes when you're first beginning, is lost.
Colour shift
All acrylics darken slightly as they dry, the better quality paint, the less the colour shift. However, with OPEN acrylics, I have noticed a definite colour shift when the paint film dries.
Compatibility
One of the great things about OPEN acrylics is you can mix them with standard acrylics. So you could paint 80% of your painting with heavy body acrylics and then introduce a few paints of the OPEN colours for areas of your painting that you just need to increase the working time slightly.
For example, adding a soft blend to the edge of a cloud or working on thin glazes over a portrait painting.
You can mix OPEN acrylics in with standard acrylics easily and without any real problems.
An increase in the number of standard acrylics that is mixed in, the quicker the drying time will be. So say you love the opacity of standard Titanium white but want it to stay workable for a bit longer then you can add in some OPEN acrylics to the mix.
Convenience & cleaning
Not having to constantly put out fresh paint or work on a stay-wet palette can be a joy, especially if you are working on a portrait where the subtle colour changes need very slight adjustments in pigments.
Cleaning wise they are more convenient than standard acrylics as the paint doesn't dry on the brush. You can leave the paint on the brush for a couple of hours and still be able to easily remove in by dipping in OPEN thinner and then washing with soap & water.
If you've painting outside, or in hotter climates than the UK they can be great as in a large pile of paint remains workable for such a long period and if you mist the paint with water or OPEN thinner the paint can stay wet even longer.
But if you like to work quick, or have deadlines for clients who want paintings that can't be varnished in time – it can be tricky.
Pro tip: OPEN acrylics remain tacky when drying so it is advisable to leave your paintings in a dust-free environment before varnishing.
Conclusion
So should you rush out and buy OPEN acrylics? It depends, I think the labelling is a bit misleading, they should have called them:
Golden glazing paints for thin layers and fine detail
Because, essentially, this is what they are best for.
If you use standard acrylics for 90% of your painting, this leaves you free to apply thick impasto and painterly brush marks, then use the OPEN acrylics for the final 10% you can achieve some lovely results. Especially if you've been finding standard acrylics dry too quickly for subtle blending and glazing.
As they are compatible with regular acrylics it might be a worthy investment to buy a couple of tubes to experiment with and get the feel of them.
You might also like:
1.The 5 key differences between Acrylics & Oil paints – a beginners guide
2.The 8 key differences between Artist quality vs Student grade acrylic paints