Lessons for an Absolute Beginner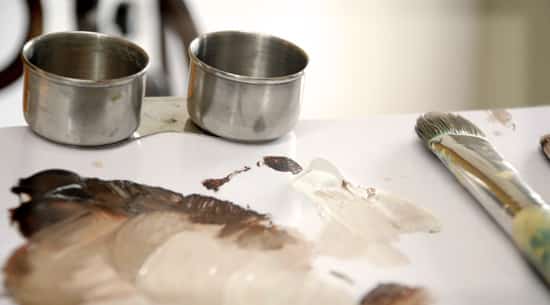 So have you started your painting?
Whoo-hoo! You are now ahead of 90% of aspiring creatives everywhere.
Often just starting is the hardest part of any creative endeavour.
Why?
We have too much choice and an over-excited imagination…
A little tale about my little sister
My little sister is currently in her final year at art college, and I get weekly, if not daily, updates on her creative ideas.
Revolutionary concepts to conquer the world, ideas that will leave a legacy behind her, spawn a global empire and change the very face of the artistic community.
Sound familiar?
I check back to see how her progress is going, did step 1 lead to step 2?
Guess how much physical, tactile work has been created?
None.
Okay, that sounds harsh, a few…but on a new 'amazing' idea!
Our ability to make things happen and to move forward even when we know the result will not be perfect is a tricky one.
Hick's Law
Having too many options can lead to creative blocks, which can easily stop you from getting going.
Hick's Law, introduced by British psychologist William Hick in 1951, describes how long it takes our brains to decide. Essentially, every time the number of choices doubles, the time is taken to make a decision increases by a fixed amount.
That's why I've designed this free landscape painting course to use simple colours that can be used on paintings again and again, from still life's to portraits.
Once the decision of which paint colours to choose is eliminated, we can get on with the fun part…the painting.
Acrylic landscape painting – Lesson 2
In this acrylic landscape painting series, I am posting a weekly video on my YouTube channel that you can follow along at home. It's free to subscribe to the channel so you can keep updated with the painting progress.
In the demo, I have premixed a few colours to get us started; you can see this video below:
Premixing the Colours for the Landscape Painting
The next 3 steps

Step 1. Establishing a local colour for the sky
It is easiest to judge the hue of colour in relationship to the colours around it. If we have a grey placed on white paper and black paper, it will appear differently. The first layer we put on, a local colour to the sky – is quite thin. The trick is to try and get it thick enough to cover the underlying colour but not too thick that it becomes harder to paint over.
Step 2. Blocking in the clouds
Because we have previously colour matched the cloud tone, we can afford to apply it quite thickly. Notice how it looks 'wrong' to start with. This is due to the effects of simultaneous contrast.

Step 3. Using glazes to achieve optical mixing
You don't always have to mix and match the exact colour first before painting with acrylics. In this section, I use the golden glow of the underpainting to create an optical mix of the sky. I use the premixed purple, but it appears redder.
This is due to a combination of the Yellow Ochre ground shining through the thin watery mix and the fact that all colours appear warmer when mixed with water as opposed to appearing cooler when mixed with white.
Acrylic landscape painting-  Free video Course |Part 2
The video below shows the second steps in the acrylic landscape painting. Make sure to subscribe to my YouTube Art school Channel to keep updated, you don't need an account, and you'll get weekly email updates when a new video is posted.
Here is Part 3 of the Acrylic Landscape Painting Lesson 
You might also like:
1. Acrylic landscape painting techniques – Lesson 1 of 4
2. Acrylic landscape painting techniques – Lesson 3 of 4
3. Acrylic landscape painting techniques – Lesson 4 of 4