Green.
Love it or hate it, almost all landscape artists want to paint trees, woods and grass realistically.
But mixing greens can be one of the major issues that can start to throw your landscape painting off-course.
Greens can be an Achilles heel for beginners, and the urge to grab a vivid, bright green from the paintbox can be hard to resist.
In the past, I've demonstrated how you can achieve some surprisingly subtle greens by using some seemingly 'non-green' colours such and black and brown.
And I advise beginners to throw out their pre-mixed green (usually this is Emerald Green included in starter sets) when they're first starting, in order to practice colour mixing with acrylics and develop their own mixing skills and gain colour confidence.
Why?..
Because greens with a high-tinting strength can easily put your colour mixes out.
Tinting strength is how much or how little paint is needed, to alter the colour of white paint.
In acrylics, this can be especially dangerous because you tend to have clean mixes on top of dry paint, so there is nothing underneath to mix in with it to help tone it down – unlike oils where you are usually applying wet-into-wet.
For this Summer Landscape study, I want to show you how to mix naturalistic green using 2 or more colours first – and then as we become more practised, we are going to live life on the edge when I introduce a high tinting pre-mixed green to your palette to speed up your painting process.
Using a pre-mixed green
There is one green that can give you a lot of bang for your buck.
Phthalo Green.
It comes in two different shades, a yellow shade and a blue shade.
The yellow shade brings out the yellows and gives a more vibrant yellow-green; the blue shade goes darker towards the bottle green-blues. I've found the yellow shade can work best for greens that are in the sunlight and blue shade when painting greens in the shade.
But they're very close, so I personally tend to use a Phthalo Green yellow shade, and if I need a darker shadow tone, I add in Phthalo Blue, which I nearly always have on my palette.
Interestingly it's also used as a key ingredient within many other pre-mixed greens.
Here is a list of paints from Winsor & Newton that contain Phthalo Green:
Permanent Green
Cadmium Green
Emerald Green
Chrome Green
Hookers Green
Sap Green
You can check if a green paint contains Phthalo green by looking at the Colour Index name on the paint tube and is usually only available on artist quality paints (See: The 8 key differences between Artist quality vs Student grade Acrylic paints)
Phthalo Green (Blue Shade) Color Index Name: PG 7
Phthalo Green (Yellow Shade) Colour Index Name: PG 36
Pro tip: Winsor & Newton sometimes refer to their Phthalo Green as Winsor Green, they also refer to a Phthalo Blue as Winsor Blue.
How to Lighten Green Paint
The two most common colours you'll be using for lightening up green are white and yellow.
A white will always flatten the green and send the colour towards a minty green; yellow will always warm a green. You can change the intensity of the yellow you're using depending on the subject and feel you're after.
I want a wide bright tonal range in this painting, so I'm using a Cadmium Yellow Light.
Pro tip: An alternative to Cadmium Yellow is Hansa Yellow Medium, I do demonstrate in this demo with a Hansa Yellow Light, which is a greener, lighter, more translucent yellow. Hansa Yellow Medium has a warmer hue and more opacity.
How to Rescue an Unnatural Green Mix
If your mix goes too acidic, then the next skill to mixing green is how to tone the colour down.
From the palette we're using there are several different ways you can darken and dull the mix. Either by using the Burnt Umber, Ultramarine Blue, Phthalo Green, Phthalo Blue or the Permanent Alizarin Crimson.
The Burnt Umber will pull the colour towards a dark orange.
The Permanent Alizarin Crimson will neutralise the intensity of the green.
The Ultramarine Blue will pull the colour towards a purple-blue.
The Phthalo Blue will pull the colour towards a green-blue.
A step-by-step Summer Landscape Painting in Acrylic
This season is perfect for getting bolder in your brush marks, technique and your colour palette. Impressionistic broken colour, vibrant green foliage and blossom, fuller tree shapes with abstract sky holes and moving cloud formations.
The atmospheric lighting has also changed from our Winter study, so now the light dapples on the surface of trees and mountains.
This changing effect can produce some lovely impressionistic style paintings and can allow you to really experiment with more painterly, impasto brushstrokes!
Video Tutorial – Part 1
Video Tutorial – Part 2
Video Tutorial – Part 3
Summer Greens
Photo Credit: "The Weir Gardens – Herefordshire" by Les Haines Licensed under CC BY 2.0. Please Note: The Original photograph has been cropped down to the Golden Ratio proportion used in the painting.
Downloading the reference photograph
The photo below can be 'right clicked' and 'Save image as', so you can use it as a reference image, print it out and follow along with the video above.
You can also download a High-Resolution Image here...
Materials you will need:
Brushes
2-inch Purdy decorators brush – XL Monarch Elite
Round – Small nylon round brush – This brush didn't have a brand name or specific size on the brush, any small round will be fine. The dimensions are approx 3-5mm in diameter and 1.5 – 2cm in length
Flat – Rosemary & Co – Small Flat 'Bright' Golden Synthetic, Size 10, Series 302
Filbert – Isabey Isacryl Acrylic Brush, Filbert shape, Size 6 – Series 6572
Filbert – Isabey Isacryl Acrylic Brush, Filbert shape, Size 10 – Series 6572
Filbert – Jacksons Art Black Hog Bristle Brush, Filbert shape, Size 4 – Series 335
Palette Knife
Support
I demonstrate on a 10 oz cotton duck canvas, 19mm Profile, and the ratio I use for the main paintings are based on the Golden ratio.
An alternative brand in the US is Masterpiece Fibonacci Golden Rectangle Canvas.
Other Materials
Kitchen roll/paper towel
Clean water
Tear-off palette or stay-wet palette (In this tutorial I demonstrate on an A3 size white tear-off palette)
Paints – The Colour Palette
Artist quality acrylic colours. I've used a mix of Golden Heavy Body colours & Winsor & Newton Professional Acrylic (also called Artists' Acrylic)
Titanium White
Burnt Umber
Cadmium Yellow Light
Phthalo Green (Yellow Shade)
Ultramarine Blue (Winsor & Newton)
Phthalo Blue (Green Shade)
Hansa Yellow Light (Golden Fluid Paint)
Permanent Alizarin Crimson (Winsor & Newton)
Mediums
Acrylic Glazing Liquid (Gloss) Golden Paints. This will extend the paint's working time and enable thin applications of the paint with smooth smokey blending. What I like about Glazing Liquid Gloss as a medium, is you can use it in any ratio in with your paint, and it still brushes well and remains a nice paint film integrity.
Step 1. – Choosing a coloured ground.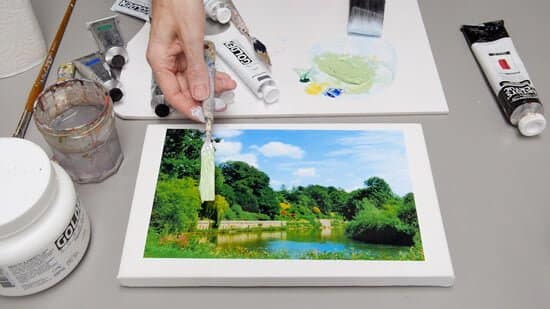 For this painting, I wanted a ground colour that would pull together the trees and the sky. The majority of the colours in the painting, apart from the sky, are green based. However, if you notice the clouds on the right-hand side, you can see a faint green hue within the whites.
I start the mix with Titanium White, Ultramarine Blue and Cadmium Yellow Light. Once the paint is mixed to a light muted green, I then add the stronger Phthalo Green (Yellow Shade) to bring up the saturation.
It's always easier to mix a muted base colour to start with and then add a small amount of the high-tinting Phthalo Green, rather than starting with the Phthalo Green. I'm using a 2-inch Purdy decorators brush to apply the paint thinly, so it just covers the canvas without building up any texture or thickness.
Step 2. – Drawing out
Using a 3B pencil (Staedler Mars Lumograph) I sketch out the basic tree shapes; I'm not drawing any detail – just squinting my eyes at the reference image to see the main outlines.
You've got all these different angular shapes that make up quite a lot of the painting, also there's a lot of quite dark areas. The really strong light in summer creates all these lovely shadow shapes, and you see how I've indicated them with pencil cross-hatching, and they're equally distributed throughout the painting.
When the painting is finished, the dark areas will optically sink into the background. This wide tonal range of Summer, from the hard light of the sun, is compared to the soft light of Winter (See: How to paint an Acrylic Snowscene) where there is a compressed tonal range.
Step 3. – Blocking in the sky.
I would usually start by painting in the darkest darks of the composition, however, because the green of the coloured ground in the sky will affect our ability to judge the rest of the scene I start by blocking in the sky with a blue, making it easier for us to judge the tonal range of the greens within the trees.
Using a mix of Ultramarine Blue and Titanium White, I paint a wash over the sky. I've diluted the paint with water and start with the smaller size 6 Isabey Isacryl filbert brush then swap to the larger size 10 Isabey Isacryl for blending the sky colours. Adding a thicker white to indicate the clouds.
When this is painted in, it's easier to judge the silhouette shape of the tree line and adjust your drawing at this stage if it isn't balancing quite right.
Step 4. – Adding the darkest darks.
This is what you'll often see in summer, really strong light, which gives all these lovely dark shadow shapes. Initially, I'm only concentrating on the shadow shapes and the pattern they are making.
They're equally distributed throughout the painting, with gaps of the coloured ground in between the dark shadows. This technique is called 'shadow mapping'.
I'm using a mix of Burnt Umber, Ultramarine Blue and a touch of Phthalo Green (Yellow Shade)
Pro tip: Shadow mapping can be handy when sketching with a pen to notice the subject's shadow pattern before you begin the painting.
Step 5. – Adding a muted yellow-green base.
Using some Cadmium Yellow Light straight from the tube I add a couple of dashes to the painting's centre.
It's worth remembering if you can see an area of a scene that you're painting, and you can match it with colour straight from a tube, it works as a handy visual anchor to judge your next mixes against.
I then mute this yellow down with a little Burnt Umber to paint in the light mid-tones pattern.
Step 5. – Painting the tree line mid-tones
Mixing Ultramarine Blue and Cadmium Yellow Light gives a lovely deep blue-green painted as the mid-tone on the tree line, amazingly the colour is still quite close in tone to the shadow value even though the landscape is in bright sunshine.
Step 6. – Adding a dash of red to bring out the green.
Introducing a few touches of a red/pink (mixed using Permanent Alizarin Crimson & Titanium White) will help make the green appear greener. This is due to the effects of simultaneous contrast.
Simultaneous contrast, identified by Michel Eugène Chevreul, influences our perceptions of tone and colour when two different objects affect each other. The effect is most apparent when you have subjects that are complementary colours (such as red and green)
Step 7. – Mixing a vibrant green
Now we've got a good base we can introduce a more vivid green by adding some Phthalo Green (Yellow Shade) in with the Cadmium Yellow Light.
I then wash over with some Hansa Yellow Light, which is a yellow with a green bias and quite transparent. I'm using a fluid version of the paint rather than the heavy body, so I paint the colour straight from the tube. It's got a great thin consistency and has had acrylic binder added in the factory, so the paint holds an excellent thin film.
Step 8. – Adding a more vivid blue.
Flicking my eyes between the sky and the trees, the sky feels a little too purple to balance with the other colours, so I introduce a Phthalo Blue (Green Shade) to add a more Turquoise hue.
Once the blue is blushed over the sky, I blend it into the clouds using some paper towel.
Swapping to the small round brush, I paint in some sky holes into the very edges of the tree line. This gives a subtle illusion of leaves that breaks up the mass shape of the trees.
I now take a break from the painting to give my eyes a rest. When you come back fresh to your painting anything that's 'out' you tend to notice straight away.
Step 9. – Adding volume to the clouds.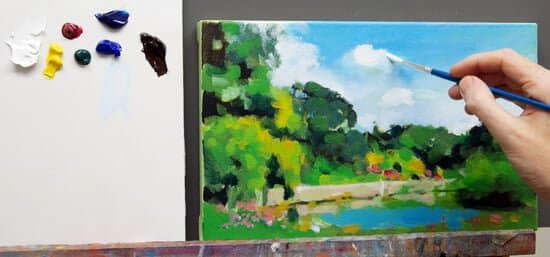 I paint on some pure Titanium White with a clean round brush into the cloud shapes in the sky to bring them forward.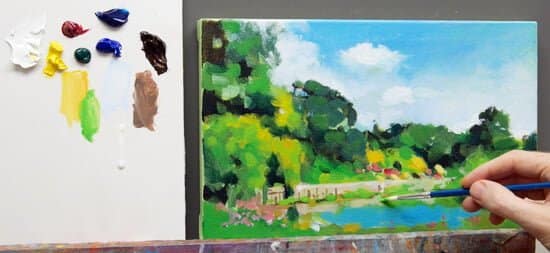 I paint in some finer lines to the foreground and establish the edge of the water.
Step 10. – Reassessing the dark shapes with a bristle brush
Stepping back from the painting and squinting my eyes, I now reinforce the dark shadow shapes we first painted onto the trees. For this section, I'm using a stiff hog bristle brush, this keeps the texture in the marks and gives a broken edge and adds variety to your landscape painting techniques.
Step 10. – Finishing touches
I finish the study by painting some more flashes of pink flowers in the foreground along the bottom edge of the painting and refine any finer detail on the wall.
The final painting
You can watch the full video tutorial below. Enjoy!
Video Tutorial – Part 1
Video Tutorial – Part 2
Video Tutorial – Part 3
 You might also like:
1. How to Paint Snow in Acrylics – Video Tutorial
2. Is Green ruining your Landscape Painting?
3. Landscape Sketching Course