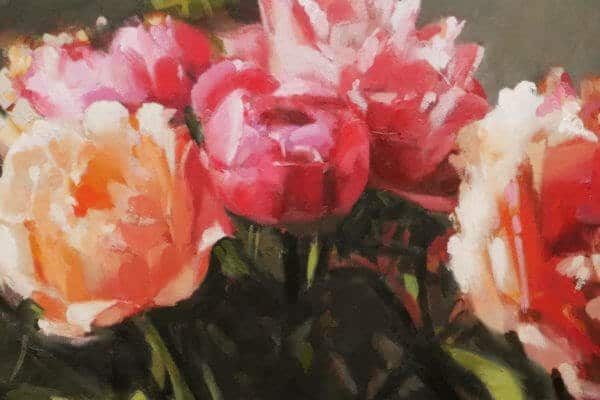 Will Kemp, Peonies (Detail) Acrylic & Water-mixable Oils on Canvas, 60.96 cm x 60.96 cm (24 inch x 24 inch)
How do they compare to Acrylics?
Over the New Year, I've been in the studio working up a large scale floral still life painting, from a series of sketches I did over the summer. The original composition had been inspired by the dramatic oil paintings of the Dutch Golden Age (you can see the progress of my painting further down the article).
To achieve the soft blends between the petals, delicate smoked edges and the ability to work across subtle shifts in hues, oils would allow me a longer working time. Then I could build up the painting as a whole piece, adjusting tones, working wet-into-wet.
But being in the middle of a British winter and the studio doors firmly shut with little ventilation, the thought of having a pot of thinners or strong solvents in an enclosed space was discouraging me from getting started.
After a prolonged period of procrastination, it occurred to me, maybe it was time to break out the water-mixable oils.
You could ask what took me so long because I have painted with water-mixable oils before and with pretty good results.
Nice handling and texture and an impressive drying time.
But even with all those positives, under normal circumstances, I would usually succumb to the oiler consistency of traditional oils. They seem to glide that little bit better, especially when applying them in thinner layers, a little bit oilier is the only way to describe the difference.
However, faced with the promise of working in an enclosed fume-free painting environment, water-mixable oils were sounding more and more appealing. They would allow me to paint with oils yet clean up with soap and have just a jar of water.
I made my way back to the studio, brew in hand!
How do you approach water-mixable oils as an acrylic painter?
Having worked in traditional oils for many years, the shift over to water-mixable oils was relatively straightforward. I have previously written an article about Water-Mixable Oils and how they compare to Traditional Oils, and you can read more here.
But many students contact me, having only ever worked in acrylics. They long to try oils but have similar confined studio space issues or experience sensitivity to thinners and don't know where to start. So it did pose the question.
What if you have only ever worked in acrylics, how do you approach water-mixable oils as an acrylic painter?
What are the differences? And what should you be aware of before you begin experimenting with a new medium?
Water-mixable oil vs acrylics coverage
One of the first things you'll notice in comparison to acrylics is that you need a lot more paint to cover over mistakes or block out colours.
The covering power of acrylics is pretty amazing. If you've been used to quickly changing large passages of your painting, it can come as a bit of a shock when trying the same technique with water-mixable oils. The Titanium White doesn't have the same covering power in the same thickness of application.
You can, of course, grab a fully loaded palette knife and apply in one thick swoop. But doing it this way the pay off would be a very long drying time with a raised textural quality to the surface (unless an impasto textural Van Gogh finish is what you're after, then go for it!)
But if you want to build up the coverage in a few thinner layers, you've got to take into account the longer drying time in between applications, very similar to traditional oil paint.
I thought I'd do a quick mix between Yellow Ochre and Titanium White. This illustrates the difference in tinting strength between Winsor & Newton Acrylic and Holbein Duo Aqua Watermixable Oil. 
I've squeezed out roughly 1 part Titanium White to 1 part Yellow Ochre acrylic on the left & 5 parts Titanium White to 1 part Yellow Ochre water-mixable oils on the right
First Mix, with the Acrylics
Second mix, with the water-mixable oils.

To achieve the same tinting power as the acrylics, I needed roughly 5 times the volume of Titanium White water-mixable oils.
So are you going to need to use much more paint over the painting process?
Actually no, the opposite is true. Despite the more translucent quality of the paint, I tend to use far less volume of colours on my palette.
Because water-based oils dry much slower than acrylics, you can afford just to put out a small amount of paint, and it will stay workable for a good day or two in the studio without needing a stay-wet palette. Also, you get a nice spread with the colours during application.
Thinning with water vs a water-mixable thinner
When you dilute water-mixable oils with water, there is an immediate value change, much more than with acrylics. The water creates an emulsion with the paint, so it goes cloudy.
Wait; what? I thought these are water-mixable?
What gives.
Well, I think they should be called 'water cleanable oils.'
I tend to use the Winsor & Newton Water-Mixable Thinner for dilution. I find this nice to work with, it adds a great flow, the colours stay true, and you only need a small amount to get it 'moving'.
Water-Mixable Thinner is a non-toxic solvent and is low odour.
I haven't noticed any irritation when using it. I'm trading having a very small amount of non-toxic solvent for much-improved handling properties but if you prefer you can just dilute the paints with water.
You can read the Safety Datasheet from Winsor and Newton here.
Working time with water-mixable oils vs acrylics
If you've been struggling with your acrylics drying too quickly to achieve those lovely smokey blends you're after – you're in for a treat!
It is so fantastic to have that extra working time. You can mix a colour string (a range of colours with different tonal values) and have them out on your palette, go for a cup of tea, go for lunch, go to the movies and come back and they're still wet.
This also, of course, means if you're working in one session, then you've just gained a lot more time for blending colours. So painting wet-into-wet is going to be one of the significant differences you'll notice.
Size of canvas and style of painting
If you paint small and want to paint quite thickly and impasto, just using acrylics can get fantastic results due to the thickness of the paint. The smaller scale will enable you to blend the colours easily because the colour will stay wet due to the volume of paint used.
If you've got more of a tendency to build things up in layers, take your time and look for subtle transitions between forms, water-mixable oil paints could be the answer. They allow you to work in thin layers that remain workable for much longer.
Cleaning brushes in-between mixes
When I'm working with traditional oils in a space that hasn't got great ventilation, I always have a tendency to just put out the minimum amount of turpentine (or Odourless Mineral Spirit, OMS) using a screw lid jar. Hence, the least possible VOC fumes in the space. The problem is, with such a small amount of liquid, it's much harder when it comes to cleaning your brushes to get them thoroughly clean.
So being able to wash your brush between mixes using a big pot of water is fantastic, you can then use a paper towel to dry off the excess water from the bristles.
However, I have found in comparison to acrylics; it's harder to get the bristles thoroughly clean just using water. I found using Masters Brush Cleaner, and/or washing up liquid will help to clean your bristles at the end of a painting session.
And while we're on the subject of bristles, synthetic bristles will be more tolerant to continued water exposure than hog hair natural bristles.
Stage 1 – Starting the painting with Acrylics
So on to the painting, which is a mix of mediums. I started with an acrylic underpainting and then built up the piece using water-mixable oils on top.
I used a watery application of the acrylics and painted onto cotton canvas. This helps the upper layers of the water-mixable oils to adhere well to the surface.
Why not water-mixable oils for the whole piece?
Well, I could have done, but the acrylics cover more effectively than the water-mixable oils and allow for fast progress at the beginning stages due to their quick drying time.
Coloured Ground
The first stages of the painting are to establish a base ground tone.
Throughout this still life, judging the values of the flowers is going to be one of the biggest challenges so choosing a sympathetic ground colour that compliments the colours of the flower heads and is similar in value to them, will help me achieve this.
Even though the finished painting will have a more solid black background, I've chosen a pre-mixed Pale Umber acrylic by Winsor & Newton. The Pale Umber which is a warmish light grey/brown is very close in value to the general shadow tone of the petals.
It's not too dark, which means I can quickly draw out on top of it and it's not so light that when I get to the brightest lights blocking in stage and white goes on, it will still allow my shapes to emerge.
Early block-in stage, using Burnt Sienna and Burnt Umber mix, over the Pale Umber ground
So if the mid-tone value of the ground helps with the drawing and judging the rest of the values more easily, the colour, the actual pigment choice, will help with the mood of the painting.
I want the warm elements in this piece to shine, so the flowers heads, the wood of the table and the cream jug in the front.
On top of the ground, I draw out using a round brush with a slightly diluted mix of Burnt Umber and Burnt Sienna acrylic. It enables me to have a richer, warm base.
At this stage, I'm just broadly observing which areas are warm and which are cool.
Blocking in the background
When the darker background is introduced, a mix of Ultramarine Blue & Burnt Umber, you can start to judge the warmth that had been previously established more easily against the cool black.
By painting the negative space around the flower heads, the positive forms start to emerge and come forward to the viewer.
I've also dry brushed in the form shadows on the peony flower heads, almost like a thin scumble thickness.
Looking for the shapes
At this stage, I'm focusing on the shape of the leaves, as if they were split into two. One mass of light and one mass of shadow.
I haven't gone dark enough within the shadow side yet, so the background is fighting for the attention of the flowers.
Sometimes you question yourself, 'It can't be that dark' or 'How will anyone know it's leaves if I go that dark'. These are questions that regularly come up as an internal dialogue, even though you know your answer. That's why I will often start with just a couple of colours; it limits the choices and limits the inner critic – you are only judging whether to go lighter or darker at this stage.
Detail of the Block-in with the watered-down acrylics
Adding the mass shape of the leaves
Thought I'd bite the bullet and get some green in!
This is a mix of Cadmium Yellow Light, a touch of Yellow Ochre and 'black' I'd mixed from Ultramarine Blue and Burnt Umber. Using a black to create the greens helps to keep the colours muted. You can see an earlier video on mixing greens here.
Because I know I'm going to be working with oils on top, I'm applying the acrylics thinly using a filbert brush, so that I get soft edges, I'm almost staining it. It's just really to get a colour note down so I can judge my oil colours against it.
I use the same Ultramarine Blue and Burnt Umber mix lightened with Titanium White for the neutral hues in the background.
The tabletop has been blocked in with Burnt Sienna, Burnt Umber, Yellow Ochre and Titanium White using a bigger flat brush and a thicker, more opaque application.
Blocking in the peonies
Here I've begun to blush in the more intense colours to the flower heads. I was using a Permanent Alizarin Crimson and introduced a Quinacridone Red (Permanent Rose is the same colour) This will allow me to achieve the more magenta hues that are within the central flower.
I've added some darker greens to the shadow area of the leaves still with the acrylics, diluted with water, and have now got an excellent base to judge the hues of the flower heads from.
Detail: You can see the semi-transparent layers underneath, with thicker paint build up on top.
I continue to build up the slight changes in light and dark on the flowerheads, so they start to have more of a sense of a three-dimensional shape.
Stage 2: Introducing water-mixable oils
Once I had all the base colours blocked in with the acrylics, I started to work over the top with the water-mixable oils.
Traditional oils need to be thinned with a solvent such as White Spirit or Turpentine but water-mixable oils (also known as water-soluble or water-miscible) are oil paints that can be diluted and cleaned just with water.
But when you only add water to dilute them there will be a noticeable colour shift, they will lighten and then darken back down and dry matte once the water has evaporated.
This is ok if you're roughly blocking in a colour, but for accurately matching colours it can be a little disconcerting!
So for my first oil layer, I'm choosing to dilute the paint with a water-mixable thinner – in place of water.
I'm only using a touch of the thinner, just to moisten the brush and increase the flow of the paint so I can push around more easily (your brushes can still be cleaned just with water.)
Fat over lean
Winsor & Newton Artisan Water Mixable Thinner, non-toxic & low odour.
You may have heard the term 'Fat over lean' mentioned concerning oil painting, and it applies to water-mixable oils too.
It's a simple rule but one you need to be aware of, if you are painting in an indirect method, i.e: working in layers. If you prefer to paint all in one go – Alla Prima and the paint all stays wet together, you don't need to worry.
Fat over lean means that each succeeding layer of paint should have slightly more 'fat' or 'oil' than the preceding layer.
There are three main reasons that a paint layer could be oiler or fatter.
 The natural oil content in paints. For example, Burnt Umber has a 'low fat' oil content, so it is fast-drying oil paint because there is less oil in the paint mixture to oxidise and dry. This is why earth colours have been historically used for oil underpainting because they are lean. In comparison, Ivory Black has a 'high fat' oil content and takes longer to dry. This would not be the ideal pigment choice for an underpainting and is the reason I blocked in the dark black background using acrylics first, so it would dry quickly and I could work on top.
You add a medium in with your paint. For example, Linseed oil. You would tend to do this in the latter stages of the painting. This improves the flow of the paint, increases the working time and retains the 'fat over lean' rule, so the upper layers of the painting dry more slowly than the layers underneath.
You apply the paint more thickly, so naturally, the oil content is higher in the volume of paint, again you can do this in the later stages of the painting.
So for the first oil layer of this painting, the leanest, I've thinned or diluted with Water-Mixable Thinner, but as the painting progresses, I'll use a combination of less thinner, thicker paint and then lastly, thick paint straight out the tube with a little bit of Artisan Water-Mixable Linseed Oil added in.
I'm using Holbein Duo Aqua and a Daniel Smith Water-mixable oil.
Titanium White – Holbein Duo Aqua
Cadmium Yellow Light – Holbein Duo Aqua
Burnt Sienna – Holbein Duo Aqua
Cadmium Red Deep Hue – Holbein Duo Aqua
Rose Dore – Holbein Duo Aqua
Ultramarine Blue Light – Holbein Duo Aqua
Ivory Black – Holbein Duo Aqua
Burnt Umber – Daniel Smith
I've started to introduce a more intense warm yellow into the leaves and work on the balance between the cool and warm greens. (In the floral painting still life course you can see how effective observing the differences between the warm and cools can be)
I'm trying to keep the brushmarks loose and give the impression of a flower head just by using abstract shapes.
By stepping back (about 7-10ft) from the painting, you can see how the picture is 'reading' as a whole from a distance. I really like how this particular flower head appears abstract when you're right up close to the canvas, but as you step further away, an impression of the flower appears.
Adding highlights
If you're just coming to water-mixable oils from acrylics, this is where you'll notice one of the significant differences – the lack of coverage.
I've found the Holbein water-mixable Titanium White to be one of the thickest and most opaque but even using this; you need to use a much thicker application than you may be used to.
I think a misconception about water-mixable oils is that they are quick-drying oils.
They can be quick dry if only diluted with water, but there are tradeoffs in the paint handling and colour shift. Other mediums can be added in to speed up the drying time depending on the techniques you're trying to achieve. But on the whole, when I added the thinner in a typical application, the water-mixable oils dried only a little bit quicker than traditional oils.
To give you an idea, a small study I completed using the water-mixable oil paints straight from the tube, was still wet to touch three days later when I moved the canvas. I guess it would have retained workability within the first 48 hrs.
As I build up the thickness of the paint, I introduce some water-mixable Linseed Oil. This will improve the flow of the paint, increase the working time and retain the 'fat over lean' rule, so the upper layers of the painting dry more slowly than the layers underneath to prevent cracking.
Winsor & Newton Artisan Water Mixable Thinner & Linseed Oil
I create my own medium, a mix of 1 part Artisan Water Mixable Thinner to 1 part Artisan Water Mixable Linseed Oil. As I'm working with the paint in quite a thick application, the body of the colour straight from the tube is pretty nice, so I'm only using a tiny amount of my medium mix.
Pro-tip: You can vary the ratio of thinner to oil, depending on the number of layers you work with and the consistency you prefer to work in.
You can see on the flower heads as the light changes across the surface I adjust the hue and the value of the mix, this helps to give the illusion of light hitting the surface.
Once I'm at this stage, I then mix a range of colours strings for each of the flower heads. I stick to the Cadmium Red, Rose Dore, Yellow Ochre, Cadmium Yellow Light and Titanium White for most of the lighter values and then darken down with the Burnt Sienna, Burnt Umber and Ultramarine Blue Light. The palette is a tear-off paper palette New Wave Grey Pad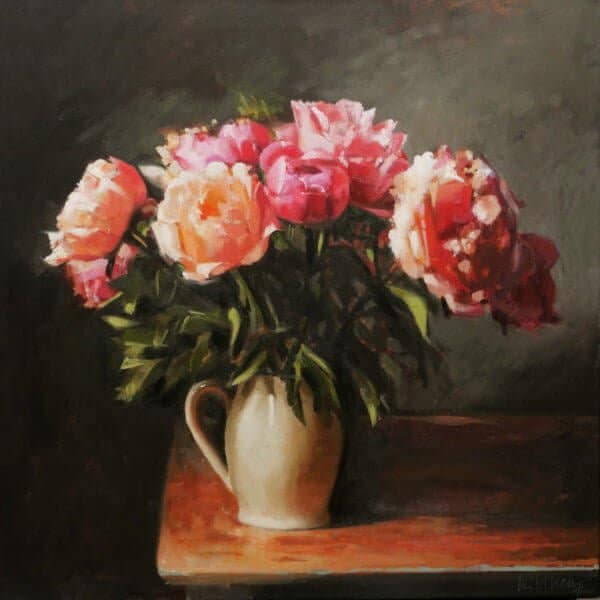 As the painting progresses, I refine the colours on the jug and mute down the greens. I found they were fighting too much with the flowers. I kept the flowers on the outer edges of the arrangement more impressionistic and focused on adding more details to the central flowers for the finishing touches.
Detail of final piece: Notice how dark the foliage is, this helps to bring the flowers to life. Also, keeping the colour range in the leaves limited, allows for more variety of the shaded areas within the flower heads.
Really hope you find it helpful and I'm planning a new Absolute Beginners Water-Mixable Oils Course ready for release early Summer 2020!