Acrylics are a great medium. Pick up a few well-chosen materials, and after a simple set up, you can paint on almost any surface.
But.
They dry quickly. And sometimes really quickly.
If you're new to painting, the seriousness of this small window of free-flowing acrylics begins to dawn on you, little by little.
The paints don't seem to blend quite as well as they did when you first put them out on your palette. In fact, that expensive paint you took so long deciding on has now gone completely hard, and there's a distinctive shift in colour.
This is not just frustrating but feels like an undisclosed complication.
You thought it was going to be getting the painting techniques right that would be difficult, not battling with the paint drying out too quickly.
So how do you stop it from happening?
Paint faster? Invest in specialist paint mediums? Use a broom rather than a brush?
Humidity
Everything revolves around evaporation.
Controlling water evaporation is the key principle to manipulating the drying time of your acrylics.
Acrylics dry by evaporation. So, the wetter the air around the acrylics, the longer they stay wet. You might be painting in a dry climate and not realise how much that affects the paints' workability.
The drier the air, the faster the acrylics will dry.
Wet air (around acrylics) – paints stay wetter.
Dry air (around acrylics) – paints dry out quicker.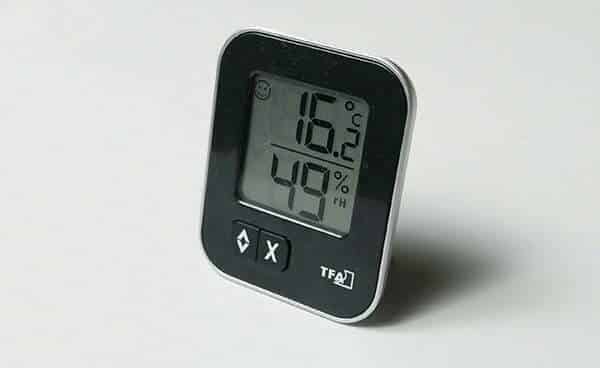 In my studio, I've got a humidity and temperature monitor. This helps to keep an eye on the water content of the space, so I can adapt my techniques if needed.
I've noticed when I'm painting near the coast, and there's a higher amount of water in the atmosphere, the paints will keep working for a lot longer. If you are based in an extremely dry climate, you could introduce a humidifier into your space that will emit steam or water vapour to increase the air's moisture levels.
Heavy Body Acrylics under ambient conditions of 70ºF/21ºC and 30% Relative Humidity in a 0.15mm brush stroke.

wet: under 5 minutes
workable:  10 minutes
touch dry: 30 minutes
locked down: 3+ days
Temperature & Air Flow
If it's a hot summer day, you might have placed an air conditioning unit or fan next to your painting space; this will shorten the working time of the paints as airflow aids water evaporation, definitely something to consider.
Pro tip: It's also handy to check the ambient temperature of your studio. If you drop below 9° C, it can cause issues when creating a strong paint film.
Acrylics are ideally used at room temperature, above 60° F / 16° C, and avoiding any applications below 49° F / 9° C, which is the so-called "minimum film formation" temperature (MFFT). Below that temperature acrylic paint cannot form a strong, coherent film and will be prone to failure and various drying defects, such as cracks, poor adhesion, and cloudiness – Golden Paints 
On top of your studio environment, there are a few successful ways to manipulate the drying times of acrylics by controlling evaporation. However, I don't use them all in one painting but pick and choose whatever would work best for the style or stage of the piece I'm working on at the time.
How would you speed up the drying time?
Here's an inversion thought experiment.
What would you do if you had to dry acrylic paint as fast as possible?
Paint in a thin layer? Warm room? Wind turbine? Sunshine? …Blow torch?
If I had to get a painting to dry as quickly as possible, I'd use a hairdryer on thin paint. High airflow, high heat, about 1 cm from the paint surface! This expels water the quickest from the paint.
And this knowledge is the secret to your success.
All we have to do is work on the opposites.
 #1. Paint volume
Paint thicker.
The first thing to consider is the actual paint volume. And that's how big a volume of paint you put out onto your palette.
When you first start, you're worried that you're going to waste paint, so the tendency is just to put out a small blob. You'll find that goes dry, very, very quickly.
When I lay out a palette, I put out a larger amount of paint than I think I'll need. I know I might end up throwing some of it away, but it enables me to mix plenty of colours, get more accurate mixes, and have the paint stay wet on the palette for longer.
So next time you squeeze out your paint, try squeezing out double. It will feel awkward to start with but will really help.
Pro tip: This is in comparison to oil painting, where you can get away with putting a relatively small amount of paint out, and it will stay wet and usable for days.
#2.Water Mist

Water-mister
To try and balance the water leaving the paint surface, you can mist your acrylics on the palette as a way to re-introduce lost water from evaporation.
You can either use water or a specialist acrylic medium designed to keep the palette wet.
I tend just to use water and would usually mist a larger palette when working flat on a table. If I've got the palette upright on an easel, I find over-misting the paints can lead to them dripping down the palette.
You can also mist the canvas surface throughout your painting to add extra moisture to the paint layer.
Liquitex makes a specific palette wetting spray.
Liquitex Palette Wetting Spray Fluid Painting Medium is an innovative fluid acrylic resin designed to slow the drying of acrylic colours.  Allows you to keep your palette colours fresh longer, preventing the paint from 'skinning over'.  Improves colour blending.  Can be used to thin colour while maintaining film integrity.  Formulated with an anti-microbial agent to prevent mold. – Liquitex Paints
#3. Slow-drying Mediums
The most common dilutant with acrylics is water, but you can add something in with the paint that will either evaporate slower than water or slow down (or retard) the polymerisation process of the acrylics drying.
These products are known as additives or mediums.
They each have different benefits, depending on how you paint.
i. Additives (Retarders)
Acrylic Additive, Retarder, Golden Paints
Acrylics are pigments suspended in an acrylic polymer binder.
When you dilute with water, you dilute the binder's ratio, which can affect the paint film integrity.
Additives do not provide any binding qualities, so they often have limitations to how much is recommended mixing in with your paints. If you add too much, the paint stays gummy and doesn't fully cure or fully dry.
Acrylic retarder can add about 10-15 minutes to the working time of the paint, and with Golden Paints Acrylic Retarder, you can only mix in about 10 – 15% in with your paint mixes.
I find using it can be okay, but only when I've first put out my paints and have squeezed a little bit of the retarder on top because at this point I can judge quantities.
The issue comes when you're halfway through a painting and want to use it again. It's very hard to gauge with your brush whether you've got 15%, or if you got 10%, or did you go 20%?
So I find using an acrylic retarder is definitely best suited as a pre-painting option.
ii. Slow Drying Acrylic Mediums
Slow Drying Medium, Winsor & Newton
This is a slow drying medium from Winsor & Newton; and what's nice about this product is because it's clear, you get very little colour shift when the paint dries.
Most acrylic mediums are white when wet but clear when dry. This changing from white to clear is a colour shift consideration in most acrylic mediums and paints.
Pro tip: Winsor & Newton professional range of acrylics also use a clear binder.
The other great thing about this medium in comparison to retarder is you can use it up to a 1:1 volume with the paint.
So one part medium to one part paint.
This is really handy because its a much more fluid consistency than with the 15% dilution of the retarder, and with a 1:1 mix, it's much easier to judge the ratio throughout your painting,
However, be aware.
If you add that much medium, you are diluting the paint's opacity by half. If you are using a student or hobby grade paint, diluting by half will have quite an impact and difference in the paint coverage and handling.
iii. Acrylic Glazing Liquid
Acrylic Glazing Liquid Gloss, Golden Paints
Acrylic Glazing Liquid Gloss (now called Gloss Glazing Liquid) can be used in any ratio with acrylics. 
I find this excellent for applying thin layers of paint, with more working time and it 'holds' a paint film. You can see me using it in this acrylic glazing tutorial.
#4. Palette choice – i) Tear off Palette
I tend to work on paper palettes. These are thin disposable sheets with a non-absorbent sheen to the surface that repels the paints so they don't soak into the palette.
If you're using a paper plate or a styrofoam paper plate, they will absorb and soak up the moisture from the paint from underneath and dry out your paints.
ii) Palette – Stay-wet palettes
If you want your acrylics to last even longer or keep your acrylic paint from drying out overnight, there are two main options.
You either keep the colours in an airtight container or keep the paints in a stay-wet palette that 'feeds' the paint more water.
 The stay-wet palette consists of two layers :
An absorbent paper layer that is soaked with water – acting as a water reservoir.
A sheet of grease-proof paper – this acts as a membrane to stop all the water going into the paint immediately.
You lay your acrylic paints out on top of the grease-proof sheet and as the acrylics dry, the water in the paint is replaced by the water that is held in the absorbent paper layer.
This will keep it workable for much, much longer, but there are a couple of caveats.
Paint going too liquid
Palette going mouldy
Surface ripping if using a palette knife
Space of surface
Because you're adding water to the paint through the palette, there is a danger of adding too much water. If you're using a soft body acrylic or a student grade acrylic, sometimes you can come back in the morning, and all your paints have run into each other.
If you're using heavy body paint to start with and a moist but not soaking stay-wet palette, it can help to give you a really nice consistency for a few days. This is what I tend to do if I'm working on a larger scale painting.
iii) Airtight Palette
The clasp creates an airtight closure onto the paints.
An alternative to a stay-wet palette or a flat palette is to use an airtight palette.
These can be very handy to save leftover paint or use as a palette. The acrylics in the box above, have kept workable without any retarder, medium or extra moisture for over 2 months.
There is a little scraper that you can decant some of the paint with and even a thumb holder on the back!
#5. Painting surface
If you paint on a traditional absorbent gesso, it will suck in the water to create a good bond to the surface, but you can also mist the back of your canvas with water prior to painting. This acts like a stay-wet palette.
As the water evaporates from the front of the canvas, the paint draws water from the pre-wetted surface. This only really works at the first stage of a painting, you can also wet the front of the canvas before you begin.
#6. Choose your brand
Some student brands can dry quicker than artist quality brands, and different paint manufactures have different drying times, for example, Winsor & Newton claim an extra 20% working time in comparison to other brands.
#7. Mixing with OPEN slow-drying acrylics
You can also get more specialist acrylics that are designed to be a lot more slow drying. Golden make a range called OPEN acrylics, which have a lot longer working time.
You might be interested in this comparison article I wrote on Heavy-Body Acrylics vs OPEN Acrylics.
I found OPEN paint is a bit of a different beast than standard acrylic, the paint thickens as it dries, rather than forming an outer skin like traditional acrylics. The main issue for me was that they're really designed for painting in thin layers,
OPEN Acrylic Colors are best used in thin layers. Applications of more than 1/16 inch / 1.5 mm (wet film thickness) will result in:
– Excessively long drying periods
– Persistently soft, higher tack feel
– Translucent layers that remain cloudy

GOLDEN ACRYLICS
1.5mm is very thin if you prefer thicker impasto marks.
However, what is quite good is you can intermix the OPEN paints with standard acrylics. This tweaks and extends the drying time to create your own perfect mix of slower drying paint. (This is a technique that I use in the Acrylic Portrait Course to create a slow drying white to give me more working time when working with portraits.)
OPEN acrylic mediums
Ok, here's one final tip, and it's a good one.
You don't have to use the OPEN paints to get some of that long working time goodness. You can use the OPEN mediums with your standard existing Heavy Body Acrylics and mediums.
To start with try a 2:1 Glazing Liquid to OPEN Thinner mix. (2 parts Glazing Liquid: 1 part OPEN Thinner)
This will give you a little extra time. You can then start to increase the amount of OPEN medium.
Mix a 3: 1 mix of open medium in with the glazing medium.
When more than half of the medium 60% open medium to 40% glazing medium, the working time is now 45 minute to an hour. – Golden Paints
Less is more with this thinner, Golden doesn't recommend exceeding a 3:1 ratio if using just the OPEN thinner. (3 parts paint to 1 part Thinner), but diluting it with the Glazing liquid gloss as I've mentioned above will give you more dilution.
Add sparingly to acrylic paints, starting at approximately 10 parts paint to 1 part OPEN Thinner. Maximum addition is 3 parts paint to 1 part Thinner. – Golden Paints OPEN thinner
Once you get to grips with which of these methods work best for you within your own painting environment,  you can confidently control your palette and concentrate on enjoying painting!