For Solvent-Free Oil Painting (Video)
You like the idea of trying oil paints, but the practicalities of cleaning up your brushes with solvents is out of the question.
It could be you paint in a small room without good ventilation, or you've had to stop using traditional oils due to skin sensitivities or asthma.
So what's the alternative? Acrylics? Watercolour? or go old school with some Egg tempera?
How about real oil paint that can be mixed with water or natural drying oils and cleaned with soap and water? Long working time, soft blends, buttery consistency, no solvents and super easy cleanup.
Mmm, sounds too good to be true, so what's the catch?…
What is Water-Mixable Oil Paint, and how are they

Water-Mixable?
Water soluble oils (also known as water-mixable oils or water-miscible oils) are oil paints that can be diluted and cleaned with water rather than solvents. They contain dry pigments (colour), an oil binder (usually Modified Linseed or Modified Safflower Oil) and an additive used in the manufacturing process that acts as an emulsifier.
The additive helps form a stable blend of tiny oil droplets within the water. In essence, it's a bit like traditional Egg tempera, which is also made by mixing a binder and water with dry pigment to make paint. It consists of dry pigments, egg yolk and water. The egg yolk acts as an emulsifier to create the vehicle binder for the paint.
Are Water-Mixable Oils real Oils?
Yes, they are. Water-mixable oils are real oils. They are water mixable, not water-based.

They can be mixed and applied using the same techniques as traditional oils, but whilst wet, they can be removed from brushes and palettes with soap and water, and I've found Masters Brush Cleaner works a treat!
How do water mixable oils Dry?
When water is used to dilute the paint, it dries in two stages. The first stage is the evaporation of the water. It will then start the second stage, a further curing process, drying by oxidation, which is exposure to the air, just exactly the same as conventional oils.
Water-mixable oils dry through oxidation if used straight from the tube or mixed with natural drying oils.
Water-mixable oil paintings cannot be reactivated with water when dry.
How long do water mixbale oils take to Dry?
When diluted thinly with water, they can dry within 5 – 10 minutes. When used straight from the tube or mixed with drying oils, they can dry within 1 – 3 days. Depending on how thick you paint, the water-mixable oils retain their elasticity and workability for up to 48 hours.
Also, the more drying oil medium you add to the paints, the longer they take to dry. Many whites use Safflower oil rather than Linseed oil as a binder because it is a paler oil, but this takes even longer to dry. And I've found when painting with whites can take even longer to dry than traditional oils.

How do you prepare a surface when using Water-Mixable Oils?
If you intend to use very watery washes at the underpainting stage, then Acrylic Gesso should be used as the starting ground to ensure proper adhesion and absorption. You can also use canvases labelled as 'universally primed' (suitable for oil and acrylic). 
It is possible to paint on canvases prepared in the traditional way using an oil-based primer if you use the paint neat or mix it with a drying oil medium.
What are the handling properties when mixed with Water?
Thin Washes
Good when diluted with water to a thin consistency, water-mixable oils tend to feel and behave more like watercolour than oil paint thinned with turpentine.
The watery layers are best used when 'working in' an underpainting stage onto an absorbent ground, so the paint 'grabs on'. The more water you use, the quicker the paint dries, and it dries very matte.
Because of the inclusion of water, you'll find the pigments tend to temporarily lighten in colour and then dry matte as the water evaporates. The principle is similar to when you cut through traditional oil paint with turpentine for the first few stages of a painting, creating a matte surface. Remember, it's the oil within the oil paint that creates the glossy sheen, so the more you dilute it, whether it be with turps or water, in this case, the less glossy it will become.
This is easily remedied by applying a final varnish. Once touch dry, they are just like any other oil painting and take about 6 months to cure before you varnish with traditional varnishes (With Gamvar from Gamblin, you can varnish when the oil paint is touch dry).
Problems with the thin layers
When painting an in-direct method (multiple layers), the first block-in helps you establish your tonal range and get an idea of your colours within the scene.
When you're only thinning the water-mixable oils with water to a thin layer, it's harder to get a solid tone established in comparison to if you were to do the same thing with artist-quality acrylics or traditional oils.
The paints behave more like a student-grade acrylic in their coverage, and they are not as opaque at this stage.
Pro tip: If you also use acrylics, you can block in the first layers with watered-down acrylics to establish your tonal range and then switch to the water-mixable oils to work on top.
A few drops of Water for a thicker layer with Water-Mixable Oils
If you want to paint thicker than a wash and thin the paint with just a few drops of water, the mix becomes a little stickier to work with, and I've found it's harder to get a nice flow.
This is when I introduced a medium of drying oil to dilute the paint and extend the drying time.
A whole range of water-mixable mediums are available to achieve a good flow and desired consistency.
So if you think of the paints as water cleanable, and solvent-free, rather than a paint you only use water with, you'll achieve much better results.
A Painting of Two Halves
In the video below, I show the different handling properties between water-mixable oil and traditional oil and demonstrate techniques using water and mediums. I've approached it in the same way I would build up a painting with traditional oils or acrylics to see how they compare to my current workflow.
I start with a very watery wash to see how far I can push it, then use the paint neat, straight from the tube with no dilution, and then jump to using a medium to get past the stickiness.
Some artists mix water and a water-mixable medium to dilute their paints, but I found this mix to be cloudy, and it didn't give me the feel under the paintbrush I was after.
I demonstrate with Duo Aqua water-mixable oils from Holbein.
Holbein Duo Aqua Permanent White
Holbein Duo Aqua Yellow Ochre
Holbein Duo Aqua Burnt Sienna
Holbein Duo Aqua Ultramarine Light
Traditional Oils
Winsor & Newton Titanium White
Winsor & Newton Yellow Ochre
Winsor & Newton Burnt Sienna
Sennelier Ultramarine Blue Deep
Video Comparison Review: Water-Mixable Oil Paint vs Traditional Oil Paint
What Mediums can be used with Water-Mixable Oils?
Confusingly, artists use the word 'medium' to describe different paint types, such as acrylic, watercolour or oils.
However, in this context, the word 'medium' is used to describe substances that add flow and transparency and change the consistency of paint. The other benefit of using a medium is that the paint mix stays wetter on your palette for longer.
Mediums for traditional oil paints are usually a mix of a thinner (turpentine or odourless mineral spirits) with a drying oil (linseed or walnut oil).
When working in layers, the traditional rule of "fat over lean" or "flexible over less flexible" apply, so you would progressively add more oil or 'fat' but the underlying layers must dry first. For the later stages of the painting, thicker oil (stand oil) or resins (dammar) can be mixed in to create a more enamel-like finish.
Water-Mixable Linseed Oil
The same principles apply to water-mixable oil paint, your leaner layers would be mixed with water, and then your fatter layers on top would be mixed with a medium.
Holbein produces a special range of mediums that are designed to work with their DUO range, and you'll find all manufacturers of water-mixable oils do too:
Walnut Oil Based Medium

M Graham & Co – Walnut Alkyd Medium
I prefer a walnut oil-based medium because I can dilute the paint with it. A little goes a long way, and I already use it in my studio practice.
Because you need such a tiny amount, I can still wash out my brushes with soap and water without using any solvents.
Walnut oil has been used in paintings for centuries. Many Renaissance paintings use Walnut oil as their medium. It's harder to determine if turpentine was used initially due to the turpentine evaporating from the picture surface.
You can also use walnut oil to clean your brushes and then an oil soap cleaner (Murphys Soap cleaner gets good reviews)
It's paler than linseed oil and less likely to yellow, it doesn't quite have the same viscosity, so it can feel a little slippy under the brush but it is slower drying. This M Graham Walnut Alkyd Medium makes the water-soluble oils flow more easily with only a tiny drop, and the alkyd addition counteracts the slow-drying nature of the walnut oil.
I find the walnut alkyd medium with traditional oil paint can be a little too glossy, but as the water-mixable oil leans towards the matte side, they balance each other out nicely.
Pro tip: An Alkyd is a resin that can be mixed with oil to speed up the drying process (often by 50%). This is why Alkyd oil paints are often known as 'quick drying oils' because they dry within 24 hrs.
What is the Paint Consistency and Opacity straight from the Tube?
Pretty good. They've got a nice flow from the tube, but Holbein Duo Aqua isn't as buttery, thick or opaque as some artist-quality oils. For example, if you'd been working with Old Holland, you'd notice a big difference. The consistency is similar to a student-grade oil.
Can you mix Water Mixable Oils with Acrylics?
Yes, Duo Aqua is the only brand I'm aware of, which says it can be mixed with acrylics, watercolour and gouache, as well as with traditional oil paint.
Can you mix Water Mixable Oils with Traditional Oil Paints?
Yes, amazingly, with every brand of water-mixable oil paints, you can even add a small amount of up to 20%-30% of traditional oils paints in with your mix, and they still remain water-soluble.
Can you mix them with Thinners?
Winsor & Newton make a water-mixable oil thinner – Artisan Water Mixable Thinner, that can be cleaned with water. It will give you more working time than if you dilute only with water. Here is the description from Winsor & Newton:
This thinner (Artisan Water Mixable Thinner) has been specially developed to maintain the oily feel & keeps Artisan colour open longer than water. Although water is suitable as a diluent for the colour, its speedy evaporation can make the colour thicken upon the palette much quicker than conventional oil colour would when used with turpentine. As Artisan thinner does not form an emulsion with the colour, there is less colour change than there would be with water.
Are Traditional Oil Paints Toxic?
There isn't anything inherently toxic about a tube of oil paint. It is just dry pigment suspended in a binder, usually a drying oil such as Linseed oil (from flax seeds), Safflower oil (from Safflower) or Walnut oil (from erm..Walnuts)
It's the thinner or solvent, usually Turpentine, that you mix in with conventional oil paint that can cause issues.
Now there are certain pigments such as Cadmium, Lead and paints containing hazardous heavy metals, but these are always labelled as such on the tubes, and they're at their most risky when in a dry powder form. (These are labelled as Elite colours in the Duo Aqua Range)
It's also worth noting that the modern manufacturing process mills Cadmium pigments to larger sizes that cannot be absorbed into the skin.
What are the most Toxic Solvents used with Traditional Oils?
The strongest smelling, most toxic thinner used in the traditional oil painting process is distilled turpentine.
Distilled Turpentine
Often called 'turps', is considered toxic because some of the species of pine trees from which it's distilled can produce a solvent that causes skin irritation and allergic reactions in some people.
By adding turpentine to oil paint, you cut through to create a 'lean' paint. This dilutes the paint and dries quickly, evaporating into the air, so isn't recommended if you're working in a small space without any ventilation.
White Spirit
White spirit is a petroleum distillate and is often used for cleaning artists' brushes rather than diluting the paint as it evaporates quicker than turpentine.
Because it has high levels of "aromatic hydrocarbons" present….it's got a harsh aroma but is a strong solvent good for cleaning dried-on paint.
Mineral Spirits/ Odourless Mineral Spirits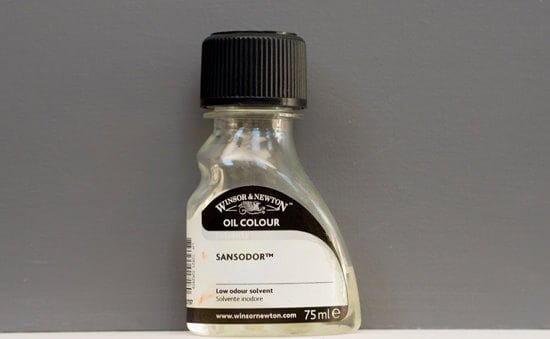 There are more modern solvents like OMS (Odourless Mineral Spirit) that also cut through oil paint to make it leaner. They are are not as strong smelling as turpentine but should still be considered solvents.
Sansodor (Winsor & Newton) and Gamsol (Gamblin) are two common lower-odour mineral spirits.
Here is a Safety Data Sheet (SDS) for Gamsol, which shows that it has an Exposure Limit Value higher than most solvents available to artists, which means you can be exposed to it longer. However, it's still not recommended to keep unlidded pots of the solvent in confined studio spaces, and it's not advisable to eat and drink in the same area when painting with mineral spirits.
It has a very low 'aromatic hydrocarbon' content.
"Gamsol is a petroleum distillate but all the aromatic solvents have been refined out of it, less than .005% remains. Aromatic solvents are the most harmful types of petroleum solvents."
When solvents dry, they release Volatile Organic Compounds (or VOCs) into the air. The lower, the better.

Gum Turpentine –  VOC 865 g/litre
White Spirit – VOC 795 g/litre
Odourless Mineral Spirit – VOC 767 g/litre
Acrylic Gesso can also release VOCs but are much lower. For example, Liquitex Acrylic Gesso has a VOC of 49.3 grams per litre
Can I really just clean up with Soap and Water?
Yes, Masters Brush Cleaner (also make a nice hand soap) Fairy Liquid (I personally love Platinum) or more commonly available in the USA – Murphys Oil Soap (can also be found on Amazon)
What are the best Water-Mixable Oil Paint Brands?
How do they compare to Alkyd Oils?
Alkyd paint dries much faster than water-mixable oil colours, touch dry and can be repainted over in 24 hrs.
Solvents are necessary to thin and clean Alkyd paint
I've found Alkyd oils tend to have a thicker consistency and better opacity
Alkyd paints dry at the same speed
Some Alkyd mediums contain 2-Butanone Oxime, which is used as an anti-skinning agent in the formulation of the mediums and can cause irritation.
How do they compare to Traditional Oils

?

Pretty well.
Drying times for the water-mixable oils are a couple of days quicker than traditional oils but much longer than Alykd quick-drying oils, and the main huge benefit is the ability to work without any harmful solvents whilst still experiencing the longer working time available with oils.
Water-mixable oils don't have the same 'spread' as traditional oils, and Holbein Duo Aqua isn't as buttery, thick or opaque as some artist-quality oils. A little goes a long way with traditional oils, and a small amount of paint can cover a larger surface area without adding any medium.
I found the biggest handling differences with the paints are the flow and opacity, and it was all about finding the right medium to mix in to suit my painting style.
Although water is okay to dilute the paint, it's best used for an underpainting that you want to dry quickly and for cleaning your brushes in-between mixes.
You can get a water-mixable thinner (you can see a comparison video here) which will give you more similar handling properties to turpentine if you wanted longer working times in thinner layers, or you could use a Quick-Drying medium for the first stages instead of water.
To make the paints behave as similar as possible to traditional oils, you've got to use a combination of mediums that gives you a more viscous mix so you can work and adapt techniques even closer to traditional methods.
Finally, there can be a disparity in the drying times between layers if you paint the first with water and the second with thicker paint. It's difficult to achieve the smooth smokiness you'd get between 2 creamy texture paints.
You can, of course, remedy this by painting a thicker background with less water dilution to start with, but if you're adding water to blend, it will cut through the paint layer and can sometimes pull it off the canvas.
So water-mixable oils give you the opportunity to paint with oil paint but with the ability to wash up with soap and water and work in a non-toxic painting environment.
If you think of them as 'water-cleanable' oils and use a water-mixable thinner and a water-mixable oil medium, you will get the best paint flow and handling results.
The best way to give them a go is to grab a starter set and give them a try out!
If you want to learn more about them, I have a new Absolute Beginners Water-Mixable Oil Course you might find helpful.
You Might Also Like: