We arrived in Paris to catch the last few days of a retrospective exhibition of the Swedish painter Anders Zorn (1860-1920)
After a snowy week in England, we woke to blue skies, warm croissants and this amazing rooftop view from our hotel room. I couldn't resist a quick pen sketch of the row of chimney pots in the distance before we hit the show, check out those windows!
Sketch from Hotel, Rotring Art Pen (F), Pentel Brush Pen and Pentel Aquash Water Pen in A6 size (10 x 15cm) Seawhites of Brighton Sketchpad (140gsm All-Media Cartridge Paper)
Zorn at the Petit Palais, Paris
The entrance to the Petit Palais is a fabulous staircase topped with gold wrought iron doorways and elegant sculptures. Ornate domed ceilings and decorative murals give the museum a real feeling of grandeur with huge light filled spaces.
Anders Zorn, Self Portrait with Model, 1896
In his lifetime Zorn was a very successful and sort after portrait painter.
His brushwork is akin to Sargent's quick handling and he is known to have been a keen advocate of drawing with the paintbrush much like Sargent's tutor Carolus-Duran and his limited palette is often reveared for creating naturalistic skin tones.
He spent his childhood surrounded by nature in the rural landscape of Mora, central Sweden and with a natural talent for drawing and sculpture, at 15, he was sent to the Royal Academy of Arts in Stockholm.
Clashing with the director he left to study abroad in Spain, by way of Paris and London.
By 1882, Zorn had moved to London's fashionable Mayfair and quickly developed a reputation as an excellent portraitist gaining many commissions.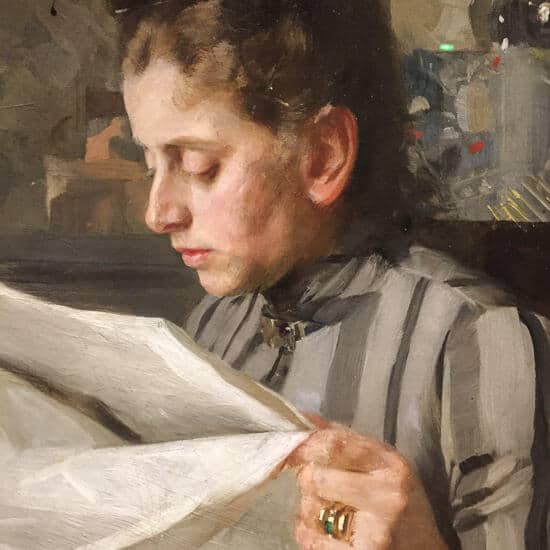 Anders Zorn, Emma Zorn Reading, 1887
In 1885 he returned to Sweden to marry Emma Lamm who is depicted in the portrait above, a wealthy young woman from Stockholm's upper-class society to whom he had secretly become engaged in 1881, introducing Zorn to a new social circle and clientele.
I was particularly interested to see this portrait 'in the flesh' as I'd studied it at length so it was fantastic to experience the painting alongside other works created in the same time period.
Anders Zorn, Summertime Fun, Watercolor on Paper, 1886

Zorn was also recognised as an exceptional watercolourist.
In the watercolour above, which at first glance seems to be an oil painting, his wife Emma waits on a dock for the approaching boat, although familiar with this piece I hadn't ever realised Emma was the model.
The main fascination with the painting for me is his unbelievable handling of the movement the water he called 'putting the waves and ripples into perspective'
Often artists use the texture and tone of the watercolour paper as an integral part of the piece but here by using opaque applications, Zorn has left no trace of the white paper below.
They travelled extensively and captured their journey through his paintings of the harbours. The exhibition gave a real sense of their relationship and painting adventures from West Constantinople, Algiers, St Ives in Cornwall, Hamburg, Venice and Stockholm Archipelago.
Anders Zorn, Portrait of Elizabeth Sherman Cameron, 1900
In 1888 Zorn moved to Paris to paint a series of portraits of the banker Ernest May and his children. This proved to be a key encounter as through him, he met prominent figures in politics and art including Antonin Proust, Armand Dayot and the dancer Rosita Mauri all future clients and friends.
His initial studio was on Rue Daubigny but moved to a more permanent location on the Boulevard de Clichy, in Montmartre, just down the road from the Moulin Rouge.
He was a sensation at the Salon of 1891 with no less than 12 works accepted, at the next year's Salon he presented a painting entitled 'Omnibus' that earned him the reputation of a  'revolutionary' and in 1893 was compelled to withdraw his 'Venus de la Villette' which was  considered too shocking for the show!
In 1895 Zorn participated with his friends Rodin, Whistler, Besnard and Thaulow in the first ever Maison de L'Art Nouveau at the Bing Gallery.
In under a decade, Zorn had become a highly prominent figure in the Parisian art scene which he would always remain in contact.
Painting hands to reveal character
Anders Zorn, Emma Zorn in the Paris Studio, 1894
What is often key to Zorn's full figure pieces if his use of the sitter's hands to reveal their character and in this painting of Emma in their Paris Studio, notice how the position of the hands also draw our gaze to the arrangement of sketches and painting in the foreground.
Anders Zorn, Emma Zorn in the Paris Studio, Detail, 1894
It's here that you can see Zorn's rapid brushstrokes, from the diluted underpainting on the left to the solid block of green on the right. The hand is delicately painted on top of a dark square which helps to bring out the contrast and draw our focus.
If you look back again at the whole painting, notice how your eyes first focus on the face then get drawn down the right arm, due to the diagonal angle, then move across to the left hand by Zorn's use of high contrast and then back up to the face – completing the triangle.
Interestingly, Zorn used a range of thick and thin applications in his oil work to reveal the canvas ground beneath, compared to the full opaqueness and more even-handling shown in his watercolours.
Anders Zorn, The Cigarette Girl, 1892
Imagine if this portrait was cropped without the cigarette, you'd lose that sense of atmosphere and nonchalance of the sitter.
Anders Zorn, A Toast at Idun, 1892
Rather than working in his studio, he prefered to paint his sitters in their homes to better capture their character, with decor and accessories playing an important role. And we can see here in a Toast at the Idun Society, he's captured the exuberance of his model by placing a whiskey in one hand and a cigar in the other, they both act as props to the scene.
Anders Zorn, A Toast at Idun, Detail, 1892
Zorn also used hands as key elements to balance his colour compositions.
Throughout the show, there were many examples of his use of the red and green and the cigar in the corner is a perfect example.
You can see the same method used in this portrait, with the stronger red being introduced with the ruby ring.
Using Impasto to add visual interest
Another method often used to create a focus within portraits is to add thicker impasto paint to the surface. If you add thicker paint next to the face, it can bring a three-dimensional quality to the work.
Anders Zorn, Portrait of Jean Baptiste Faure, Detail, 1891
You can see the thicker marks of the brightest whites bring the bow forward in the painting, there's even a little dash of red just to help add a pop of colour to focus our eye.
Pro tip: If you every study Constable's paintings, you'll see his use of small dashes of red within a green landscape which became a trademark of his scenes.
Anders Zorn, Coquelin Cadet, Detail, 1889

A large number of Zorn's portraits were produced in the United States during the seven trips he undertook there, bankers, tycoons and politicians including three US presidents all sat for Zorn.
I love the movement Zorn's created in this portrait of Coquelin Cadet a famous actor of the era, by the fast paint application of his collar.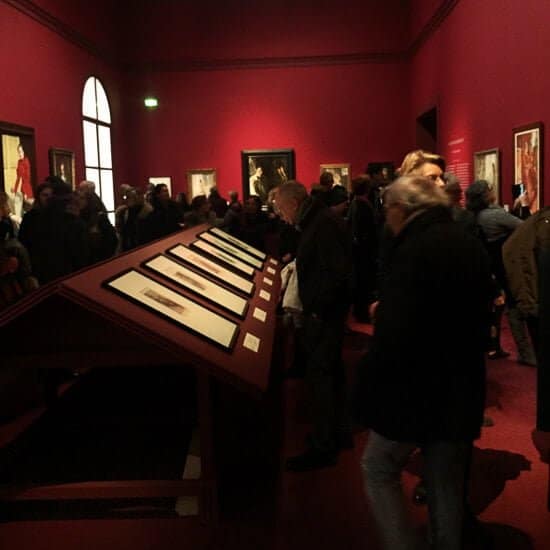 Printmaking
Whilst in London in 1882, Zorn met Axel Herman Haig also Swedish who introduced him to printmaking.
Zorn was a fast confident engraver and was heavily influenced by Rembrandt, whose prints he collected. He shares his style of sketching, contrast of shadow and light and often depicted himself.
Studying Zorn's etchings, give you a real insight into how he might have thought and approached his painting brushstrokes.
In the etching above, the changing of the marks help to define different surfaces.
The diagonal cuts on the foreground jacket sleeve add movement and direct us towards the man's face, we then follow his gaze to the seated female figure in the background, the marks behind her are all vertical, which in turn calms the eye.
Anders Zorn, The Waltz, Etching on Ivory Laid Paper, 1891
It was also interesting to see how an initial black and white sketch was then developed and interpreted into a painting. In the Waltz above, there's this really lovely sweep through the composition that sends our eyes past the figures in the foreground and through to the bright white area behind the curtain, it feels like this dance is more private, away from centre stage.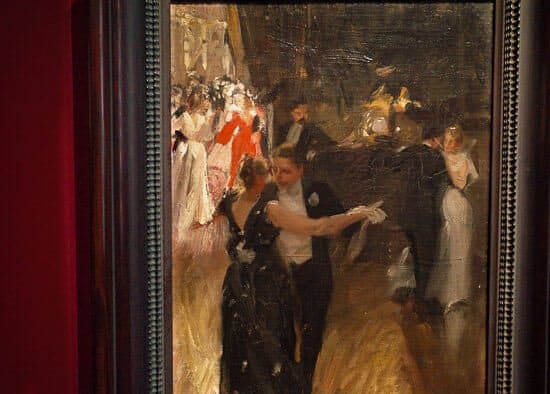 When we then see a painted version, Zorn has used a strong red alongside the white contrast to place the initial focus on the top left of the painting. As we're often drawn to the strongest areas of contrast and highly saturated warm colours, Zorn's made sure it's impossible not to look at the red dress first.
Anders Zorn, Omnibus, Sketch, 1892

It was amazing in this oil sketch how strong the colours were painted on the face yet the face still appears naturalistic and bathed in warm light through the window.
Don't be afraid of the dark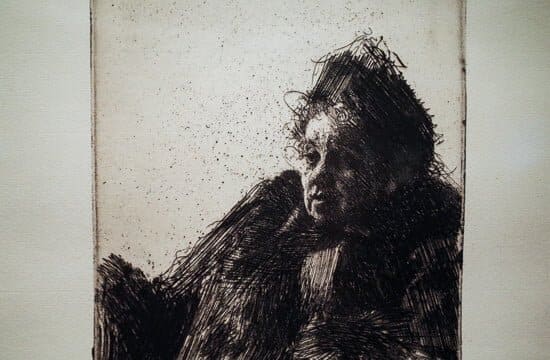 Anders Zorn, Mme Simon, Etching on Ivory Laid Paper, 1891
Rembrandt van Rijn , Etching, 1653
Zorn loved strong contrast and dark patterns.
In this etching of Madame Simon, 90% of the face is in shadow, it has a real feeling of contemplation and reflection. I love how he's distinguished the background simply by using dots instead of lines and also changed the directions in his marks to reflect the different changes in surfaces. You can see the influence from Rembrandt when compared to one of his etchings.
Anders Zorn, On the Ice, Etching on Ivory Laid Paper, 1898
Anders Zorn, The Ice Skater, 1898 

Back to Mora
Anders Zorn, Midsummer Dance, Detail, 1897
Despite the high society and recognition, Zorn never forgot his origins and painted with equal enthusiasm his traditional daily life in Sweden.
In 1896 Anders and Emma left Paris to settle back in Mora located in the Dalecarlia province on the banks of Lake Siljan.
Zorn fully embraced this simple life close to nature in Mora and in Gopsmor, a wooden home more isolated than his townhouse in Mora, which would later become the Zorn museum.
From now on most of his paintings are drawn from daily life, the cowherd in the forest or local women attending their tasks. But the painting he was perhaps most proud of 'Midsummer Dance 1897', is not only a reflection of his love for Dalecarlia but also it's bright summer nights and it became a classic in Swedish art.
Anders Zorn, Midsummer Dance, 1897
Balancing Red & Green
In some of the earlier pieces we looked at, Zorn used a strong green and vivid red to control our gaze, but in a painting towards the end of the exhibition, we can see a more subtle handling of this complementary colour scheme used to great effect.
Just trying to search for the elements of cool green or warm red, you notice a lovely balance throughout this painting.
Anders Zorn, Baking the Bread, Detail, 1889
Anders Zorn, Baking the Bread, Detail, 1889
Anders Zorn, Baking the Bread, Detail, 1889
Anders Zorn, Baking the Bread, Detail, 1889
Anders Zorn, Baking the Bread, 1889
From painting high society and elaborate decor to paring it right down to painting the every day, Zorn takes the most mundane scenes of baking bread and washing and elevates them to a rich fascinating scene.
The painting works so well from a distance because you get a real sense of movement and atmosphere, then you get a little bit nearer and observe the deft brushstrokes, then really close up and the subtleties are truly beautiful.
The close-up details would work brilliantly as a piece in their own right.
Anders Zorn painting The Mora Fair
Anders Zorn, The Mora Fair, Detail, 1892

In the late 1880's Zorn began a series of paintings studying the female form, often women bathing, it was an opportunity to observe the effects of natural light on the human body.
Anders Zorn, Shivering girl, 1894 
Zorn's Palette
Anders Zorn, Self Portrait with Model, Detail, 1896
If you've been studying portraiture you may have heard people talking about the Zorn Palette.
He is known to have used a white (probably Lead White) Yellow Ochre, Vermillion and Ivory Black.
A common modern version of the palette uses Titanium White, Yellow Ochre, Cadmium Red and Ivory Black.
In the self-portrait detail above, he prominently displays his limited palette of colours within the composition.
It is surprising the range of colours that can be achieved with this palette, it's an efficient and effective way to learn how to mix flesh colours for portraits.
But why is it so effective?
It limits your choices and prevents your colours from going too saturated, too soon.
You will have noticed alongside the subtle earth colours there are stronger greens and various other pigments in some of the paintings. The green was most likely Chromium Oxide Green as quite a few tubes were found in Zorn's studio following his death.
A freshly baked madeleine & Noisette break from Cuillier 
It's always interesting how your eyes become tuned in after being immersed in a painters style, there was a little Zorn moment later in the day passing this bistro, check out that muted green just wanting to be mixed with some Yellow Ochre and Ivory Black!
The exhibition was really fantastic and as the paintings had been displayed chronologically, it gave a real glimpse into his journey as an artist throughout the different environments and chapters of his life.
Bonne Nuit, Paris!
If you'd like to learn more about the Zorn palette you should have a look at the How to Paint Natural Skin Tones with Acrylics Course. In the video course, I introduce the Zorn palette and we produce 2 studies based on Zorn's works.
You Might Also Like:
1. Singer Sargent & Friends (exhibition review)
2. How to Paint an Oil Portrait (Step-by-step Grisaille Study)
3. Discovering Velasquez, the Duke and Unexpected Treasures (museum review)