After a long drive we arrived at Laundry cottage in the pitch black, the only sound was running water from the nearby waterfall.
There had been a few minor worries en-route, slight overheating, suspicious drips from under the car and the Sat-Nav had given up the ghost but we were here…and the pack of shortbread left as a welcome gift was quickly consumed!
It was only the next morning we truly appreciated the setting we were in.
Surrounded by lochs, mountains in the distance and a spectacular view of Dunvegan Castle out of the cottage window…
Laundry Cottage, Isle of Skye, Scotland
View from Laundry Cottage window of Dunvegan Castle
Sketching on Location
It was a fantastic sunny morning so thought I'd take advantage and get out on the road sketching around the Isle of Skye.
When I sketch on location I like to approach it quite loosely and often use pens rather than pencils.
I have a mix of pens that mirror the choices and techniques I use when I build up a painting, so instead of a thin round brush I would use a fine line pen and likewise would use a brush pen for thicker, darker textural areas.
It's worth mentioning that I usually use my sketches like a quick snap-shot of the scene, they're not intended as final pieces but the aim is to get my eye tuned into the subject I'm looking at.
Instead of taking a photograph first and then making a sketch from that, I use the sketchbook like my camera viewfinder. Once I've established that a sketch 'works' compositionally, I take shots for colour references or more details I might need later for the painting.
Armed with the sketches and photographs, I can then head back to my studio to work up a more finished piece.
Selective Sketching
When you're deciding on a scene to paint you naturally become more selective if you know you're going to be spending the time drawing it – rather than taking a quick photograph.
The tendency can be to take hundreds of photographs thinking you will decide what to paint later on, however, making the decision when you are on location is a much more productive approach.
The one critical thing to remember is no matter how short the time that you're actually sketching, be it one-minute or one-hour, you subconsciously absorb so much more of the atmosphere and feeling of the space around you when you draw it.
When I look back at my sketchbooks of the past I can be instantly transported back to the smells, the noises and sounds from that environment.
This is not to be underestimated because when you're back in your studio you'll never be able to conjure up the sense of time and place purely from a photographic reference, even though you think you will when you are on location.
A drawing no matter how sketchy, will be invaluable.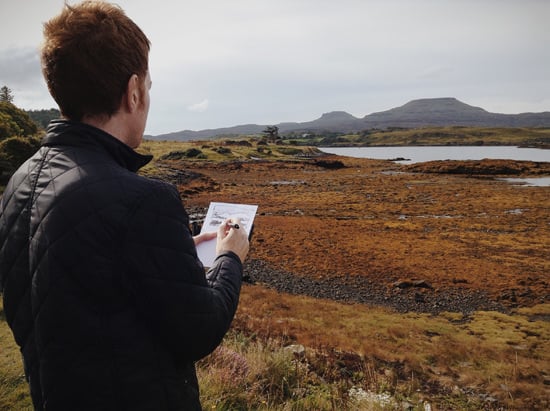 For the sketch above I used a mix of Faber-Castell PITT pens, a Micron Fine Liner 0.3 and a Pental Brush Pen.
The Pitt pens come in a range of different greys that can be perfect when you're sketching with the end goal of a painting. You can use them to add tonal blocks of warm or cool to give you a subtle idea of how the landscape feels and quickly establish the tonal hierarchy.
I used a black pen and then a warm grey and a cool grey always looking for the shapes, spaces and the differences between lights and darks.
Faber Castell PITT Artist pens
I was keen to explore the rest of the coastline so we took a walk out to Coral Beach, this is a beautiful area on the North of Skye.
What's fascinating is the walk to the beach is very green, mountainous with stunning views across water and then it appears, hidden within the greenery that surrounds it  – a brilliant white beach made up of tiny shells and hard seaweed called Maerl, crushed by the waves and bleached by the sun.
Coral Beach
With this sketch on Coral Beach I started off with a soft pencil and then worked on top with the pen. The sketch initially started just on the right-hand side of the sketchbook and I was focusing on the shape of the headland in the distance. I then extended to the whole of the spread of the sketchbook so it had more of a panoramic feel to it.
However, as the sketch progressed it began to feel very flat and didn't really capture the essence of the space, this is what is so handy about sketching – not all sketches come out as you first imagine them, but they can be very helpful in saving you wasted time in the studio because you are shortlisting the views and scenes as you sketch.
The bottom pen in the image above is a Pental brush pen that has a refillable ink reservoir just like a fountain pen. The brush pen can give you more of a broken line effect rather than just hard lines of the fine liner pens.
On our way to the Weavers Cottage
We had a break from sketching to explore more of the island and Vanessa seemed to have an inbuilt homing device towards anything wool, woven or tweed.
Having come across a particularly beautiful blanket in a gift shop, the label 'Powered by Pedal' piqued our interest to track down the creators.
The Skye Weavers Andrea and Roger have built a bicycle pedal-powered loom creating a variety of woollen products including scarves, blankets, throws, wraps and even tweed.
It was exciting to see traditional craftsmanship being kept alive and Andrea and Roger was so welcoming and generous with their time.
Whilst Vanessa enthusiastically perused the studio and shop, I couldn't resist taking some photos around the workshop as there were so many interesting textures, shapes and subjects and the light was great.
The Pedal Power Loom
We left clutching our new blanket that had been inspired by the colours and textures of Coral Beach
Alongside sketching, shortbread eating and seal spotting, I also did some location shooting for a new video course on 'Sketching the Landscape'.
I feel really excited to be taking some of the drawing techniques out of the studio into the countryside.
My aim is to help you progress from sketching in the comfort of your own home to understanding how to compose and balance landscape scenes in vast surroundings and tackle all of the problems that occur with it.
When you learn how an initial expressive sketch can be developed into a more finished piece, you can start to develop your own style and grow in confidence for sketching outdoors.

We even had time for a well deserved beer at The Three Chimneys.
Pro tip: The Hot Marmalade Pudding with Drambuie Custard comes highly recommended.
Isle of Skye Brewery – Skye Red
I couldn't resist a trip to Plockton, it really is a magical place that never fails to impress. Palm trees grow in the surrounding gardens and small boats mill in and out of the sheltered bay.
It was nice to visit again after it had been the inspiration for the Impressionistic Seascape Course.
Plockton, Wester Ross, Scotland
I easily lost three hours sketching and photographing around the bay, every time you take a few steps and look up the view has changed. (Vanessa finally tracked me down smiling ear to ear holding aloft a new pair of hand knitted mittens.)
(p.s. the Landscape Sketching Course is now available, you can read more here)