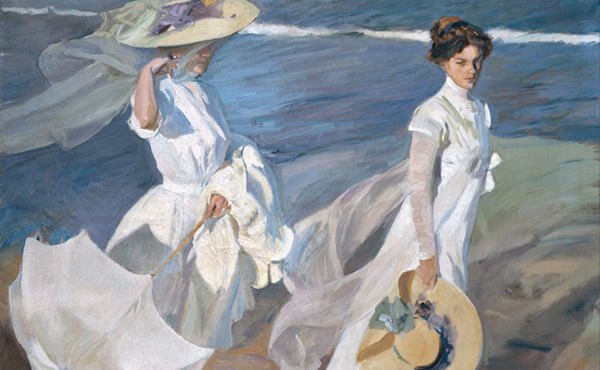 Joaquín Sorolla, Strolling along the Seashore, Detail, Valencia, 1909
Inside the Artist's Studio
In the heart of bustling Madrid, behind a protective brick wall, sits the elegant former home and studio of Spanish painter Joaquín Sorolla (1863 -1923)
Huge decorative iron gates lead you through a lush Andalusian courtyard garden to one of the best-preserved artist houses in Europe, an absolutely priceless experience.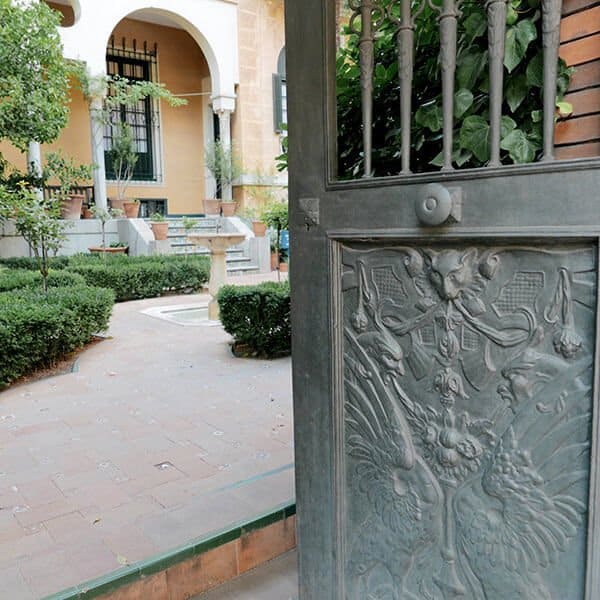 Joaquín Sorolla is one of the great names in 20th-century Spanish painting, known for his confident brush strokes and radiant colour palette. He loved to paint from life and if possible en plein air, sun-drenched beach scenes, luminous portraits and empathetic scenes of everyday life.
He was influenced by his contemporaries, the Impressionists, and absorbed their use of colour with separate brushstrokes applied to maintain spontaneity.
Monet once described him as 'the Master of Light'.
However, Sorolla considered himself to be closer in style to other painters of his day such as John Singer Sargent, Whistler, and Anders Zorn.
These artists shared the Impressionists interest in light but maintained a more comprehensive approach to the figure and a discipline of line that revealed their rigorous academic training.
"I could not paint at all if I had to paint slowly. Every effect is so transient, it must be rapidly painted."

– Joaquín Sorolla
Joaquín Sorolla, Garden at Casa Sorolla
The early years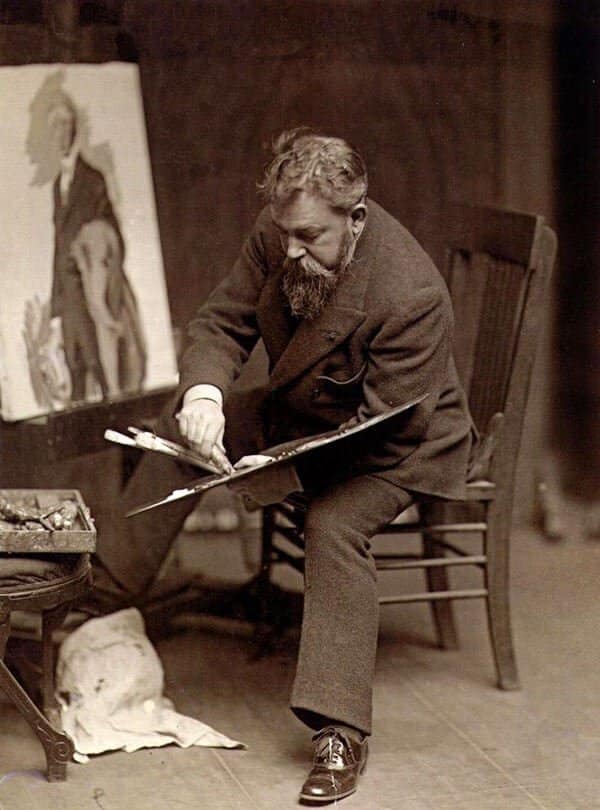 I like how Sorolla dressed for work! Brogues and all.
Joaquín Sorolla (pronounced Wah-keen So-roy-uh) was born in Valencia on February 27th in 1863. When he was just two years old, both parents died during a Cholera epidemic, leaving Joaquin and his younger sister Concha, orphaned.
They were cared for by their maternal aunt and uncle who at an early age recognized Sorolla's artistic gifts and encouraged him to paint and draw.
At fifteen, Sorolla entered the school of Fine Arts in Valencia making good friends with Juan Antonio Garcia del Castillo. Juan's father Antonio Garcia, an established photographer, immediately became Sorolla's patron and father figure throughout his early years.
At the age of eighteen, he travelled to Madrid to study Old Master paintings in the Museo del Prado and by the age of twenty-two had been awarded a painting grant, giving him the opportunity to study painting in Rome, Italy.
During that period, a long residency in Paris exposed Sorolla to the Naturalist painting movement, which had a profound impact on him.
Artists such as Jules Bastien-Lepage practiced an artistic style called Naturalism that represented subjects in a more realistic way, the depiction of ordinary, everyday subjects, rather than using an idealized classical composition.
A full-length portrait of Clotilde with a glimpse of Sorolla looking on through the reflection in the mirror.
Clotilde (detail)
In 1888, Sorolla returned to Valencia to marry Clotilde García del Castillo, whom he had first met in 1879 while working in her father's photography studio.
Following their return to Madrid, they settled and started a family, having 3 children, Maria, Joaquín & Elena.
It was at this point that Sorolla really began to make a name for himself. All his influences came together to develop his own artistic style. Alongside commissioned works, he portrayed Clotilde many times throughout his career and they're often personal informal paintings of her and the children capturing family life.
Joaquín Sorolla, Mother, 1895
With large areas of muted tonal greys and ochres, this composition really focuses the view on the relationship between mother and child, by the use of stronger colour in the faces, and the high level of dark contrast introduced by Clotilde hair.
Joaquín Sorolla, Mother, Detail, 1895
It's reminiscent of the Whistler painting, most commonly known as 'Whistler's Mother'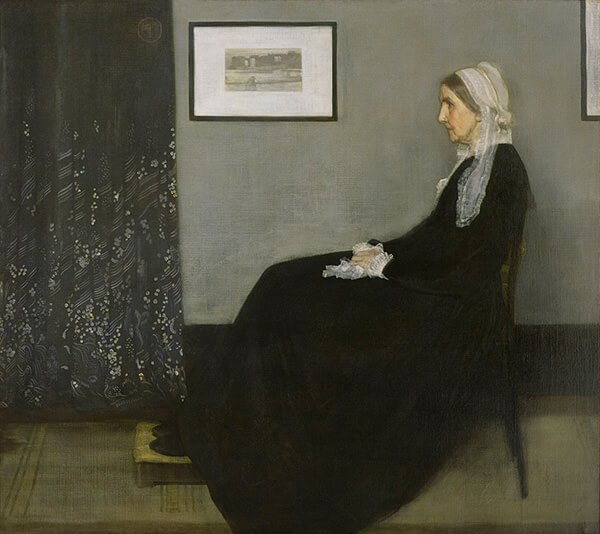 James McNeill Whistler, Arrangement in Grey and Black No 1, (Whistler's Mother), 1871
The same simple lines, the muted palette and the side profile of the sitter.
The abstract elements seem to have been as fascinating for Sorolla as Whistler. The real title of the portrait of Anna Whistler is 'Arrangement in Grey and Black No 1'
It's more reminiscent of an Abstract Impressionist title than an ode to the relationship of mother and son, Anna Whistler was a stand-in for a model.
Sorolla takes this concept and creates a much more personal, tender painting of the relationship between mother and child.
The museum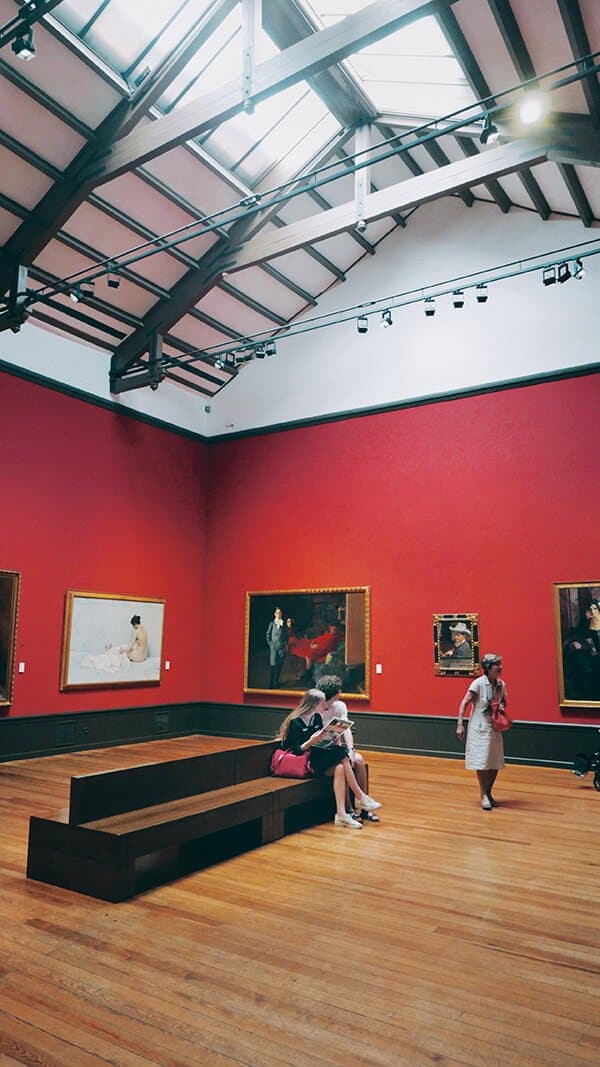 The fantastic red walls contrast brilliantly with all the greenery and the yellow ochre tones as you step up into the first gallery from the serene courtyard garden outside.
Joaquín Sorolla, Desnudo
I love how tonal this subtle portrait is and the way that Sorolla has kept such a large area of the background relatively simple to aid the strength of the composition. You can often be tempted to add interest to every area of your painting, but this is a real case of less is more. Focus the viewer in on the main subject of your painting by keeping the background clean and uncluttered.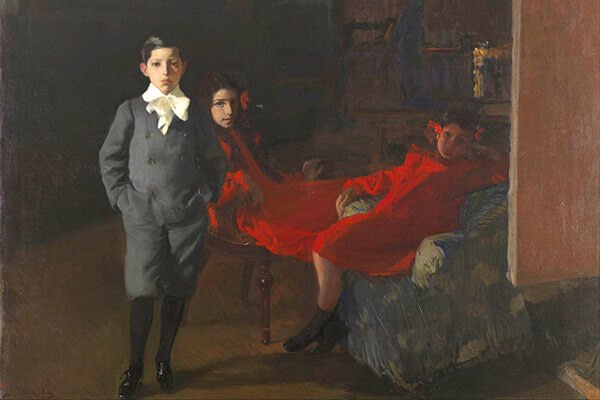 Joaquín Sorolla, My Children, 1904
Adjacent is a strong chiaroscuro group study of his children. Again, you can see the way that over two-thirds of the painting is a very simple, flat, dark tone. This way your attention is drawn to the faces illuminated within the darkness. Sorolla's love of red is used to great effect to bring the dress into focus.
Joaquín Sorolla, My Children, Detail, 1904
To balance the intensity of the strong red, he's used a simple abstract block of warmer brown on the right-hand side. It looks to be the edge of a canvas and is said to be a nod to Las Meninas (Spanish for The Ladies-in-Waiting) by Diego Velázquez, one of Sorolla's favorite painters.
Diego Velázquez, Las Meninas, Detail. Notice the compositional use of the back of the canvas on the side of the composition.
Throughout Sorolla's work, there is always a strong compositional style and use of simple abstract elements that balance the painting or give us a sense of place.
Joaquín Sorolla, Self Portrait, 1909
Also on the first wall, there is a small self-portrait of Sorolla, displaying his palette.
You can see a simple limited palette of Cadmium Red, Titanium White and Yellow Ochre, it reminded me of Zorn's self-portrait (whom Sorolla also admired)
Anders Zorn, Self-portrait. (see Discovering Zorn, the Petit Palais & Patisseries in Paris)
Joaquín Sorolla, White Slave Trade, 1895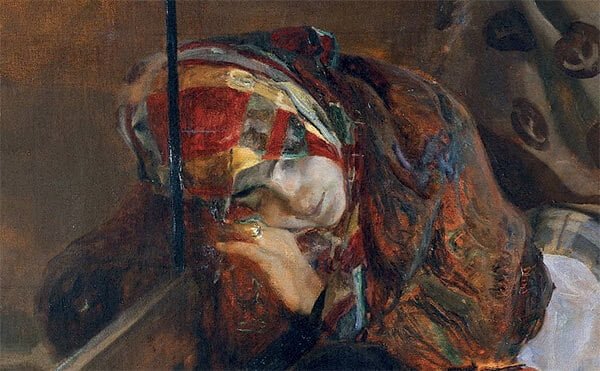 Joaquín Sorolla, White Slave Trade, Detail, 1895
The White Slave Trade painting is a great example of Sorolla commenting on the conditions of the lower social classes, showing four young prostitutes weary, dozing together in a somber third-class railway carriage under the watchful eye of their Madame.
When looking at the detail on some of the faces in this atmospheric portrait you can see Sorolla's use of Grisaille. He's kept the majority of the rendering of the face in tones of grey, just with a slight splash of colour in the cheeks and the nose. This contrasts with the warm browns and umbers surroundings the figures, giving them a gaunt, almost ghostly, lifeless look. You can also see signs of a warm ground colour, in the thinly applied paint on the top left-hand side of this detail.
An international following
Sorolla regularly participated in the leading art competitions, winning lots of awards throughout the next few years, he sent large-format paintings with subjects relating to contemporary society with the aim of becoming well known.
'Sewing the Sail' painted in 1896, represented a new direction with greater luminosity and a lighter subject matter, freer brushstrokes and a more energetic effect of light.
Joaquín Sorolla, Sewing the Sail, 1896
Sorolla was amazing at painting white objects, creating that range of subtle colours when dappled sunlight hits clothes. In this, one of his most celebrated works, the importance of the sail has become the main character of the painting. On the bottom half there is a subtle juxtaposition between warm muted yellow ochres and pastel purple greys.
The main body of the sail is very close in tonal value, but the differences in the folds and weight of the sail are expressed by changing the colour temperature. He then 'grounds' the sails by painting dark accents in the crumpled folds on the floor. It's also got this amazing sense of depth to the beach in the far distance that the triangular shape of the composition guides our eyes towards.
Joaquín Sorolla, Clotilde on the Beach, 1904
Here again, with this seated portrait of Clotilde on the beach you're almost squinting at the scene as you can imagine the harsh mid-day sun backlighting the sitter. This painting shows there are much cooler shadows on her white dress.
There is a similar rendering to the bottom of both of these paintings.
A central main character, colour in the whites, surrounded by a muted ochre tone with dark accents and a strong shadow shape.
As we looked at in a previous article, The Secret to Painting Realistic Shadows in Sunlight, you can see how Sorolla painted many of the shadows at a mid-grey value (or darker) to give him space at the lighter end of the value scale to keep the impression of bright sunlight.
Capturing sunlight
Joaquín Sorolla, Strolling along the Seashore, Valencia, 1909
Sorolla's productivity was really remarkable. He painted many large-scale paintings en plein air with elaborate easels set up on the beach.
In 1906 aged 43, Sorolla arranged his first solo exhibition in Paris showing 497 works which achieved huge critical success and succeeded in establishing Sorolla's international reputation.
He enjoyed a period of rest in Biarritz where his painting evolved towards a refined elegance, and brilliance of colour that was new to him, also making regular trips back home to Valencia.
For the rest of his career, he drew his inspiration from the dazzling light on water and his beach scenes are marked by sharp contrasts of light and shade and vigorous brushstrokes.
'I hate darkness. Claude Monet once said that painting, in general, did not have light enough in it. I agree with him. We painters, however, can never reproduce sunlight as it really is. I can only approach the truth of it."

Joaquín Sorolla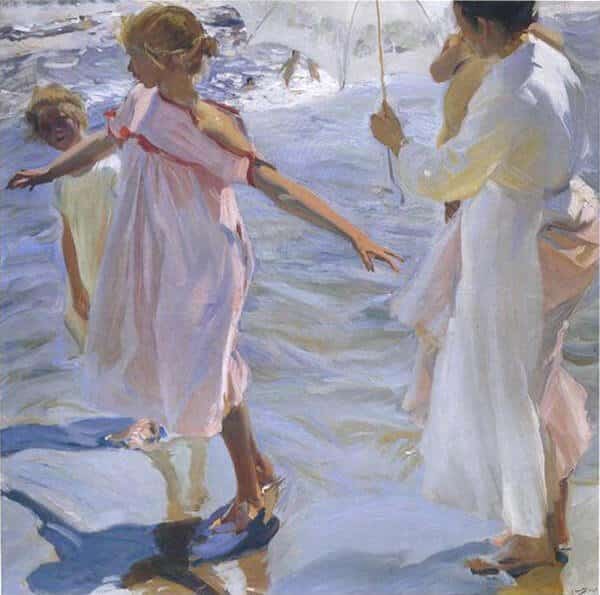 Joaquín Sorolla, Time for a Bathe, Valencia, 1909
In another of Sorolla's paintings inspired by the Valencia beaches, you can see how he expertly balances the complementary colour temperature of yellow and purple. Using warm yellow for the lights and cool muted purple for the shadows. The bright sunlight and sunlit water really glimmer throughout this painting.
Joaquín Sorolla, Time for a Bathe, Detail, Valencia, 1909
He then balances the colour harmony by introducing the blush pink on the dress, and you can see the glimpse of the same pink on the lower right-hand side of the painting. Notice how, when isolated, the warm yellow on the arm appears much stronger in this crop. When you flick back to the full image, see how Sorolla has used the same colours on the figure on the far left, to move our eye throughout the painting, both on the dress, and the cast shadow in the wet sand.
Joaquín Sorolla, Antonio García at the Beach, 1909
This glimpse of Antonio García shows a frame within a frame to capture a portrait of Sorolla's father-in-law. Notice how the background behind García has been split into three distinct abstract lines that very simply describe the whole atmosphere of the setting in a very succinct way. The background and window frame gives us a sense of place and that look of contemplation.
The studio
Sorolla's studio space is vast in scale with amazingly high ceilings, and whilst the light was quite subdued on the day of my visit, this isn't necessarily the light Sorolla would have painted under.
There is a row of high-level windows, around a 45-degree angle from his easel with a large curtain covering them over, drawn back the space would be flooded with light. Opposite these, are a set of tall glass doors connected to an open courtyard in the centre of the building, which can be opened bringing in Sorolla's love of his garden. These are covered in a white fabric blind giving diffusion and more control over the balance of light in the studio.
Sorolla poised in his studio with paintings packed onto the walls
This space provided a fabulous gallery as well as a working environment and you can see from this old photograph how closely the paintings are packed next to each other. It's quite rare to have such a strong wall colour as a backdrop in a studio, but Sorolla mostly painted outside and when he did paint in his studio, there wasn't much red showing to be distracted by.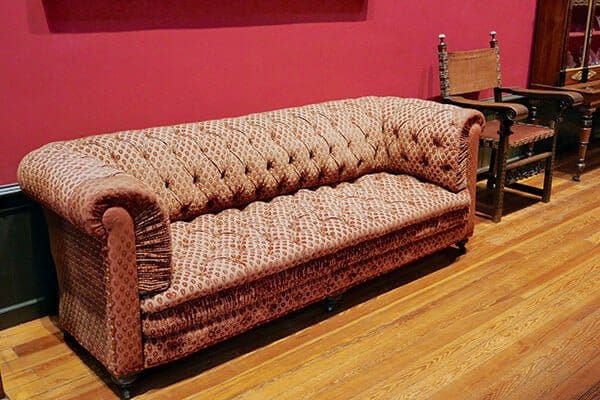 It was interesting to spot a daybed in the studio, much the same as in Cezanne's. It seems all artists often feel that reflective need for an afternoon nap.
Going further into the space, my first impression of the daybed had to be reassessed. Sorolla had raised the bar and had a four poster bed placed right next to his easel!
Here you can see the length of the brush handles Sorolla used, they are about 2ft (60cm) long. Many of his paintings are pretty big so he would place his palette flat on a table and then be able to dip the bristles into the paint and swing the brush to the canvas whilst still keeping his eyes on the model. They were mostly round hog brushes.
Sorolla in his studio holding a collection of three of four long handled brushes in one hand. He has a tabletop glass table palette and a smaller wooden palette resting on the foot of the easel.
The other brushes on display were shorter handled filbert shaped brushes. The shape of the end of the brush is quite sharp, so this would have given a nice balance of a direct, stroke line, with a slightly softened edge.
Bronze Sorolla Bust
Just outside the entrance to the studio, there is a small internal doorbell.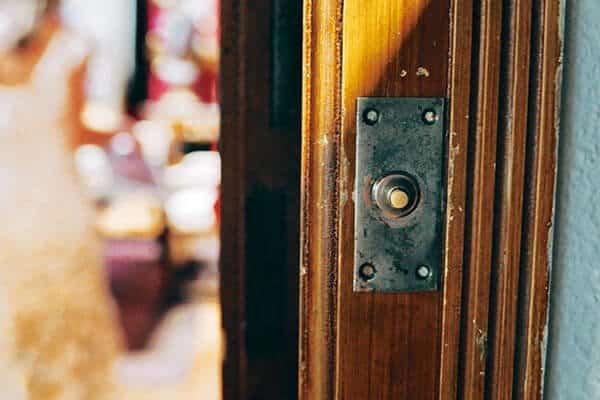 No disruptions were needed when Sorolla was engrossed in a piece (or a nap).
The big commission
Joaquín Sorolla, The Pink Robe after the Bath, 1916
In 1909, the Hispanic Society of America hosted an exhibition of Sorolla's works in New York City, of the 356 paintings on show, a total of 195 were sold.
By 1910 Sorolla began designing No 37 Casa Sorolla, complete with its large studios and gardens. Around the same time, the Hispanic Society commissioned Sorolla to produce a major series of vast panels celebrating the life and customs of the different regions of Spain. The panels were nearly 12 ft (3.6 meters) tall and 200 ft (61 meters) in combined length.
From the time he started work in 1912 on the commission 'A Vision of Spain' with its extremely large panels, Sorolla was required to travel frequently across the different regions to capture the scenes, often in difficult conditions, which affected his health.
During downtime from this monumental task, he produced some of his most light-filled paintings, such as the Pink Robe in 1916. He also spent time planning, pruning and painting the gardens of his new home, where he created many of the personal paintings that are on display at the house.
This enormous and exhausting undertaking was to dominate the next 8 years of Sorolla's life, although he still managed to find time to paint some of his most stunning beach scenes.
Joaquín Sorolla, The Pink Robe after the Bath, Detail, 1916
From Seville to Sorolla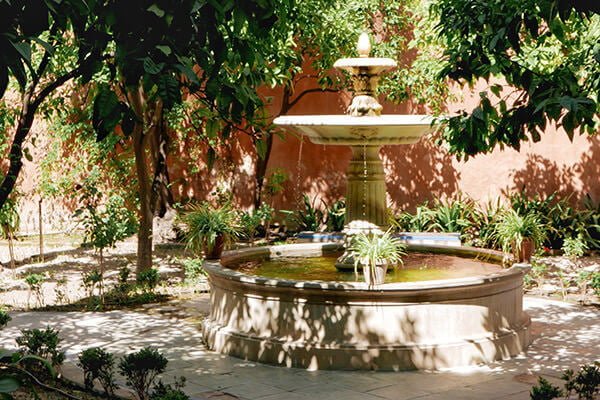 Courtyard in the Real Alcazar Gardens (Royal Gardens), Seville
Joaquín Sorolla, Palace of Pond, Royal Gardens in Seville, 1910
I'd traveled to Madrid from Seville, having followed in the footsteps of Velázquez and whilst there, experienced the most amazing gardens of the Real Alcazar.
These are large gardens carefully arranged into smaller spaces surrounded by architectural pieces with the subtle presence of water.
Stepping into the courtyard of Sorolla's home, I hadn't realized he had been inspired by the Seville gardens for his own design. In fact, he had painted there on a number of occasions from 1908 onwards. He admired the combination of colours, aromas, and structures.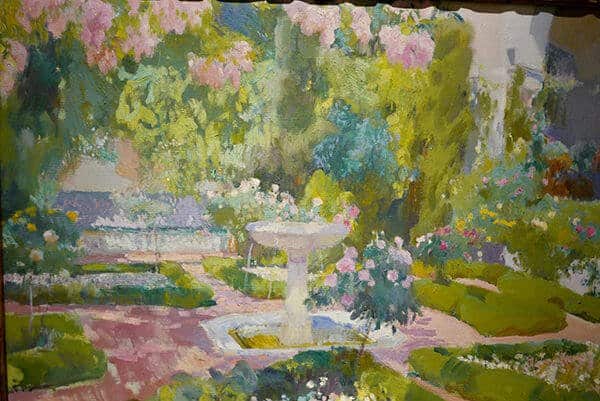 Sorolla's garden was designed to be painted and enjoyed by his family, a social space where the artist could receive elegant clients and friends for lively debates and afternoon tea.
During his lifetime the garden was a sunny retreat, filled with flowering plants producing amazing scents but above all displayed harmonious colours chosen with his artistic vision.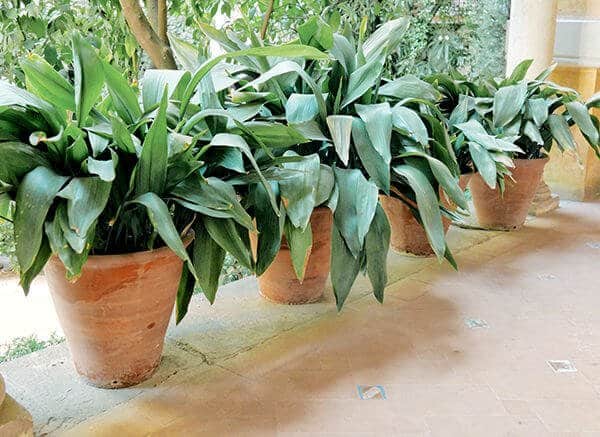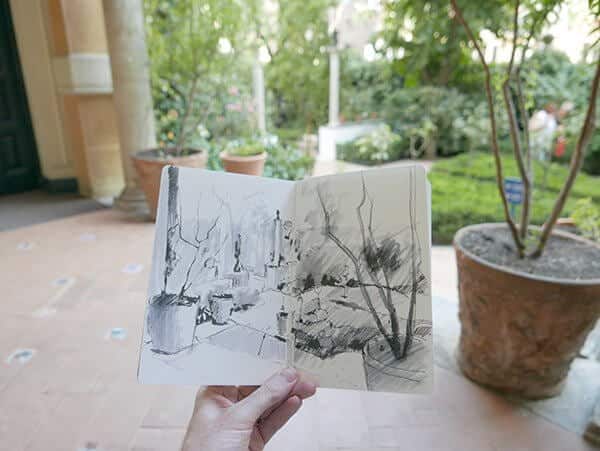 Garden sketch using Muji 0.5mm fine liner, TomBow Grey N75, Pentel Black Brushpen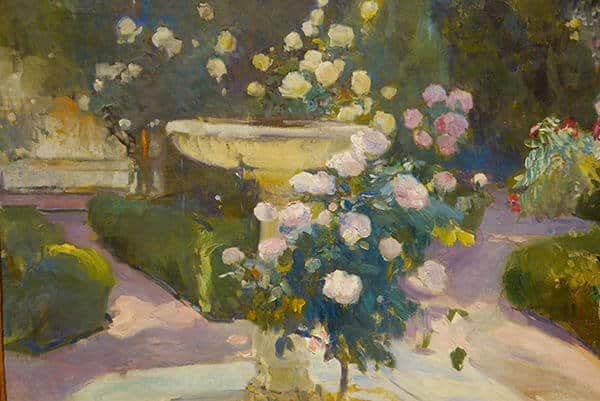 In 1920 painting in his garden he suffered a stroke that left him unable to paint again. He died in 1923.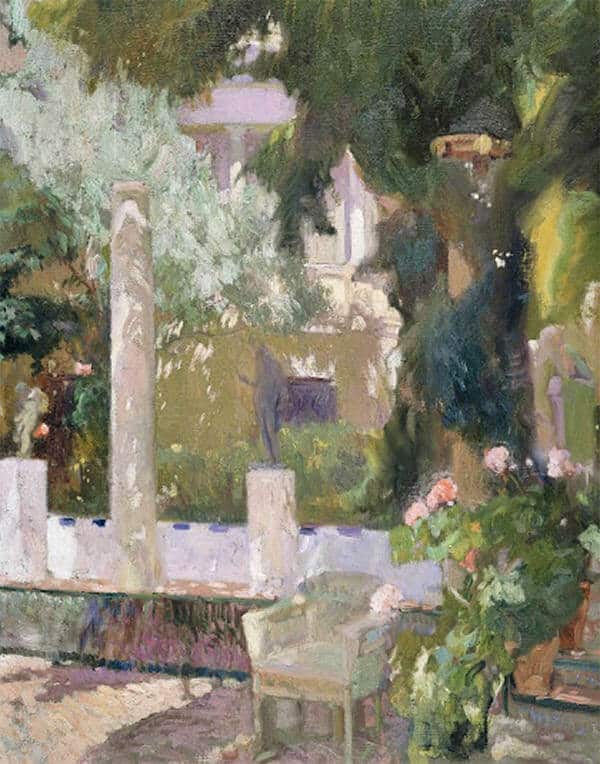 Joaquín Sorolla, The Garden, Casa Sorolla, 1920
Sorolla sat in the wicker chair to paint, so it seems poignant that one of his last paintings was of the empty chair surrounded by the garden oasis he created that gave him so much pleasure.
So if you're in your studio dreaming of that one big commission to come knocking on your door, spare a thought for the inspiration around you.
Sometimes the grass is greenest at home.
You can visit:
The Museo Sorolla Studio in Madrid, Tuesday to Sundays.
The Sorolla museum was Sorolla's last house in Madrid and he had it built when he was already a fully established artist and lived there from 1911 until he died in 1923. His family bequeathed the house to the state in order to create the museum and gallery, which opened in 1932. It has been preserved with almost all the decoration intact as it would have been during the life of Joaquín Sorolla.

p.s. I've just found out (thanks to Alastair!) there is a Sorolla Show coming to the National Gallery, London in Spring 2019. You can read more details here: Sorolla, Spanish Master of Light