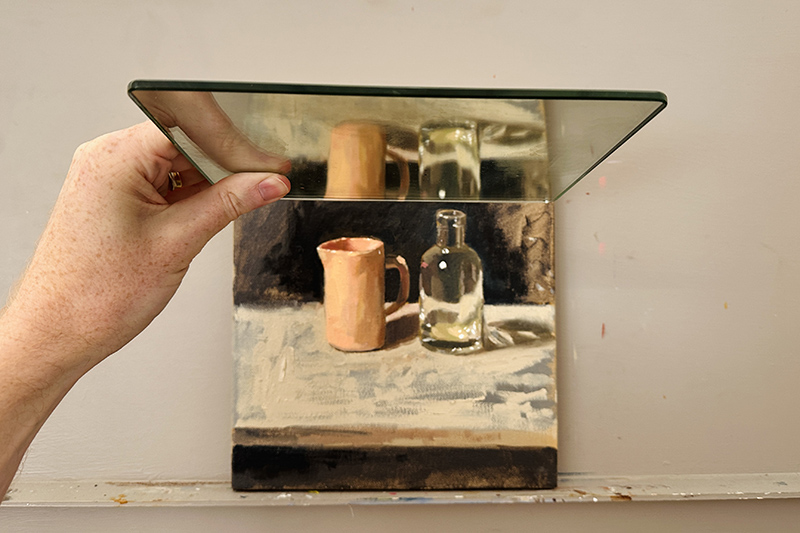 Painting is all about perspective.
The shifting nature of our perception can be a huge obstacle when learning how to paint.
Have you ever seen your artwork as a masterpiece one moment, only to label it a disaster the next? I know I have!
The first step to advancing your critical judgment skills is to realise that there probably won't be a moment you see your work with 100% clarity.
We can all be swayed by various cognitive biases of creation.
A cognitive bias is a tendency to make decisions or take action directed by emotions rather than by careful thought. They can subtly skew our judgment and we can become influenced by our own personal preferences, beliefs, or feelings caused by our values and experiences. When viewing our paintings we tend to place excessive value on pieces we have crafted ourselves or have sentimental attachments to certain scenes or memories.
Or you may just been standing at the easel all afternoon, trying to mix the exact colour for too long and you can't see it anymore!
The importance of self-checking your own work as an artist.
Do you find it easier to notice flaws in other people's artwork compared to your own?
When you're so concentrated on your own painting, it can be challenging to assess your work and identify areas that need improvement. This is because you are seeing others' work from a fresh perspective every time. You've no idea of the time it took them to paint it, the struggles they faced with the materials or the entire backstory behind the image. You just have a single image to look at. That's why having an art tutor or going to a class with live feedback can be so helpful.
So if the success of our paintings is based on the way we can critically view them, what can we do to be more objective?
I've put together a list of 7 small but helpful tools and techniques that I use in my painting practice to help me and hopefully, they will help you too.
Painting is repainting.
Technique #1: Using a Mirror to check for symmetry and proportion
Mirrors have been used for centuries as an optical device for judging your paintings. I started using them more regularly when studying sight-sight portraiture with Nick Beer at the Sarum Studios.
The use of a mirror became integral to the process of creating the portraits as a way of constantly checking your work. There are a couple of different techniques. Holding the mirror to the side of your face and looking into the mirror to view the painting and subject at the same time, or holding the mirror to your forehead and looking up at the reflection.
Because you're seeing the subject in reverse, it disrupts the familiarity of it and often highlights what I call the 'dark zones'. These are the areas that aren't as interesting to paint or you're putting off because they look too challenging. When you look in a mirror, they will be the first thing that stands out.
Technique #2: Upside-Down Art
The next method is quite simple: turn your image upside down. Those who have done the Beginner's Drawing Course may be familiar with the power of upside-down drawing as an effective tool for understanding the mechanics of drawing and how our brain can mislead us by trying to predict what we should draw, instead of observing abstract shapes.
When checking your paintings, this technique also holds true. Viewing it upside down or even sideways refreshes your perspective, allowing you to see it as a different artwork. Examining it from this new angle helps identify relationships that are either working or not within your piece.
Technique #3: Mastering Drawing Accuracy with Tracing Paper
Tracing paper has long been associated with the act of replicating images, however, its potential as a teaching tool extends far beyond mere copying. By embracing tracing paper as a personal teaching assistant, we can use it as an excellent tool for checking your drawings.
Tape a piece of tracing paper to your reference image.
Start your drawing on a canvas or paper the same size, and make your first few marks.
Trace the same few marks onto your tracing paper over the top of the reference image.
Then slide your drawing inbetween the tracing paper to check accuracy.
This method resembles using a proportional divider but with added benefits – tracing paper allows you to assess curves and contours in addition to measurements between elements.
Technique #4: Proportional Divider – Learning How to Check Your Draw
Wooden proportional divder
One of the first measuring techniques you learn when drawing is to hold out your pencil at arm's reach and use the pencil as a unit of measurement, to compare different proportions of your work.
This can help when you can get back from your subject, but a more accurate way to check your proportions is with a proportional divider.
A proportional divider is used to maintain accuracy when copying or scaling an image. It consists of two adjustable arms connected by a hinge. The arms usually have a series of holes allowing you to reposition the screw to set a desired scale or ratio.
First, make an educated guess on the width of your subject and mark it on your paper. Then using the dividers, create that exact measurement on your reference image (assuming you're working one-to-one) and compare it with your initial estimate.
The divider serves as a checking device rather than a measuring tool, helping you to set proper proportions in the early stages of drawing. By accurately determining the highest and widest parts of an object, everything else can be aligned accordingly.
Pro tip: They can also be useful outside the studio for en plein air sketching. For example, measure the largest object in front of you (such as a tree), then transfer that measurement onto your sketch at a smaller scale to establish accurate proportions.
Technique #5: Mirror Image App
Your phone or tablet can be incredibly useful for assessing compositions before you start drawing out and throughout the process. One helpful feature is creating a mirror image of your subject using the edit tool.
For example, I took a photo of a fab coconut cake and a cup of tea recently, I thought it would make a nice painting. However, after flipping it into a mirrored version, I noticed issues with perspective and distortion caused by my proximity to the table. But interestingly, even knowing this, my emotional 'cake excitement' and memory attached to the occasion, still makes me overlook these flaws and I have considered painting it since.
Left: Original Image, dreaming of coconut cake. Right: The cake looks much larger due to the distortion of the lens.
To create a mirror image, click on the edit tool, then select the crop tool at the bottom of the screen. In the top left corner, click on the button with two triangles facing each other – this will flip your photo. This technique helps identify any visual biases that may affect your judgment of whether an image works as a strong composition.
Click the Mirror Image Icon at the top left
Using this method allows you to double-check if you still find an image visually pleasing when mirrored – if so, it should work well in its original form too.
Technique #6: The Value of Values
By utilizing the black-and-white mode of your phone's camera, you can instantly view the values of a subject. Getting the values right (how the painting appears in black and white) is often more crucial than the actual colours used. Values hold the painting together.
For example, in our Cornish Seascape course, we had both a black-and-white printout and a colour reference image for evaluation purposes. Using a value scale to examine colours and hierarchy of values can be so helpful.
You can use the iPhone's built-in camera or use an app to see the value structure. This article on Notan Design for Artists, looks at the importance of black and white design in your paintings.
Technique #7: Viewing Distance – Move further back to see more clearly
Changing your viewing distance can help you see your artwork more accurately in several ways. It's easy to get too close to the easel and lose sight of the overall composition. By stepping back and viewing your work from a distance, you can get a better sense of how the various elements fit together and how the piece reads as a whole.
As well as stepping back, I'll often take the painting and place it on the floor, or against a different coloured wall. You're trying to create a new visual environment so you can see any proportion or perspective issues.
Bonus Technique! A Cup of Tea
Yes, a brew can give your eyes that much-needed break, when you come back to your work, you'll often be amazed, I do it regularly and clearly see shapes that are 'out' or things that are working.
Hope you find these techniques helpful!