'The combination of lights and darks especially as used in Japanese art : the design or pattern of a work of art as seen in flat areas of dark and light values only.'- Webster Dictionary
Out for a beach stroll early this morning, as the sun was coming up behind the boats in the harbour, it was an idyllic image.
I had sunlight, a beach and a view, so I took a photo on my phone, and you would think this would make a brilliant painting—a reflection in the water, the pier in the distance and the boat in the foreground.
However, I know if I painted this back at my studio, it wouldn't work out as well as it promised.
It would be just okay.
It might still translate if I wanted to create a piece that focused on the colours of the water and sky, but the basic graphical design of the piece just isn't strong enough to create a great painting. The boats aren't instantly recognisable as boat shapes, and the harbour is obscured by other unidentifiable shapes.
I find three value studies or Japanese Notan studies can be surprisingly helpful in guiding your choices for creating a compelling composition in your paintings. If you were just to look at a scene in simple values or Notan, it becomes glaringly obvious what really works as a successful image.
A description of Notan
Notan (pronounced no-tan) is a Japanese term that means 'light and dark harmony/balance.' It's a design concept that looks at how light and dark elements of a composition interact only using black and white.
Notan is the underlying value structure of your painting.
Arthur Wesley Dow wrote about it in his 1889 book Composition: Understanding Line, Notan and Colour as one of his 3 main elements of composition design:
Line
Notan
Colour
"The term NOTAN, a Japanese word meaning "dark, light", refers to the quantity of light reflected, or the massing of tones of different values. Notan-beauty means the harmony resulting from the combination of dark and light spaces — whether colored or not – – whether in buildings, in pictures, or in nature" – Arthur Wesley Dow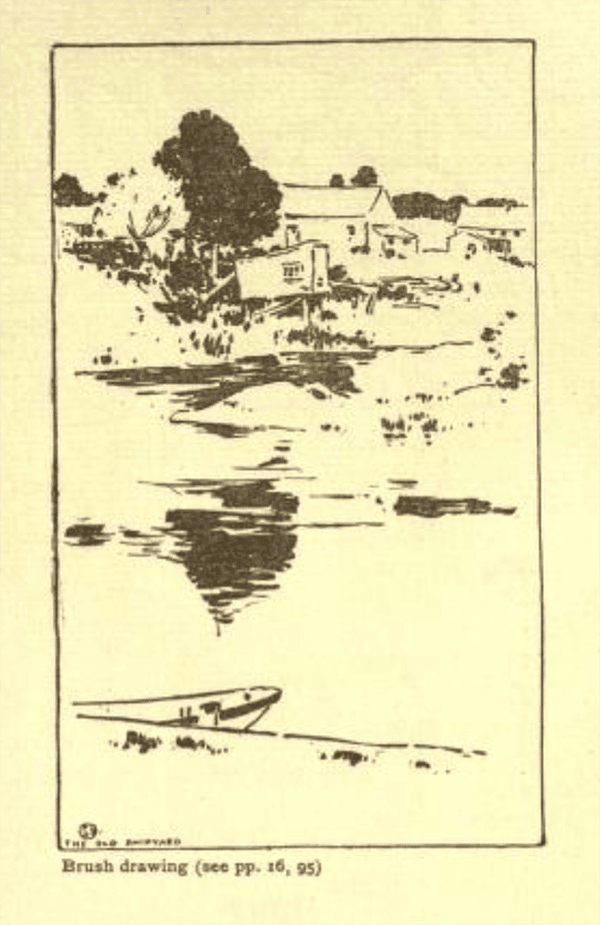 Brush drawing by Arthur Welsey Dow, from Composition; a series of exercises in art structure for the use of students and teachers
You can read his book here: Notan and Composition Arthur Wesley Dow. 
Harbour scene using Notan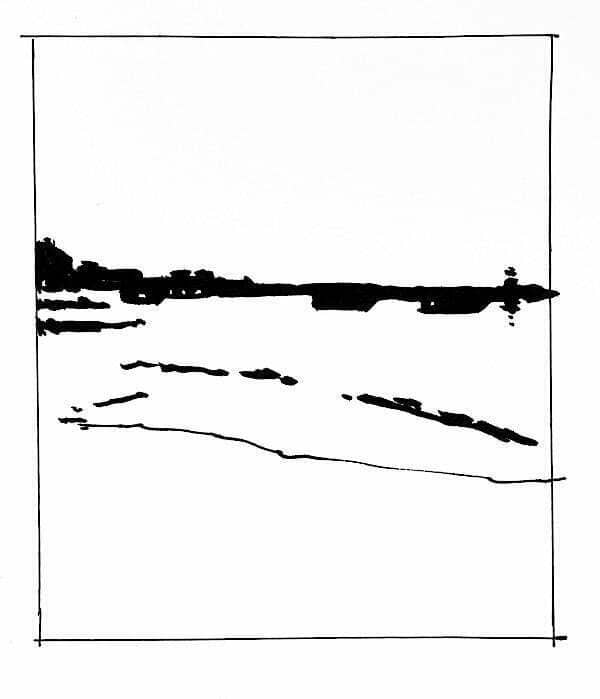 If we look at the harbour scene again now using a simplified Notan, you can see the balance of darks and lights aren't very compelling.
It's an extremely simple line at the top of the composition; there isn't really a great deal of interest for the eye in the foreground. The boat's silhouette on the right-hand side doesn't necessarily look pleasing, and you can't easily distinguish what it is.
When you take images, it's so easy to be swayed by the emotional memory of the experience of that morning on the beach, the colours (and in my case, the memory of a warm pain au chocolate I'd just eaten) and want to paint them.  Although these personal experiences are all valid, for the foundation of the composition, and the viewer they don't help it.
I walked forward a few paces to slightly shift my viewpoint of the same scene.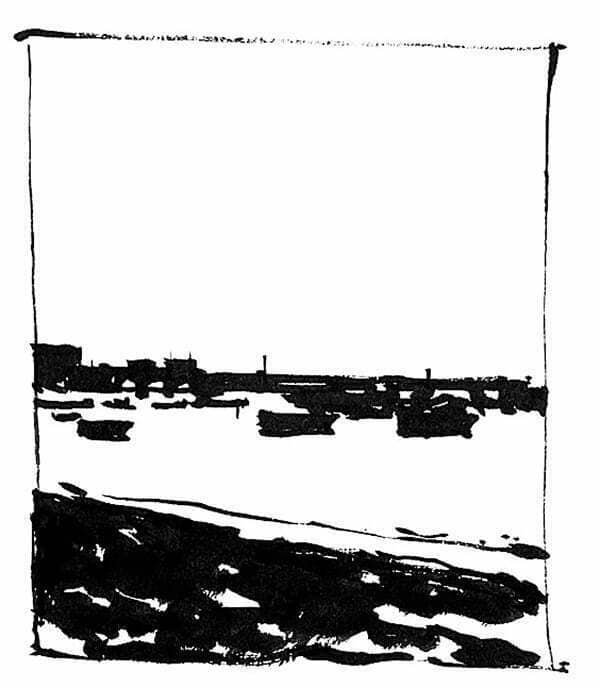 It's instantly more 'seascape' like, and the beach in the foreground helps with the framing to add a sense of depth, and you can tell that the shapes are boats. There is more of an interesting pattern being formed.
How Notan can improve your paintings
Notan helps you to quickly see how the graphical design of your painting is working.
It helps your composition or choice for your paintings by creating a pleasing arrangement of shapes.
Here's an earlier photo with mist and a very simple sky.
I noticed the boat on the right-hand side was just a blob, and the boats on the far left were too closely grouped. When you've only got the black and white option, your eye really tunes into the shapes.
Drawing a Notan image, then subject  'reads' as a sailboat on the water.
If I now remove the boat on the right and crop in the image, there is a stronger overall balance to the scene. You can start to see more interesting patterns within the boats.
This is where Notan studies can be so helpful. Notan is all about balancing light and dark and looking at the shapes and patterns within an image to see how the piece's structure is successful.
How To Draw a Notan Study
Notan drawings were traditionally created using brush and ink. The amount of water added changed the strength of the pigment.
I tend to use a Pentel brush pen.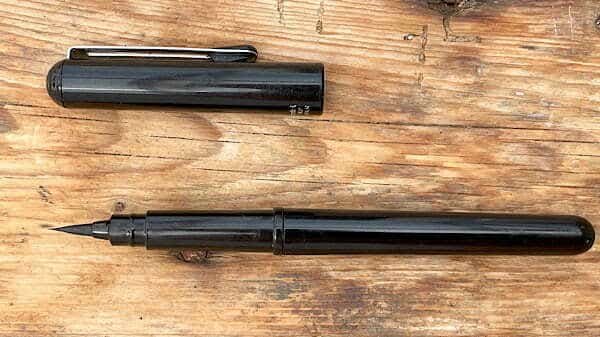 Pentel Brush Pen
I use this pen when urban sketching as you can get such a great variety of marks. You can use the fine tip to draw details and then push onto the belly of the bristles for blocking in larger areas. Using a thicker brush pens helps stop you get too into the detail and create a line drawing.
It has refillable ink cartridges and gives a nice deep black.
But if you're first beginning, how do you decide which part to keep black and which part to leave white?
Notan studies are easiest from a photograph to start with until you get more practiced with them. Having a high contrast image will make it much easier to see the differences between lights and darks.
The first thing I do is look for the darkest darks, the bits that are definitely in the shadow family and draw those in.
Then you've got all the tricky mid values. You have to make a judgement call on whether they join the black or are left white.
When you have lots of mid-tones in your image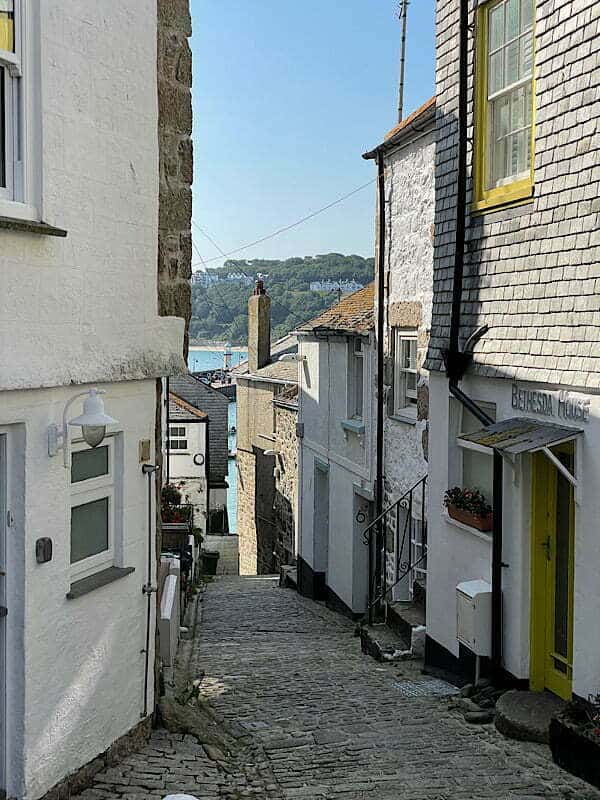 Bethesda Place, St Ives, Cornwall
How would you split this scene?
What's in the light? What shadow pattern do you go with?
The darkest darks and light areas are the easiest.
How to use apps to help visualize notan
There are several apps available that can help you visualize notan and value studies from your reference images.
A few are:
See Value
Notanizer
See Value is handy because you can see a live view on your phone, absolutely perfect for scouting a scene. Notanizer has a few more controls in 'weighting' the tonal area when working in more complex value ranges.
On both apps, you can control or adjust where the balance level is for black or white. This is the key thing to remember when using them.
Here's is the Notan of the scene as interpreted by the 'Notanizer' app using a weight value of 38, so just light of the middle range. The tonal scale goes from 0 to 100.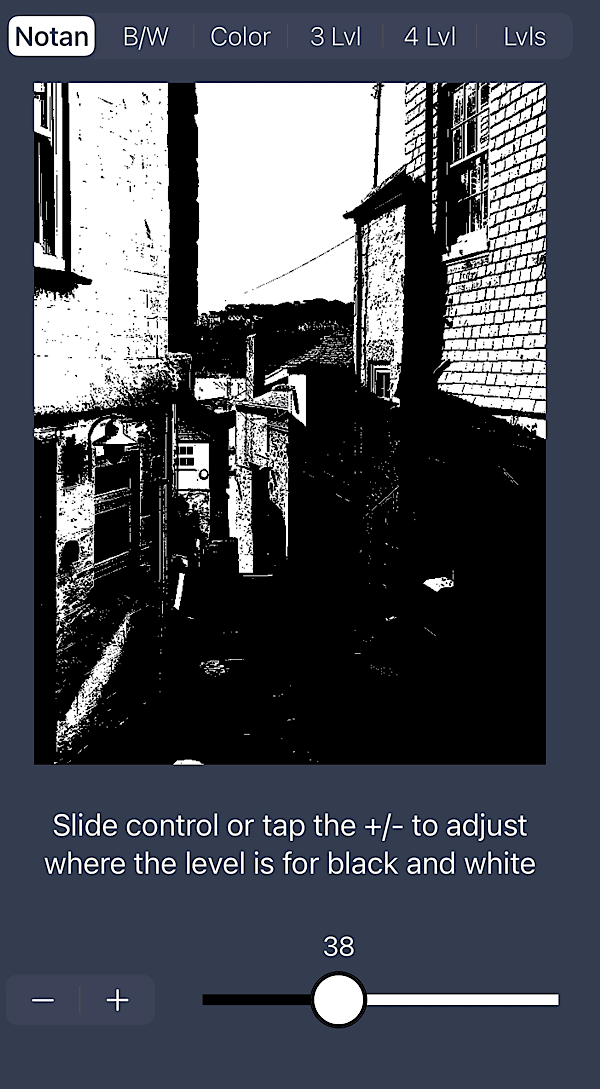 Technically it has grouped the darks and lights.
However, as a reference guide for my painting, it's not as helpful being this heavily weighted because the main interest area I want to show off in my painting is completely now in shadow.
It's pushed areas that are mid-tone into the darks; if I wanted to paint a dark Rembrandt style interpretation of the scene, it would be fine, but I want to paint a more impressionistic colour in the shadows style piece.
Here is my drawing without using an app; I've made the decision to focus more on the areas that will aid my painting. I wanted to see how the darkest areas formed a pattern knowing that the dark shadow area on the right-hand side will be painted with a mid-tone value range.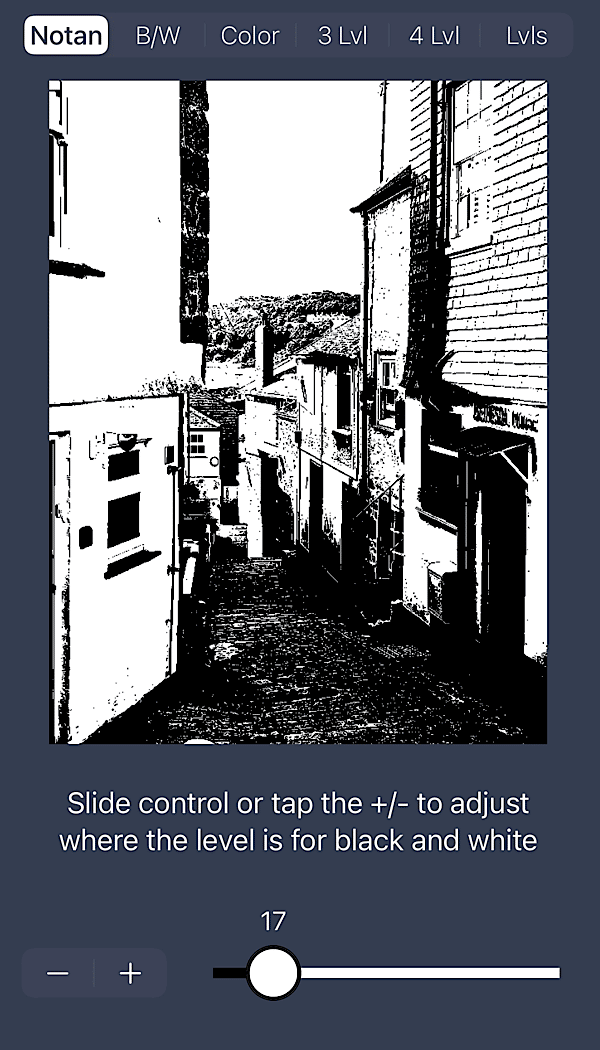 If I go back to the Notanizer app and alter the weight to around 17, it gives more of an indication of the facade details of the buildings but still highlights the dark shapes. It's much closer to what I've drawn above, but it's highlighted all the slate details on the near building, which can be a bit distracting.
So use the apps as a guide but then use your judgement on which areas enforce the shadow pattern and try not to get distracted by details.
And this is the key point to remember. You can weight the Notan depending on your personal preferences.
Three-value studies
Sometimes I also choose to use a simplified three-value split to explore the mid-tones in a scene.
If you've been using the coloured ground method in your paintings, you can develop your studies into three values, and these value studies can be handy to add more levels of information into your sketches.
Three value study
I tend to use Tombow brush pens. The grey range can be nice for keeping your value groupings together.
Here is a sketch using N75 tombow from the Corsican street scene tutorial.
Do you have to use Black?
No, you can create these studies in any colour. If the scene is more muted, using an N75 or N65 grey brush pen can work well. I'll also sometimes use acrylic markers that can help you visualize the Notan painting in a hue that is more harmonious with the finished piece.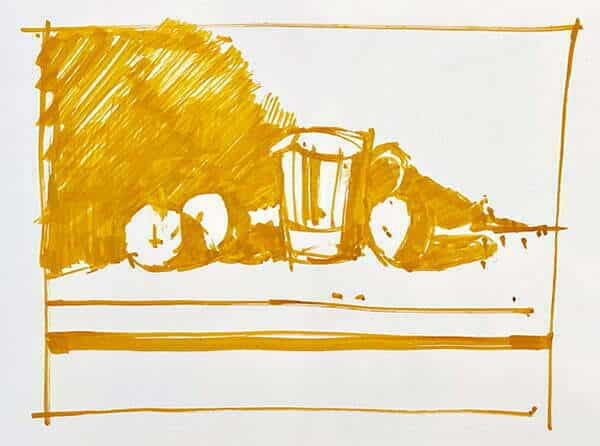 Notan painting using Yellow Ochre Acrylic Marker
Seeing the world in black and white can really help sharpen your composition and design skills; I really hope you enjoy exploring your images with Notan.
Further Reading:
Barry John Raybould has more in-depth details on various approaches to Notan and his concept of three and four value notans.