Hi, my name is Will and I am an art material addict.
When the new season art catalogue arrives, I prepare a large cafetiere of coffee, find a comfy chair and indulge in a little bit of window shopping.
If I spot a new 'innovative ink system', it's hard to imagine how my drawings can exist without it.
And if a magazine states 'Free Pen (RRP £30) when you spend £50 or more on drawing products' I'd be a fool to miss out!
But the reality is, when I take my sketches out of the studio into the city or countryside, there is a recurring theme.
Most of the new materials I buy are left behind in my growing number of art supply boxes and I find myself grabbing the same few trusted pens that work well together – again and again.
In fact, to create a huge variety of styles, it's probably less than 10 materials and that includes different ink colours.
So this week I want to introduce you to my Top #4 Minimalist City Slicker combination sets that I actually use when I'm out sketching on location…
What! No Pencils?
For most of my quick location sketches, I use pens.
For me, they're a halfway house between a pencil and a paintbrush. Pens give me speed but can also block-in tones.
They're easier to see in bright sunlight, you don't need to sharpen them and with some of the inks, you can add water to create an impromptu watercolour effect.
They've got a bold and direct feel – welcome to the eraser-free zone!
Before I decide on the pens I'm going to take out with me, I think about the location, time of day and how my choice of materials can best match my subject.
Am I going for a stark black & white drawing or colour? Do I want a rough sketch or a more sensitive study? Am I going to be standing to do this sketch or is there somewhere comfy for me to sit down?
Then I can change the combination of pens I'm using to best capture the scene, depending on all of these different factors.
The kits below are the real essentials that easily fit in my pocket, satchel or backpack. A combination of thick and thin lines, smudgy washes and colour – pens that work well together to produce simple, effective sketches – speedily, when I'm out and about.
Set #1 –  A Tonal Pen Kit for Quick & Simple Clean Sketches
Black Fine Line Pen
Black Brush Pen
A Warm Grey Fibre Tip Pen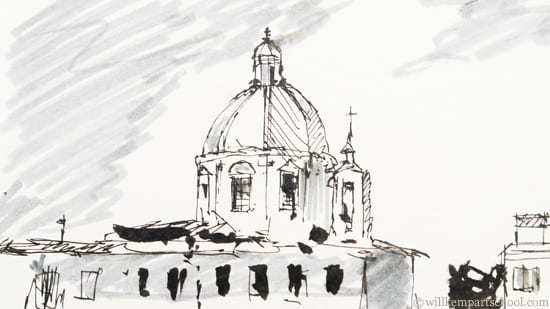 Moleskine sketchbook with Muji 0.5mm Permanent fine line pen, Pentel Black brushpen and a Faber Castell PITT artist pen Warm Grey III
This set is my constant companion and I always have either a Muji or the brush pen in my front pocket.
With these pens, I can create a clean and simple sketch that gets down the framework, dark accents and tonal shadows of a scene in a super speedy time.
I can work on thin, thick or lined paper – anything that I've got on me.
Muji 0.5mm – Permanent fine line pen
The fine line Muji pen usually doubles up as the pen I'm writing with, the ink lasts for ages and if I'm working in a sketchbook on the flat or holding the sketchbook vertically (standing sketching in the street) I can still be sure of a constant even line, so it's convenient, quick and simple.
Pentel Black brush pen – Permanent pen with a nylon brush tip
The inclusion of the Brush pen to this set gives a lot of extra range and speed to your sketches because you can block in darks very quickly and the flexibility of the nylon tip means you can get a broken line effect that is similar to the line of a paintbrush.
This can be especially handy if planning a painting back at the studio, often the key thing I'm looking for is where and how the light is falling and I find the brush pen works best for getting shadow shapes down.
When I'm scouting for subjects for my paintings this is my go-to set. The brush pen is a real joy to use and the flow of the ink is always nice, you don't need to shake it or squeeze the pen, it just flows.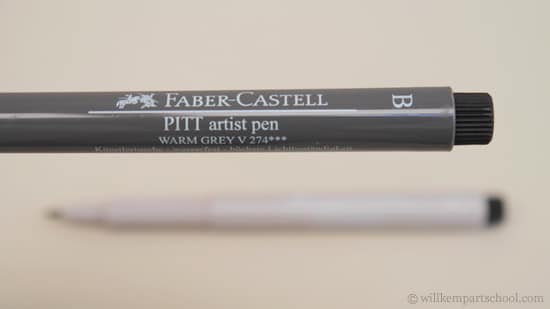 Faber-Castell PITT artist pen – Shades of grey fibre tip pens
The Grey pen acts as a tonal wash, like having a coloured ground on your canvas.
Once I've introduced the darks with the black brush pen, the grey pen adds blocks of midtones into the line drawing that help to shape the composition.
It can stop you focusing too much on the detail too soon.
Set #2 – A Fountain Pen Kit for Expressive & Atmospheric Sketches
Fountain Pen with Water Soluble Ink
Water Brush Pen
Seawhites of Brighton sketchbook with LAMY Safari fountain pen (F – fine nib) using non-permanent ink (LAMY Black ink) and a Pentel Aquash water brush pen.
When I've got a bit more time on my hands maybe sitting down in a restaurant or cafe, I reach for one of my Lamy fountain pens. These are great sketching pens that come in a variety of nib widths.
LAMY Steel Nib – Extra Fine – EF

LAMY Steel Nib – Fine – F

LAMY Steel Nib – Medium- M
LAMY Steel Nib – Broad – B
I tend to favour the Extra Fine (EF) nibs for quicker, smaller sketches and the Fine (F) nib for sketches when I know I'm going to be using a water brush pen to manipulate the ink around the page. The slightly thicker line stays wetter for longer on the paper surface.
Pro tip: Nibs are generally split into Steel (stiff and less expensive) and 14 or 16 Carat Gold (flexible and more expensive) Gold nibs are softer so often have a more fluid flow to them. As a general rule, the finer the nib the scratchier the pen.
If I'm working in a sketchpad with thicker paper, I can utilise a technique that creates a more expressive, atmospheric sketch, that has a mix of fine lines and smudgy watery washes and I find the Lamy water soluble ink is perfect for this method.
LAMY Safari fountain pen Fine Nib (F) – non-permanent water-soluble ink (Black or Blue)
I can take my time to enjoy the process with a leisurely approach and I'm not looking to develop the sketch into anything further, I'm just enjoying sketching.
Pentel Aquash water brush pen
What's great about working with this technique, is that you're looking for areas of dark that you can 'load up' with the ink knowing that you're going to be adding water to those areas in the sketch later on, it's fun!
It's a combination of sketchy fine lines, blobs of heavier ink, then the introduction of water with the water brush pen.
Blending the ink into other areas of the sketch to create the mid tone, bringing it all together by breaking the edges with the water adds spontaneity to the drawing.
Pentel Aquash water brush pen
Set #3 – A Personalised Fountain Pen Kit for Luminous Colour & Subtle Shades
Fountain Pen with Water Soluble Coloured Ink
Water Brush Pen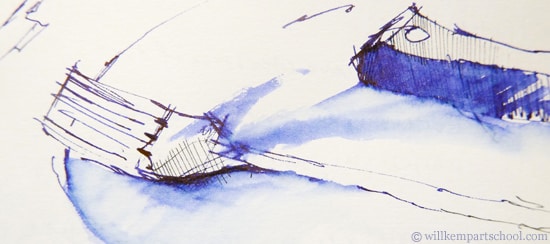 LAMY Safari fountain pen Fine Nib – non-permanent water-soluble ink blue ink, also used permanent black ink Muji 0.5mm
If I'm out and I get inspired by a subject that might later make a good painting, creating a single colour sketch can capture the mood of the piece perfectly.
Using coloured ink can introduce a luminous sketch with subtle shifts of a single hue.
With fountain pens, you have the advantage over fine line pens because you can personalise the colour of the ink.
Diamine Burnt Sienna Ink, Lamy (F) nib, Lamy Z24 Ink Convertor

This technique is very similar to the first blocking in stages of a painting where you would just use a single paint pigment.
Alongside the fountain pen, I might use one of the Pentel Sepia brush pens so that I can block in large areas of tone. The coloured brush pens from Pentel don't have the same flow as the black Pentel pen used in Set #1 but can still be good for adding a brush texture effect to your drawings.
Pentel Sepia brush pen – Water Based pen with a nylon brush tip
Pro tip: A word of warning to would be material addicts, the world of fountain pens can be a slippery slope into obsessive research and testing! The pens I use in this set are very affordable and a really good way to see if you like the fountain pen feel for your sketches. You can also get dip pens that have more flexibility or 18 Carat gold nibs that are softer and have more flex but the cost rises, now where did I put that Mont Blanc Catalogue!
Set #4 – A Compact Colour Study Kit
Pen with Permanent Ink
Water Colour Marker Pen
Water Brush Pen
Brush Pen
Seawhites of Brighton sketchbook with Platinum Carbon Black fountain pen using permanent ink, Pentel Black brushpen, Winsor & Newton water colour markers and a Pentel Aquash water brush pen.
I tend to bring the watercolour pens out with me when I just want a slight blush of colour over the top of a pen sketch.
Winsor & Newton Water Colour Marker – Water colour pen with a fine point and a flexible brush nib
They're an alternative to the Faber castell PITT tonal grey pens but with vibrant colour. The convenience of having them in your pocket means you're much more likely to add colour to a sketch if out on location.
It can be particularly handy when you're standing up sketching, It's a quick way of getting a few key colour notes down onto the drawing.
For these style of studies, I work alongside a black permanent ink pen.
Platinum Carbon Black fountain pen -permanent black ink
This is a great affordable sketching fountain pen that has a lovely permanent ink. It also has a very fine nib similar to the EF Lamy pen. You could also use any permanent fibre tip pen for this technique as well, like the Muji 0.5 mm from Set #1.
Top: Lamy Safari – EF

Middle: Lamy Safari – F

Bottom: Platinum Carbon Black
Using a permanent ink means I can just wash water over the drawing later on with coloured pigment and the black ink won't move but the pigment colour from the watercolour marker easily blends to create soft and vibrant watercolour washes.
Water colour pen blocked in dry
When I'm sitting in a more comfortable space I can use the water pen to move the pigment around the page. It doesn't matter if its a few hours later than the original sketch, the ink will still flow like watercolour.
 Adding water with the Pentel Aquash water brush pen
They work best on a heavier watercolour paper, Saunders Waterford, Bockingford or Archers are all good watercolour paper brands.
I'm not going for super subtle washes like a painting, it's more just like adding blocks and indication of colours to enhance the sketch.
If you like to add heavier water washes you need to get a sketchbook that has a good weight of watercolour paper. If the paper is too thin it can easily buckle when you add too much water.
I've found the Stillman & Birn sketchbooks have a great weight of paper for washes.
Every accomplished sketcher was a beginner once, and every artist I know has boxes and draws full of unused or unopened art materials, so don't be hard on yourself if you try a new pen and it doesn't seem to fit.
The first step is to try a few pens and find the one that suits you and I hope this guide gives you an insight into some useful starter sets.
Then you'll find the materials will take a step back and your sketches will begin to flow, leaving you time to enjoy some of life's other pleasures…
Tiramisu Mousse (think Marshmallow texture), Cherry Cheesecake and Pistachio Gelato from La Carraia, Florence, Italy
Testing 20 different ice cream flavours in 2 weeks isn't an addiction, right?