Back in the summer of 2021, I read the Rijksmuseum, Amsterdam, were planning the biggest-ever single collection of Vermeer's paintings for a Spring 2023 retrospective.
Johannes Vermeer (1632 -1675) is one of the great 17th-century Dutch masters, best known for his tranquil, contemplative scenes depicting everyday life.
February saw the opening of the exhibition, and last week we were lucky enough to experience the show!
What I love about Vermeer's paintings is how he captures the sense of light fall; it feels like there's a natural volume. He uses different paint handling to express a different quality.
From subtle gradations in the shadows as light streams through a window and drops away. To sunlight falling onto an object so convincingly, if you put your hand in the painting, it would be warm.
Not only did he capture the light, he told a story.
Girl with the Red Hat, Johannes Vermeer c.1665
Many of the paintings have a modern, minimalist feel, and it doesn't seem possible that they were painted 400 yrs ago. Henri Cartier-Bresson often refers to the perfect moment to capture a photograph as the 'Decisive Moment'. That's when the image has the most tension in telling the story of the scene, when everything comes together.
And that's what Vermeer is so good at.
He uses props, fabric, patterns and colour relationships. He builds a narrative to make viewers feel like they're entering his world.
A housemaid engrossed in a serene moment of domesticity.
Fashionably dressed women playing music or have just stopped to take a sip of wine, and men dashing in, their elegant cloaks still draped over their shoulders. One of them turns to the onlooker, connecting us from the outside to the inside.
Although Vermeer's body of work is relatively small, his paintings are often among the most prized treasures in museum collections. They are rarely lent out for exhibitions, so the opportunity to see 28 of Vermeer's known 37 works from museums and private collections worldwide was incredible.
"To call it rare is to undersell it severely. It took seven years of diplomacy to organize."
New York Times
As we approached the Rijksmuseum, its awesome Gothic and Renaissance facade towered above us. Its impressive red brickwork leads you into a glassed roof modern atrium.
Daylight pours into an open, clean space with polished stone floors, and anticipation was in the air amongst the sea of queuing ticket holders.
The Early Years
Johannes Vermeer was born, raised, and died in Delft. He grew up surrounded by the paintings in his father's art business. He made three paintings of Delft, and only two survived.
View of Delft, Johannes Vermeer c.1660 – 1661
View of Delft, Johannes Vermeer c.1660 – 1661 (Detail)
In the View of Delft, he doesn't emphasize the most important buildings in the city but leads our eye into the distance by means of effects of light and dark, perspective, colour and texture.
Flying into Amsterdam
Whenever I fly into the Netherlands, the cloud formations and sky have such a painterly quality. The clouds seem to hang there, waiting to be painted.
Even with the imposing layers of clouds and detailed roofline, the element that brings us into the scene is the couple talking at the front of the composition.
This chance meeting on a morning stroll, discussing the day's gossip feels somehow comforting. Notice how Vermeer placed the figures within a high-contrast area of the water. This helps to focus our eyes. He does the same in The Little Street.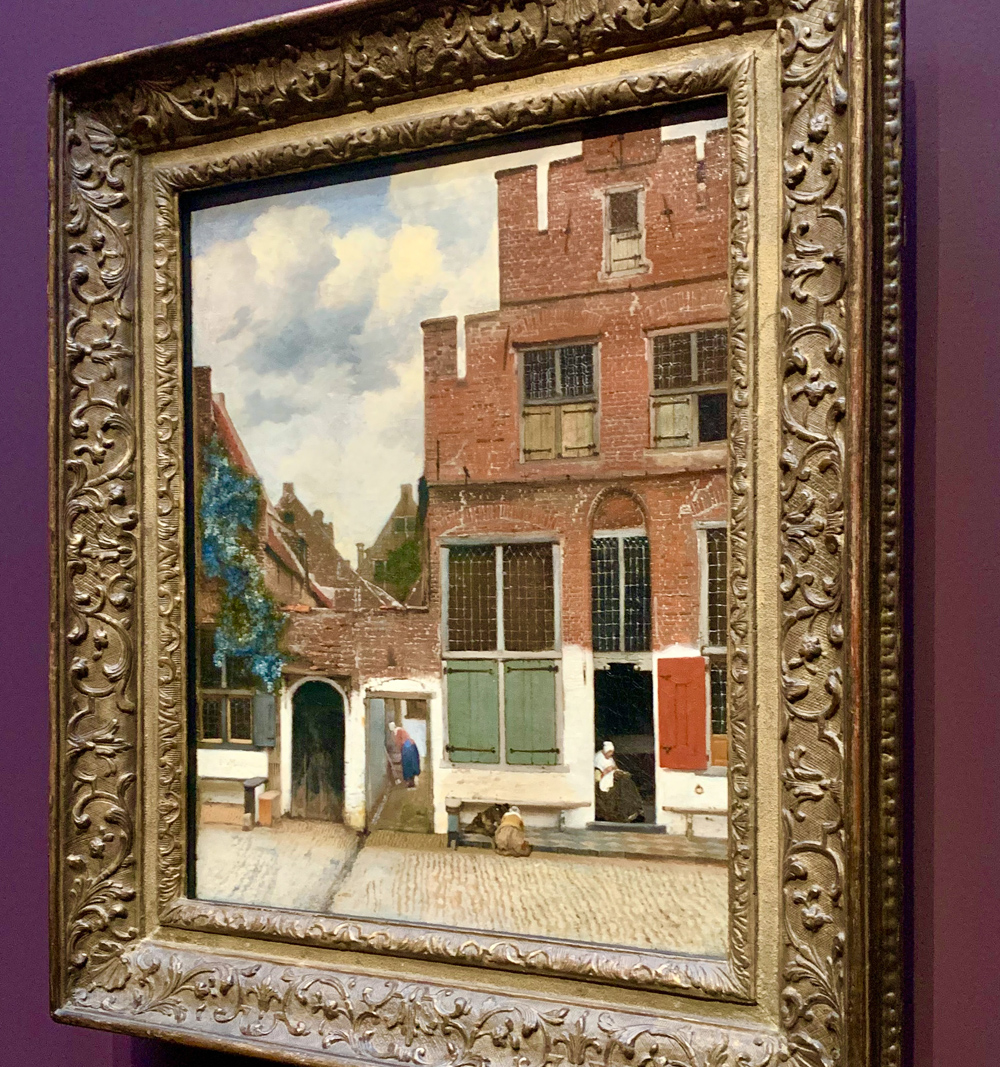 The Little Street, Johannes Vermeer, 1657–1658
I love The Little Street. I'd seen it before, but it was like seeing an old friend. The red brick houses sit against the bright cloudy sky, and the figures add a sense of everyday calm.
I almost feel like I can hear the noise of cobbles being swept and children playing and it's fascinating how the brickwork and wooden shutters possess their own distinct physicality.
Using the strongest tonal contrast of the seated women, we notice her first. Then the women in the alley. Even though more colourful, the tonal range is much more compressed. Finally, we see the children playing in the centre on the front doorstep.
The Little Street, Johannes Vermeer, 1657–1658 (Detail)
Large-scale Religious scenes
By his early twenties, Vermeer had just established himself as a painter and recently married; he painted religious and mythological subjects.
Christ in the House of Mary and Martha, Johannes Vermeer, c.1655
Christ in the House of Mary and Martha, Johannes Vermeer, c.1655 (Detail)
Looking at the details on this chair leg, you can see the underpainting and how Vermeer constructed the piece. Painting the entire canvas in a warm earth colour establishes tonal values.
Saint Praxedis, Johannes Vermeer, c.1655 (Detail)
Saint Praxedis is a copy after a picture of the same subject by a contemporary Italian master Felice Ficherelli, and it may be Vermeer's earliest surviving work, dating early 1655. If you look at her face, you can also see evidence of the next stage of the painting, adding a grisaille element on top of the warm underpainting.
First Interiors
Around 1658, Vermeer's scale and size of paintings changed. It's interesting to look at Vermeer's contemporaries to see how your environment can shape your artistic development.  
Left: Pieter de Hooch, Interior with Women beside a Linen Cupboard,1663
Right: Johannes Vermee, Girl Reading a Letter at an Open Window, 1657–1659
Painter Pieter de Hooch also lived in Delft.
Above is a detail of one of de Hooch's paintings that is also on display in the main gallery of the Rijksmuseum. There is a similarity in pose and dress of both of the figures.
Pieter de Hooch, The Courtyard of a House in Delft, 1658
Above is The Courtyard of a House in Delft (on display at the National Gallery in London) The figures on the right have the highest contrast. The figure in the doorway is in lower contrast but with muted colour. There is a small child, who also wears a yellow ochre dress.
Little Streets is dated 1657–1658, de Hooch 1658. You can see compositions and poses influencing each other. Pieter de Hooch became a member of the painters' guild of Saint Luke in 1655 (two years after Vermeer).
There were also other artists like Jacob Vrel who had painted similar scenes of domestic interiors before Vermeer, Mauritshuis Museum in the Hague (where the Girl with the Pearl Earring usually resides) has a Vrel exhibition on until May 2023.
Vermeer's Tutors
There is little evidence of who Vermeer studied under. But one notable artist also lived in Delft around the same time.
Carel Fabritius was a Dutch painter who studied with Rembrandt (Yeah Rembrandt!) and worked in his studio.
Fabritius tragically died at the early age on 32 when an explosion occurred in a gunpowder warehouse in Delft. It's thought there is still shrapnel remains in one of his most famous surviving paintings.
The Goldfinch, Carel Fabritius, 1654.
The Goldfinch was completed in 1654 and is now housed in the Mauritshuis museum in The Hague.
Just look at how Fabritius painted shadows, with a softened colour palette, and muted tones. They have that luminous layered quality evident in so many of Vermeer's paintings.
There is little documentation of the exact location of Vermeer's studios. Some think he painted in clients' houses, while others believe most likely that he had a studio in his Mother-in-law's house. And maybe another on the first floor of his father's inn.
Central to the success of the interior scenes would have been a location where he could create sets and paint for prolonged periods. His father, Reijnier Janszoon, was a bit of an entrepreneur. Silk weaver, an art dealer (registered with the Guild of St Luke) and in 1641, took on a large mortgage to buy an Inn on the market square in Delft. This was a place with roaring fires for the guests and rooms that could be used for gathering places for other artists. 
Nice big windows, inspiration from everchanging artworks and a place for like-minded artists to meet (and free beer on tap!)
The Milkmaid, Johannes Vermeer, c. 1657–1658
The Milkmaid, Johannes Vermeer, c. 1657–1658 (Detail)
In The Milkmaid, he determined the vanishing point with a pin just above the woman's right arm (the pinprick hole is still there).
There is evidence of many overpainted parts; Vermeer painted over a jug rack he had initially placed on the wall just behind her head. He also overpainted a large basket, replacing it with Delft blue tiles and a small foot warmer with a basin of coals.
Above all, the light dominates the room, playing and reflecting on every object. The bread and basket on the table comprise hundreds of dots of light. It feels like you could move within the space, there's a volumetric light handling all within this one scene
The everyday activity is simple but concentrated; only the stream of milk seems to move. Vermeer lets us into his quiet world.
Girl Reading a Letter by an Open Window, Johannes Vermeer, 1659
In the painting above, the green curtain acts as a composition device, giving us a clear view of the woman reading whilst the large painting of Cupid looks back at us.
Left: Before 2019 restoration, Right: Painting of Cupid revealed
Cupid remained concealed beneath a layer of white paint until 2019. During the painting's recent restoration, it became evident that the whitewash wasn't by Vermeer, but by someone else at a later date. The removal of the overpainting shows how the it fits into Vermeer's early religious work.
It could also be a clue into the letter's subject, with Cupid being the God of Love.
Woman Writing a Letter with her Maid, Johannes Vermeer, 1670-1671
You can see here the same compositional devices again. A curtain to bring us into the scene, a large painting adds tonal contrast and can add layers to the narrative.
The perspective lines of the tiles, table and chairs, create a convincing spatial illusion. Vermeer placed the figures in the foreground, allowing us to approach them up close, giving a greater sense of intimacy between the viewer and the scene.
There is a remarkable purity of light that seems even more impressive when you consider that Vermeer was painting under only a natural light source in a time known as 'the little ice age' in Northern Europe, where there was minimal sunshine in the Winter months.
I often find myself engrossed in the intricacies of a window pane or his rendering of crumbling plaster and brickwork.
A Direct Gaze

Girl with the Red Hat, Johannes Vermeer c. 1665  Girl with a Flute, Johannes Vermeer c. 1669
Between 1664 and 1667, Vermeer produced a small group of paintings of women gazing at the viewer. They look straight out of the canvas at us.
The Girl with the Red Hat is a fabulous painting! Much smaller than I had imagined. It's only 23 cm x 18 cm (9 x 7 inch). The red appears more intense, and the figure has much more presence than in reproductions I'd previously seen.
While based on studies of real women, they are not portraits. Vermeer was actually depicting tronies, which were very popular in his time.
Tronies means "face" in 17th-century Dutch. It refers to a group of paintings that portray an anonymous sitter. They presented the artist with a unique opportunity to experiment.
Vividly painted character heads and fantasy portraits of figures in fictional costumes are a bit like painting someone dressed up from a theatre production. In these works, painters explored the human face and facial expressions.
Girl with a Pearl Earring, Johannes Vermeer, 1665
Turning their head and looking over their shoulder, these women engage with us very directly. Vermeer strove for even greater simplicity. All attention is focused on the young woman and her gaze.
Now faced with the most famous of Vermeer's portraits, The Girl with a Pearl Earring, the exhibition feels complete. To experience an artwork so infamous surrounded by all the other paintings created in his life feels like a privilege that Vermeer himself would have never experienced.
Vermeer dressed the sitter in Oriental headwear that wasn't common at the time.
If you look at the features in comparison to the two previous paintings, the slight openness of the mouth is very similar. He creates a strong spotlight effect by having headwear that doesn't cast a shadow, with catch lights in the eye and the sparkling reflection on the pearl earring.
The Storytelling Power of Letters

Woman in Blue Reading a Letter, Johannes Vermeer, c 1663
Letters are often the subject in Vermeer's work; they act as a visual aid to add drama. Who is the letter from? What have they discovered? How will their life now change?
I love the composition of this piece and how the spaces around the figure balance within the scene. And when you simplify the painting, the story of the scene is still apparent.
Notan version to illustrate the strong graphic design of the painting.
Mistress and Maid, Johannes Vermeer, c 1666-1667
In Mistress and Maid, a woman sitting at her writing table is surprised by the letter brought in by the maid. Maids could deliver letters within the city, and the outside world comes in again.
Woman Holding a Balance, Johannes Vermeer, c 1662-1665
Woman Holding a Balance, Johannes Vermeer, c 1662-1665 (Detail)
Vermeer painted a small group of works around 1662-1664 capturing women engrossed in a hushed moment of contemplation, standing at a table with various objects.
In Woman Holding a Balance, a lady stands at a table with precious jewels. In Vermeer's time, this was seen negatively because it was vain and focused on appearances.
She holds a pair of scales to determine their monetary value. Hanging behind her is a painting of the 'Last Judgment from the Bible, making it clear that she too will be 'weighed' or judged one day.
View of the world
This is one of Vermeer's few works in which a man is a central figure.
The Geographer studies the maps on the table, a pair of dividers in his hand. Although his gaze has drifted off into the distance. A terrestrial globe rests on top of the cabinet behind him.
The light falls directly on the geographer's papers and forehead, emphasizing the scientist's focus on the outside world and we are drawn into the seclusion of the study.
The Geographer, Johannes Vermeer, ca. 1668-1669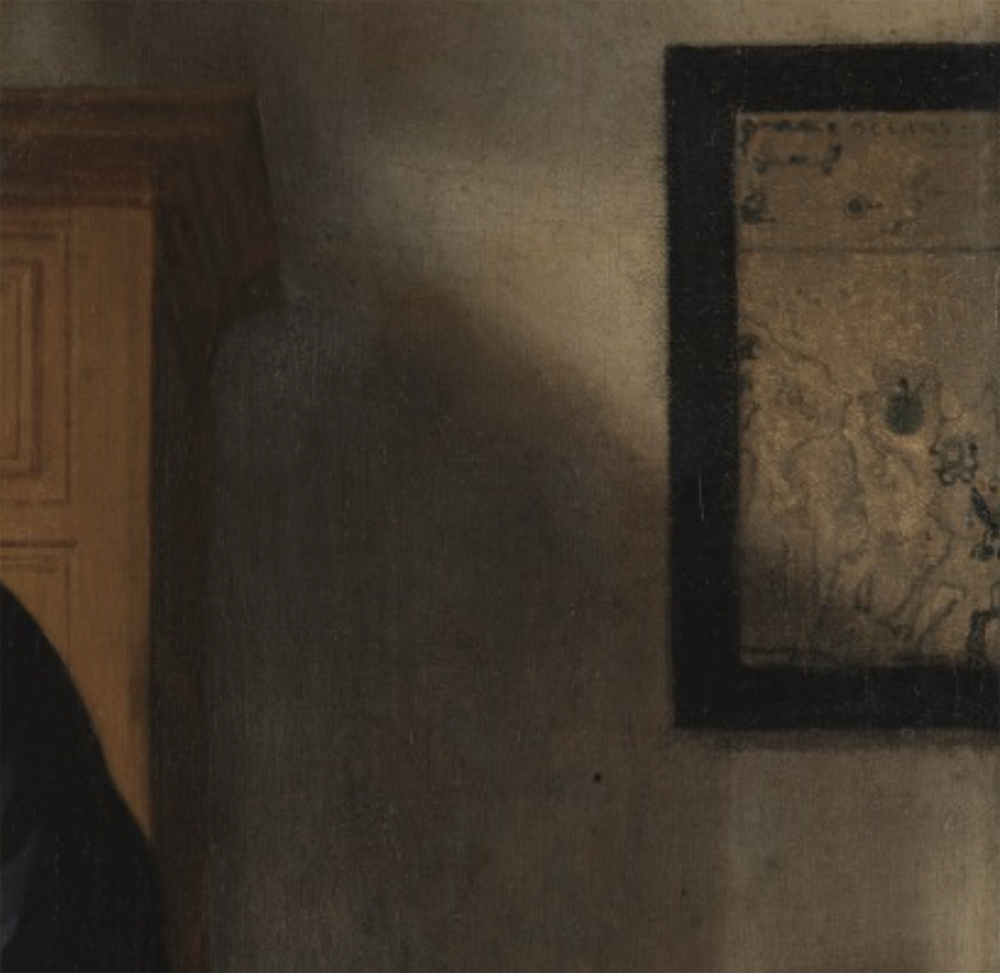 The Geographer, Johannes Vermeer, ca. 1668-1669 (Detail)
There is a subtle rendering of the light fall, and the textures on the back wall.
The Astronomer, Johannes Vermeer, c 1668-1669
The Geographer is one of two paintings conceived as a pair. This is known as 'A Pendant" The other, The Astronomer (Louvre, Paris), features a scholar studying a celestial globe.
On an Obscure note
Vermeer's highly detailed renderings of interiors, in a style that had changed from his earlier works, led many historians to believe that he used optics.
While some believe that Vermeer must have had access to and utilized lenses to create his work, many others remain convinced that he could achieve his results without using any man-made tools.
David Hockney's book 'Secret Knowledge' is a fascinating look into Hockney's thoughts on the use of optical devices throughout art history. Philip Steadman's 'Vermeer's Camera' also looks in great detail at room reconstructions and the possible uses of a Camera Obscura.
But perhaps the most convincing example is from the 2013 documentary 'Tim's Vermeer'. Inventor Tim Jenison goes to extreme lengths in room reconstruction, time and dedication to create his own version of Vermeer's music lesson.
At one point in creating his painting, Tim discovers something that has gone unnoticed for years. I'll let you watch the documentary to decide!
Leeuwenhoek the Lensmaker
Another Delft resident at the time of Vermmer was Antonie van Leeuwenhoek.
Van Leeuwenhoek trained as a draper and then was Chamberlain to the Sheriff of Delft. But his real passion was lenses. In his spare time, he was dedicated to grinding lenses. He was a pioneer in the field of microscopy.
Van Leeuwenhoek was the first person to observe and describe single-celled organisms and a wide range of other microscopic phenomena, such as blood cells and microscopic worms.
So with his skills in lensmaking and the possibility of meeting Vermeer at his father's Inn, it's not a huge jump to think they may have known each other. On Vermeer's death, Van Leeuwenhoek was the executor of his Will. This may have been part of his role as chamberlain to the sheriff, or they just might have been great friends.
"Van Leewenhoek, the great microscopist and lensmaker, was a neighbour of his and executor of his will" – David Hockney, Secret Knowledge
In the exhibition, you were allowed to take photographs, so it was ironic that Vermeer's paintings, which have been put under the microscope to discover if he used optics, were viewed by visitors through their iPhone camera lens.
Life-imitating art!
There's no better way to end an exhibition than with a comforting aroma of baked apple and cinnamon, especially with a generous serving of whipped cream, and a 'Vermeer Beer' from the Rijksmuseum cafe.
The exhibition runs until 4 June 2023
You Might Also Enjoy these other exhibition reviews:
Inside the Artist Studio: Rembrandt's Studio
Singer Sargent and Friends
Discovering Zorn
Capturing Sunlight with Sorolla
Discovering Velasquez 
Monet & Architecture
How to Paint, Sleep (and Nearly Die) like Cezanne 
There are also some more photos of food finds in Amsterdam on Instagram! Instagram @willkempartschool