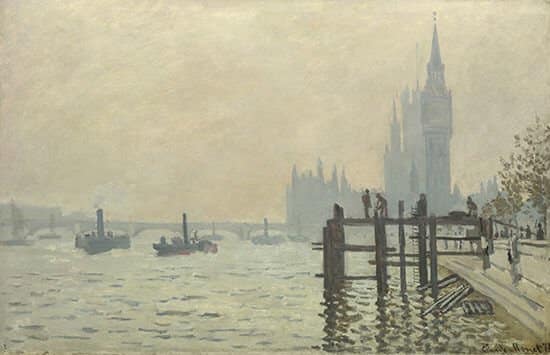 Claude Monet, The Thames below Westminster, about 1871

"Other painters paint a bridge, a house, a boat, I want to paint the air that surrounds the bridge, the house, the boat – the beauty of the light in which they exist." – Claude Monet
The French Impressionist painter Claude Monet (1840-1926) is best known for his brilliant paintings of landscapes, coastline and water-lilies, but this month saw the opening of a new exhibition 'Monet & Architecture' at the National Gallery, London.
This show highlights his interest in architecture, not only compositionally, but how he used it as a backdrop and tool to capture the changing effects of light and I was fortunate enough to catch it this week!
Bringing together over 75 of Monet's paintings from all over the world, the rooms are unconventionally grouped following architectural subject matter, The Village & the Picturesque, The City & the Modern and The Monument & the Mysterious.
The idea of creating paintings based on 'picturesque ideals' influenced Monet's early work and this concept was part of the larger 'picturesque landscape' debate originating in England.
Professor Richard Thomson, the curator of the show, explains,
"One of the points of this exhibition was to take a very famous artist, who people think they know, but to take a look at his work in a different way"