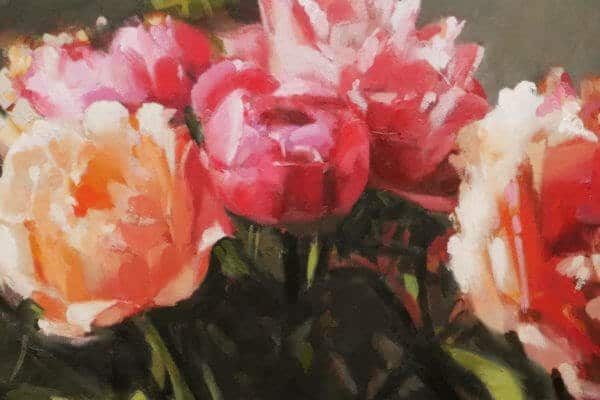 Will Kemp, Peonies (Detail) Acrylic & Water-mixable Oils on Canvas, 60.96 cm x 60.96 cm (24 inch x 24 inch)
Over the New Year, I've been in the studio working up a large scale floral still life painting, from a series of sketches I did over the summer. The original composition had been inspired by the dramatic oil paintings of the Dutch Golden Age (you can see the progress of my painting further down the article).
To achieve the soft blends between the petals, delicate smoked edges and the ability to work across subtle shifts in hues, oils would allow me a longer working time. Then I could build up the painting as a whole piece, adjusting tones, working wet-into-wet.
But being in the middle of a British winter and the studio doors firmly shut with little ventilation, the thought of having a pot of thinners or strong solvents in an enclosed space was discouraging me from getting started.
After a prolonged period of procrastination, it occurred to me, maybe it was time to break out the water-mixable oils.
Continue Reading
Peonies in Water-Mixable Oils (How do they compare to Acrylics?)