…Without Ruining All Your Hard Work
After all the concentration and effort it takes to create a work, you'd have thought the final signature would come easy; we sign our names all the time, right?
But there can be so many choices, full name or first name? Initials or motifs? Month or Year? Paint or Pen? Filled with hesitation, we're left wondering if our final mark on the canvas will ruin the piece.
Here's a guide to help you decide, practice and sign your work confidently.
Blame it on the Renaissance
Craftspeople have been signing their artworks for thousands of years. In Italy, the most dramatic shift in the use of signatures for painters was during the Renaissance; previously, they had worked within a group guild system.
Guilds (Arti)
In most of Europe, crafts and professions had been governed by guilds for centuries, ever since the expansion of towns and cities in the early Middle Ages. These sworn associations controlled trade, limited outside competition, established standards of quality, and set rules for the training of apprentices. Membership was usually compulsory—only guild members could practice their trades within a city and its territory.
Italian Renasissance Resources 
Artists wanted to be known for their creations, so the signature began to be used more frequently.
It allowed Patrons and collectors to show 'who' painted the piece, a chance for work to be seen and admired. The signature became as important as the artwork itself, and in Italy, this change began to elevate painters from craftspeople to artists. So much so, Dürer commented on how he was perceived whilst travelling there.
"Here I am a gentleman, at home a sponger [dauber – a crude or inartistic painter]."
Albrecht Dürer 
1. Signing your work, overcoming the tipping point
When you're first learning to paint, there can be apprehension about whether to sign your early pieces or not. If you're not super proud of your painting, it can feel a little presumptuous to sign 'like an artist'.
The first decision is a balance between embarrassment and pride. I feel it's on a sliding scale…
But if you can get over the tipping point of being embarrassed by the things you should have done better than feeling proud that you created a unique piece (even for a moment, because it might be fleeting!), then you'll feel more inclined to start signing your work.
An initial approach
You are just having an abbreviation of your initials can work well on a small-scale piece because your signature doesn't become too prominent. And that's often the balance of having a signature on your piece without it interfering too much with the painting.
Is the bottom right the best place to sign your painting?
It depends; you'll see an example in this Degas painting of how he's positioned his signature. The most common advice is bottom right; that's where you'll see most signatures, but I usually look to see what balances well within the composition; there are no defined rules.
Degas Signature – notice how the signature follows the contours of the table cloth. (Detail of L'Absinthe, 1876, oil on canvas)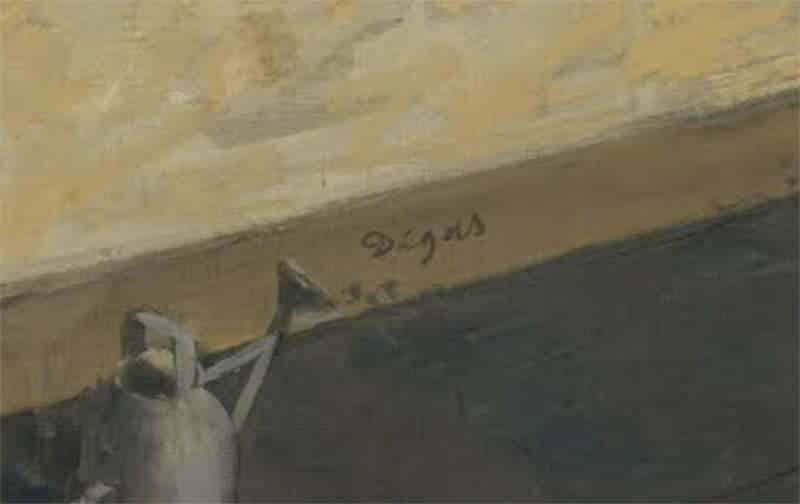 Edgar Degas, Dancers Practicing at the Barre, 1877
So if you look at this Degas painting, he's used his signature as part of the skirting board in the centre of the piece. Rather than drawing your eye to the bottom right of the painting or losing the signature to the left, this position reinforces the movement along the diagonal line.
You can see a similar method in Van Gogh's signature. Following the line of the box in the background of the painting. (Detail of Van Gogh's Chair)
It feels like an extension of the expression within the piece. Your signature can reflect your character as well.
Watch your edges
Another thing to be aware of if you're framing your painting is the overhang of the moulding; bear in mind when you're positioning your signature, that the frame isn't going to cover it.
If you're still nervous about emblazoning the front of your painting with your name, you can start on the back.
2. Using the back of the canvas?
Sure, Picasso went through a stage of signing his works on the back, and many artists do. I did for a while because I didn't want the written elements of a signature to engage the viewer's language side of their brain. I wanted the painting to remain an immersive colour visual field.
If you look on auction sites like Sotheby's, they can be a great way to see the back of paintings and how artists have labelled their pieces.
I like the way Ben Nicholson signed the back, by painting a swatch of colour on the canvas first before the signature went on top. (You can go in close here)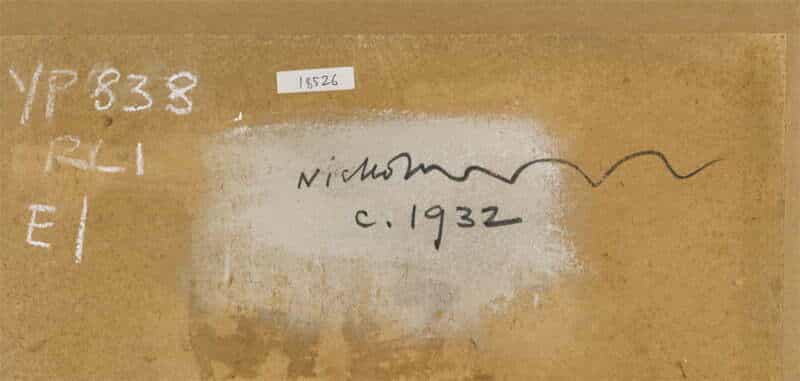 Nicholson's signature, this time on a backing board. Notice the same method of painting a swatch of painting and then signing on top. Even though the actual signatures vary, the approach is the same.
3. Sign with an acrylic marker pen rather than a brush
When I started painting with acrylics, markers weren't available, so I used a rigger brush or a permanent pen.
Now acrylic markers have come around, and more recently, empty markers that you can customise and add your paint mixes and nibs. There are many more possibilities and flexibility to sign with a medium that's the same as the piece. It feels more integral and part of the work. So rather than having a black permanent marker standing out on a light composition, you could choose a subtle grey or any one of the hundreds of colours available to sign with.
Liquitex acrylic markers – you can choose different nibs and colours that are sympathetic to your painting.
F &W markers – you can put in any medium you want and change the nib.
Brush Pens – You can use a brush pen nib for more of a flowing brush style. I like the Pental Brush Pens (the water brush pen is excellent for watercolour and ink sketches. It holds a reservoir of water that, when squeezed, flows down to the bristles of the brush.)
Signing an oil painting
Detail of Orchestra Musicians, Edgar Degas,1872.
Because the oil paint stays wetter for longer, you will often see artists using the back of their brush to sign a signature within the wet paint. You can carve a tip into the end of your brush to give it a tighter line. This can look very effective and give a nice harmonious feel to the work; it feels quite organic to be able to scratch your signature into the thick paint; it's quite an enjoyable thing to do!
Can you get oil painting markers for signing oil paintings?
If you could, I would love to use them, and if anyone has come across a manufacturer, please let me know in the comments.
You can get oil-based markers, but not just Oil Paint. I'm not sure how archival some of the Oil markers would be because they are often designed to be removable as well. So I'd be tempted to use thinned oil paint in one of the empty multi-media markers rather than an oil-based marker.
4. Sign it, Photograph it, then Varnish it
If you are signing your painting with a permanent pen you haven't used before, test signing on a scrap piece of paper or canvas, then apply a varnish/isolation coat on top of your test piece. Sometimes, if you're vigorous with the brush application of a topcoat, it can smear the pen. I've had this before, even if they're called 'permanent' markers. What you can do to get around this is to use spray varnish; gently spraying over is often less disruptive to the signature.
Step 1: Sign it – If you sign your painting before photographing it, you'll have a record of your painting and of your signature for authenticity.
Step 2: Photograph it – It's best to photograph your work before you apply a varnish layer so you don't get reflections from the surface onto the camera lens.
Step 3: Varnish it – Once you apply a varnish, it will seal and protect your signature and your painting.
A note on an Isolation Coat: If applying an isolation coat before the varnish layer, I sign my pieces under the isolation coat.
5. Use a rigger brush for better flow
The rigger shape is similar to a round but with much longer hair, also referred to as a "script" of "liner" brush.
Rosemary & Co
If you prefer to use a brush, using a fluid acrylic can be great for a signature because you have a nice mix of flow and opacity of the paint. Also, try using a Mahl stick to keep your hand steady; practice, practice, practice on everything apart from your painting before committing.
6. Don't worry about the perfect signature – take the Picasso approach
Collection of Picasso signatures
Your signature doesn't have to stay the same. It's better to choose a style and start; then you can tweak as your style and taste grow and change.
It's interesting to look at some famous artists' signatures throughout their careers. Picasso's signatures started with a 'P.R.' developing into the Picasso flair. The angled line under his name remains consistent throughout.
If you look at Rembrandt's pieces, he started off just using initials. This elaborated into using Rembrant, with a missing 'd', which developed into a full Rembrandt that is most recognisable to us.
7. Do I need to add a date?
I always think it's good practice to have a date on your work. Both for your own copyright and to look back and see your progress. This can be abbreviated '22 or the full year, 2022. I tend to abbreviate on the front but add the full date on the back.
You can also add a label on the back that has the title of the piece, the mediums used, and the varnish used. And this is all very handy. If it goes to a conservator in the future and needs the varnish replacing, they know what they're dealing with and what mediums you've used.
It can also be useful to add to your email, website, or social media on a back label so future collectors can contact you.
The $50 million motif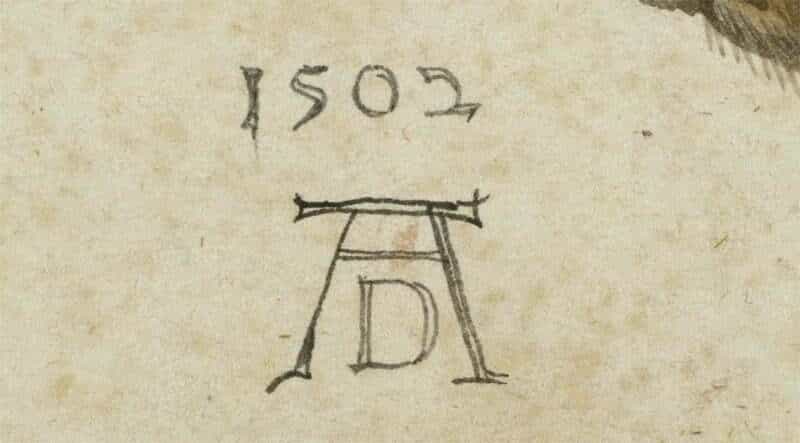 Albert Dürer AD Monogram
You can also develop motifs or symbols. When creating portraits inspired by film stills, I designed a signature within a circle in the top right of the painting. The symbol was based on cigarette burn or 'cue mark' that you find in celluloid films so the projectionist would be aware that a reel of the movie is ending soon. It was a subtle nod to the film industry.
Albert Dürer had the motif of A.D. that he used in all of his pieces. He even went to court twice to protect this authenticity.
A Dürer drawing, purchased for $30 dollars is now thought to be an original piece by the artist, with his trademark A.D. being a key part of the province of the piece.
Smithsonian Magazine: Sketch Bought at Estate Sale for $30 May Be Dürer Drawing Worth $50 Million
What's a good way to practice your signature?
Grab a piece of tracing paper and sign your signature in lots of different ways; holding them over one of your paintings is a good way to see how different sizes of signatures will look.
If you have an iPad, you can use the Apple Pencil to sign your signature in a programme like Procreate, which is great because you can use paint brushes within the app to mimic how paint and pens would look.
Having ownership of your paintings can feel empowering. It signifies the painting is finished and gives the piece a sense of prominence, value and importance.
So grab your latest piece, and let's get signing!
Further reading:
Where do you find famous artists' signatures?
John Castagno has curated over 17 books of artist signatures – 17! He also has an online resource where you can search and look for artist signatures and monograms.