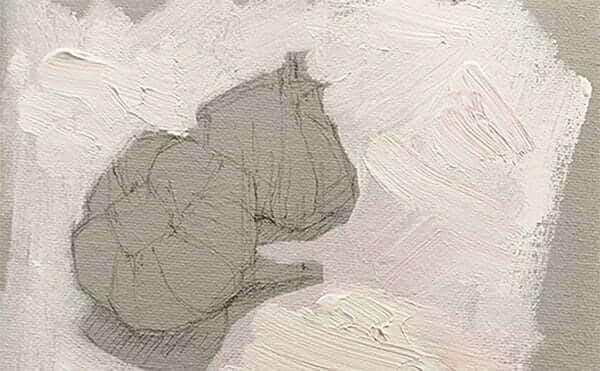 And Overcoming Masterpiece Anxiety
The first painting I remember having an immense amount of pressure to get right was in my GCSE art exam.
For the final piece, I moved into new territory and arranged my own setup of objects in front of my easel.
I thought a still life would be the easiest choice for a timed study.
It felt doable, and I was too nervous about tackling a portrait. I also knew there were a few rules I should stick to.
A harmonious colour palette, good placement of objects and strong directional light.
After moving a vase, a bottle of wine and a bunch of grapes around for a little longer than anticipated, I reckoned I should just get on with it.
And some aspects of the finished painting worked ok. They really did.
My drawing wasn't bad and the composition was balanced, but the hardest job was judging the colours from life. The light kept changing, I remember desperately trying to block off bits of the window and the immense pressure to create a 'finished piece' really lost all the logic and joy of observation.
I know we don't often find ourselves in art exams, but the same pressure of having to make a great painting every time we pick up the brush often results in unfinished work or worse, unstarted work!
I've found the best way to get around this and bring spontaneity back into my studio is to try and paint daily.
Do a quick small study of something I already have lying around the house, try a new technique, colour palette and subject with no expectation.
Just thoroughly engage in the process.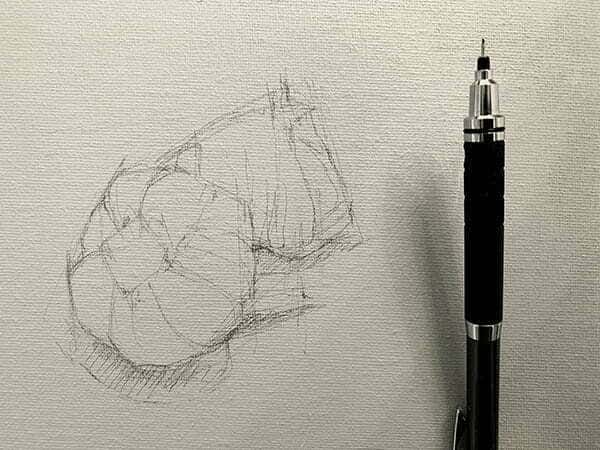 15-min sketch of garlic onto Raw Umber & Titanium White Ground.
45-minute total painting time.
I make it as enjoyable as possible. Comfy seat, a strong cup of coffee or pot of tea, often Vanessa joins me, the neighbour's cat if we're lucky and we set the clock.
What can we achieve in an hour?
If it's just one line, it's better than a blank page.
One delicate flower head from a vase of flowers or an impressionistic sketch of an entire bowl of eggs, all beautiful in their own right.
Using Ultramarine Blue & Burnt Umber looking at warms and cools.
It's not a masterpiece, it's not a finished painting but it is something.
And that's how you create.
That's how all creativity starts, from the process, not from waiting for an idea to get inspired.
50-min total painting time
I like to call these meditative studies my Morning Paintings, inspired by Julia Cameron's Morning Pages. (Morning Pages is a writing ritual Julia Cameron suggests in her fab book 'The Artist's Way')
They are regular practice but they feel hopeful and fun.
What I also think is interesting, the set up is usually at our kitchen table in sometimes not the greatest light, which can become quite challenging, and without a fully established composition, it's just an object that you're observing.
These Garlic's were popular! now experimenting with a Raw Umber wash and Titanium White
Because it's not a perfect situation I've found it sends you down a path that you didn't expect.
There's no right or wrong outcome but you do learn very sharply about what is important in making a painting 'work'.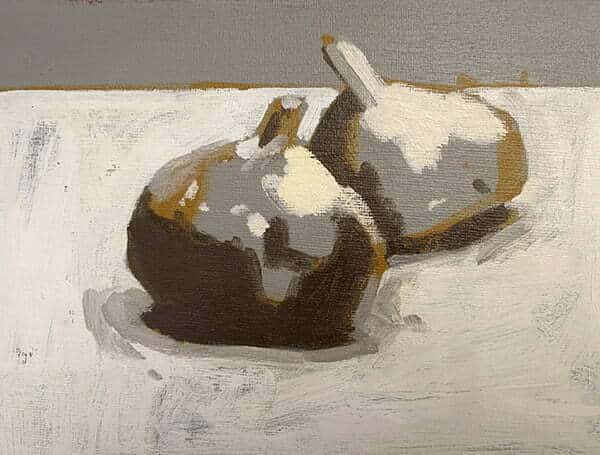 Using a Yellow Oxide paint marker for the drawing out.
I've learnt to say 'how fascinating' (inspired by Benjamin Zander) when it doesn't go to plan.
It's just one day, one study and we'll try again tomorrow. The best bit is you start with a blank page, one hour later you've created something new and it's still the beginning of your day!
Grab a brew!
So when you're faced with a creative block, try a one-hour slot of uninterrupted freedom to create, don't try to 'finish' the painting or worry about the end result, you'll be surprised to find it's where all your new ideas are hidden.