Free how to paint with acrylic paint videos

Free online acrylic painting techniques
You can discover over 5+ hours of free acrylic painting videos ranging from the secrets of colour mixing to choosing the perfect brush.
I teach classical painting techniques with acrylics and the best place to start is with one of the free courses below.
With over 4 million views on Youtube, students have achieved some fantastic results!
Acrylic Still Life Painting of a Cherry for Beginners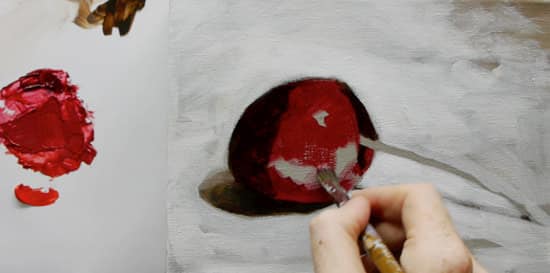 Simple Cherry Acrylic still life painting – Part 1 (35 minutes total tutorial time)
This tutorial is great if you'd like to learn classical glazing techniques when working with acrylics. Click on the link above to watch the first video. Parts 2 3 & 4 are listed below.
If there is one lesson that will give you amazing results, this is it. Have a look at some previous students success with this lesson (many were their first paintings ever!)
Acrylic Still Life Painting of a Jug using 2 Colours
Warm & cool colours simple Jug painting – Part 1  (40 minutes total tutorial time)

Perfect if you're still learning about colour and want to understand the principles of warm & cool colour in painting. We use Burnt sienna, Ultramarine blue & Titanium white.
Acrylic Landscape Painting Techniques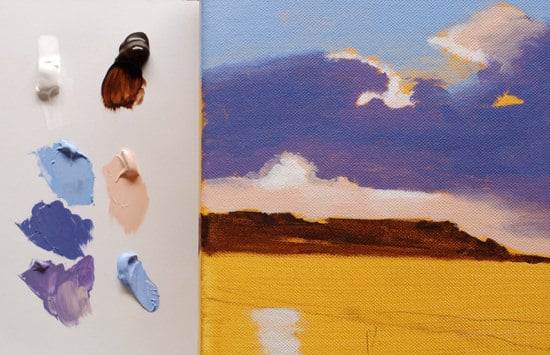 Easy Acrylic Landscape painting for an absolute beginner – Part 1 (35 minutes total tutorial time)
Learn how to pre-mix your colours using 'colour strings' so your painting time is quicker and your results are more professional.
Monet Style Impressionist Acrylic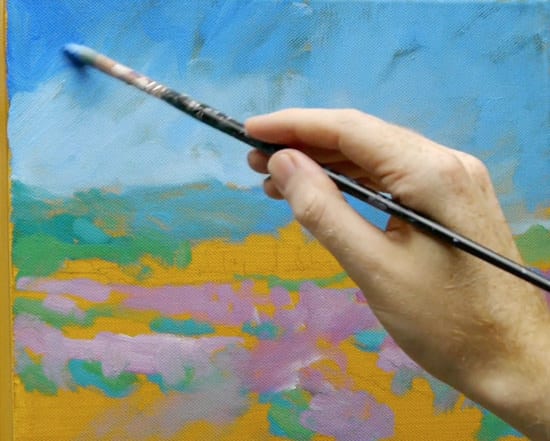 Monet style Impressionist Acrylic – Part 1 (40 minutes total tutorial time)
Discover how to paint with a more Impressionistic style using Monet's palette & techniques.
 Acrylic Palette Knife Painting
Acrylic Palette Knife Painting Techniques – Part 1 (55 minutes total tutorial time)
This video tutorial teaches you how to combine using a palette knife with your brushes and embrace using thick paint!
For Basic set up & preparation have a look at the tutorials below:
1. Setting up a stay-wet palette
Essential for keeping your acrylic paints wet when you first start.
Acrylics dry really quickly this gives you more open time for painting.
2. How to lay out a palette – a simple method for setting out a palette for successful painting
3. How to apply a coloured ground – key for quick professional looking paintings
 Colour mixing basics
1. How to match a paint colour – a 3 step approach to correctly matching a paint colour
2. Understanding colour bias –Why can't you mix a bright purple? find out how the undertones of paint can effect your mixing
 3. How to mix pink – learn how white can effect the brightest and hue of reds
4. How to match acrylic paint colours – learn how to mix acrylic paints for beginners
5. How to choose a brush for acrylics – What is a hog, filbert or bright?
6. How to mix bright purple – Why do some purples go muddy? find out in this video
7. How to mix green acrylic paint – How to mix green with a surprising colour choice
8. Acrylic still life speed painting – How to paint acrylic still life, in under 5 minutes
More videos are available at my Youtube acrylic painting channel