This week I've been working on the last stages of my new beginner's acrylic project book and wanted to add some pen and ink illustrations of materials & still life setups.
For all the sketches I used the following pens on 220gsm cartridge paper.
Lamy Safari Fountain Pen – filled with Lamy water-soluble black ink
Pentel Aquash Waterbrush Pen – this bad boy just holds the perfect about of water in the brush filament tip to wash-in water-soluble ink
Muji 0.5mm Black Fine Liner – so smooth and works well at any angle under a rapid speed
Pentel Brush Pen – if you're struggling to create broken line effects, treat yourself to this pen, you can block in deep blacks really quickly
A number of the illustrations below are based on famous still life paintings. I always think looking at the pieces in black and white is interesting as you see how much the composition reveals an artists style. If you compare the shapes in Cézanne's work to Morandi's, there is a different set of compositional interests.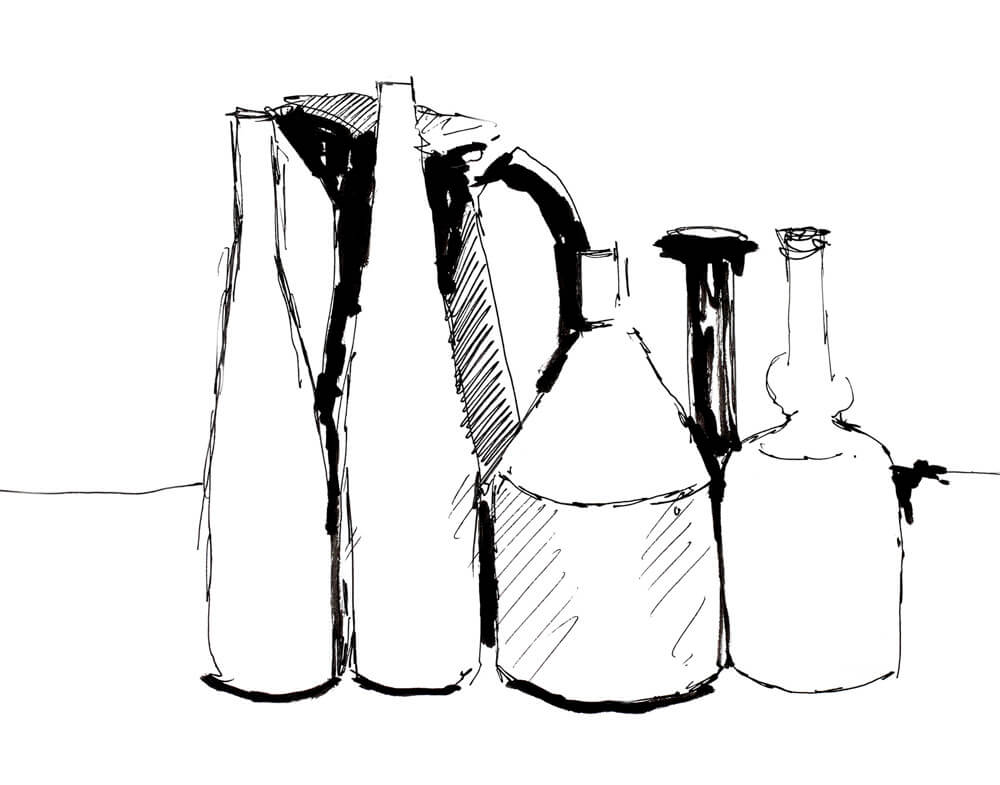 Morandi often bunched his set-ups together, you can see how he used a mixture of overlapping objects with similar vertical shapes to give the pieces a stark, square grouping. I love the spaces between Morandi's arrangements, having the objects so close creates a real relationship between them.
In comparison to Cézanne, who uses flowing sculptural tablecloths, circular fruit piled up high with the edge of the table surface, giving us a sense of the space.
Here you have this brilliant steep angle of the dark band that adds movement and draws our eye to the taller jug breaking through the line. He's positioned the handle so you have a lovely dark 'negative space' and then uses the circular shapes of the pot and bowl. Cézanne often propped bowls from underneath to highlight the shapes. If this was sitting on a flat surface the plate would have much more of an ellipse shape.
(You can see some more photographs from within Cézanne's studio here: How to paint, sleep (and nearly die) like Cézanne)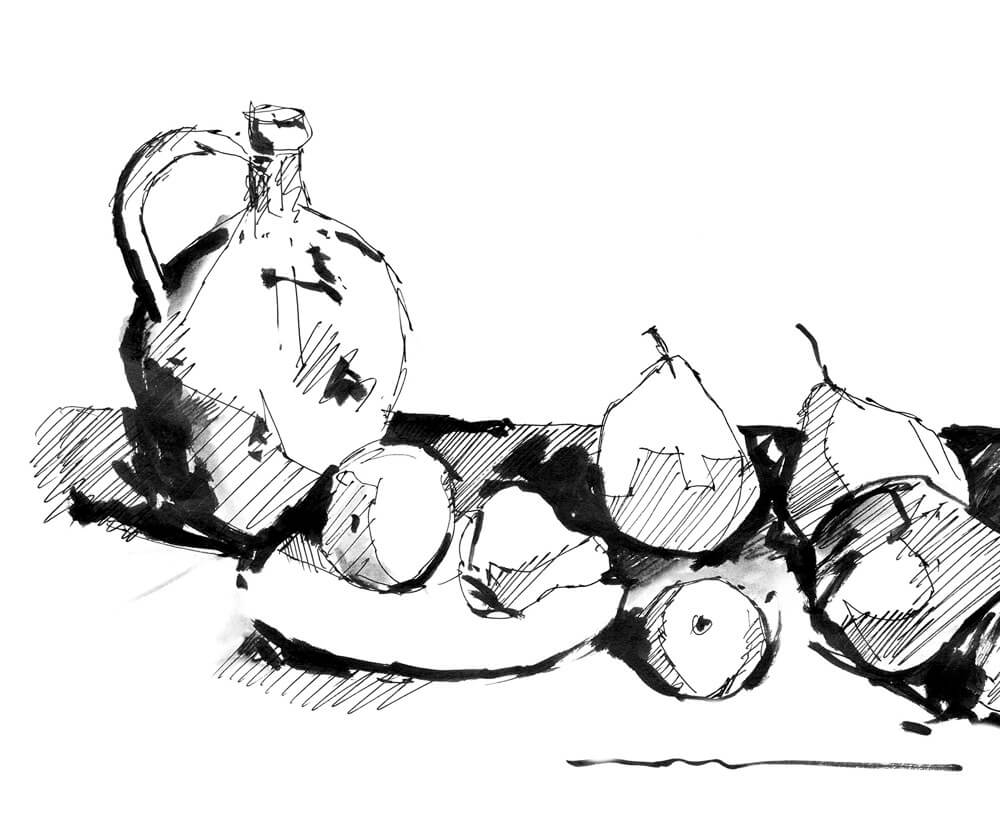 I always love how Cézanne's still life's feel like the objects have just toppled onto the canvas, but when you look more closely at the arrangement you can see how they are each carefully positioned and balanced together. Here, the main focus is the water jug, then your eye moves to the two pears on the plate. Using the shape of a plate hi-lights an area and adds contrast to the darker shadow shapes from the fruit lined up in the background.
Here I arranged two objects, one as a whole and then cut the other one cut in half. It's a very simple yet effective way to add interest to your composition and give you new shapes and narrative. Having a cut pumpkin and a knife tells more of a story of the absence of human presence that two whole pumpkins left untouched.
You can see some other things to look out for when arranging still life compositions here: Are you making any of these 7 compositional mistakes in your paintings? 
In this sketch of a bowl of onions, I felt the overall impression was a little heavy. The silver qualities of the onion skins didn't translate as well into a drawing, but I really liked the pattern on the Mason Cash bowl.
We only use a couple of brushes throughout the book, mostly a flat synthetic brush for adding clean, smooth marks. This one is a series 302 Flat Golden synthetic from the fab Rosemary & Co.
This is a chisel acrylic paint marker from Liquitex. They can be handy if you're coming to painting but not feeling super confident in drawing fine lines with a brush. The marker is filled with liquid acrylic paint and can give you a really nice sketchy feel to the underdrawing of your paintings.
This collection of art materials on the shelf in my studio caught my eye for the final sketch. Even the little brown jug from How to Paint a Warm & Cool Still Life Painting made an appearance!
Still life project e-book
This new practical project e-book will look at how to create still life paintings with simple impressionistic marks, chiaroscuro techniques, and clear colour mixing recipes. 
I've created it because I'm passionate about still lifes and have deliberately taken an impressionistic approach with all 3 painting demonstrations so you won't get distracted by the details and lose momentum.
It's been designed to be simple with step-by-step instruction, broken into bite-size pieces so you can complete each stage within a 2-hour window. Something you can easily follow, even if you've never painted before.
More details coming soon!