A step-by-step French Café Scene acrylic painting
In this series I will be posting a weekly video on my YouTube channel that you can follow along at home. It's free to subscribe to the website so you can keep updated with the painting progress.
You can watch Part 1 of the painting demonstration here.
This week we start to introduce the lightest lights and some blue…
Materials you will need for this stage of the painting:
12mm Acrylic brush – Pro Arte Prolene – flat
Size 4 Kolinsky sable from Rosemary & co – round – (any small round will be fine)
Paints
Artist quality Titanium white
Burnt Umber
Phthalo Blue (Red shade) or (Green shade) – I demonstrate using Phthalo blue green shade
Other materials used
Kitchen roll
Jam jar for cleaning brush.
Small dipper for diluting paint
Stay-wet or tear off palette
Palette knife – 45 RGM
Step 1 – Introducing Whites
Following on from establishing the dark tones last week we can now start to introduce white.
Using the opaque Titanium White I start to draw in the lightest lights of the scene, even though it's an opaque white I'm applying it quite thinly.
This is so I can start to see the 'drawing' of the painting, rather than going in too thick with the paint at this early stage.
It's then easier to adjust the drawing without having to paint over thick passages of paint.
You can read more about the importance of contrast in your painting.
This is the painting after the lights have been painted in.
Step 2 – Introducing a Blue
Once we've established the darks and the lights we can start to judge how the scene is working tonally.
Once you're happy with your painting at this stage you can introduce a blue.
As there are areas in the image that have a greeny blue hue I'm using a Phthalo blue (Green shade). This is a very powerful blue with a high tinting strength.
Notice the vivid undertone of the paint in the image below.
We can then add areas of the brighter blue around the scene.
Notice how the paint is still quite translucent.
Once the lighter blues are painted in I mix a black with the Burnt umber & Phthalo Blue using the palette knife.
This can then be blushed over the Burnt umber under-painting to enhance and darken the shadow areas of the painting.
Toning the colour down with the burnt umber to produce a dull green/black to paint in the cafe front.
French Café scene Acrylic painting – Free video Course |Part 3
The video below shows the lightest lights and blue stages of the painting.
Here's what the painting looks like at the end of Part 3.
Click here if you want to download it to work from.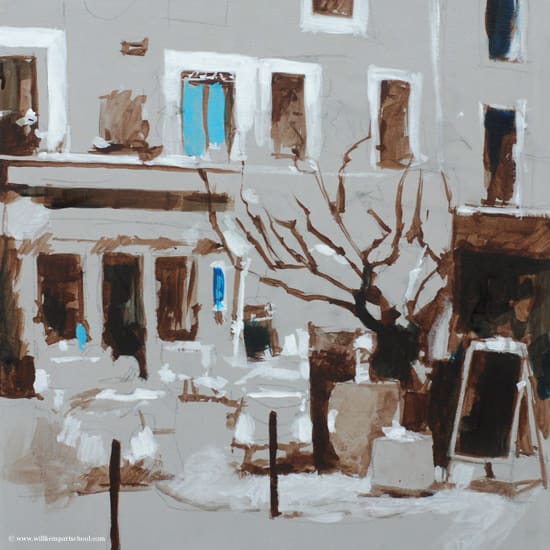 Tune in next week when we start to introduce reds into the painting.
You might also like:
1. French Café Scene – Acrylic painting course |Part 1 & 2
2. French Café Scene – Acrylic painting course |Part 4