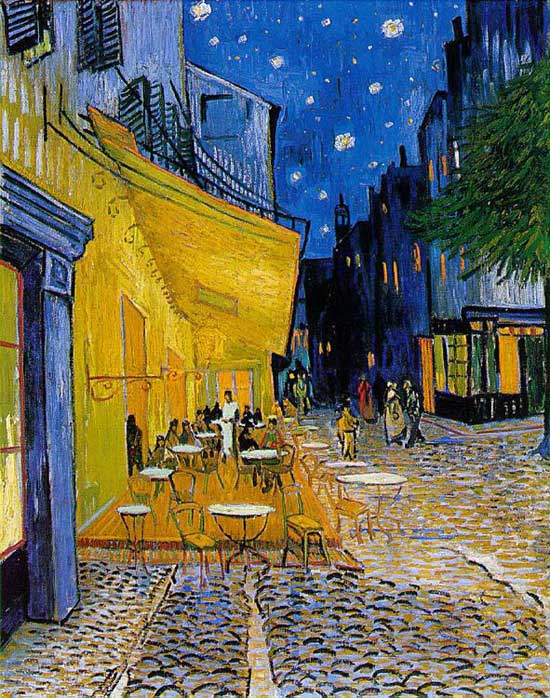 Vincent Van Gogh, Café Terrace on the Place du Forum, Arles, 1888.
Complementary colours
Two colours, placed side by side, will appear differently depending on which colours are used and what they are placed next to.
The effect of this interaction is called simultaneous contrast.
Simultaneous contrast is most intense when two complementary colours are juxtaposed directly next to each other.

For example, red placed directly next to a green, if you concentrate on the edge you will see a slight vibration.
Your eye doesn't like resting on the edge. The two complementary colour in their purest, most saturated form don't sit well together, however, if you want to try and focus your viewer gaze on a particular part of the painting a knowledge of the 'attraction to the eye' can be used to great effect…
Van Gogh's painting technique
Orange and blue accentuate each other in Van Gogh's Café Terrace on the Place du Forum, Arles, 1888 above.
In Van Gogh's painting, he has a very bold use of colour. If we start to analyze the piece we can see how he has used the power of complementary colours and the colour wheel to heighten the visual effect of simultaneous contrast.
He wanted to move our eyes around the painting, not just by the composition, but by his use of complementary colour:
The rear windows – have a very strong saturated orange sitting right next to a pure french ultramarine, this causes the shimmering effect to give the evening window light a 'glow'.
The front of the cobbles – He has used this effect on a more subtle level where the small arches of orange and blue add movement, reflecting the movement and life within a cafe.
Warm and cool colours – add a visual depth to it due to the fact that cool colour recedes into the background and warm colours come forward.
In this example, Van Gogh has used complementary colours to his advantage and often went out of his way to create contrast and tension in his paintings.
When describing the painting below he commented to his brother Theo:
"I have tried to express the terrible passions of humanity by means of red and green. The room is blood red and dark yellow with a green billiard table in the middle; there are four citron yellow lamps with a glow of orange and green. Everywhere there is a clash and contrast of the most disparate reds and greens….'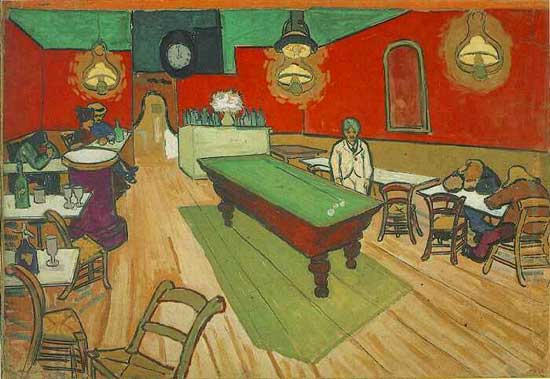 Vincent Van Gogh, The Night Café, Arles, 1888.
However, the jarring nature of this visual effect is exactly that – jarring. So, if you want to create a painting that is more harmonious you can still use these principles but on a more subdued level.
Vermeer uses of complementary colour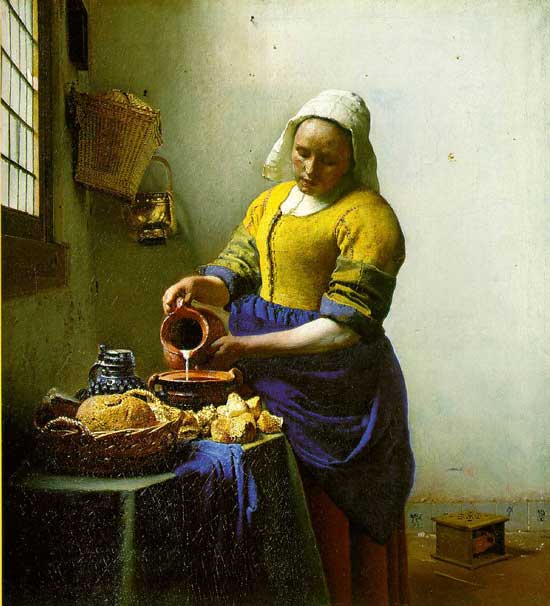 Vermeer, The Milkmaid, 1658 – 60
In this Vermeer painting, The Milkmaid, we can also see the effect of complementary colours, albeit on a more subtle level.
Here he uses an approach using split complements which in general will create a subtle effect.
Split Complements
This is where you use one colour, for example, blue and instead of using its direct complement (orange) we split the colour wheel and use the next colour along. For this example, that would be a yellow-orange. This creates a nice visual balance, but also interest for our eye.
The main point of focus of this painting is the milk jug. Vermeer has the milkmaid's gaze looking directly at it so we naturally follow her gaze to the object.
However, he still uses this visual effect by making the focus of the painting, the jug, a warm bright orange placed next to a bright blue of her dress to create a visual balance.
So how can this help me in my choice of colours when painting?
If you place a strong cadmium yellow next to a grey it will appear (to our eye) different than if it was placed directly next to its complementary colour, purple.(I'm using grey as an example because it is a neutral colour)
If you place a grey next to another stronger highly saturated colour, the grey will appear to have a slight tint of the surrounding or adjoining colour.
Creating a warm glow to your landscape painting
So if you want to create the illusion of a warm sunset, the first area of land nearest to the horizon line can be left a muted cool colour (blue, green) so the effects of simultaneous contrast can be used to create the illusion 'glow' of the horizon. The more muted the horizon line the most natural it will appear. (see: Titian's use of warm and cool colours)
In Turner's painting below you can see how he has used a muted blue background to emphasize the bright orange sunset.
J.M.W Turner, Slave ship, 1840
Why does this happen?
The actual paint colours are of course not altered; only our perception of them changes.
The grey on the left will appear to have a slight tint of the surrounding or adjoining colour.
Whereas the edges of the yellow square on the right have a 'shimmer' to them.
A brief history of simultaneous contrast
Michel Eugene Chevereaul, a French Scientist, was working as the director of the dye works at the Gobelins Manufactory in Paris. Whilst he was working there he received many complaints about the colours of the dyes, Specifically how the blacks appeared differently when used next to blues.
Researching this further, he realized that the yarn's 'perceived' colour was being affected by the surrounding colours. This led to the idea of simultaneous contrast.
Why does this happen?
Our perceived 'memory' of an object can be very strong.
If a beginner learning how to paint places a banana under a red light it would cause our logical left brain memory some problems because we have such a strong memory of bananas being yellow.
Even if we see them as red your brain tells you, this doesn't feel right, so you change the colour to something you feel more comfortable with, and then the painting looks 'wrong'.
Colours can be tricky.
To try and counteract this effect artists often use isolated swatches of paint or viewfinders to try and perceive a colour on its own, in isolation, rather than trying to judge it next to another colour.
So the next time you are creating a painting withhold judgment on your colour mixing prowess until you have all the adjoining colours next to each other.
I often paint thin, more muted colours to start with and try and build up the whole picture at once. It then becomes easier for the eye to judge the correct balance of a hue. I leave the strongest, thickest paint for last, so I can choose exactly the tone and colour of the paint to pull the picture together.
One of the biggest mistakes you can do is working on one small section to completion before addressing the picture as a whole.
If you'd like to learn more about colour mixing, you should have a look at my simple colour mixing course.
You might also like:
How your hairdresser can teach you to mix colours
The hidden hues of colour mixing