J.M.W Turner, Margate (?) from the sea, about 1835-40
11 years ago on a very cold winters morning I was poised with a dripping wet floor mop, recreating a painting by J.M.W Turner.
My audience were a group of five cleaners from the Museum I worked at.
The workshop wasn't really going to plan.
I was trying to teach this group of absolute beginners how to paint like Turner in a morning.
At the end of the morning workshop their finished paintings would be displayed in an exhibition, open to the public.
Oh, the other artist who was exhibiting in the exhibition?
The main man himself, a collection of original Turner watercolours.
Now where did I put that mop?…
Taking Turner to the Cleaners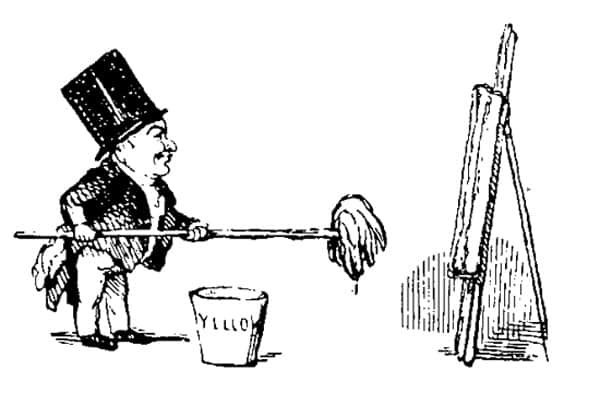 A nineteenth century caricature satirizing J. M. W. Turner's painting methods, which were regarded by many of his contemporaries as producing indistinct or unrecognizable scenes.
The educational Tate partnership project had been inspired by a 19th century caricature of Turner painting one of his canvases with a bucket of yellow paint and a mop.
I thought it was a nice juxtaposition to have the cleaners from the Museum learn more about Turner and gaze at their own work on the gallery walls.
Taking Turner to the Cleaners was the name of the exhibition, well is should have been called 'Taking the Cleaners to Turner' because for inspiration before the workshop, we travelled down to London for a privileged behind the scenes look at some of the watercolours held within the Turner Bequest at Tate Britain.
The Turner Bequest
Turner gave away his collection of paintings, drawings and sketchbooks to the Nation at the end of his life.
The entire bequest – most of which is now housed at Tate Britain – consisted on nearly 300 oil painting, around 300 sketchbooks and nearly 30,000 sketches. Yes, that wasn't a typo, nearly 30,000 sketches. Turner appreciated the power of sketching in the landscape!
There was also a clever piece of self promotion built into the deal.
Two of his paintings came with strict condition that they should be displayed alongside Claude Lorrain's landscape paintings.
Claude Lorrain was a celebrated landscape painter and he invented the 'Claude glass' a piece of mirrored black glass that helped to view the tones of a landscape. He was commonly known as Claude and Turner had long admired his paintings as did many other artists of the day.
Claude Lorrain, A Mediterranean coastal inlet with classical figures playing music, a fortress in the distance, oil on canvas.

"The most perfect landscape painter the world ever saw"
John Constable describing Claude's paintings
Turner on film
The recent film biopic by Mike Leigh concentrates on the later works and life of J.M.W Turner. It's been beautifully shot by the cinematographer Dick Pope and the colours of the film have been inspired by Turner's painting palette.
It was exciting to see the depiction of Turner's studio, the drama of the viewing room he had created in his house and the historical references to his shopping trips to the art store of the day, the artist's colourman.
He seemed to get as excited about his new delivery of Chrome yellow as I do when I'm running low on Cadmium orange and can order a new hit. Interestingly in the film, the colourman's assistant is played by the Winsor & Newton colourman Paul Robinson.
In terms of painting styles and techniques, the film concentrates on the more extravagant gestural marks. Turner attacking the canvas, spitting on the surface, blowing raw pigment on the painting.
It looks great on film but is this how Turner would have approached his paintings?
It's hard to say but hidden underneath Turner's vibrant palette and ethereal skies was a well studied draughtsman.
Turner and the Coincidence of Hair Salons
It was the first day our art gallery had opened to the public and I was feeling particularly jubilant.
The late nights and long hours of renovating the property, balancing our existing jobs and haggling with builders where long behind us.
We were nursing slight hangovers and sleep deprivation from the Private View but we had opened.
All we needed now was a flood of customers to to marvel at the deft handling of the brushwork and to appreciate the handmade artworks.
It seemed like hundreds of people were walking by the gallery staring in but no-one was venturing any closer, and then it happened.
The first customer turned the door handle.
The door flung open and she shouted excitingly through 'Is this a new art gallery?'
'Yes' I replied, eager to help.
'You won't last' she said.
And then shut the door.
'Thanks' I replied.
I looked over at Vanessa feeling deflated.
Had we bitten off more than we could chew? Had we picked the wrong end of town? Was it going to work at all?
Our rent was due and I was getting increasing hysterical.
Exhibiting your work to the public can be an ordeal.
But I had a secret weapon.
And she was a master with a pair of scissors.
An unlikely combination
Alongside the gallery on the ground floor Vanessa opened a boutique hair salon on the first floor with the paintings adorning the walls.
We wanted to work together and thought it was a fantastic concept, a gallery that was welcoming and approachable and a salon that was subtle and quiet.
As the weeks progressed the initial concept had a bit of resistance.
A wrinkled face and a quizzical 'But what is it?' question was the norm.
But soon the word began to spread.
I'd never realised before the importance of a good haircut and how a busy hair salon is the perfect networking tool.
One of the most fascinating things about owning a hairdressers is, you never know who's going to walk through your door.
Your location can be key.
So how does this all relate to the painter J.M.W Turner?
Well it turns out that Mr Turner senior had the same idea.
Turner's father was a barber and wig-maker who owned a barbershop in Covent Garden, London.
The ever entrepreneurial Mr Turner began displaying his son's paintings and drawings in the window of the Barbershop.
He drew and painted topographical views of London and the Kent Coast, for sale to the many hairdressing clients.
These drawing studies caught the eye of various customers who brought it to the attention of artist John Francis Rigaud.
Rigaud was an established painter in his own right, a member of the Royal Academy of Arts and had previously painted a portrait of Sir Joshua Reynolds, the then president of the Royal Academy of Arts.
After recommendation by Rigaud, Turner was tasked for one term at the Academy to draw classical casts and sculptures to prove his drawing skills.
He was approved by the council oh, and one key thing I forgot to mention at this stage of his career Turner's age.
He was just 14.
The Royal Academy of Arts and Turners Journey
JMW Turner, Old Welsh Bridge, Shrewsbury, Watercolour and graphite on paper, 1795
Early in his career Turner excelled at architectural drawings and detailed watercolours.
He embarked on elaborate sketching tours, traveling for 25 miles in a day sketching and making notes for more detailed paintings back in the studio.
You'll often find really fine lines and subtle nuances of colour in his early works.
These trips weren't necessarily a relaxed serene wander through the hills, but a carefully planned and budgeted working trip with a commercial outcome in mind.
Due to the previous success with his topographical paintings, Turner focused many of his early works on similar subject matter. These painting had sold well in London so he followed the theme and based many of his sketches on towns and architectural buildings.
 JMW Turner, Christchurch Gate, Canterbury 1792–3 Watercolour and graphite on paper
These amazing gates to Canterbury cathedral are a stones throw away from my first art college.
Many of the sketches use a mix of Ink and watercolour, and he used coloured grounds to create lovely tonal drawings. He was also a great fan of using darks and created many high contrast black moody paintings and he was quoted as saying:
 If I could find anything blacker than black I'd use it

J. M. W. Turner
As his style progressed he became more interested in the emotional response to the landscape. Both his own and his viewers. He started to paint with oils and look towards a style of painting that moved away from the tight topographical painting and to those with a more picturesque aesthetic.
He was influenced by Claude's paintings of the landscape around Rome in Italy and his work began to have a more romanticised appeal. This coincided with brighter colours and a more vivid palette.
As his paintings became more popular and demand for his works increased, Turner needed an assistant.
The time it was taking him to stretch, prime and prepare his canvases was eating away from precious time at the easel. He started to outsource the work to one of the Artist Colourmen at the time but this was added expense so to keep overheads down, Turner's father swapped his scissors for a glass muller and learnt how to prepare the canvases and grind the paint pigments.
The family business was back to full strength!
Turner's sketching trips travelled abroad in search of light and inspiration and he started to sketch and paint with oils. He still painted with watercolors but you could now start to see his inspiration from the warmer climates as the colours created at atmosphere and mood rather than a classical accurate representation of a view.
Turner also loved Kent skies and returned to Margate regularly to draw and sketch.
So it's interesting to look at his more abstracted later pieces within the context of his more classical background.
If we have a look at Rain, Steam and Speed you can see how he's used bold perspective to add movement and depth incorporated into his more gestural flamboyant brushmarks.
 JMW Turner, Rain, Steam and Speed, Oil on Canvas, 1844
So how did Taking Turner to the Cleaners turn out?
Really well, they were so proud of the paintings they had created and unsurprisingly the area of carpet right in front of their works was the cleanest spot in the museum for weeks!
"…observers made a point of praising the "Cleaners" idea, which was all at once clever, amusing, inspiring, and very deeply appreciated by the individuals who took part: they all attended the exhibition opening and spoke warmly about their experience of the project. Too often, 'staff initiatives' can be half-hearted or patronising, but this was just brilliantly conceived and executed."

Dr Stephen Deuchar, Director, Tate Britain.
"The trip inspired me to have a go at other things. I now go to the sketching class at the museum. I hadn't done that since I was at school."

Elaine, Cleaner, The Potteries Museum & Art Gallery
P.S And if you're in London over Christmas and New Year, you can still catch The EY Exhibition: Late Turner – Painting Set Free Tate Britain: Exhibition 10 September 2014 – 25 January 2015