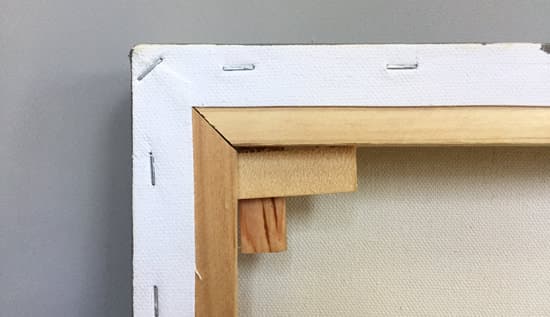 Off the peg or bespoke? The dilemmas of a modern man.
Choosing a canvas is much like deciding between Savile Row, the high street or knitting your own!
With Bespoke, you get:
Neat edges on the back, staple-free sides, a choice of fabric, a choice of finish (unprimed, sized, oil-primed) an exact choice of size, a choice of stretcher bar thickness and a skilled craftsman making it for you, all coming with a premium price tag.
High street, you get:
Neat edges on the back, less robust stretcher bars, not as heavyweight canvas, machine-made but a very reasonable bill.
Knitting your own:
It can be a bit of a headache! But you do get a choice of fabric, choice of size, choice of the stretcher bar, and it's a very economical way to achieve what you want if working on a lot of canvases the same size. Huge flexibility in finish mixed with the glow of satisfaction when stretching your own canvas…
Bespoke gives you a huge range of choice to suit your own quirks and style of painting.
Like a thin-edged frame with a rough weave? No problem, or maybe a super long thin canvas with a fine surface? You've got it.
Going bespoke can be a joy, but I have been through many suppliers with a huge variety of ups and downs. From Chinese import stretcher bars that curve like a banana to straight as a die bars that are just 4mm too deep. Believe me; you can get slightly obsessive about it and the never-ending search for your perfect finish.
The 2 components of a canvas are:
Stretcher bars – These come in a variety of depths and quality.
Support – canvas or linen.
Below are my 8 tips if you want to give stretching your own canvas a try:
1. Look for expandable joints.
Often cabinet makers run a sideline in stretcher bars for painting. The majority of the time, although well made, they are not fully air-dried wood and the bars are glued and screwed in a fixed position.
These can look great to start with but leave no option for tightening the canvas over time. Also, they often don't put in a cross brace on larger stretchers, which can cause the stretcher bars to bend in the middle when pulling hard to achieve a tight canvas.
2. Use the little wedges, even if you don't know what they are for!
Overtime or if placed in a variety of different temperatures, i.e. a painting placed over a radiator, the wood of the stretcher bar can move and distort slightly. Have you ever noticed how your doors (if wooden) are stiffer to open in the Winter? it's because the wood expands.
If this happens with your painting, gently tap the wedges (2 per corner) into the grooves at the corners of the stretcher bar, and you will gently push out the bars, thus re-tightening the canvas. You have to be careful with cheaper ready-made canvas's that still have the wedges because they often don't fit properly. If you're too eager with the hammer, it can result in tearing the side of the canvas – yes, I've done it a couple of times! Very annoying.
3. Get a sample of the canvas sent through.
Most stretcher bar firms will send you some sample off-cuts of the canvas they hold in stock; it's well worth it even if they charge for postage because you just can't get a feel from a photograph.
4. Look for Kiln dried wood.
This is wood that has its moisture removed by drying it in a kiln; this means there will be less room for the wood to move/distort over time.
5. Choose a good weight.
It's not worth bothering with a canvas under 12oz unless your working really small. 120z means you can pull tight without the fear of ripping.
6. Experiment with priming canvas yourself.
There is something rewarding about sizing and priming a canvas yourself, you value the stretcher more, and you will produce a better painting because of that. If you're working on a substandard product, you'll have a tendency to paint with less heart because you place no value on the support.
7. Be prepared for sore fingers.
When stretching canvas yourself, it can be very testing! Trying to pull it tight, handle a staple gun and keeping everything neat can be a juggling act.
Sore fingers and lots of blisters on a big canvas are the norm, wear gloves or start small.
8. Rip your canvas.
Staple a small strip of the canvas you're going to stretch onto your stretcher bar, then with a pair of stretcher pliers, try to rip it! You'll be surprised how hard you can pull. Beginners stretching canvas never pull it tight enough; get pumped and rip that bad boy!
You might also like:
1. Getting Started: How a prepared Canvas can drastically improve your painting – An Old Master technique to rapidly improve your paintings
2. Getting Started: A quick way to understand brushes + video – Overview of Acrylic brushes & video on brushes I use for a simple landscape