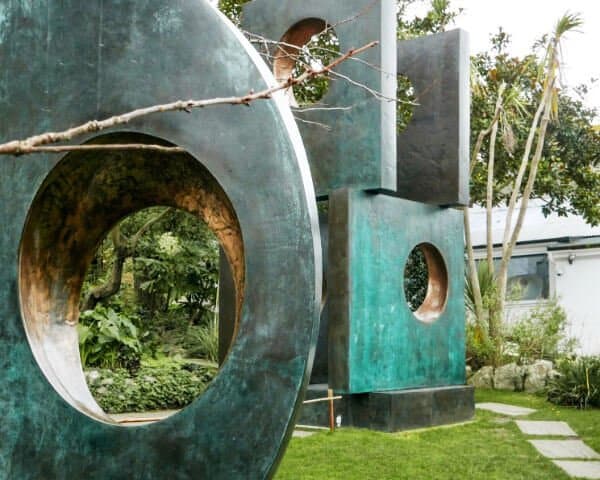 Inside the Artist's Studio
On a brisk winter's morning in the coastal town of St Ives, we negotiated our way down the steep lanes, past whitewashed slate-roofed cottages to Trewyn Studio.
Home to one of Britain's most important twentieth-century artists, Dame Jocelyn Barbara Hepworth (1903 – 1975), who lived and worked here for more than 25 years.
Trewyn Studio – now the Barbara Hepworth Museum & Sculpture Garden, St Ives, Cornwall
Her secluded garden studio lies behind the white arched doorway and protective stone walls to the right of the house. The property is now owned by Tate gallery but has been left as close as possible to when she worked in the gardens under the Cornish light and amongst the seagulls.
Hepworth, 1963 with unfinished wood carving Hollow Form with White Interior, photograph by Val Wilmer
Primarily a sculptor, Barbara Hepworth was a leading figure of the international modern art movement in the 1930s.
Fiercely ambitious with great talent, her works were amongst the earliest abstract sculptures produced in Britain, carved wood and stone, tactile bronzes, much of her work massive and monumental.
Hepworth's art was all about relationships.
Figures and the landscape, colour and texture. She took the shapes from nature, the rhythm of the sea, sand dunes, of birds in flight or the human figure and translated them into the contours of her pieces.
Hepworth drawing on Rosewall, above St Ives, Cornwall 
Born in Wakefield, Yorkshire, Hepworth grew up surrounded by cobbled streets and industrial mill chimneys which lay in sharp contrast to the surrounding vast and open moorlands. Fascinated from early childhood with natural forms and textures, Hepworth decided at age 15 to become a sculptor.
All my early memories, the forms and shapes and textures, I remember moving through the landscape with my father in his car and the hills were sculptures, the roads defined the forms.

Feeling, seeing, touching through the mind, the eye, and the hand. The touch and texture of things, sculpture, rock, myself and the landscape. This sensation has never left me I, the sculptor, I am the landscape.

Barbara Hepworth
Early works
She studied for a year at Leeds School of Art, with fellow student Henry Moore, striking up a friendly rivalry that would last professionally for many years. Rather than modelling a sculpture in clay or plaster before handing to a foundry to cast, they both took the approach of direct carving. This is a more traditional hands-on method, having an affinity with the material and taking ownership of the whole process from beginning to end.
"Carving to me is more interesting than modelling because there is an unlimited variety of materials from which to draw inspiration"

Barbara Hepworth
Following further studies at the Royal College of Art, now in her early 20's, Hepworth was awarded a West Riding Scholarship for one year's travel abroad. She went to Italy, visiting Florence, Siena and Rome, where she met and later married sculptor John Skeaping.
The couple lived in Rome, and both learnt to carve marble from the master sculptor and craftsman Giovanni Ardini. Visiting the marble quarries at Carrara taught them invaluable practical techniques for moving such huge pieces of stone.
"Italy opened for me the wonderful realm of light – light which transforms and reveals, which intensifies the subtleties of form and contours and colour"

Barbara Hepworth
They moved back to London, set up a studio, and their son Paul was born in 1929, although this marriage wasn't to last.
Hepworth carving one of her earlier figurative pieces Head, 1930
Abstraction
Hepworth fascinated by abstraction, and emerging concepts on the continent became part of an art movement in Hampstead that included Henry Moore and abstract painter Ben Nicholson, whom she later married.
Together Hepworth and Nicholson spent time travelling throughout Europe visiting studios of their contemporaries and meeting other artists. From Brancusi, Picasso, Braque, Mondrian to Kandinsky, all having a big influence on her outlook and aesthetic as a sculptor.
Her early works were simple naturalistic forms, but by the early 30s, she was creating purely abstract work, but it wasn't just modern sculpture Hepworth had a passion for. Establishing their home in London, their studio became a meeting place for other contemporary artists to discuss these new ideas and concepts. Bringing abstract ideas to the public, looking at realistic objects in purely abstract shapes and colours.
In 1933, Hepworth and Nicholson were invited to become members of the Paris-based group Abstraction-Création, which Hepworth exhibited in 1934. Later that year, things got even busier when the Nicholson-Hepworth triplets were born.
Abstract & Concrete exhibition, 1936
In 1936, Hepworth became part of the groundbreaking Abstract & Concrete exhibition, which opened in Oxford; it was the first International exhibition of abstract art in Britain. The show included the work of Mondrian, Kandinsky, Arp, Giacometti, Miró, Calder, Moholy-Nagy, Hélion, Nicholson, Hepworth, Moore and Gabo.
This reads like a who's who of abstract artists, but at the time, the exhibition was seen as a bit of a joke. It was only after touring to Liverpool and Cambridge that a London Gallery expressed any interest in showing the work at all.
Mondrian, who throughout his life didn't experience great wealth through his work, showed 3 paintings each for sale at £50.
Only 2 of them sold (and one of them to the exhibition organiser)
In 2015 a Mondrian sold for in excess of $50 million!
Hepworth in St Ives
View from Tate, St Ives
In 1939 as political unrest spread throughout Europe, a number of artists relocated to Cornwall, attracted by the already established community of painters, St Ives was also far enough away from London to be a haven from looming war.
By the end of the year Hepworth, Nicholson and family had joined them, encouraged by Adrian Stokes, an art critic, closely followed by their friend abstract sculptor Naum Gabo and his wife Mariam.
Three influential abstract artists now living in St Ives.
This remote coastal town is surrounded by the sea with turquoise waters next to angular rugged rocks, palm trees and almost tropical plants sit amongst yellow ochre-tinged slate rooftops.
It was amongst this romantic, wild landscape that Hepworth settled to create her living, working studio for the next 25 years.
The Barbara Hepworth Museum & Sculpture Garden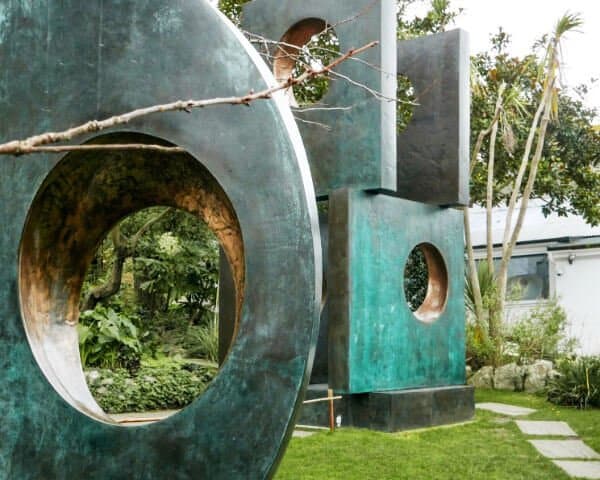 Brilliant light clarifies every colour, and standing in her garden, you could believe you were in the Mediterranean. The precise forms of her sculpture have a clean cut beauty, the surfaces textural and tactile, Hepworth stated that she thought "every sculpture must be touched".
Her use of circular shapes and cutouts within the pieces offer brilliant glimpses of 'scenes' within the garden space, it was this piercing of a solid form that most intrigued her about the shapes.
"When I first pierced a shape, I thought it was a miracle, a new vision was opened."

Dame Barbara Hepworth
The way that the light hits the central bronze ellipse shape, frames the view and makes it feel much more like a tropical rainforest than an overcast day in England.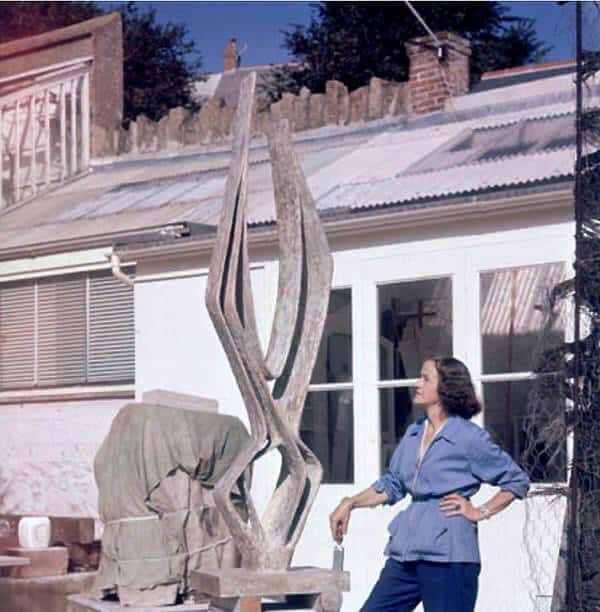 Hepworth in Trewyn garden with Cantate Domino, c. 1958
Hepworth acquired Trewyn Studio in September 1949 and immediately began working and living there.
"It is completely perfect for me", she wrote to Philip James, Director of Art at the Arts Council. 
"Finding Trewyn Studio was a sort of magic, here was a studio, a yard and garden where I could work in open air and space."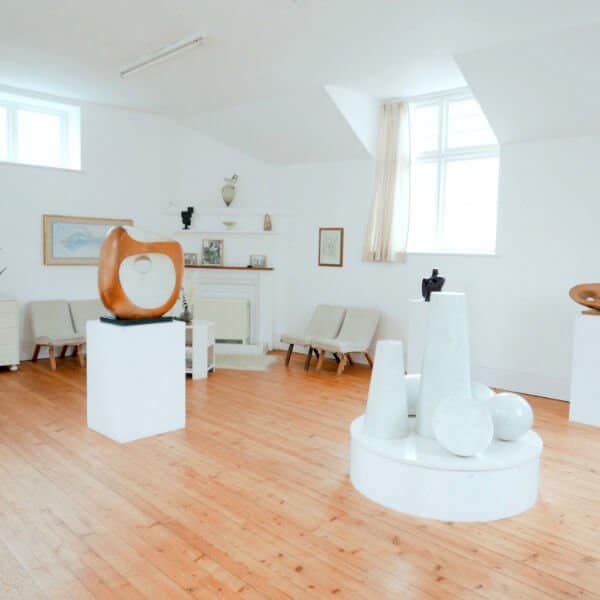 Hepworth initially used the large upper room of the house for wood-carving, but after her divorce in 1951, this room gradually became her main living space, as well as her bedroom, with a simple kitchen and bathroom on the ground floor.
To the left of the photo above, you can see a small white outbuilding. Inside is a single bed, much in the style of Rembrandt, Cezanne, and Sorolla, it seems a daybed, extremely close to your working space is of high importance to the working artist's life!
As you step into the garden and outside studio spaces, you're first hit by the combination of large-scale metal sculptures amongst an abundance of plants and trees. The metal has this fantastic deep green colour, and I love the way Hepworth uses the inner warmth of bronze against it.
When you have the white plinths and the warmer terracotta pots, you get this fabulous balance of colours. Some of my favourite Hepworth pieces have these fine lines built into the interiors; they remind me of architectural bridges and supports like they're hanging onto the inner edges.
Most of the bronzes are in their original positions, laid out by Barbara Hepworth with help from a friend, the composer Priaulx Rainier.
The stone carving studio and yard became the centre of her creative output. From the vivid greens outside, the working studio space has a simplicity of white. You can also get an idea of the scale of some of Hepworth's pieces. I like how the once terracotta floor tiles are now a muted blush pink from all the years of plaster dust in the air.
The first studio space is filled full of fantastic hand tools and materials used for carving. Many of the tools have reminiscent geometric shapes of the sculptures, from the white circle within the dark circle of the sanding tool to the hard sharp lines of the metal hammers. You can also see a bundle of string in the toolbox which became an integral part of the sculptures.
Hanging on the wooden door are Hepworth's well-used work overalls.
A quick sketch of an arrangement of metal hammers, I love how you've got these strong angular blocks next to the circular plates and guides, dotted around the space. I used a Muji 0.5mm fine liner for the main sketch and then a Pentel brush ben for adding the darkest darks. There is a subtle grey using a number 75 marker from Tombow.
Once this was drawn out I added a few dashes of watercolour using Winsor & Newton watercolour pans and a Pentel Aquash brush pen. The colours were a mix of Alizarin Crimson, Yellow Ochre, and Ultramarine Blue, with a touch of Cadmium Red on the handle.
The same palette of terracotta, white and green continues in one of the sunrooms in the corner of the garden.
There was something about the simplicity of the construction of this building that was appealing. To the left of the frame is a tall exterior wall that the corrugated roof has been attached to. It created such a calm space within a potentially underused corner of the garden.
The later years
Over the following 25 years, her working practice and development of the studios evolved, her strong work ethic never wavering.

"She would start work at eight in the morning and go on till six. She'd stop for dinner, then draw from eight till ten at night. She did that without fail, all the years I knew her."

David Lewis, Hepworth's studio assisant
Hepworth received many commissions for public sculptures in the second half of her career; one of the most famous is Single Form for the United Nations building in New York (1961–4).
Hepworth loved her sculptures to be seen outside of the museum environment, reacting to the light and the seasons that inspired them. Hepworth once wrote: "Imagine the critic having to climb a hill, or walk a mile through a forest … to see a sculpture." 
Hepworth working on Curved Form, Bryce II, 1961
In 1960 Hepworth increased her working space by acquiring a cinema and dance studio, the Palais de Danse, just across the street from Trewyn. This additional studio was essential for the construction of her large-scale bronzes.
Still relentlessly driven, smoking cigars, drinking whisky and wearing unconventional clothes, during her last decade, she created more sculptures than she had done in the previous thirty years.

"The last ten years has been a fulfilment of my youth," she wrote in 1971. "I have found a greater freedom for myself."
She was one of the few female artists of her generation to achieve international recognition.
Sadly Hepworth died in an accidental fire at her Trewyn studios on 20 May 1975 at the age of 72.  
As she wished, her home and studio have been opened up to the public, giving an amazing snapshot into her life, and much of the artist's work has been given to the nation placed in the care of the Tate Gallery.
Tate St Ives
The Tate St Ives has recently re-opened after a two-year expansion plan. They mainly show works by British artists with links to Cornwall and the St Ives area and faced limited space restrictions for building to the side of the gallery (they had some carving to do of their own!) They came up with an ingenious solution of digging deep into the granite hillside behind the original gallery.
This view is from the rear of the gallery, and on the left, you can see a number of rectangular skylights. They illuminate the new gallery space below and the light level can be controlled by blinds to balance the interior gallery lighting (on my light meter, it was around 40-50 lux on my visit)
It's one huge open space that can be split into different arrangements of movable internal walls, pretty impressive!
The fishing lofts adopted by the St Ives artists in the 1940s were rough constructions in stone with exposed timber joists for their ceilings. These have been adapted into concrete beams to span the 16.5m width of the gallery. Above these sit six large light chambers diffusing the beautiful light of St Ives which brought the artists here a century ago.

Jamie Fobert Architects
They're also perfect for shadow selfies!
Just opposite the museum entrance is a fab beach cafe (Porthmeor beach cafe), crispy fried salt and pepper squid, crab sandwiches with aioli dip and a couple of brews were the perfect gallery refresher!
On the empty St Ives beach, you can see the fab textures and curves formed by the movement of the sea.
This whole coastline is really fantastic, and the sculpture garden gave a real glimpse into Hepworth's inspiration from the area. We left feeling energized and excited by the idea of outside working studio space, with a daybed, of course!
You can read more about visiting here: Barbara Hepworth Sculpture Garden
OPENING TIMES
Tuesday to Sunday
p.s since visiting St Ives back in 2019, we were lucky enough to find a new art studio and have moved to St Ives, whoo hoo! you can see details on the studio renovation project here)