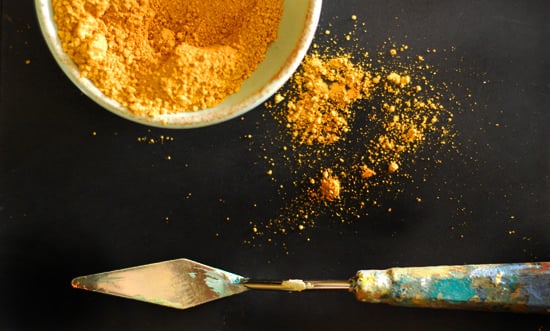 From oil to egg yolks
Same pigment, different binder.
Same Pigment (dry crushed material), different binder (oil, plastic, etc)
In a nutshell that is how paints are made and the difference between mediums (oil, acrylic, watercolour, pastel, egg tempera)

What are Oil Paints?
Oil paints are made of pigments ground with oils, most commonly cold-pressed linseed oil. Here is a simple Glossary of Oil painting terms.
How do Oil paints dry?
Dry pigment is mixed with oil into a paste, that is why it takes such a long time to dry, it's not the pigment but the oil. Just like if you spill some olive oil on the work-top it will take ages to dry.
When the oil oxidizes (has contact with the air) it forms a solid film that binds the pigments together, like baking a cake,  the mixture starts smooth, gets 'cooked' in the air and dries.
Oil paint can take anywhere between 6 months and a year to dry depending on the  thickness of paint used.
Pigments
Pigments start out as earth or rocks and are now often man-made, some of the oldest pigments are made from coloured earth, like yellow ochre and are called earth colours. Different oil colours have been created as new pigments and manufacturing methods have been developed. 

Pigments can be divide into three camps:
Inorganic Pigments – compounds that were never made from a living thing, i.e rock/mineral/metal

Organic Pigments – substances that were once part of a living thing, animals/plants/synthetic treatment of plant stuff
Artificial Pigments. These are often derived from organic pigments that have been chemically altered, they can make a more stable and even paint, the modern, very bright colours come from artificial pigments.
A word of warning about Artificial Pigments
For those starting painting I wouldn't recommend using all man-made pigments as they can ruin a painting more quickly that help it. I always adhere to the practice  of starting with the dullest, most natural colours and creeping up on the stronger brighter colours. This helps you to think more tonally and will pay dividends in the long run. Initially this can seem boring for beginners because of the allure of all the bright paint, but working from black and white to full colour is a classical way of learning about painting and one that you have a much greater chance of producing a harmonious, balanced painting than being let loose with everything!
Think small steps.
Here's a quick guide on how to choose a starter paint set. and a tutorial using only two colours.
What are Acrylic paints?
Acrylic paint consists of pigment suspended in a binder of acrylic polymer emulsion. Water is the vehicle for the acrylic polymer emulsion instead of oil, that is the vehicle for oil paint. Here's a glossary of acrylic painting terms.

So, which paint will suit you best?
Have a look at the 5 key differences between oils and acrylic paint.
Don't get confused by Hue
The labeling on paints can be really confusing, 'Hue' in colour mixing land just means the colour of a paint, i.e. that yellow has a orangey hue to it. However in paint labelling Hue means 'fake' or 'imitation' so a label that says:
Cadmium Red Hue means that this isn't a pure pigment made from Cadmium Red. Some of it might be Cadmium Red but it has been mixed with something else to give it the same colour. This used to be a sign of inferior quality paints but now it's because some natural pigments are no longer available, not as light fast or extremely costly. You can read about the 8 key differences between student & artist grade paints here.
What is Watercolor?
Watercolor paints are pigments held together by a water-soluble binder, along with additives and solvents.
In commercially made watercolor paints, the binder is either natural gum Arabic or synthetic glycol. This is what holds the pigment in suspension. The binder also allows the pigment to adhere to the support (e.g. paper) once it is applied. Additives, such as plasticisers (e.g. glycerin) and humectants (e.g. honey or corn syrup), are mixed in to alter various characteristics of the watercolors, such as viscosity and durability of the paint. Other additives include extenders and dispersant's.
What are Pastels?
Pastels are usually in stick form, similar to chalk. A pastel stick consists of pure powdered pigment and a binder, such as gum Arabic, gum tragacanth, or methyl cellulose. Pastels have a higher pigment concentration than any other artist medium (hence the rich, luminous colors that pastels can achieve). The powdered pigments used in pastels are similar to those found in oil paints.
Pastels can be hard or soft. Soft pastels have more pigment and less binder, so they are easier to smudge and have brighter colors. Hard pastels have less pigment and more binder than soft pastels. Hard pastels can stay relatively sharp, so they are ideal for pastel artwork that requires tight detail.
What is Egg Tempera?
Egg tempera is composed of egg yolk, powdered pigment, and distilled water. The egg yolk serves as the binder that holds the pigment together. The addition of water turns the paint into a usable paste-like form. Manufactured egg tempera also includes gums that act as dispersant's are like salt, grainy particles that can be milled and crushed to make smaller and smoother.
Pro Tip: To test the quality of a dry pigment, place a small amount in a glass jar, add water, give it a stir and leave for a few days. The solid particles of the dry pigment should float down to the bottom leaving the water clear. If it's not clear some form of dye has been added to enhance the colour.
Some Pigment Pointers:
There are some confusing aspects to knowing pigments. Keep these points in mind:
Similar pigments are sold under different trade names.
For example:  Winsor Newton's Winsor Blue, Liquitex's Phthalo Blue and Grumbacher's Phthalo Blue are all based on the same pigment:  Phthalocyanine Blue.
Fact: The name "Yellow ochre" comes from Greek ochros = yellow, pale yellow
You might also like:
1. Should you choose Oil paints or Acrylics?