As we negotiated the steep stairs back to our hotel room after breakfast, I glanced outside. It was absolutely bucketing down.
'Will, did we pack hats?" I turned to see what Will was up to as I'd heard very little in the way of response. He was already getting back into bed, pulling the duvet pretty determinedly up to his chin for a post-buffet nap. 
Checkout was in under an hour, followed by a 10-minute walk up the Stennack to our first viewing, so I decided there was nothing else for it but to nip out and try and buy an umbrella. After a small misunderstanding with the local ladies' boutique owner about the £5 debit card threshold, I left with an upsell.
Cobalt blue and polka-dotted. Fancy but functional.
We got to Bullans Court ahead of schedule, and if first impressions count, ours was of an abandoned exercise bike leaning precariously amongst old pot plants in a courtyard. 
The agent opened the front door with all the relish of an entrance to a palace and led us into a gloomy hallway. We went through a charming kitchen with a bin on the table acting as a bucket for the complimentary leak.
Then he showed us the studio.
It was incredible, in scale and height, with huge North light skylights along the back wall.
We marvelled at the tall Cezanne-like window for the paintings to come in and out, and whilst Will stayed in the studio taking photos, I went into the adjoining annexe. 
I remember glancing over at his utter joy and thinking, 'how are we going to get hold of this building?' 
Although we hadn't seen much, the potential was massive. I was already moving in, imagining throwing back the big open doors onto an Italian-style terracotta potted garden in the Summer.
As we made our way around the property, our optimism dipped slightly with the cold and the sheer volume of every space that was rundown. Ivy grew through walls, damp paint was peeling off, every single gutter was leaking, and the water butts dotted around were overflowing. 
I think Will was most impressed by an extremely tall roll of bubble wrap; apparently, he'd never seen one that big before.
The inside-outside was a real high point, almost like an upstairs conservatory, spaning the living accommodation and studio. It was such a bright space with assurances from the estate agents on a clear day there were sea glimpses. We weren't so sure due to the dense fog, and it seemed the only downside was the roof was mostly held on with gaffa tape. We both exclaimed over Sandra's prep table, covered with all kinds of paint residue and staples. 
Then we left.
The overriding thought was it was a bit too ambitious; did we really want to do another renovation, or did we have the energy for all conversations and disagreements?
We showed the family a few photos, and Will's brother asked, 'What even is it? It looks a bit like one of those half-finished hotels they have on Watchdog.' 
The previous property we'd viewed was a picturesque fisherman's cottage, up a very steep side street right in the centre of St Ives town with a tiny garden that caught the sun. So tight on space, we were talking about opening an A-board, offering cups of tea, and selling miniature paintings because that was the only thing that would fit in.
This property, however, felt hugely challenging.
Architecturally mixed, a history of art seeping out the walls, and an incredible amount of space but most of all needed new owners who would give it a new lease of life.
It was going to be absolutely perfect.
First Glimpses through the gap in the gate
Living accomadation above the shop through a drizzly window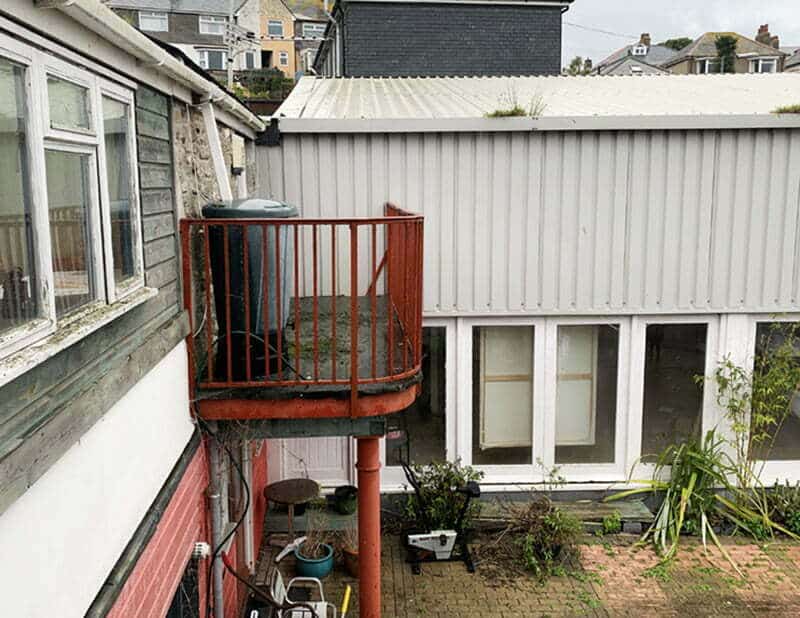 Sandra Blow's office space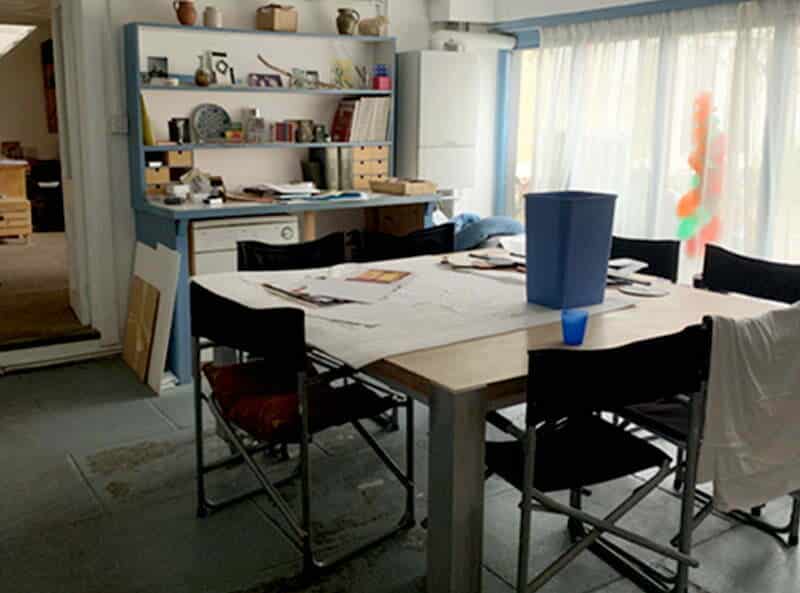 The kitchen, with a bin serving as a bucket
Masking tape left behind on the studio walls from Sandra's working method
The studio, Bullans Court
Will enraptured, fancy umbrella in hand
North light sky lights and that impressive super-sized roll of bubble wrap
Sandra Blow working in her studio at Bullans Court 2005
Drawing Room in the Annexe
Gaffa taped on roof in the 'Inside-Outside' and Sandra's well used prep table
You can read the next update here – January 2021 – The Ivy & the Window