Acrylic Still Life Painting Course
Discover what you'll learn with Will Kemp
What my students say:
"Thanks for this video Will. The detailed organisation, preparation and finishing are not usually available in "normal" art videos so it was very helpful to say the least. Yes, my painting turned out far better than I could have imagined -"
Celine – Norwich U.K

"I love the finished painting very much and probably will try to paint it again for the second, third time."
Naruemon – New York
"The course really was excellent and was filled with so many moments when I thought, 'oh wow really. red? well ok then.'If I had to say anything negative at all, I would say I'm a bit sad that I now see how important a good teacher is.  I never had this opportunity when I was younger. Thanks again, your course is remarkably good value and can't wait for the next installment."
Vince Kamp – Surrey
"I just didn't know where to start."  I feel like I'm getting the base that I have been looking for.  I've been trying to start painting for years and keep getting frustrated and stop.  I've also taken other painting classes and haven't learned what I have really wanted to learn.
Melissa Strand – Wyoming Minnesota
"I really enjoyed the course. It inspired me to take another one on drawing and it happened as early as lesson 4 when I saw that I can draw. 
We are really proud. All of us. My husband appreciated the darkness of background…
This is just to say once again how deep is my gratefulness . I am absolutely new early beginner. And I am so lucky to have you as my first teacher."
Svetlana – Russia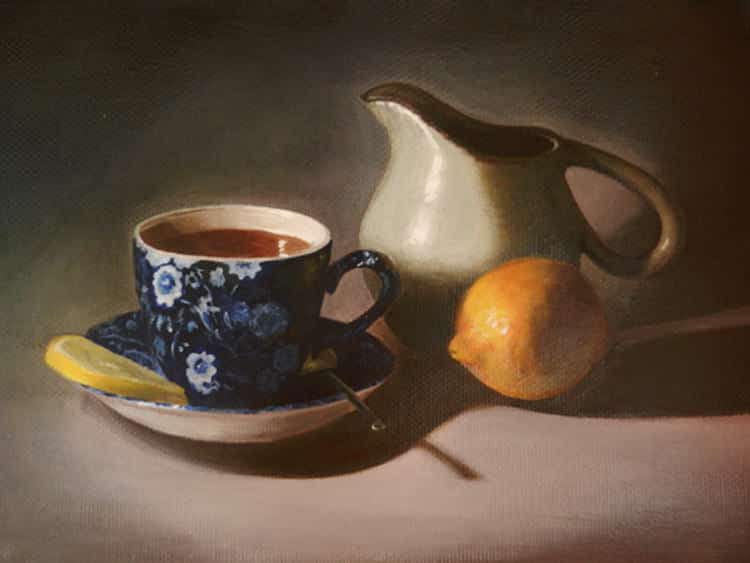 Still Life – Svetlana
I think the way Svetlana has painted the detail and sensitivity on the cup is lovely, I especially like the way she has painted the lemon slice, students often paint it too bright but she has handled is really well.
The  spoon is also particularly elegant,  a brilliant job of her first painting!
Still Life – Missy
I really think Missy has done incredibly well. The jug shape and form is spot on and the glow on the lemon is lovely. I like the way she has managed to keep colours in the shadow of the lemon yet still keep the tone correct, really nice painting.
 First Acrylic Painting – Vince Kamp
Vince is a digital painter and came back to drawing a couple of years ago. He wanted to make the leap into traditional painting and this is his first piece. I think the lemon is working especially well and having the confidence to put the shadows in like he has, really brings the picture to life. The shape and form of the jug are really solid, which convinces the viewer of the depth in the painting, I think Vince's past drawing experience has really helped understand shading and form.
Still Life – Penny McGlynn
In Penny's piece the painterly quality on the cup and the lemon really brings the painting to life and the subtle grey tones in the shadow contrast really well with the vibrancy of the objects.

My 1st Still life – Naruemon
This was Naruemon's first acrylic still life and I think she's done a fantastic job! It appears quite a tricky subject to start with, but by following simple step-by-step methods, I think she has created a great painting.
Still Life Project – Celine
In Celine's piece the cup has worked especially well with the bright blue highlights. I also like the way Celine has kept the background transparent in layers and worked thicker on the objects – it's a really good way to add depth to your work. She should be really proud of this piece it has a lovely naive quality.
Step-by-step Acrylic painting course
I've developed this simple to follow Still life Painting Course for beginners to learn Classical painting techniques with Acrylics.
With over 2 1/2 hours of tuition from Will, you will go on a creative painting journey to discover that you can create a painting you can be proud of.
You'll start with one colour to block in the main shadow shapes, then slowly introduce more tonal colours to working with a full palette and finishing with glazes.
As a teacher the 3 most common problems students come to me with are:
1. The fear of getting it wrong
Only using 5 colours and you'll be shown clearly how to mix and match each colour
Filmed in real time, start to finish so you can't get lost. Revisit each lesson as many times as you need until you 'get it'
With acrylics you can repaint over any mistakes simply and easily
2. I don't know what to paint!
Downloadable high resolution still life images to work from
Composition designed by Will to give the best results possible
Stops procrastination by giving you 12 bite-size video tutorials that produce successful results
3. Lack of time
Clear time indication on each lesson so you can fit short bursts of creativity into your lifestyle
Access it anywhere, computer or ipad
No planning needed, everything has been worked out to produce the best results in the shortest amount of time
Developing your artists eye
When I was first learning to paint my results were often disheartening, the apple looked too flat, the greens looked garish and harsh and I was generally getting more and more frustrated.
I often took a large palette knife to the canvas and smeared the entire painting.
The result?
My new abstract period!!!
The problem with learning to paint is that you have an inbuilt 'taste' meter. You know a good painting when you see one. You don't have to be art educated or have studied the classics, you just need to trust your own judgments.
So when you attempt your first painting and it goes wrong, you know it is wrong.
You just might not know why…
An artists apprenticeship
A trained eye can help you progress rapidly, rather than you giving up too soon.
The Old Masters trained for years as apprentices, working directly under someone who knew the principles that worked.
John Singer Sargent began his art studies with the portrait artist Carolus-Duran.
Leonardo da Vinci studied under Andrea del Verrocchio the great sculptor and painter.
Caravaggio studied his apprenticeship with Simone Peterzano who himself had trained under Titian.
So take on board principles rather than gimmicks or tricks and let your style develop.
Don't be disheartened by your 'mistakes' when you are learning to paint, they might just have the key to your future.
You'll learn classical principles that are the building blocks of all great paintings alongside invaluable tips that I use in my every day painting practice.
I call these my 7 painting principles:
1. Colour ground
2. Contrast
3. Composition
4. Colour mixing
5. Perspective
6. Negative space
7. Glazing
These initial 12  lessons will provide you with a complete methodology for creating professional, beautiful, still life acrylic paintings.
So if you follow the simple step by step instruction you will create paintings you didn't think you could… but you can!
The course is £40.00 / $62 USD
So how does it work?
After paying, you'll register and create your own username and password for future logins. Submit the registration form and you'll be forwarded to the Art Studio website.
You can then access the video tutorials whenever you want, as many times as you want.
All videos can now be downloaded to your computer – perfect for working in the studio without the need of an internet connection.
The video tutorials are split into bite size learning experiences, none of them are longer than 20 minutes, this ensures that every stage is easy to follow and will be able to fit in with your lifestyle.
If you want to refresh yourself on any particular bit, you'll be able to go directly to it.
Everything is hosted on a website, so you will not receive DVDs but you can now download the videos to your computer as well as watch them online.
This is so anyone can access it world wide with no shipping costs and bonus content can be added in the future and you'll have instant access to it.
I've tried to make all the videos as user friendly as possible so they are designed to be watched in chronological order. This way you won't be able to get lost!

 Happy Painting!!