How to Paint Natural Skin Tones with Acrylics – Portrait Course

£79.99 GBP / $99.92 USD / 94 EURO / $134 CAD / $135 AUS
(exchange rates may vary slightly)



Painting portraits with acrylics can be frustrating.
It can seem that you're facing an uphill struggle.
After the pleasure of not getting headaches from toxic turpentine and being able to paint with thick impasto marks, there seems to be double payback for daring to tackle a portrait with acrylics.
Not only do the colours appear unsophisticated and garish but the paint dries too quickly to blend together successfully, especially when you're trying to mix subtle skin tones.
You can be left feeling disappointed with your results, admit defeat and crack out the thinners for another go with the Oils.
I want to introduce you to a new portrait course, that can help develop your portrait skills and dramatically shorten your learning curve to achieving classical looking portraits with acrylics.
Taking you from Rookie to Rembrandt
It is something that I would have loved when I was first starting to paint portraits with acrylics.
I'd always painted with Oils through art college and had used full strength turpentine – safe in the knowledge my fellow students were cool with the fumes and I had the luxury of time to wait for the Oil paint layers to dry (perfect time for a few pints down the pub!)
However, when the relaxing days of college ended, I found myself painting in a small studio at the front of a teapot factory that was open to the public and mounting bills to pay…now the 6-month drying time of Oils didn't seem so attractive!
Plan B – a crash course in acrylics.
So I knew how to structure an Oil painting but translating that knowledge to acrylics, to make them look like Oils – wasn't easy.
The paint tube names were different to the historical colours I'd used with Oils and they all seemed to be a lot brighter in saturation as well.
The acrylics seemed to dry so quickly – I didn't have time to alter the shapes on the canvas and the edges of my brushstrokes were just too severe.
On top of that, there was a colour shift in the drying time of the paints, that kept on putting my mixes out.
I tried painting really thick …. then really thin and I did produce a lot of acrylic portraits, some award-winning but the subtleties of tone and smokiness of the Old Masters still alluded me.
I needed to change direction, think around the problem and come back with a new approach.
The Royal Seal of Approval
So how did the paintings turn out?
Pretty good.
I had my portraits exhibited at the Mall Galleries in London, became a finalist in the Artists & Illustrators Portrait Artist of the Year and then I received the letter.
You know the ones you don't really think exist. It was a letter wax sealed with a Royal Crest.
Had I been asked to paint the Queen?
Not quite, but for me, the prize was even better.
I'd been awarded a Queen Elizabeth Craft Scholarship to study Classical Portraiture in Florence, Italy.
I could finally put all the pieces of historical information I'd put together myself, into an order that worked for me.
It changed the way I painted and cemented my existing practice.
I developed a method that enabled me to get consistently natural skin tones, keep the paint wet whilst using the minimum amount of colours and this is what I want to teach you in this course.
Discover a method for mixing natural skin tones with Acrylics that look like Oils
The main problem with acrylics is they dry too quickly. You don't have enough 'blending time' to create smooth subtle transitions.
But what if you did 80% of your mixing before you even picked up your brush?
If you just mix your portrait with the colours straight from the tube, you're missing a trick.
Subtle mixes, scumbling and glazing effects can all be easily achieved with acrylics if you have the right approach.
We're going to take techniques and colour palettes from the past Masters and combine them with the qualities and properties of acrylics, turning the 'disadvantages' of acrylics to our advantage.
How is this Course Structured?
This is a comprehensive, easy-to-follow 4 1/2  hour video course, where you will discover a fresh, quick approach to painting 3 different portrait styles.
Coming from an art education background I've designed Art Curriculum's for schools, developed interactive learning resources with the National Gallery, London and taught students from all different starting points the principles of how drawing and painting work.
This course has been designed as a step-by-step rounded learning experience bringing together all my experience as a student, painter and teacher.
Each portrait tutorial looks at a different complexion and builds progressively, introducing different painting techniques as your acrylic skills grow.
What will I learn on this course?
The first painting looks at cool, naturalistic colours within a limited palette working in an 'indirect' style. This is a method of building up many layers working with glazing and scumbling.
The second study is a warmer palette working with colour strings and base colours so your painting is more effective and efficient. We use a more direct, Alla Prima style.
The final piece challenges your skills with a more extended palette and combines thick impasto work with the palette knife and subtle delicate glazes for a darker skin tone.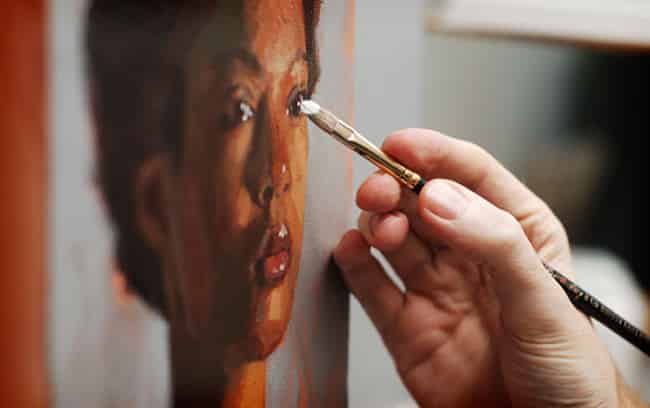 I've found many acrylic portrait books focus on the anatomy of the face, complex palettes with an overload of colours that result in an unnatural illustrative finish more akin to a Watercolor than an Oil.
On this course, I focus on simple colour mixing with a limited palette and different painting techniques as this will give you the biggest jump forward in your portraits to make them look realistic and professional.
You can work at your own pace at home as painting any portrait takes concentration and a lot of tea breaks.
The process will teach you how to approach a colour portrait from a photograph for maximum results, every time.
With a solid foundation in acrylic painting techniques, you can build on your successes to create the portraits you've always dreamt about when they're hanging in your local gallery people will say to you "Did you use Oils?"
 Here is what you will discover:
How to use a 2 palette system to instantly increase the working time you have at the easel
Understand the importance of your studio lighting to create accurate colour mixes
The amazing power of a 2 colour limited palette to help you learn about your pigments
Classic Oil painting techniques of the Old Masters adapted to Acrylics
How to simplify colour mixing using base tones to improve the speed of your painting
Glazing scumbling & blending – allowing you to create atmosphere, mood and sophisticated tonal shifts
A simple mix to create the perfect portrait white

Exact steps to build your portrait layer by layer
Frequently Asked Questions:
Who is the course for?
If you're new to acrylic painting or have been painting for years but still have trouble mixing tonally accurate skin tones and find creating subtle blends difficult, then you would see instant improvements on this course.
If you're looking for 'cheat sheets of skin tone recipes' this isn't the course for you – there's nothing wrong with specific recipes for skin tones but because of the huge variety in sitters complexions, lighting conditions and style of painting there isn't a one size fits all.
Having the knowledge to create your own recipes is much more powerful as an artist.
What if I work in Oil?
The demonstrations have been designed to utilise the quick drying properties of acrylics and to work around all the issues they can have.
If you work with Oils, the smart palette I use is available in acrylic and Oil so you could transfer most of the skills and pigments but you'll find the glazing layered approach on the first tutorial impossible to achieve in the same time frame that I demonstrate.
If you add a quick drying medium, such as Liquin into your paints and waited for each layer to dry, you'd still get really good results as the principals of all the tutorials stem from Classical Oil Painting.
Does it cover working from a live model?
No, this course works from downloadable photographs, so you can follow along exactly with the demonstration that I'm working on.
I find this approach gives confidence with colour mixing and brush techniques.
Does it cover figurative painting?
No, the 3 studies are all head and shoulder studies.
Does it cover portrait drawing?
Not in detail, I talk through the things to look out for when sketching out the piece but I don't go into anatomical details or processes on drawing a portrait head.
Downloadable High-Res Reference Images
Each painting demonstration (3 in total) has high-res downloadable images for you to work along from.
Practical lessons, using 'done for you' reference images to break through overwhelm and get painting, faster.
It's simple. It's thorough. And it's easy-to-digest
You don't need to watch all the lessons at once to get value.
The 4 1/2 hours are split into 8 downloadable video lessons and each lesson has different chapters to watch and demonstrations to follow. The practical step-by-step exercises, help you learn at your own pace.
Watching what you want, when you want, or dive in at the start to the finish! Both methods work and both will help improve your portraits.
How is the Course Delivered?
8  Downloadable  Step-by-Step Video Lessons – 4 1/2 hours of video instruction that once downloaded – you have anytime, anywhere access.
A Quick Start PDF guide – which includes your materials list.
A Your Paintings Downloads PDF guide – which includes all the reference images used throughout the course, alongside stages of my more detailed paintings.
When you purchase the course, you will receive an email with all the downloadable video links to the course.
You then have to download and save the Video Lessons onto your home computer. Once you have saved the files, you can watch them as many times as you like, whenever you like – forever!
The video files are large (2.8 GB in total) so you need a broadband internet connection and enough space on your computer hard drive.
Please note: You will not receive a DVD.
The Artists Eye
Having studied film and cinematography, I've tried to create a video course that will give you the best results, as if I'm in the studio with you.
High-Quality Full HD Video Recording
This course focuses on the painting and was filmed in 1080 HD. Jam packed with 3 detailed demonstrations to give you the highest quality possible.
Recorded in pristine 24/96 kHz audio which has been digitally mastered using the latest audio software.
Edited by the artist
I filmed it, edited it, and coloured it myself (with a little help from Vanessa!) rather than working with a production company.
Artists have different needs than editors so I wanted to cut the course like an artist, showing you exactly what I wanted to see when I was learning.
£79.99 GBP / $99.92 USD / 94 EURO / $134 CAD / $135 AUS


(exchange rates may vary slightly)
Technical Download Questions
So how does it work?
After clicking 'Add to Cart' you will see a page with a Check out with PayPal button.
Click the 'Check out with PayPal' even if you don't have a Paypal account.
Don't have a Paypal Account?
In most countries, Paypal offers an option for you to pay using Paypal, without opening a Paypal account. Here is a screenshot from UK Paypal.
Once you've paid, after a few seconds you'll be redirected to a download page containing all the video links and Information (see image example below)
You will also be emailed your download link as a backup. If you ever update your computer or can't track down the downloads just drop me an email and I'll send through fresh links.
How big are the video files?
To download the course you ideally need a broadband connection as the video files are quite large (Total 2.8 GB) – you do not receive a DVD.
You then have to Download and save the video tutorials onto your home computer.
This can take up to 20 minutes for each file depending on your internet speed.

(Please Note: If you want to watch the videos using an iPad, see below as you need a free app called 'Documents' this will allow you to download and save the files.)
Do I need a special program to watch the videos on my computer?
No. The video files are MP4 's and 90% of computers/laptops will have a media player on them.
If you have earlier software that doesn't have a media player, you can download one for free.
Apple Quicktime
http://www.apple.com/quicktime/download  or VLC media player (also free) VLC Media Player  http://www.videolan.org/
To view the PDF you need Adobe reader (also free to download)
How do I download the videos onto my computer?
On a P.C
Hover the mouse over the orange 'click here' link and 'right-click' your mouse.
There will be an option that says 'Save Link as'
Click this option and a box should come up saying where do you want to say the files (eg, desktop, whatever your files names are called) decide where to save them and then the file should start to download. It might take 10 minutes before it downloads fully (depending on internet speed.)
On a Mac
Click the 'click here' link.It will give you the option to 'Open with' or 'Save file'.
You want to click 'Save as' and the file will download into your downloads.
Can I download the videos to my iPad?
Firstly, I would download the files onto a desktop or laptop if you have one, just so you have a copy of the files.
Then you have a couple of options, either to transfer via iTunes or to use a free app on the iPad.
Transferring files via iTunes
If you have a Mac you can:
1. Download the files to your desktop (or find the ones you've already saved)
2. Plug in iPad to Mac
3. Open iTunes
4. Drag MP4′s (video files of the course) on the Mac into TV shows or Movies
5. To Play on iPad open the Videos App then look under TV shows or Movies
6. The MP4 video files from the course should play fine.
If you're on a PC you can download iTunes here and go through the same process.
Using a Separate App
If you have an iPad you can download using the free 'Documents' app.
Here is a Downloading help page that goes through the process, scroll down to the 'How to Download to an iPad using the free 'Documents' App' section.
Please note: Without the app, you won't be able to download and save the videos directly to your iPad
Can I download onto my Tablet?
To download the videos onto your tablet you need to download them to your main computer first and that transfer to your tablet via USB.
Can I download the video files and put them onto my own DVD to watch on a DVD player?
Yes, you can download the files onto a DVD, however, not all DVD players will playback Mp4 files.
There are a couple of options:
1. DVD playback on another computer:
If you burn the MP4 files onto a DVD and then play the DVD on another computer or laptop it should play without a problem if you have an up to date media player that supports MP4s. 
(If you need an up to date media Player you can download one here: VLC media player (also free) VLC Media Player  http://www.videolan.org/)
2. DVD playback on a DVD player with a file Converter
It all depends if your DVD player supports MP4 video files.
Many DVD players will say MP4 on the front tray, for example, 'DVD/Audio CD/DivX/MP4/MP3/'
Some older DVD player do not support MP4 because MP4 is a format with different decodes.
If you have an older DVD player you will have to convert the files using free software.
The MP4 to DVD converter from www.freemake.com is a good choice.
Cheers,
Will